Publised on 11/06/2019 by Richard. Last Updated on 12/10/2022 by Richard.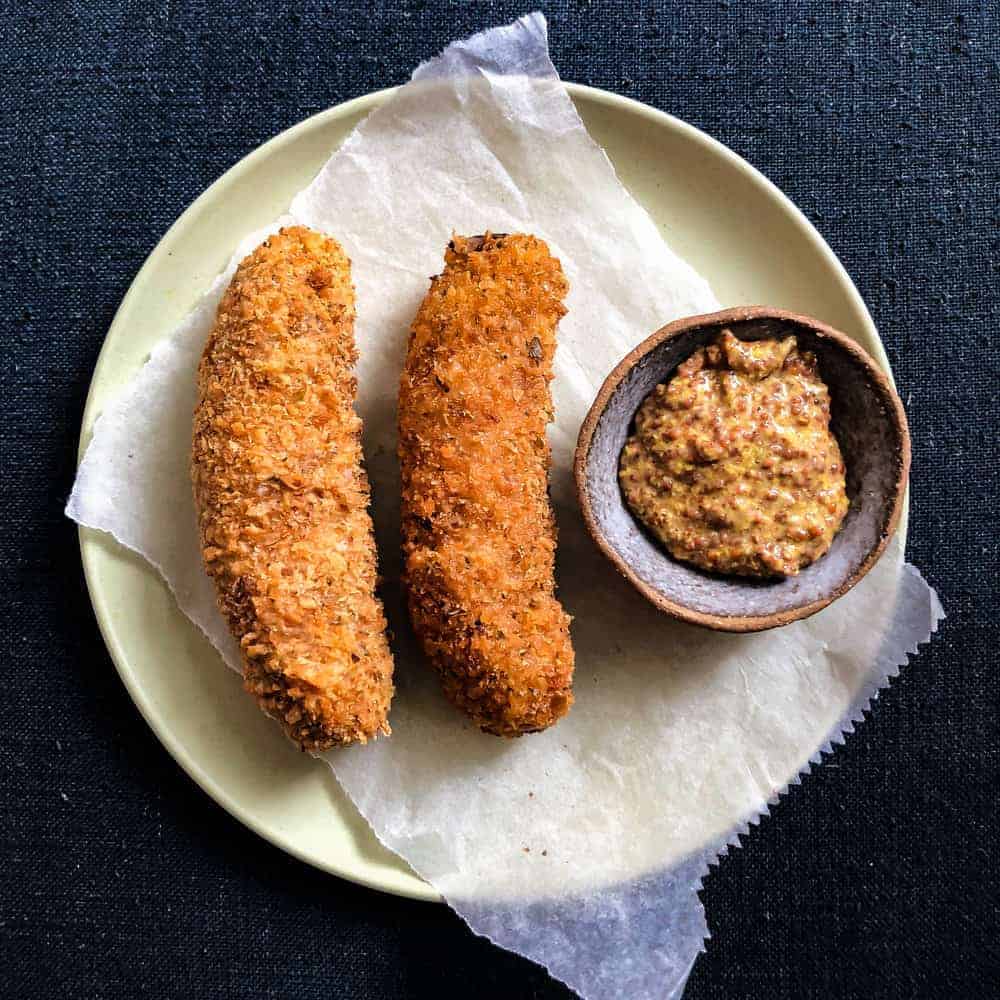 Vegan mozzarella sticks are my take on an American diner classic! They're smoky, with a crispy shell and pull apart like a dream!
---
As soon as I realised I'd somehow made a vegan mozarella, my mind leapt to VEGAN MOZZARELLA STICKS. I think it says a lot about who I am that one of my first ideas was to DEEP FRY IT!!
As a vegetarian I used to literally CRAVE mozzarella sticks. I spend a lot of time in America. Some of my favourite places to eat there are old fashioned diners! Me and my husband do many road trips on both the east and west coast - we love it! Back when we were veggie, we definitely dabbled in our fair share of mozzarella sticks.
So you can say this recipe has a special place in my heart. I definitely developed these vegan mozzarella sticks to hit that craving!
What do they taste like??
These guys are not your standard vegan mozzarella sticks. I made sure the cheese itself is smoky and garlicky and packed with umami vibes (much more interesting than boring mozzarella!).
The delicious sourdough crumb coating is fragrant with oregano and MORE GARLIC! I always dunk these fellas into a bowl of wholegrain mustard: DREAM SNACK!
(Note: OK I've been read for FILTH for suggesting you serve these with wholegrain mustard, but what can I say... we LOVE mustard. It sounds like in the States people eat these guys with marinara sauce, which I suppose ties together the whole Italian vibe. But hey, you do you! Dip them in whatever the hell you wanna!)
Important bit!
Let me mention one more thing. I love you all and I'm SO glad you're here but by JEEBUS if any of you choose to ignore my call for ODOURLESS coconut oil and then complain about a coconutty flavour, I will come to you in the black of some terrible night and I will bring a pointy reckoning that will shudder you (yes, that's a quote from The Crucible).
There are SO * MANY * BRANDS * of odourless coconut oil out there, find one and PUT IT TO GOOD USE!
Also, if you'd rather just make mozzarella and not these deep fried versions, the head over this way!
Ok, rant over! MAKE SOME MOZ STICKS - You won't regret it!!
Smoky Mozzarella Sticks
These guys are not your standard moz sticks. The cheese itself is smoky and garlicky and packed with umami vibes. The delicious sourdough crumb coating is fragrant with oregano and MORE GARLIC!
Ingredients
For the Smoky Mozarella
35

g

raw unsalted cashews

(soaked in boiling water for 1 hour)

2

teaspoon

psyllium husk powder + 5 teaspoon water

1

tablespoon

agar powder + 3 tablespoon boiling water

3

teaspoon

white wine vinegar

1

teaspoon

agave syrup

3

tablespoon

nutritional yeast flakes

2.5

tablespoon

tapioca starch

1

teaspoon

garlic powder

1

teaspoon

onion powder

1

teaspoon

marmite

(or any yeast extract spread)

2

teaspoon

flaky sea salt

55

g

deodorised or odourless coconut oil

350

ml

plant milk
For the Coating
85

g

flour

50

g

gram flour

90

g

water

100

g

stale sourdough bread OR panko breadcrumbs

½

teaspoon

onion powder

1

teaspoon

garlic powder

1

teaspoon

dried oregano

1

tablespoon

liquid smoke

¼

teaspoon

flaky sea salt
Instructions
To Make the Smoky Mozarella
In a small bowl, whisk together the psyllium husk powder and the water. Set aside to thicken.

Soak your cashews in boiling water for at least an hour. When soaked, drain and discard the water and transfer the cashews to the cup of a high speed blender along with all the remaining ingredients including the thickened psyllium husk.

Blend on highest speed for at least a minute - make sure the cashews are completely smooth - no chunks or sandy grains.

Transfer to a medium saucepan and place over a medium low heat, stirring constantly and vigarously with a whisk spatula. The liquid will start to thicken quite quickly. Keep going until the liquid is very thick and stringy (up to around 10 minutes depending on the heat you usand resembles fondue or melted stringy cheese. When you stop stirring, the cheese should bubble around the edges. Remove from the heat.

Allow the cheese to cool to room temperature. Once cool enough to handle, place 3 tbsps of the cooled cheese onto a small sheet of cling film or reusable wax wrap. Roll up the cheese into roughly 3 inch cylinders and twist the ends of the plastic/wax wrap, like a little sausage. Repeat with all the cheese. Place in a small baking tray and place in the freezer for at least 4 hours or overnight.

Right before you remove the cheese from the freezer, prepare your coating.
To Make the Coating
If you've chosen to use the stale sourdough instead of the panko, you'll need to make some breadcrumbs. Preheat the oven to 150c. Line a baking tray with greaseproof parchment or a reusable silicone mat. Place the sourdough into a food processor or high speed blender one slice at a time and blitz until coarsely breadcrumbed. Transfer the breadcrumbs to the baking tray and bake in the oven for roughly 20 minutes, stirring half way through. Keep an eye on the breadcrumbs and do not allow them to burn! All sourdough will cook at a different rate depending on how stale it is, so the 20 minute bake time is just an estimate. Once baked, allow to cool fully and then use as directed.

You'll need 3 small mixing bowls for this step. In the first bowl, place the plain flour. Set aside. In the second bowl, mix together the gram flour and the water. Set aside. In the third bowl, combine the remaining coating ingredients. Set aside.

Remove the cheese "sausages" from the freezer. One by one, roll them in the flour, then the gram flour mixture, then the breadcrumbs. Set on a plate or baking tray when done and repeat until all the cheese is dunked. Leave the cheese on the plate to defrost slightly for around 20 minutes.

Once the 20 minutes is up, fill a medium, high sided saucepan about 3-5 inches deep with vegetable oil. Place over a medium/low heat and bring to oil to around 180c. Using a spider or a slotted spoon, lower two mozarella sticks into the oil at a time. Fry for roughly 2-3 minutes or until the breadcrumbs are beautifully golden brown. Remove from the oil and leave to drain on a piece of kitchen towel. Repeat with the remaining sticks.

I like to serve mine with wholegrain mustard but I'm told the traditional sauce is a nice marinara. You do you! Just make sure you enjoy them!
Nutrition
Serving:
1
grams
Calories:
234
kcal
Carbohydrates:
28
g
Protein:
8
g
Fat:
11
g
Saturated Fat:
7
g
Sodium:
773
mg
Fiber:
3
g
Sugar:
3
g
Love this recipe?
Let me know on Instagram!