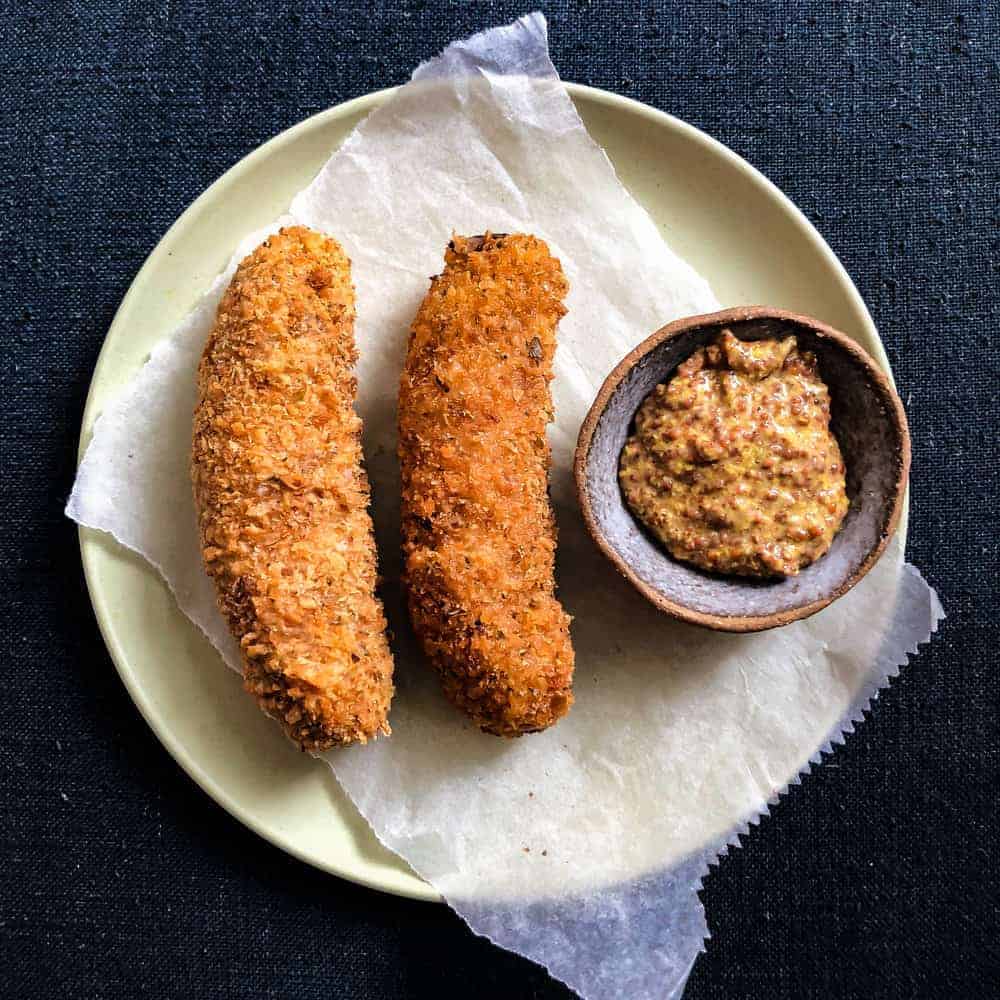 Vegan mozzarella sticks are my take on an American diner classic! They're smoky, with a crispy shell and pull apart like a dream!
---
As soon as I realised I'd somehow made a vegan mozarella, my mind leapt to VEGAN MOZZARELLA STICKS. I think it says a lot about who I am that one of my first ideas was to DEEP FRY IT!!
As a vegetarian I used to literally CRAVE mozzarella sticks. I spend a lot of time in America. Some of my favourite places to eat there are old fashioned diners! Me and my husband do many road trips on both the east and west coast – we love it! Back when we were veggie, we definitely dabbled in our fair share of mozzarella sticks.
So you can say this recipe has a special place in my heart. I definitely developed these vegan mozzarella sticks to hit that craving!
What do they taste like??
These guys are not your standard vegan mozzarella sticks. I made sure the cheese itself is smoky and garlicky and packed with umami vibes (much more interesting than boring mozzarella!).
The delicious sourdough crumb coating is fragrant with oregano and MORE GARLIC! I always dunk these fellas into a bowl of wholegrain mustard: DREAM SNACK!
(Note: OK I've been read for FILTH for suggesting you serve these with wholegrain mustard, but what can I say… we LOVE mustard. It sounds like in the States people eat these guys with marinara sauce, which I suppose ties together the whole Italian vibe. But hey, you do you! Dip them in whatever the hell you wanna!)
Important bit!
Let me mention one more thing. I love you all and I'm SO glad you're here but by JEEBUS if any of you choose to ignore my call for ODOURLESS coconut oil and then complain about a coconutty flavour, I will come to you in the black of some terrible night and I will bring a pointy reckoning that will shudder you (yes, that's a quote from The Crucible).
There are SO * MANY * BRANDS * of odourless coconut oil out there, find one and PUT IT TO GOOD USE!
Also, if you'd rather just make mozzarella and not these deep fried versions, the head over this way!
Ok, rant over! MAKE SOME MOZ STICKS – You won't regret it!!