Publised on 25/01/2020 by Richard. Last Updated on 12/10/2022 by Richard.
A sweet, smoky one-pot vegan hassleback jackfruit chilli - what a mouthful! Topped with super crispy sliced potato and naturally super high protein - perfect for a cold wintery day.
---
Oh look, it's that dish which is easy to make but hard to say: vegan hassleback jackfruit chilli! It's a one-pot wonder! A truly satisfying combo of sweet, smoky and umami. You've got beans for protein, jackfruit for meaty texture and super crispy hassleback potato for heaven carbs!
I first made this guy on a cold, wet rainy day when I was in need of something hot, crispy and pleasantly carby - and boy did this guy deliver! It's almost like a Lancashire hotpot but with much bigger and bolder flavours!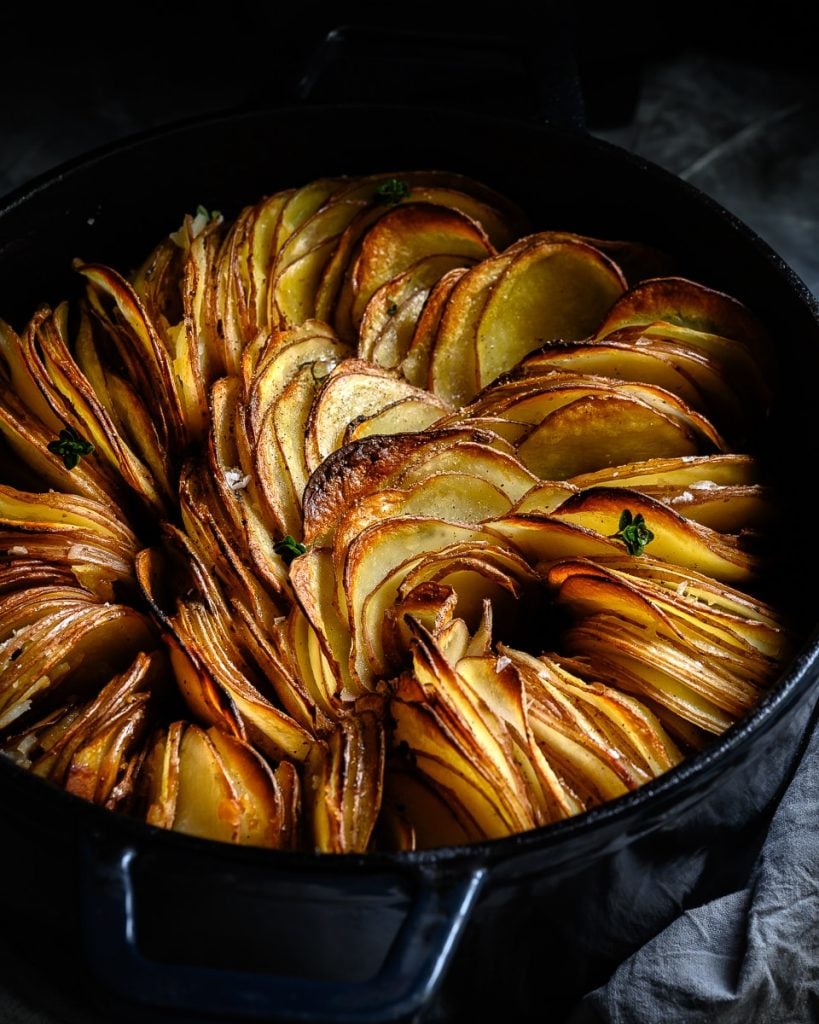 ---
Vegan Hassleback Jackfruit Chilli: Do I need any specific kit?
You'll need a few bits and bobs if you're going to nail this recipe. It's a good idea to grab these before you get started as they'll make life way easier.
Dutch Oven
No, not like that! It's a big cast-iron pot which can go on the stove AND in the oven. It comes with a lid, which is essential for this recipe. You can also serve straight from the pot, which means less cleaning up!
Mandoline
No, not the little guitar. The super sharp slicer thingy. It's essential for this recipe because those potatoes need to be super thinly sliced if this is gonna work.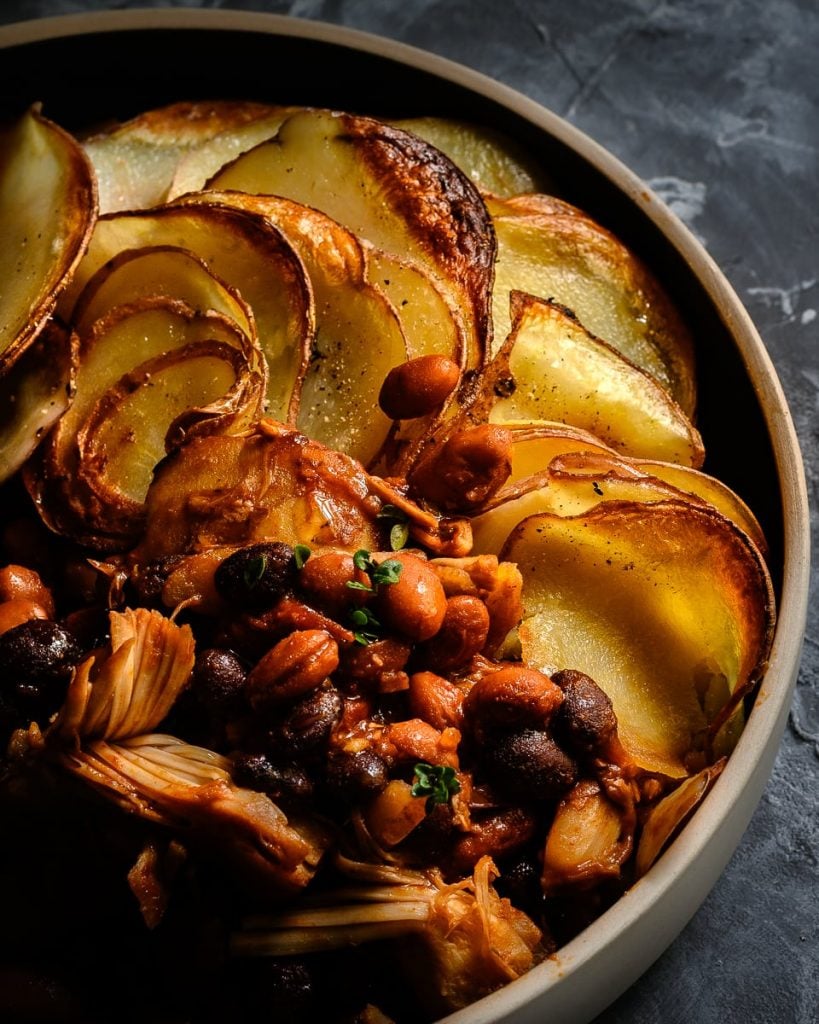 ---
How do I make it!?
As always, the full recipe is at the bottom of this page but if you need a bit of a step-by-step then have a read below. This recipe isn't super tricky but it's good to have a clear idea of the process before you dive in.
1. Assemble ingredients
The actual time over the stove is pretty short for this recipe, so it's best to have everything ready to go. Drain your jackfruit and slice into smaller strips. Drain the borlotti beans and pinto beans but leave the black beans in their water. Measure out your spices and chop your tomatoes.
2. Cook the chilli
Start with the jackfruit and some garlic. This gives the jackfruit some time to sear and brown slightly, adding more flavour to the overall dish. Follow with the herbs and spices and then the tomatoes. Once the tomatoes have had a chance to cook slightly, you'll add your beans.
Next you'll add all the big flavoursome boys including marmite, gochujang and soy sauce. I also like to add some whiskey but make sure it's vegan obvs.
3. Slice the potatoes
This is a super crucial step if you want a mega crispy, indulgent topping. Yep, we're using a lot of spuds here but the do shrink ever so slightly when they crisp up. I also like to imagine that I'm just having a baked potato with chilli, it just happens to be all in one dish!
Make sure you use a mandoline to slice the spuds or a vegetable slicer. You need them around 2mm thick - this is usually the second lowest setting on a mandoline.
4. Arrange the potatoes, cover and bake
You have complete creative licence over how you arrange your potatoes, but I highly recommend stacking them cut side up. It's also a good idea not to peel them - it's much more crispy and rustic that way. Make sure they're liberally sprinkled with salt and drizzled with oil.
Cover the pot with a lid and stick in the oven for 25 minutes.
5. Crisp up and serve!
After 25 minutes, take the lid off and crank the heat up a notch. Allow it to bake for another 25 mins until super crispy and golden. Before serving, sprinkle with a little fresh thyme and you're good to go!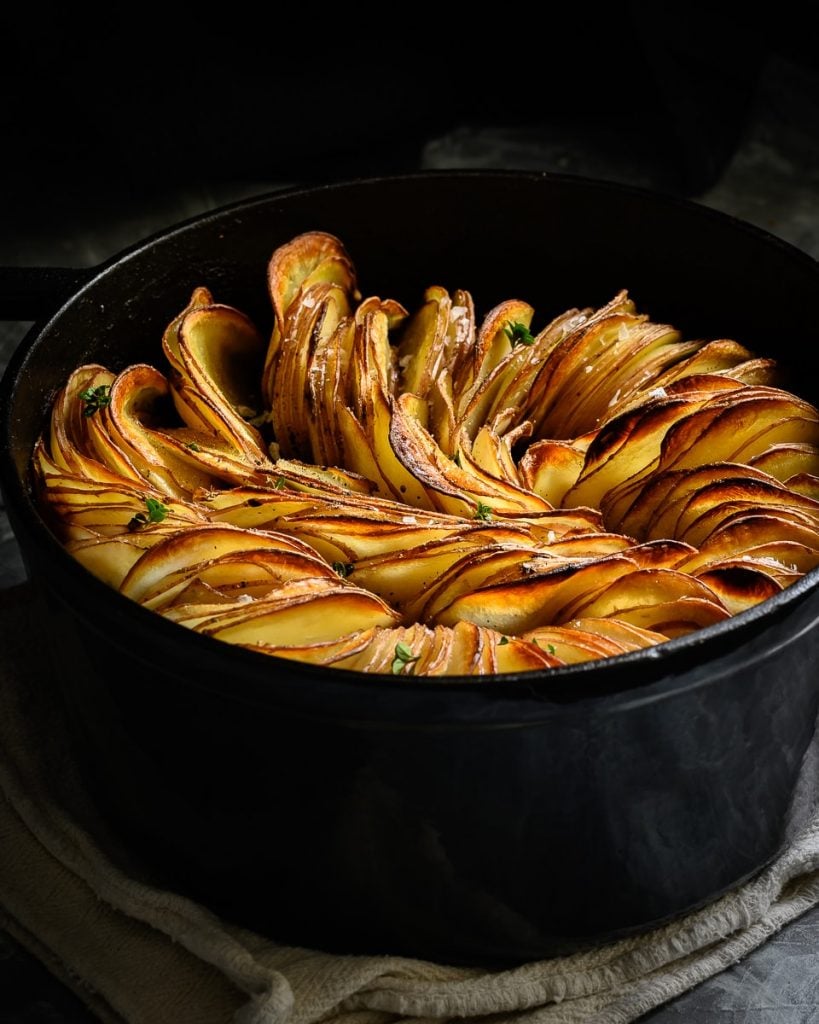 ---
Need more winter warmers?
You've come to the right place! Why not try making some of these bad boys next time:
Please keep in mind...
I love sharing my food with you - it seriously gives me so much joy! As a result, I put a huge amount of time and energy into creating these recipes. This recipe right here is my lil baby and I wouldn't change a single thing about it. As such, I won't give advice on any ingredient swaps, substitutions, omissions or changes to the method described above (how dare you talk about my baby like that!)
But seriously, if this recipe doesn't do it for you and you want to customise it - that's cool - no probs. Put that finely honed chef's intuition to good use and tailor the recipe to suit you! Regardless of whether you make any changes or not, let us know how you get on in the comments below.  
---
Disclosure: some of the links above are affiliate links, meaning at no additional cost to you, I may earn commission when you click through and make a purchase.
Vegan Hassleback Jackfruit Chilli
A sweet, smoky vegan hassleback jackfruit chilli - topped with super crispy sliced potato. Naturally super high protein and perfect for a cold wintery day.
Ingredients
400

g

young green jackfruit

((that's one tin, drained and separated into bite-size chunks))

1

clove

garlic

((crushed))

1

tablespoon

smoked paprika

¼

teaspoon

dried thyme

¼

teaspoon

dried parsley

1

teaspoon

ground coriander

2 to

matoes

((roughly chopped))

1

tablespoon

tomato puree

((aka tomato paste))

250

g

pinto beans

((this equals the drained weight of one 400g tin))

250

g

borlotti beans

((this equals the drained weight of one 400g tin))

400

g

black beans in water

((don't drain the tin))

1

teaspoon

gochujang paste

1

tablespoon

dark soy sauce

1

teaspoon

sriracha

½

tablespoon

liquid smoke

2½

tablespoon

whiskey or bourbon

((make sure it's vegan))

1

tablespoon

balsamic vinegar

1

kg

waxy potatoes

pinch

flaky salt

pinch

ground black pepper

¼

teaspoon

fresh thyme
Instructions
Preheat the oven to 200c.

Place a large, cast-iron pot (with a lid) or dutch oven over a medium heat and add a splash of olive oil. Add the jackfruit and garlic and cook for a few minutes, stirring constantly.

Add the herbs and spices and stir well to coat. Cook for another minute.

Add the tomatoes, tomato puree and gochujang. Stir well and cook for around 5 minutes or until the tomatoes look as though they're starting to break down.

Add the beans and stir.

Add the soy sauce, sriracha, liquid smoke, whiskey and balsamic vinegar along with a pinch of sea salt. Stir well and cook for a further few minutes before removing from the heat.

While the chilli cools slightly, slice your potatoes: make sure they're well washed but not peeled. Using a mandolin set to the 2mm setting, slice your potatoes into fine circles, being careful not to catch your fingers or using a finger guard.

Once the potatoes are all sliced, begin arranging them around the top of the beans, cut side up (rather than laid flat). Sprinkle with some flaky sea salt, black pepper and drizzle with some olive oil. Cover the pot with its lid and place in the preheated oven. Bake for 25 minutes.

After 25 minutes, remove the lid from the pot and raise the oven temperature to 220c. Allow to bake uncovered for a further 25 minutes.

Once baked, remove from the oven and sprinkle with a little fresh thyme before serving.
Nutrition
Serving:
1
grams
Calories:
212
kcal
Carbohydrates:
46
g
Protein:
4
g
Fat:
1
g
Saturated Fat:
1
g
Sodium:
230
mg
Fiber:
5
g
Sugar:
4
g
Love this recipe?
Let me know on Instagram!