Publised on 19/04/2019 by Richard. Last Updated on 13/10/2022 by Richard.
Vegan frangipane tarts packed with apricots and beautifully aromatic cardamom. These guys are so delicious and delicate - perfect with an afternoon coffee!
---
Vegan frangipane tarts made with apricots and cracked cardamom seeds. These are deliciously delicate, aromatic with almond essence and delightfully moist! The pastry is crisp and the filling is light, fluffy and rich (frangipane is honestly one of my favourite things in the whole wide world!).
The fruit is such a beautifully sharp addition, cutting through the mellow sweetness of the frangipane. I use apricots but I've included some suggestions for swaps and subs (damsons, I'm looking at you!).
If, like me, you were heart broken at the idea of saying goodbye to frangipane when you first went vegan, then you're going to LOVE these bad boys! It's an essential late summer dessert for when fresh fruit is everywhere!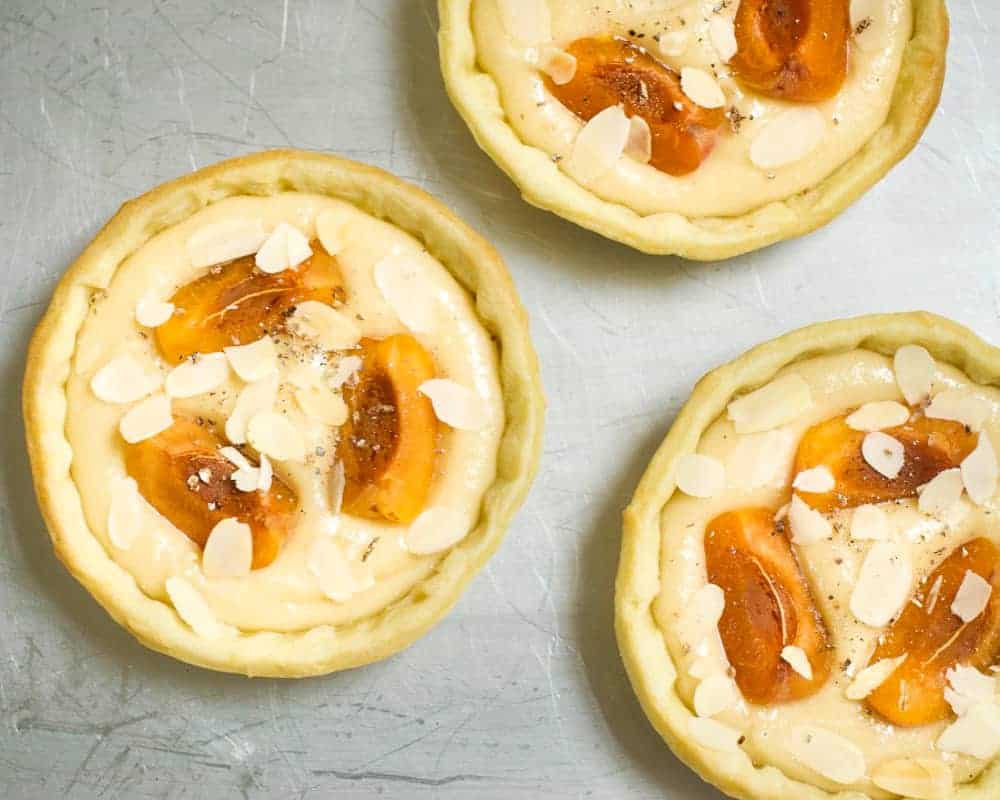 What is a vegan frangipane tart?
If you've never tried frangipane before, you're really missing out! Frangipane is a super old Italian ingredient for making desserts. It's a sweet paste made from ground almonds, usually featuring both eggs and butter (but obvs not this one!). When baked, it puffs beautifully and hugs any fruit you might pop in there.
It's perfect for filling tarts because, like custard, it sets but remains beautifully moist and sweet. Traditionally it involves some sort of fruit but doesn't have to. I love to pick slightly sharp fruits when making frangipane desserts, just to make sure the acidity cuts through all that mellow nutty sweetness.
Magic ingredients!
There are a couple of magic ingredients which makes this recipe EXTRA special. Here they are:
Aquafaba
Chances are you've come across aquafaba by now. If not, it's the water that you find in the can when you open a can of chickpeas. Yes, it's that simple - the stuff you normally pour away down the drain.
It behaves almost exactly like egg whites, so it helps to keep this frangipane really light, fluffy and moist (sorry for saying that word so much guys - but find me a better one and I'll use it!).
Aquafaba works best when chilled, so I'd advise that you chill your can of chickpeas before opening it for 24 hours.
Pre-rolled Shortcrust Pastry
I'm fairly sure people can find pre-rolled pastry all over the place! The thing most people don't know is that the majority of ready-made pastry is 100% VEGAN!
Yep! Puff pastry, filo and shortcrust! Most of them use vegetable based fats instead of butter, so they're good to go! For this recipe I like to roll shop-bought shortcrust out a little bit thinner, but this isn't strictly necessary.
You will need to pre-bake the crust before filling with the frangipane and I'd strongly suggest you use tin foil to cover the edges of the crust to ensure they don't burn!
Ground Almonds
Ground almonds bring both flavour and texture to this dish. They hold onto moisture in a MAGICAL way which gives frangipane its characteristic texture!
Here's the deal though. Once opened, ground almonds go bad really fast! If you bought some for Christmas last year then chances are they're not good to use! I recommend getting a fresh pack for this recipe as they're super integral to this recipe!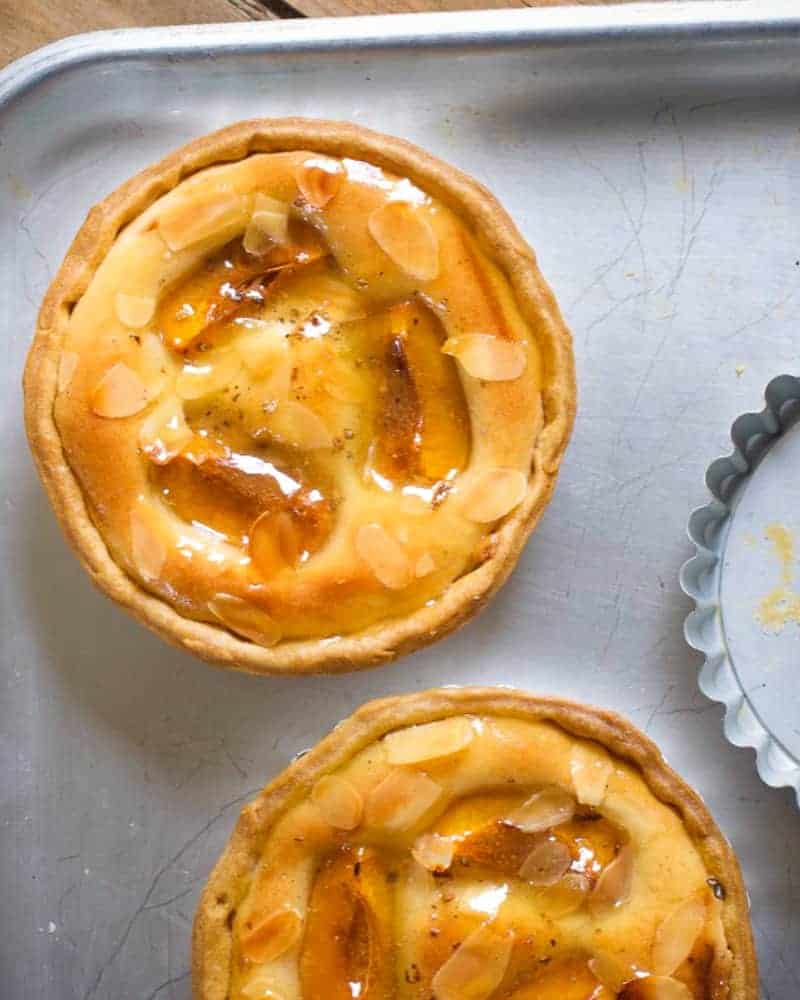 Subs and swaps!
This recipe is TRIED and TESTED but hey, I get it! You're all individuals with individual tastes! There's no need to copy this recipe EXACTLY, feel free to sub things out! Here are some of my suggestions:
The Ground Almonds
Like I said above, these guys are integral to both the flavour and texture of this dessert, but there's no reason why you couldn't replace them with another ground nut! Why not try with ground pistachios!
The Apricots
I've hinted at this throughout, but here's where you can get crazy! This recipe works with practically all fruit! The best buddies of frangipane tend to be stone fruits, so think nectarines, peaches, plums and damsons.
However, I have to say, the best frangipane tart I've EVER had was made with figs! If you have access to delicious fresh figs, why not make FIG tarts instead.
This recipe also works with most berries. For instance, it's blackberry season in the UK right now. HINT HINT!
Want more tarts and pies?!
Why not try making these guys!?
Vegan Frangipane Tarts with Apricots
Vegan frangipane tarts packed with apricots and beautifully aromatic cardamom. These guys are so delicious and delicate - perfect with an afternoon coffee!
Ingredients
For the Tarts
1

pack of pre-rolled shortcrust pastry

(most are vegan, but check the ingredients obvs)

4

tablespoon

aquafaba

(I used cannelini bean water but chickpea water is great)

80

g

caster sugar

45

g

vegetable oil

½

teaspoon

almond extract

30

g

plain flour

120

g

ground almonds

1

tablespoon

soy milk

3

fresh apricots

seeds of 10 cardamom pods

(ground roughly)
For the Glaze
2

tablespoon

apricot jam

1

teaspoon

water
Instructions
Preheat the oven to 170c and grease three small fluted tart tins.

Unroll the pastry and, using a saucer slightly larger than the circumference of the tart tins, cut out three circles of pastry. Lay the circles of pastry over the tart tins and gently push the pastry into the corners of the tins using a ball of excess pastry dunked in flour (its much softer than your fingers and takes on the shape of the fluted sides). Trim off the excess pastry leaving a slight overhang and place in the freezer for ten minutes.

Once chilled, line with baking parchment and fill each tin with baking beads or dried beans. Place on a baking tray and bake for 15 minutes. While baking, prepare the frangipane filling.

In the bowl of a stand mixer fitted with the whisk attachment, whip the aquafaba until it is glossy and forms ribbons when spooned (about 10 minutes on high speed). Add the sugar, oil and almond extract and whisk again briefly to combine. Remove the bowl and fold in the flour and ground almonds until completely combined. The mix will be a very thick paste at this stage. Add the soy milk and mix to thin out the frangipane. Set aside.

Using a sharp knife, slice the apricots around their circumference, twist apart the two halves and remove the stone. Chop each half into a quarter and set aside.

Once the tart cases have blind baked, remove them from the oven, take out the baking beads and parchment. Divide the frangipane between the three cases evenly. Top with three quarters of apricot per tart, pushing each quarter down into the frangipane slightly. Using tin foil, cover all the exposed edges of pastry to prevent burning. Finally, sprinkle each tart with the ground cardamom and return to the oven for 25 minutes or until the frangipane is nicely puffed and gently browned on top.

Once baked, remove the tarts from the oven and allow to cool for around 20 minutes. While cooling, make the glaze by combining the jam and water in a small saucepan over a low heat. If your jam has pieces of fruit in, sieve these out once the glaze is warm and runny.

Once the tarts are cooled, dip a pastry brush into the warm glaze and paint the frangipane and fruit of each tart. Remove the tart tins and serve.
Nutrition
Serving:
1
grams
Calories:
531
kcal
Carbohydrates:
52
g
Protein:
10
g
Fat:
35
g
Saturated Fat:
14
g
Sodium:
8
mg
Fiber:
5
g
Sugar:
34
g
Love this recipe?
Let me know on Instagram!