Insanely smooth no-bake vegan cheesecake packed with dark chocolate and hazelnut praline. It's like a vegan nutella cheesecake but with extra class!
---
This no bake vegan cheesecake is potentially too decadent for you. The last thing I want is for you to move on from this recipe, but here's the deal. This recipe is DEC-A-DENT and if you're not down, don't be sad, just maybe try these guys instead.
If you're down, then great, we're on the same page – you made it past the disclaimer. Now I can assume that you're absolutely good with being SMACKED in the mouth with the creamiest, richest dark chocolate and hazelnut experience of your lifetime. Awesome. Same.
Why is this no bake vegan cheesecake so special?
First of all, just look at it. It almost doesn't even look like a cheesecake. It has an insanely smooth texture which slices so beautifully and is topped with the silkiest chocolate ganache you've ever come across.
The hazelnut praline paste makes it feel like something you picked up in a French patisserie and elevates the whole experience to something much more grown-up. Meanwhile, the crust is also packed with toasted hazelnuts to really help tie the whole thing together.
Any specialist ingredients?
This no bake vegan cheesecake is pretty simple to make, but here's a quick explainer on some of the ingredients you may not have just lying around.
Hazelnut Praline Paste

This stuff is like puree'd heaven! It's seriously the most toasty, nutty ingredient I've ever come across. It's used in French patisserie a lot and is made by caramelising hazelnuts before blending them into a paste.

If you want to go whole hog, you can make some hazelnut praline paste using this recipe.

If, like me, you'd rather buy it, you can grab some here.
---
Vegan Dark Chocolate

Not all dark chocolates are created equally! For a start, not all of them are vegan. Make sure you choose one which has no milk content – usually any chocolate with a cocoa content over 70% is vegan.

My brand of choice is Callebaut which you can grab here.
Vegan Cream Cheese

There are loads of vegan cream cheese brands out there now, but some simply aren't suited to dessert recipes. Especially this no bake vegan cheesecake!

Make sure you try the vegan cream cheese you plan to use before hand. If it tastes too "cheesy" or savoury, then try a different brand. You want something smooth and slightly tangy.

My brand of choice is Violife, Tofutti or Daiya.
What's the process?
The process to make this no bake vegan cheesecake is actually super simple. My main tip is to make sure each layer has chilled and set before moving onto the next one. Do NOT pour the ganache on top of the cheesecake centre before it's set. Anyway! Here's a breakdown of the process!
Make the Crust!
My tip for making the crust is to MAKE SURE your hazelnuts are perfectly toasted. This is where most of the flavour comes from in the crust, so don't skip this process.
Once the hazelnuts are toasty AF, blitz them up with your other crust ingredients and some melted vegan butter until you have a sandy texture. Line your cake tin and push the crust into all the corners, making sure it's flat and neat all the way around.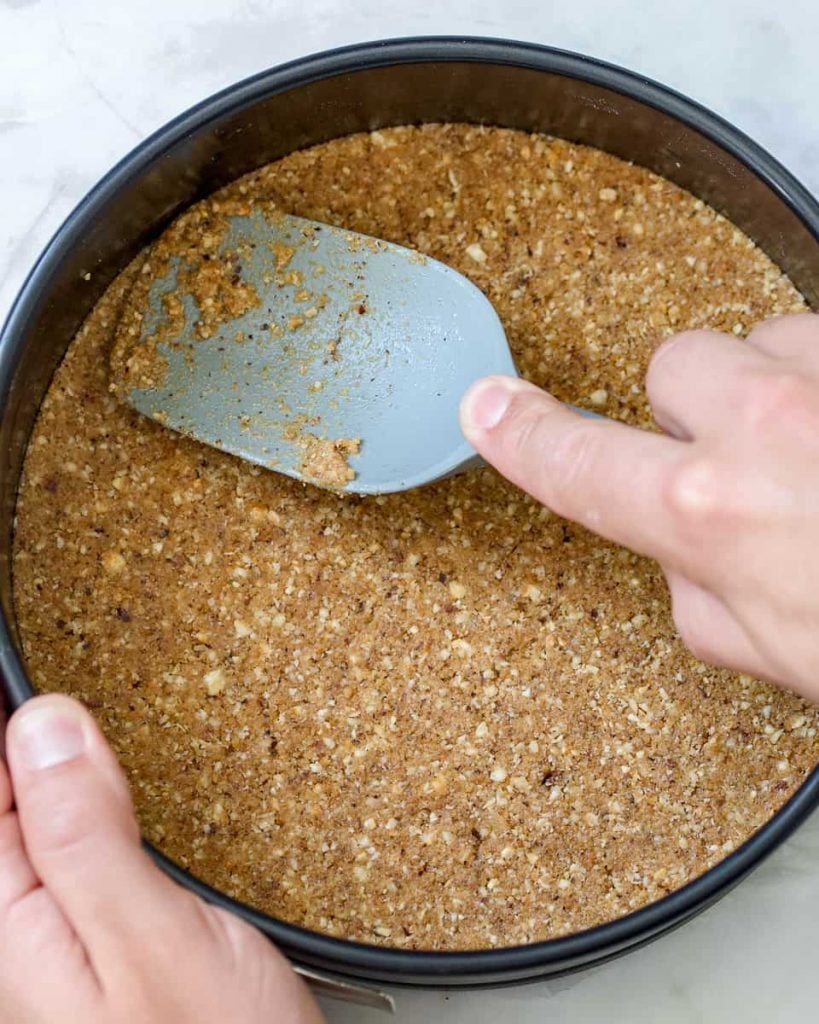 Make the Filling
For this step you'll need to soak some cashews, so make sure you do this well in advance. If you can do it the day before then grand! That'll make for a super smooth cheesecake texture.
Once your cashews are beautifully smooth, you'll add all your remaining filling ingredients along with some melted chocolate and mix it all up. Pour on top of the chilled base and refrigerate. The recipe calls for around five hours to allow the filling to set, and this is no exaggeration! You'll end up with a gross sloppy mess if you move on before this time is up.
Make the Ganache
This ganache couldn't be easier and it transforms your no bake vegan cheesecake into something much more classy and extravagant.
All you need to do is heat your coconut milk up until it boils, remove from the heat and add some chocolate. Don't mix, just leave the chocolate to melt for ten minutes. Once ten mins is up, give it a good whisk and you'll have a shiny, smooth, ganache.
Pour the ganache on top of the cheesecake and leave to set in the fridge for 30 minutes. And hey, presto! you're ready to serve!
---
Disclosure: some of the links above are affiliate links, meaning at no additional cost to you, I may earn commission when you click through and make a purchase.