Publised on 11/12/2018 by Richard. Last Updated on 13/10/2022 by Richard.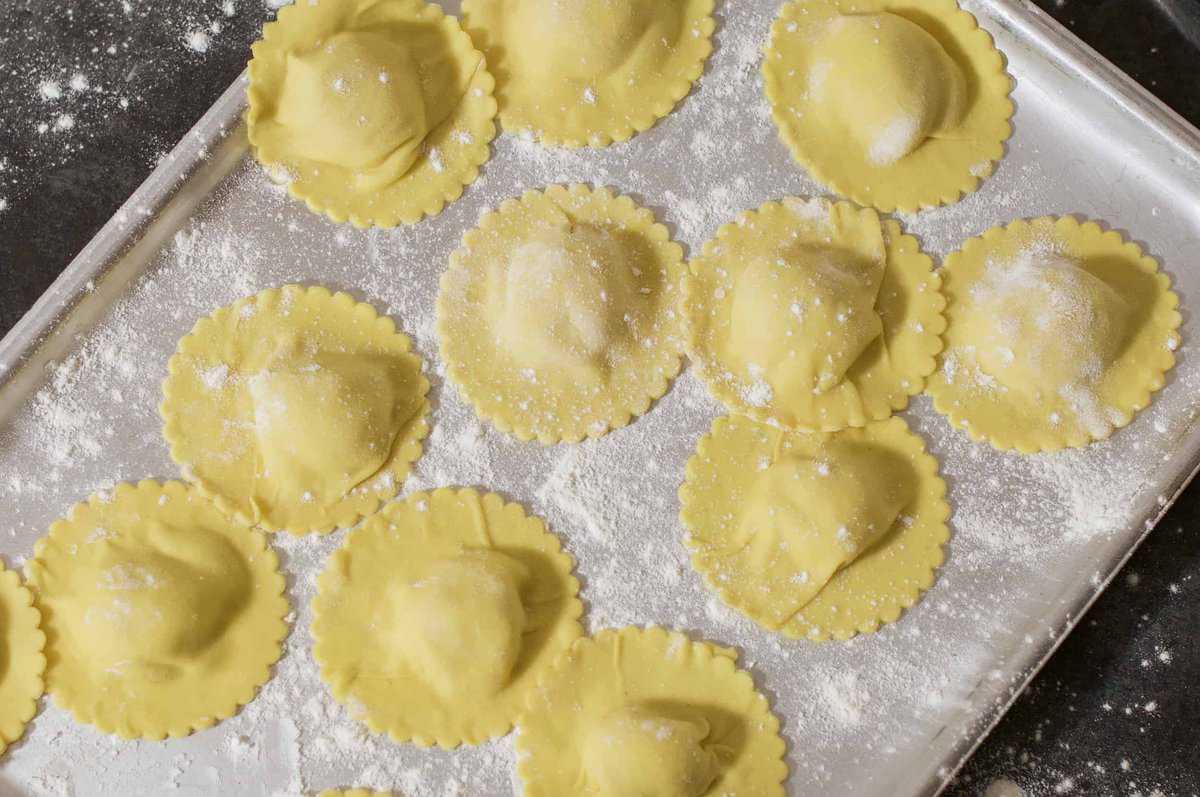 One thing I really missed when I first went vegan was fresh pasta. The vast majority of fresh pasta contains eggs, which meant I was limited to dried stuff for a long time. Until I stumbled across the bonkers pasta dough recipe from the guys over at Wicked Healthy. Derek gradually became a huge influence on my vegan cooking (as I'm sure he has to many) particularly because he's responsible for Tesco's super fun new vegan range. Anyway, enough fan-girling, my recipe below is adapted from theirs.
I'm obsessed with cauliflower, so my ravioli is stuffed with cauliflower. The "ricotta" is awesome. Super cheesy and nutty. The first time I made these my husband made little delighted sounds each time a new ravioli would pop in his mouth. I knew I'd done something right.
Makes around 4 portions of pasta.
Fresh Ravioli with Cauliflower "Ricotta"
I'm obsessed with cauliflower, so my ravioli is stuffed with cauliflower. The "ricotta" is awesome. Super cheesy and nutty.
Ingredients
For the Pasta
200

g

Silken Tofu

140

g

"00" flour

140

g

semolina flour

3

tablespoon

rapeseed oil

½

teaspoon

fine sea salt

2

tablespoon

water
For the Cauliflower Ricotta
120

g

cashews

(soaked for 30 mins in boiling water)

445

g

cauliflower

(broken into medium sized florets)

1

tablespoon

vegan parmesan

(I use Follow Your Heart shreds)

2

tablespoon

nutritional yeast
Instructions
To Make the Pasta
Combine all the ingredients in a food processor. Leave it running. The dough will be crumbly and broken up at first but will eventually (after a few minutestart to form a ball. At this point, turn off the food processor and remove the dough. The dough should not be sticky. If it is, add an extra teaspoon of "00" flour and process again.

Wrap the dough in cling film and refrigerate/rest for 30 minutes. At this point you can also freeze the dough for up to a month.

Flour a work surface and your hands. Remove the dough from the fridge and unwrap. Cut the dough into 4 equal pieces and wrap 3 of the pieces back in the cling film.

Take your piece of dough and roll into a rough oblong using a rolling pin. Then feed through the widest setting of the pasta machine (usually 7 on most machines). Carefully remove the pasta from the machine, fold the strip over in half and feed it back through on the same setting. Repeat one more time before reducing the setting by one and feeding the pasta through again. Continue working down the settings until you reach the penultimate setting (2 on most machines).

By this point the pasta should be thin enough to see your hands through. It should also be very long, which can be difficult to work with, so I'd suggest cutting it into 4 lengths of pasta. Place the sheets of pasta on a baking tray dusted with flour.

Take one length of pasta and place scoops of cauliflower ricotta around 1.5 tablespoon large along the length of the pasta. Make sure you leave a good space between each scoop (around an inch between each one).

Using a pastry brush, wet each length of the pasta strip on either side of the filling. Carefully drape a second strip of pasta over the filling like a blanket. Press around the filling to release any air bubbles then using a cookie or ravioli cutter (square or circular will dcut out each ravioli and place on the floured baking tray. Any offcuts of dough can be re-balled and re-used.

Cover the ravioli and place in the freezer for a minimum of 30 minutes. After this they can either be boiled and dressed with a delicious sauce or they can be kept frozen for a month or so - ready to use whenever you need them!

When ready to cook, remove the pasta from the freezer and place into a large pan of boiling salted water. Boil gently for around 3-5 minutes or until they bob to the surface. Remove from the water, drain and serve with a sauce of your choice.
Nutrition
Love this recipe?
Let me know on Instagram!