Publised on 28/09/2020 by Richard. Last Updated on 17/10/2022 by Richard.
Super soft and chewy on the inside - golden and crisp on the outside - these vegan vanilla latte snickerdoodles are the only caffeine kick you'll ever need!
---
It was only a matter of time before I sunk my teeth into the two tone cookie trend, but I bet you didn't expect VEGAN VANILLA LATTE SNICKERDOODLES did ya!!? Truth is, I don't think I've ever actually drunk a vanilla latte, but these super gorgina snickerdoodles blend espresso and vanilla cookie dough with VERY SEXY results!
If you've never had a snickerdoodle before, don't worry. You're gonna LOVE them. They're chewy and soft inside but crispy with crystalised sugar on the outside. The dough has a delicious gentle tang and (in this case) has a bold espresso kick balanced with creamy vanilla. TELL ME YOU'RE NOT DROOLING!
What's so special about snickerdoodles?
Honestly, I'm not exactly sure. There's something magical about the texture of a snickerdoodle which means you can basically nail about twelve in a row (and hey, I'm not here to judge you). The outside has a super gentle crisp layer while the inside is practically fudgy and chewy. They're light but DANGEROUSLY satisfying.
Weirdly enough, these vegan vanilla latte snickerdoodles are PERFECT for with a cup of tea. YES - I know, a coffee flavoured biscuit with a tea flavoured beverage sounds strange. Kinda like eating a bag of cola bottle sweets with a can of lemonade. But trust and believe, it works and it's delicious!
Vegan vanilla latte snickerdoodles in FOUR easy steps!
We're here again! With the four steps! Is it that all baked goods can be reduced to four step recipes?? Or is it just that I'm lazy and am reusing the same blog post format?? I'll let YOU be the judge of that!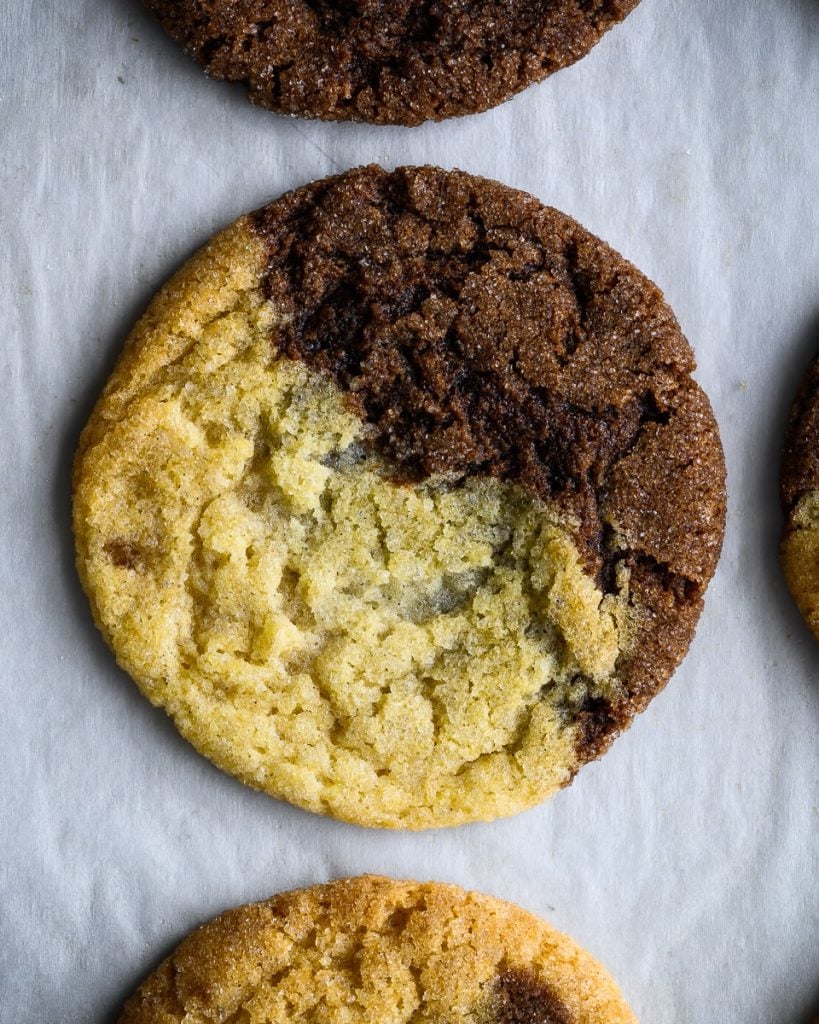 1. Start with the butter and sugar!
Not real butter obvs! What is this?? 1996?? Nah, we're using vegan butter. If you can get hold of a decent block butter (like Naturli or Miyokos) then good for you! If not, don't worry - vegan margarine works fine too!
Beat together the vegan butter and the granulated sugar REALLY well. If you have one, use a stand mixer or an electric whisk and get to it! Cream the butter and sugar together for a good two minutes or until they're light and creamy.
2. Add apple sauce and vanilla!
For this recipe we're using apple sauce for our egg replacement. DON'T WORRY! The cookies will NOT taste of apples. Just be sure to use an unsweetened variety. The reason we're using apple sauce for this recipe is because snickerdoodles are all about MOISTURE! Applesauce is much better at retaining moisture than, say, flax egg or (my fave) psyllium husks. Those guys are great at emulsifying, but we're not too concerned about emulsification here (unlike with sponge cakes).
If you really can't get hold of apples or apple sauce, by all means sub it for around a tablespoon of ground flax mixed with around 4 tablespoon of water OR 2 teaspoon ground psyllium husks and 8 teaspoon water. You'll still end up with gorge cookies!
3. Add the dry ingredients, split and refrigerate.
Once you've added your dry ingredients (remember not to over-mix) separate the batter into two halves. Mix the espresso powder and cocoa into one half of the batter and refrigerate both for a good half hour.
Once refrigerated, you're going to form the dough into balls. You want around half and half of each type of dough and be careful not to push the dough together too much. You want a nice clear defined line between the two flavours. Roll into balls and then roll in granulated sugar. Arrange on two lined baking sheets. READY TO BAKE?!?
4. Bake the vegan vanilla latte snickerdoodles!
Time to stick em in the oven! I like to bake snickerdoodles nice and slow at around 170c. This means they'll spread a fair bit, so leave a decent gap between each cookie. They'll puff up gently and crack on the surface.
Don't wait for them to look cooked completely all the way through. You want to take them out of the oven JUST before they're fully baked. This way, as they cool on the baking tray, they'll be perfectly soft and chewy when done.
It's that easy! Allow them to cool fully on the baking tray before serving and then keep them in an airtight container. They're best the day they're baked but fine the next few days.
Need more COOKIES??
Then you came to the right place! Why not give these bad boys a try!?
Double Chocolate Coconut Oatmeal Cookies
Vegan Nutella Cookies
Vegan Turtle Cookies
Vegan Vanilla Latte Snickerdoodles
Super soft and chewy on the inside - golden and crisp on the outside - these vegan vanilla latte snickerdoodles are the only caffeine kick you'll ever need!
Ingredients
For the Dough
130

g

vegan butter

((the kind in a block, at room temperature))

150

g

granulated sugar

50

g

apple sauce

((unsweetened))

1

tablespoon

vanilla bean paste

180

g

plain white flour

((aka all purpose flour))

1

teaspoon

cream of tartar

½

teaspoon

bicarbonate of soda

((aka baking soda))

½

teaspoon

fine sea salt

1

tablespoon

freeze dried espresso powder

1

teaspoon

cocoa powder

((for colour))
For Rolling
4

tablespoon

granulated sugar
Instructions
Place the vegan butter and granulated sugar in the bowl of a stand mixer and cream them together on medium speed until smooth and fluffy (2-5 minutes).

Add the apple sauce and vanilla bean paste and beat again until smooth.

In a separate small bowl, combine the flour, cream of tartar, bicarbonate of soda, and fine sea salt. Add to the stand mixer bowl and beat on slow until just combined.

Remove the dough from the mixer bowl and weigh it. Divide the dough in half and separate into two bowls. Cover one bowl with reusable plastic wrap and place in the fridge. Add the espresso powder and the cocoa to the other half of the dough and mix until combined. Cover and place in the fridge for 30 minutes.

While the dough cools, preheat the oven to 170c/340f (fan) and line two baking sheets with baking parchment. Place granulated sugar for rolling in a shallow bowl and set aside.

Once the dough is cooled, remove both bowls from the fridge. Starting with the vanilla dough, divide it into 12 equal sized portions and form into rough balls with your hands. Set aside. Wash your hands and repeat the process with the espresso dough.

Gently squeeze together an espresso and vanilla ball together and roll them into one ball in your hands. Drop into the sugar and roll to coat all over. Remove from the sugar and place on the lined baking tray. Repeat the process until you have 12 combined balls of dough spread across the two baking trays.

Place one tray with six balls of dough into the oven and bake for 10-12 minutes. The dough will spread and crisp up around the edges slightly but will still look slightly under-done in the centre. Don't worry - this is correct and will help the cookies to stay soft and chewy in the centre. Remove the cookies and repeat with the second tray while the others cool.

Allow the cookies to cool for at least 20 minutes before serving.
Nutrition
Calories:
189
kcal
Carbohydrates:
29
g
Protein:
2
g
Fat:
7
g
Saturated Fat:
2
g
Sodium:
220
mg
Potassium:
63
mg
Fiber:
1
g
Sugar:
18
g
Vitamin A:
414
IU
Calcium:
2
mg
Iron:
1
mg
Love this recipe?
Let me know on Instagram!