Publised on 14/01/2020 by Richard. Last Updated on 10/09/2023 by Richard.
Deliciously cheesy vegan twice baked potatoes which are crispy and caramelised on the outside but soft, buttery and fluffy inside!
---
On all levels, including spiritual, these vegan twice baked potatoes are an awakening. As anybody who's anybody knows, this blog is fuelled almost entirely by a deep, primal understanding of the bond between human and spud. Potatoes, in all forms, are celebrated here. But this recipe, I must declare, is something else.
This particular incarnation of the potato is remarkable for three main reasons which I shall outline below:
1. It's deceptively easy to make.
2. It's undeniably delicious.
3. It's entirely vegan.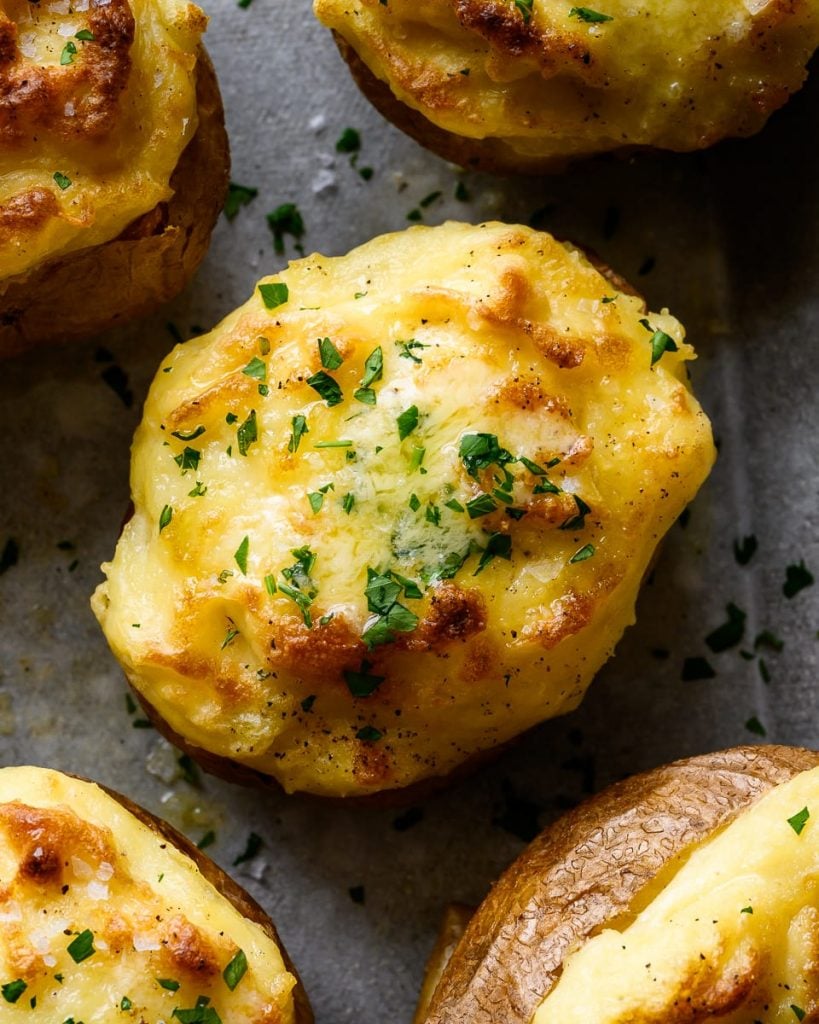 How do I make Vegan Twice Baked Potatoes?
This is the sort of recipe you'll want to keep for impressing people. It's not difficult, and yeah, it takes some time. But have you ever compared a microwaved potato to an oven baked one??
Different 👏 Damn 👏 Ball 👏 Park 👏
The full instructions and ingredients, as always, are at the bottom of the page, but here are some pointers on how to nail this recipe.
1. Pick the right potato!
Ok, not actually a step in the cooking process, but SUPER important!
Not just any old spud will do! The aim here is to make sure we end up with a crispy, caramelised skin and a fluffy, buttery inside. Therefore, you want to avoid any waxy varieties of potato (Maris Peer, Charlotte, Jersey royals) and stick with floury varieties like Maris Piper, King Edward and Ailsa. If you're not sure which variety you're looking at, just ask your local greengrocer. 
2. Bake your potatoes
Yep, when I say twice baked, I really mean it. Before we can do ANYTHING we need to make sure our spuds are baked. I like to do mine in a baking tray, pricked all over with a fork.
My mum does hers on a metal skewer, which helps the insides cook faster, but I avoid that for this recipe because it can make slicing and scooping a little trickier later on.  
3. Make the "cheese"
Did I mention that these bad boys are AS CHEESY AS ALL HELL?? And yes, they're vegan, don't come for me! This process is very similar to my Vegan Mozzarella recipe but we're going to use potato starch instead of tapioca starch, just to keep that whole potato vibe going strong!
Blend up all your ingredients and cook, whisking constantly, until mega thick and stretchy!
4. Slice n scoop!
Once baked, you want to slice off a third of the potato, lengthways. Unless you're a master at the game hot-potato, you'll want to leave them to cool for about 10 mins before you handle them.
Use a sharp knife and slice lengthways to remove about a third of the spud. Using a spoon, scoop out the 'flesh' from the little third and pop it into a bowl. Repeat with all of the potatoes.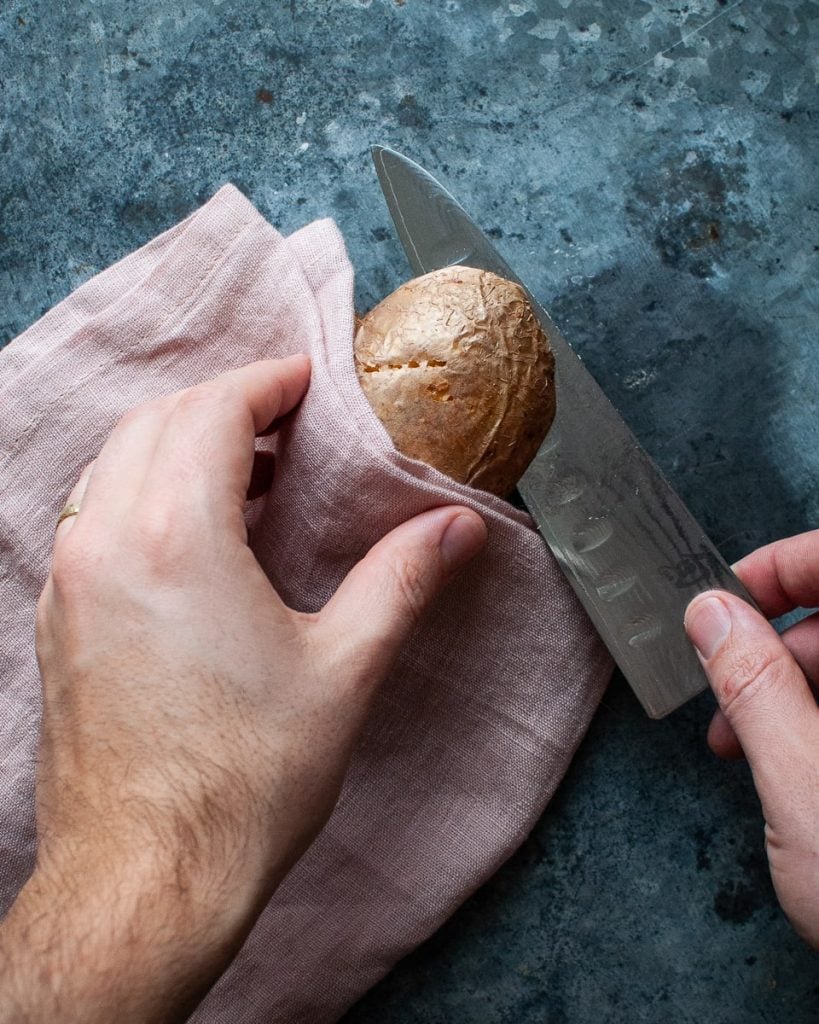 5. Prepare the filling
Using the potato flesh which you've scooped out, we're going to make a deliciously cheesy filling for the potatoes.
First you need to mash the potato you scooped into the bowl with some vegan butter and milk. Next you're going to add half of the 'cheese' mixture from the saucepan and mix until well combined. Hey presto - a mega cheesy filling! Time to top your potatoes!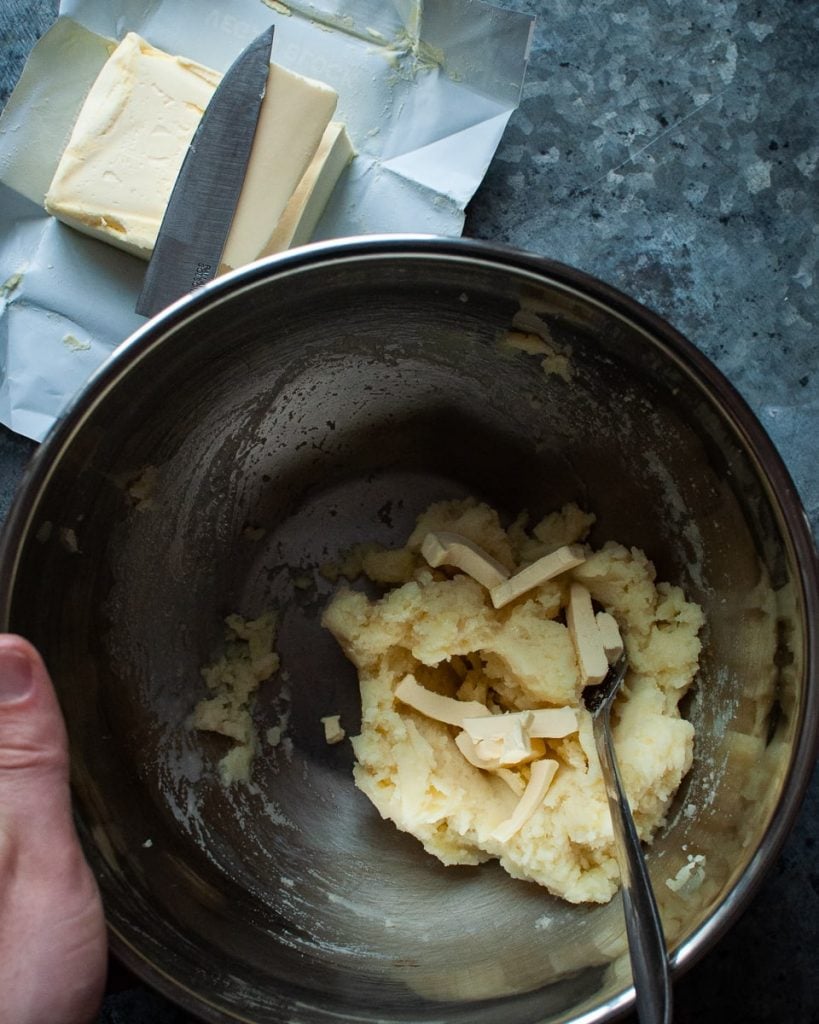 6. Bake AGAIN!
Once your potatoes are topped with the extra filling, I like to add a little more of the vegan cheese we whipped up. It helps everything to stay super melty and cheesy. Finish with a pinch of salt, some more vegan butter and a grind of black pepper.
Pop your potatoes back into the oven for a second bake. Once done, I like to give mine a final blast under the grill to make sure they're crazy crispy and caramelised. Bingo! The end! Put them in your face!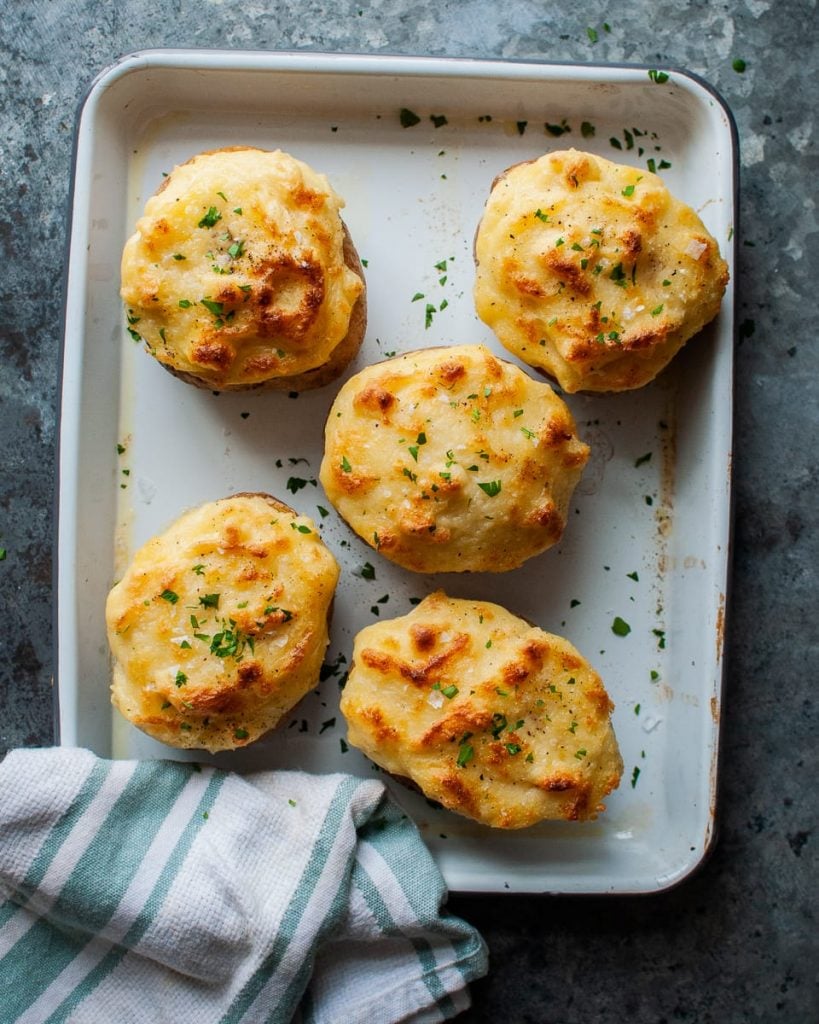 Any special ingredients?
There's nothing too crazy in this recipe - mostly a load of pantry ingredients. But here are two dudes you simply must have in order to make this recipe. 
This is the magic ingredient to getting a melty, stretchy cheesy texture to your potato filling. You can also use tapioca starch with similar results.
---
Nutritional Yeast
Everyone's favourite hippy powder! It tastes like a really nice, mellow, nutty cheese and when combined with something acidic (apple cider vinegar in this case) you get some seriously cheesy vibes!
Grab some nutritional yeast!
---
What should I serve vegan twice baked potatoes with?
I like to serve these as part of a roast dinner, perhaps in place of (or even WITH) roast potatoes. Why not try serving with: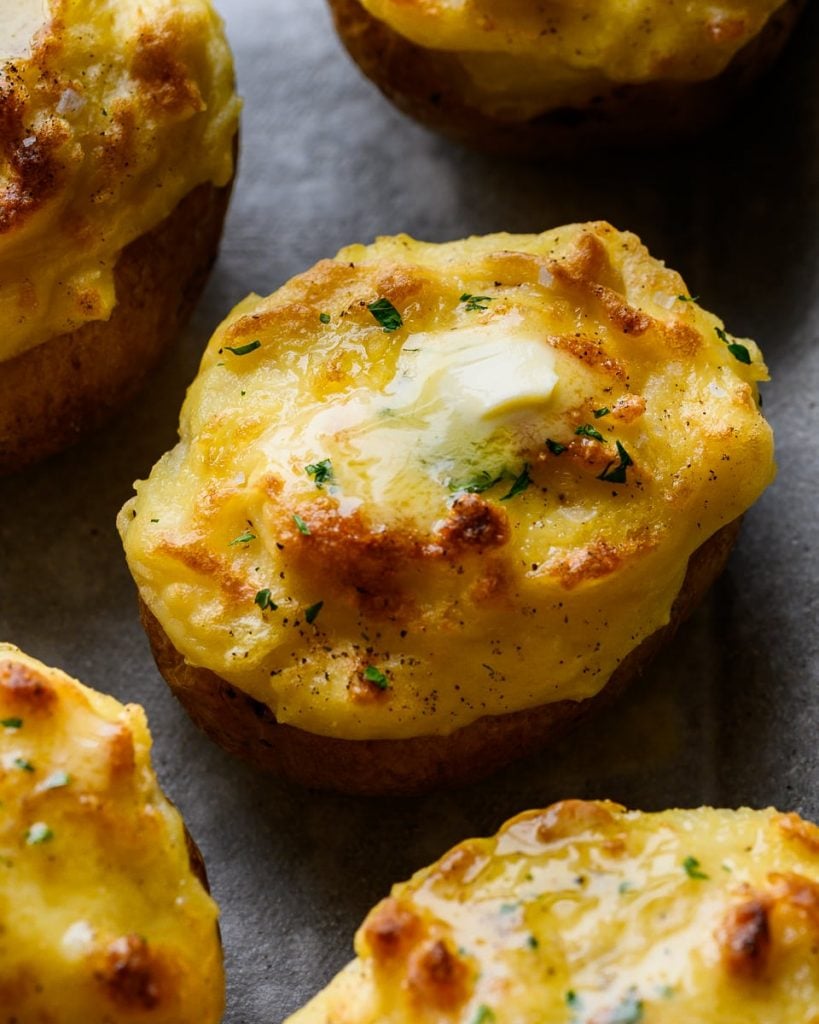 Vegan Twice Baked Potatoes
Deliciously cheesy vegan twice baked potatoes which are crispy and caramelised on the outside but soft, buttery and fluffy inside!
Ingredients
5

baking potatoes

((thoroughly washed but not peeled))

350

ml

plant milk

50

g

coconut oil

((deoderised or "refined"))

3

tablespoon

nutritional yeast

½

teaspoon

onion powder

½

teaspoon

garlic powder

1½

teaspoon

fine sea salt

4

tablespoon

potato starch

2

tablespoon

vegan butter

3

tablespoon

plant milk

pinch

ground black pepper

pinch

flaky sea salt

small bunch fresh parsley
Instructions
Preheat the oven to 170c.

Using a fork, prick the potatoes all over a few times. Place on a baking tray and put in the oven for a total of one hour, removing half-way to flip.

While the potatoes bake, make the "cheese" for the filling. Place the 350ml of plant milk, coconut oil, nutritional yeast, onion powder, garlic powder, fine sea salt, and potato starch in the cup of a high-speed blender. Blend until smooth.

Transfer to a medium saucepan and place over medium-low heat. Whisking constantly, cook until the mixture is very thick and stretchy. Remove from the heat.

Once the potatoes have baked for an hour, remove from the oven and leave to cool for 10 minutes. Hold one potato with a napkin. Working lengthways, slice off a third of each potato.

Using a spoon and working only with the sliced off ⅓, scoop out the potato to separate from the skin. Transfer all the scooped out potato to a bowl.

Using a masher or a fork, combine the scooped out potato with the vegan butter and plant milk. Mash well until smooth before adding around half of the "cheese" mixture. Mash well until fully incorporated.

Divide the cheesy mashed potato mixture between the five baked potatoes, packing the filling on top and making sure it's rough and domed rather than smoothly and flat.

Using a teaspoon, top each potato with a little of the remaining "cheese". It's best to use sparingly and I don't advise you use everything that's left in the saucepan. Top the potatoes with the black pepper and flaky sea salt (and a little knob of vegan butter if you have any spare) then return to the oven for a further 20 minutes.

After 20 minutes the potatoes should look crispy on the sides and bubbly on top. Switch the oven to grill/broil and place the potatoes nice and close to the heat element. Grill/broil the potatoes until they're golden brown and crispy on top (around 3-5 minutes) but watch them like a hawk as they'll burn easily at this stage.

Remove from the oven and sprinkle with some finely chopped parsley before serving.
Nutrition
Serving:
1
grams
Calories:
364
kcal
Carbohydrates:
49
g
Protein:
10
g
Fat:
16
g
Saturated Fat:
10
g
Sodium:
788
mg
Fiber:
5
g
Sugar:
4
g
Love this recipe?
Let me know on Instagram!