Publised on 01/10/2022 by Richard. Last Updated on 10/09/2023 by Richard.
My vegan turkey roast is ideal for a vegan thanksgiving, plant based Christmas or even a vegan Sunday roast! Made from seitan and packed with herby stuffing!
---
Here she is, your vegan turkey roast - the ideal vegan meat for the perfect vegan thanksgiving dinner, vegan Christmas dinner or even a simple Sunday lunch! This vegan turkey roast is succulent, meaty and packed full of flavour (and vegan stuffing of course!) ideal for serving with all your fave veggies.
Every year at Christmas and thanksgiving I search the entire interweb for the perfect vegan centrepiece for a big slap-up dinner, but this year I just decided to make it myself. And look where we ended up!? With this magical roast in the middle of the table. It's even got a crispy, flavoursome skin - what more could you actually want!?
Vegan meat can be a pretty spooky thing to make, but if you follow my instructions, I guarantee you'll be fine. You may have already made my vegan chicken, or my vegan roast beef, so you may well be familiar with the process. Essentially we're making a large seitan roast which we'll stuff with stuffing and cook in delicious broth to make sure it stays flavoursome.
And in terms of sides, you're also gonna wanna whip up some vegan mashed potatoes and some vegan gravy for with this vegan turkey roast. You know - all the trimmings, as we say!
What is seitan?
If you thought vegan meat was a new thing, you're very wrong! Seitan is a plant-based substitute to meat, made from wheat protein, which originated in China in the 6th century. Wheat protein is also known as gluten (so sorry, this recipe is not coeliac friendly) and has a very stretchy gummy texture before it's cooked.
However, once cooked, seitan becomes super meaty and makes a wonderful substitute to anything from chicken to beef AND NOW TURKEY! Seitan itself is doesn't have a huge amount of flavour. This means that we can tweak flavours with herbs and spices to make our seitan taste like pretty much anything.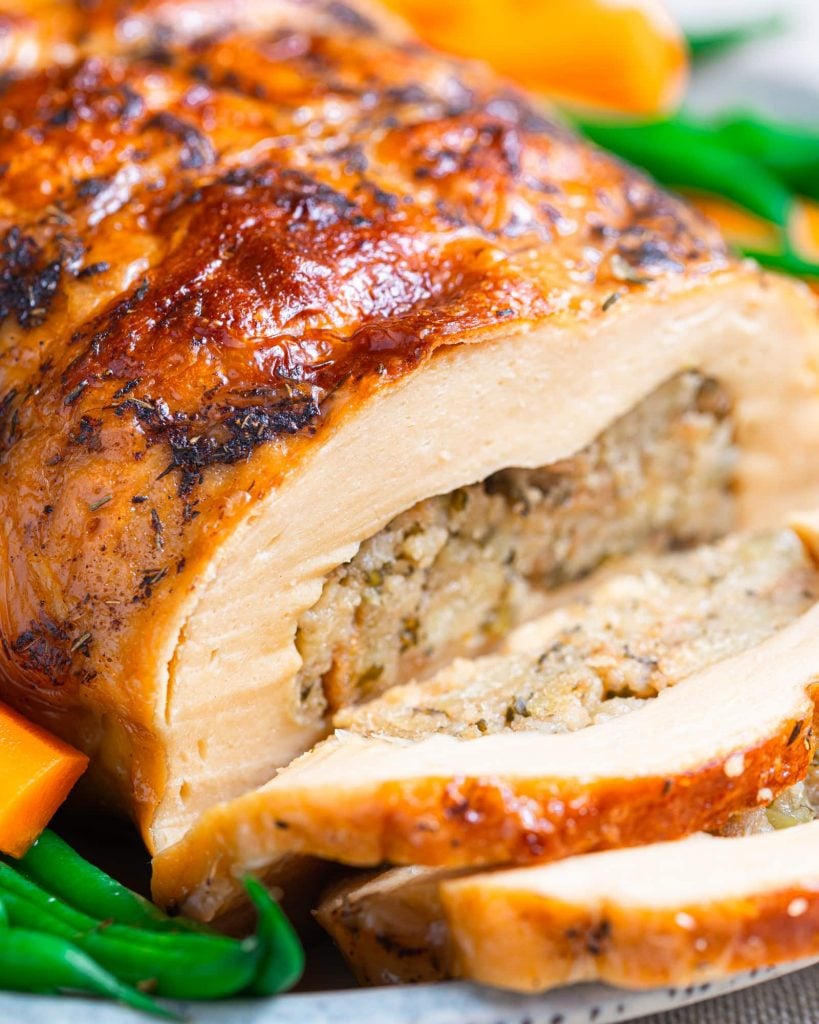 How do I make this vegan turkey roast?
Hey guess what!? FULL RECIPE for my vegan turkey roast is at the bottom of the page – feel free to skip down there if you're in a rush to be getting on with your vegan roast dinner.
Alternatively, here's a step by step breakdown!
1. Make your vegan turkey roast spice rub
Remember when we said we can make seitan taste like kinda anything?? Well here's where we make it taste like a turkey roast! This turkey rub is the first step! We're going to be rubbing this blend of herbs and spices on the outside of the vegan turkey while it roasts, so we're starting immediately with the big flavours!
We're talking onion powder, paprika, thyme and sage! All the classics from a roast dinner and more!
2. Blend up the seitan
This is where things get meaty! When we add vital wheat gluten to the wet ingredients, we get a very high-protein dough. You now have two options: you can knead the vegan turkey dough by hand OR you can blend it in a blender (my favourite). When you use a blender or a food processor, it slices the dough and helps to align all the protein molecules into long strands. This gives the seitan a stringy gummy texture when raw, but once cooked it becomes VERY meaty.
I use this technique in other vegan meat recipes too, particularly where we're trying to emulate a roasted piece of meat with plant based ingredients.
3. Stuff and roll the seitan
Once the seitan is suitably blended, it's time to stop, stuff n roll! By this I mean remove the seitan dough from the blender, press it into a rectangle and fill with a roll of prepared vegan stuffing. You then need to roll the dough around the stuffing and seal off the edges. Easy peasy!
4. Wrap the vegan turkey roast in rice paper
Our next step in home-made vegan meat is to wrap the seitan in rice paper! These are the rice paper wrappers used in Vietnamese summer rolls. Once dunked in water, they'll begin to soften and will stick to the seitan quite easily. You want to wrap the entire vegan turkey roast as this layer will emulate the skin of the turkey.
It's fine to double up the layers in some places. You'll find that as the seitan cooks, the rice paper will turn to a sticky paste anyway, so don't worry about being too neat with the arrangement.
5. Add the vegan turkey spice rub
Remember the vegan turkey roast spice rub we made like 500 years ago? Well it's HER turn to shine now! Sprinkle and rub the entire mixture all over the vegan turkey roast and have a nice sniff while you do it! Things are gonna start smelling amazing very soon!
6. Double wrap the vegan turkey roast
When you cook seitan, it likes to expand, kind of like bread. Our aim is to not let this happen! When you constrict seitan during the cooking process, it makes your vegan meat much, well, MEATIER! First layer should be greaseproof paper, as this will come into contact with the super sticky rice paper coating. Next wrap again in muslin or cheese cloth and tie up with chef's twine or natural string.
7. Roast the vegan turkey
For a super succulent vegan turkey, we're going to roast it in an enclosed dish, half filled with veggie broth and a bunch of other flavoursome ingredients. Half way through you'll need to rotate the roast so the other half is submerged in the broth too.
Then finally, when the roast is cooked through, you're going to remove all the wrappings, baste the roast with the remaining broth and return it to the oven with no lid to brown and crisp up!
8. Serve and enjoy!
Let me tell ya! This guy's a WHOPPER! It'll serve a good 8-10 people WITH leftovers for turkey sandwiches the next day. So don't be greedy - invite your mates and neighbours round for a big Sunday lunch or thanksgiving dinner. Actually, the occasion doesn't matter because you've got a MASSIVE VEGAN TURKEY ROAST!
As always, it helps me MASSIVELY if you can rate and review this recipe below. This blog is here because people like you actually use it and cook these recipes!
Alternatively, take a picture and pop it on instagram! You can follow me here if you don't already, or use the hashtag #schoolnightvegan when you post!
Vegan Turkey Roast - Seitan
My vegan turkey roast is ideal for a vegan thanksgiving, plant based Christmas or even a vegan sunday roast! Made from seitan and packed with herby stuffing!
Equipment
1 High Speed Blender

muslin or cheesecloth
Ingredients
For the Turkey Rub
1

tablespoon

flaky sea salt

1

tablespoon

soft brown sugar

1

teaspoon

paprika

1

teaspoon

ground black pepper

½

tablespoon

dried thyme

½

tablespoon

dried rosemary

1

teaspoon

dried sage

½

teaspoon

garlic powder

½

teaspoon

onion powder
For the Turkey
700

g

silken tofu

6

tablespoon

vegetable oil

(make sure it's neutral flavoured: sunflower, rapeseed, canola will do)

2

teaspoon

flaky sea salt

2

tablespoon

white miso paste

2

teaspoon

rice vinegar

(alternatively use apple cider vinegar or white wine vinegar)

1

teaspoon

garlic powder

380

g

vital wheat gluten

½

batch of vegan stuffing

(see notes below for recipe link)

4

sheets of rice paper

(the kind used for summer rolls)
For the Roasting Broth
3

bay leaves

4

sprigs of fresh thyme

4

sprigs of rosemary

1.5

litres

vegetable stock

(boiling hot)

1

teaspoon

fine sea salt

2

tablespoon

light brown sugar

1

head of garlic

(sliced in half)

1

onion

(quartered)

1

carrot

(peeled and quartered)

2

stalks of celery

(quartered)
Instructions
To Make the Turkey Rub
In a small bowl combine all the ingredients for the turkey rub and set aside.

1 tablespoon flaky sea salt,

1 tablespoon soft brown sugar,

1 teaspoon paprika,

1 teaspoon ground black pepper,

½ tablespoon dried thyme,

½ tablespoon dried rosemary,

1 teaspoon dried sage,

½ teaspoon garlic powder,

½ teaspoon onion powder
To Make the Turkey
Preheat the oven to

170

°C

. 

Place all the turkey ingredients except for the vital wheat gluten, stuffing and rice paper in a high-speed blender and blend until completely smooth. If your mixture isn't quite smooth, pass it through a fine mesh sieve to remove any chunks.

700 g silken tofu,

6 tablespoon vegetable oil,

2 teaspoon flaky sea salt,

2 tablespoon white miso paste,

2 teaspoon rice vinegar,

1 teaspoon garlic powder

Return the blended mixture to the blender and add the vital wheat gluten. Blend until you have a rough dough then stop the blender and leave to rest for 10 minutes. Blend again for around 2 minutes or until the seitan is stretchy and gummy.

Remove the seitan from the blender and press into a rectangle. Add the stuffing in a line down the centre of the flattened seitan then roll into a cylinder. Set aside.

½ batch of vegan stuffing

Fill a wide bowl with water and dunk a sheet of rice paper a few times until lightly moistened. Lay the rice paper over the rolled seitan. Repeat with the remaining 3 pieces of rice paper until the seitan is completely covered.

Being careful not to remove the rice paper from the seitan, sprinkle the surface with the turkey rub and gently spread across the entire surface with your fingers. 

Cut out a rectangle of baking parchment and a larger rectangle of muslin or cheese cloth. Carefully wrap the seitan in the baking parchment and twist the ends to seal, like a christmas cracker. Next, wrap the seitan again in muslin or cheesecloth like a burrito then tie up around the length and width with chef's twine or natural string as though it were a regular turkey roast. 

Place the vegan turkey roast in a large dutch oven and add all the roasting broth ingredients. Cover with a lid and place in the oven to roast for 45 minutes.

3 bay leaves,

4 sprigs of fresh thyme,

4 sprigs of rosemary,

1.5 litres vegetable stock,

1 teaspoon fine sea salt,

2 tablespoon light brown sugar,

1 head of garlic,

1 onion,

1 carrot,

2 stalks of celery

Lift the lid and rotate the vegan turkey roast so the opposite side is submerged in the broth. Cover with the lid again and roast for another 45 minutes.

Remove the dutch oven from the oven and carefully remove the vegan turkey roast. Use scissors to snip the twine and unwrap the muslin. Return the vegan turkey roast to whatever broth remains in the dutch oven. Use a brush to baste the top of the seitan and place back in the oven for a further 20 minutes without the lid. 

Serve the vegan turkey roast sliced thinly with your favourite vegetables and gravy.
Notes
1. This recipe calls for stuffing in the centre but can be easily made without. If you do decide to use stuffing, the recipe can be found here.
Nutrition
Calories:
312
kcal
Carbohydrates:
20
g
Protein:
33
g
Fat:
11
g
Saturated Fat:
2
g
Polyunsaturated Fat:
6
g
Monounsaturated Fat:
2
g
Trans Fat:
0.1
g
Cholesterol:
1
mg
Sodium:
2183
mg
Potassium:
237
mg
Fiber:
1
g
Sugar:
7
g
Vitamin A:
1457
IU
Vitamin C:
1
mg
Calcium:
98
mg
Iron:
3
mg
Love this recipe?
Let me know on Instagram!
WANT MORE VEGAN MEAT!?
Why not try: