Publised on 29/09/2022 by Richard. Last Updated on 10/09/2023 by Richard.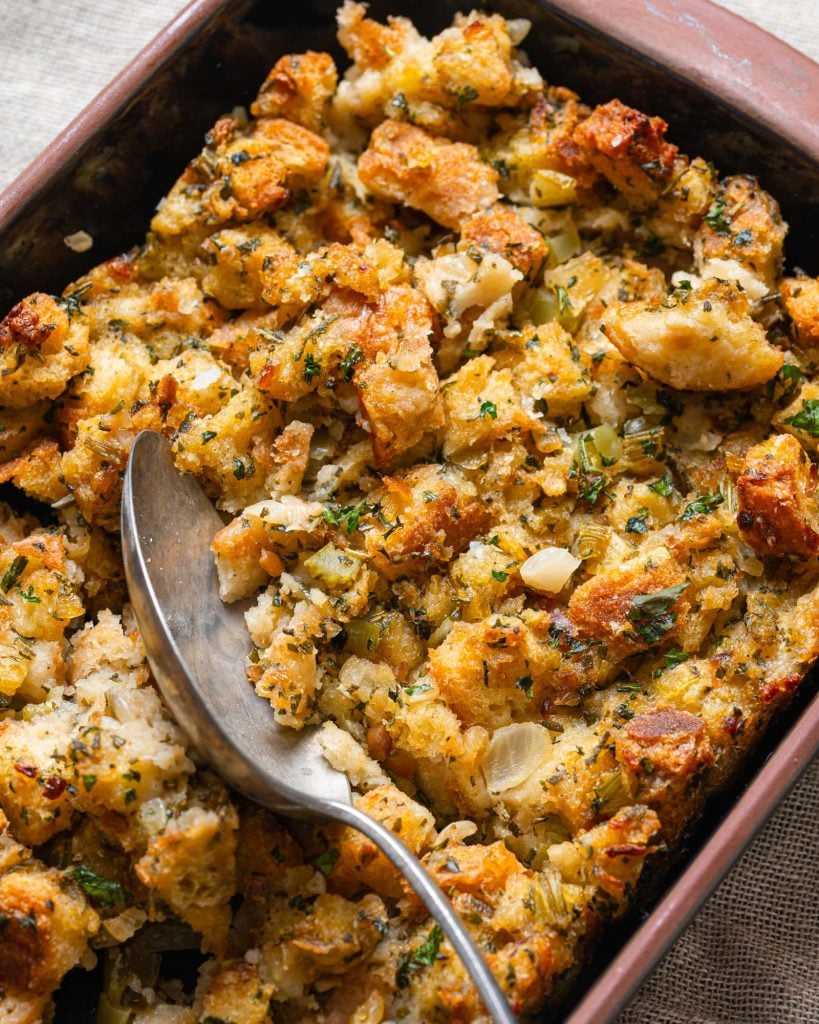 Delicious vegan stuffing packed with slow-cooked onions and aromatic sage. It's buttery and herby, so it's ideal for a vegan thanksgiving or vegan Christmas dinner.
---
We're getting into the season for turkey, mashed potatoes and big holiday feasts, so I thought I'd drop this vegan stuffing recipe to keep you entertained! I've always steered away from making recipes purposefully for a vegan thanksgiving or a vegan Christmas, but that was silly and I apologise!
Loads of people who've made the jump to vegan eating must really struggle at this time of year, and I want to do everything within my power to help those people stay on the bandwagon! So, here to reduce your stuffing panic: vegan stuffing!!
This vegan stuffing is rich and insanely buttery. It's packed with herbs and is just screaming out to be married with some vegan chicken or vegan turkey or HECK! Even some vegan beef! I've made this recipe versatile so you can add a couple extra ingredients for variety and I've made a few suggestions below under "Potential Subs and Additions".
Oh and if you're doing a full vegan thanksgiving dinner or even a vegan Sunday lunch, don't forget to use my vegan gravy recipe too! It's obvs also ideal for a vegan Christmas dinner!
What is vegan stuffing?
For me (a northern lad from England) it's hard to imagine a vegan Sunday lunch without stuffing, but I guess I'll concede and acknowledge that we all come from different walks of life and some people haven't had the privilege of meeting a perfect vegan stuffing yet!
Vegan stuffing is basically bread chopped into cubes or crumbs, combined with slow fried onions and herbs, then covered in rich vegetable stock and baked until golden and crispy. Traditionally stuffing isn't vegan because it uses dairy butter and sometimes even eggs, but I've figured out how to get rid of all that stuff.
It's called stuffing because traditionally it's what people stuff turkey with before roasting. I believe stuffing helped to keep things moist and introduced a bunch of extra herby flavour along the way. My vegan stuffing is used to stuff this vegan turkey roast, but can also be baked separately.
My mum always used to make stuffing in balls, formed before baking and then popped in the oven on a baking tray to go golden brown. In the US however it's much more common to make stuffing in a dish which is baked and spooned onto the plate after. This recipe works for both varieties and I've included some suggestions in the recipe notes on how to achieve great results either way.
Substitutions and additions
I've deliberately made this recipe super classic and simple so you can customise it. Here are some of my fave substitutions and additions
Cornbread - You can use toasted or stale vegan cornbread in this vegan stuffing recipe for a sweeter flavour and more crunchy texture.
Apricots - Add a handful of diced dried apricots to the onions as you fry them. This will give a beautiful golden colour and sweet flavour to your vegan stuffing.
Pecans or Chestnuts - For a nuttier flavour, add some roughly chopped hazelnuts or pecans to the mixture before baking. They'll toast beautifully!
How do I make this vegan stuffing?
As always, the FULL RECIPE for my vegan stuffing is at the bottom of the page – if you're in a rush to get started on your vegan thanksgiving dinner, scroll on down there.
Alternatively, here's a step by step breakdown!
1. Dry out your cubes of bread!
The main body of your vegan stuffing is bread! This recipe works best with plain white bread OR cornbread - but if you go rogue, try to use a sweet-ish bread, rather than a sourdough or something overly salty.
This recipe also works best if you use stale bread! If you're planning to make this vegan stuffing in a few days, slice up your cubes of bread and spread on a baking sheet and leave to go stale. Alternatively, you can dry out the cubes of bread in the oven (instructions in the recipe!).
2. Fry the onions and sage
I like to use vegan butter for frying in this instance because it gives our vegan stuffing a nice creamy flavour. Fry your onions for a good 15 minutes. This means they'll start to brown ever so slightly and give the vegan butter a nice slow-cooked onion flavour.
I also like to add my sage before the other herbs as the flavour of the sage will infuse into the onions and the vegan butter. Sage should be the dominant flavour in your vegan stuffing.
3. Add your herbs and celery
Add your remaining herbs and the finely chopped celery to the pan and fry off until the celery is nice and softened. Things should start to get really delicious and fragrant at this stage. Be careful not to overcook at this stage though, as we want those herbs to remain punchy and bold, rather than dull and muted.
This is now our big flavourful mixture for the vegan stuffing. We're going to add this to the dried out cubes of bread and stir it all together.
4. Add the vegetable stock (for vegan stuffing balls)
If you're planning to make stuffing balls instead of a tray of stuffing (like my mum) then it's time to add the veg stock to the mix! Stir and cover with a tea towel to make sure the bread really soaks up the moisture. I then like to squidge the bread through my fingers a few times at this stage to break it up a little. This stops the vegan stuffing balls from falling apart in the oven.
This is also the stage where you should make the stuffing to if you'e making my vegan turkey roast. The stuffing doesn't need to be pre-baked if you're using it to stuff into seitan.
5. Transfer to a dish (for dish vegan stuffing)
If making a tray of stuffing, transfer it now to an oven-proof dish and pour over the veg stock. No need to mix everything up, the liquid will soak through.
6. Bake and serve!
Time to bake! If you're making stuffing balls, you'll be baking on a baking tray, but if you're baking in a dish, just slide it right in the oven. We're gonna bake just long enough for the outside of the stuffing to get nice and golden and crispy, but the middle should be lovely and moist.
You're now ready to serve! But what with!? Here are some suggestions!
I like to serve my vegan stuffing with:
It helps me MASSIVELY if you can rate and review this recipe below. This blog is here because people like you actually use it and cook these recipes!
Alternatively, take a picture and pop it on instagram! You can follow me here if you don't already, or use the hashtag #schoolnightvegan when you post!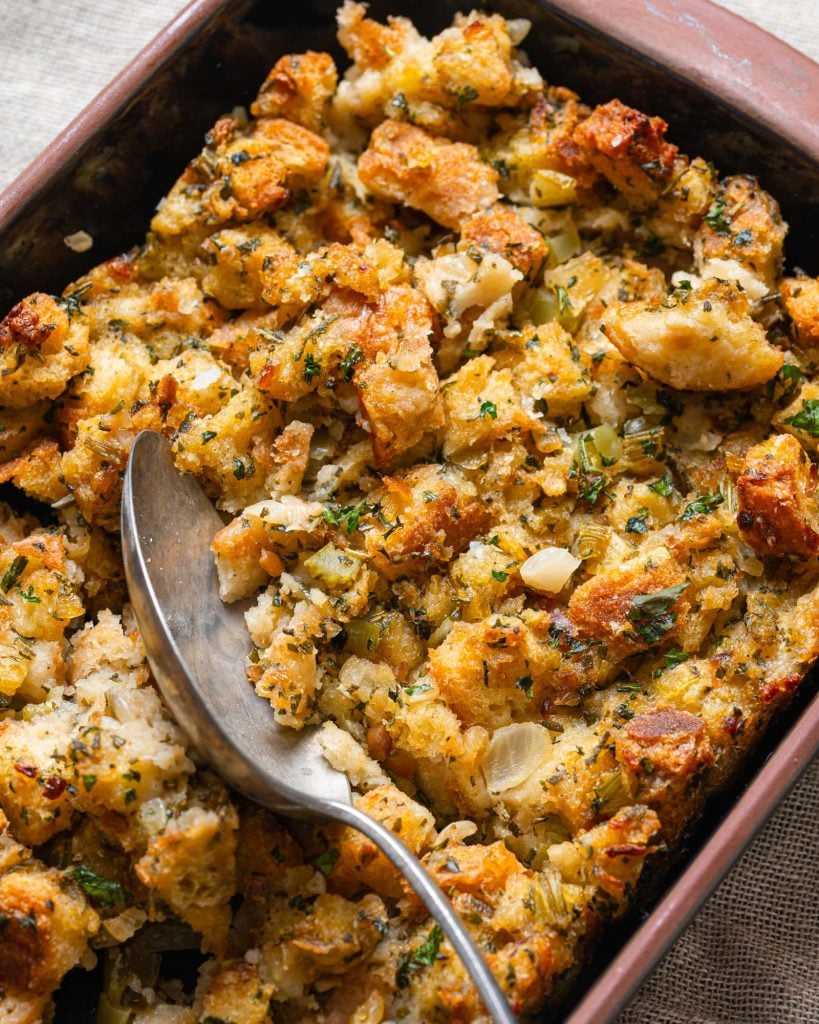 Vegan Stuffing
Delicious vegan stuffing packed with slow-cooked onions and aromatic sage. It's buttery and herby, so it's ideal for a vegan thanksgiving or vegan christmas dinner.
Ingredients
285

g

bread

(cut into small cubes (ideally stale))

110

g

vegan butter

1

onion

(finely chopped)

2

tablespoon

fresh sage

(finely chopped)

2

stalks celery

(finely cubed)

2

cloves

of garlic

(peeled and finely minced)

2

tablespoon

fresh parsley

(finely chopped)

2

tablespoon

fresh rosemary

(finely chopped)

2

tablespoon

cornstarch

(aka cornflour)

Pinch

of flaky sea salt and ground black pepper

350

ml

vegetable stock

(boiling hot)
Instructions
If you're using fresh bread instead of stale, preheat the oven to

130

°C

and spread the bread cubes out on a baking tray. Place in the oven to dry out for 20 minutes before removing and leaving to cool. Change the oven temperature to

170

°C

. 

Place a large frying pan over medium/low heat and add the vegan butter. When melted, add the onion and fresh sage. Fry for a total of around 15 minutes, stirring often, until the onions are starting to brown. 

110 g vegan butter,

1 onion,

2 tablespoon fresh sage

Add the celery, garlic, parsley and rosemary. Fry for an extra few minutes until the celery has softened then remove from the heat. 

2 stalks celery,

2 cloves of garlic,

2 tablespoon fresh parsley,

2 tablespoon fresh rosemary

In a mixing bowl, combine the bread cubes and cornstarch. Add the cooked onion and herbs mixture then stir to combine. Season the mixture with salt and pepper to taste.  

2 tablespoon cornstarch,

Pinch of flaky sea salt and ground black pepper

If making stuffing balls, pour the hot vegetable stock over the mixture and stir to combine. Cover with a teatowel and leave to soak for 5 minutes. Use your hands to divide the mixture into 10-12 balls and place on a lined baking tray. Place in the oven to bake for 20 minutes. 

If making a dish of scoopable stuffing, transfer the mixture to an oven-proof dish then pour over the hot vegetable stock. Place in the oven to bake for 20 minutes. Remove from the oven and serve.
Notes
1. This recipe can be made in two ways. Here in the UK we tend to form stuffing into balls and bake on a tray in the oven. If you're looking for this method, you'll need to soak the stuffing mixture in stock for 5 minutes before forming the balls. I'd also really recommend really squidging the mixture with your hands a few times before forming the balls. This helps to break down some of the bread which helps to hold the stuffing together. If you're after a US style scoopable dish of stuffing, simply put the mixture in your dish of choice and pour over the vegetable stock before baking.
Nutrition
Calories:
263
kcal
Carbohydrates:
28
g
Protein:
6
g
Fat:
14
g
Saturated Fat:
3
g
Polyunsaturated Fat:
4
g
Monounsaturated Fat:
5
g
Trans Fat:
0.1
g
Sodium:
578
mg
Potassium:
127
mg
Fiber:
3
g
Sugar:
4
g
Vitamin A:
963
IU
Vitamin C:
4
mg
Calcium:
83
mg
Iron:
2
mg
Love this recipe?
Let me know on Instagram!