Publised on 24/11/2022 by Richard. Last Updated on 24/11/2022 by Richard.
The easiest vegan sour cream ever! No cashews, no tofu and no coconut oil required! Ready to use in seconds, smooth, creamy and tangy!
I've been working on this easy vegan sour cream recipe for ages! You might think it was easy because it's such a simple thing you usually buy at the store, BUT YOU'D BE WRONG! I need this vegan sour cream to be perfect AND the following:
Easy to make
Fast to make
No cashews, no tofu, no coconut oil
Delicious obvs
And guess what? I smashed it! Totally wrecked the competition. Let me guess, you've been scouring blogs looking for a sour cream that doesn't require you to soak cashews for six years but also doesn't taste of tofu? I know! Because I've done the same thing. And that's why mine is literally THE BEST vegan sour cream recipe!
Jump to:
🧈 Vegan Sour Cream Ingredients
So we all know what's NOT in this recipe, so maybe it's time I told you what IS in it?? No problemo baby! Here's everything you'll need and plot twist: IT'S A REALLY SHORT LIST!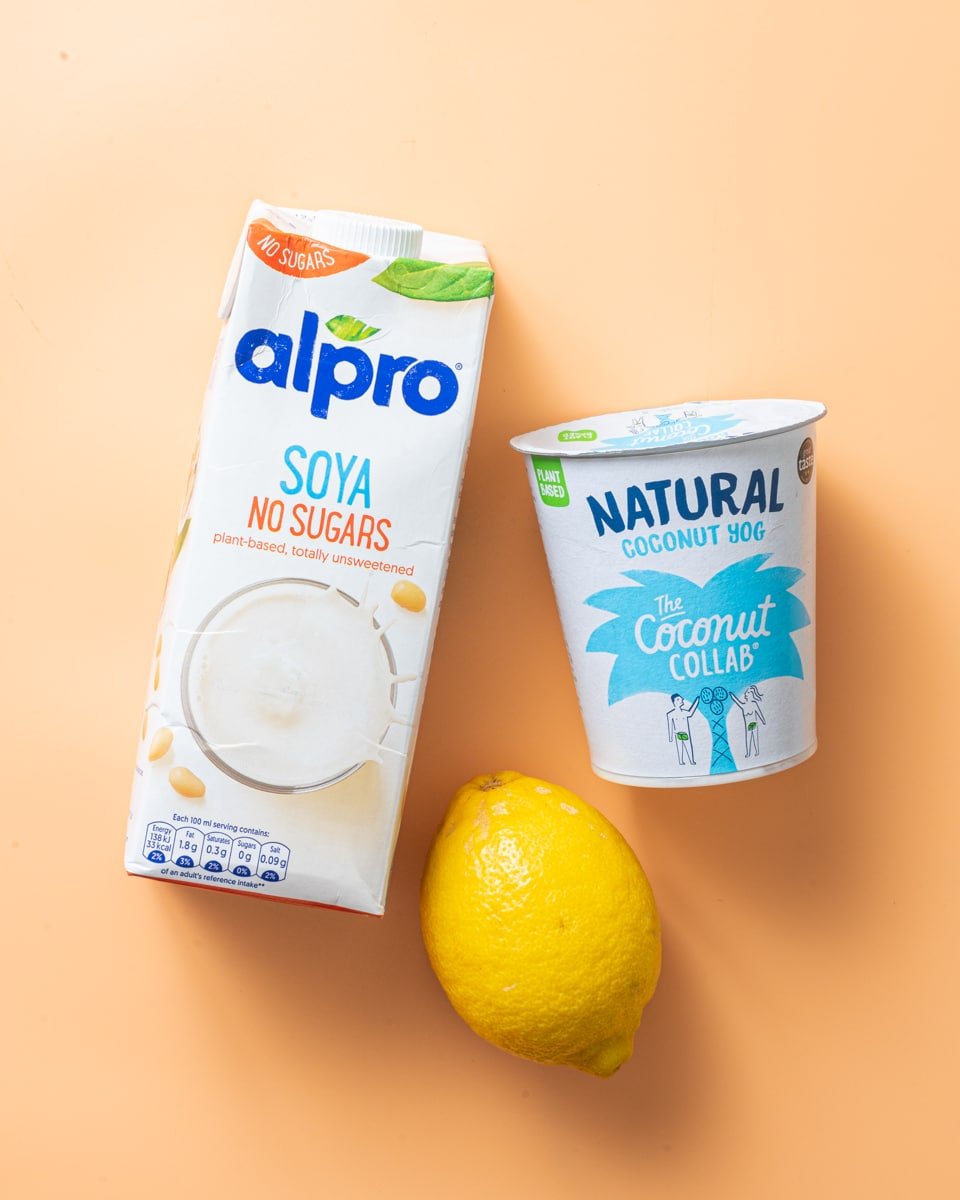 Soy Milk - unflavoured and unsweetened.
Vegan Yoghurt - the thickest variety you can find. I use Coconut Collaborative because it's unsweetened and unflavoured too.
Lemon Juice - for a gentle sweetness and tang.
White Wine Vinegar - for that "sour" vibe in your vegan sour cream (not sure why I didn't include this in the photo above. Forgive me please).
As always, the full recipe is at the bottom of the page, so check there for quantities. I've also made some hints about how to substitute and change up these ingredients in the "Substitutions" section below!
🥣 Method
The method for this vegan sour cream recipe COULD NOT BE EASIER. But because Google wants me to write a whopping big blog post for each recipe I create, here's the process broken down into 4 steps.
1. Measure your ingredients! I've built this recipe around the humble cup measure, so although I give my units as ml, you can very easily just use a single cup measure of both soy milk and vegetable oil. Easy!
2. Add to blender! You can use a high-speed blender for this recipe OR you can use an immersion blender (the kind you hold like a stick). Just make sure all your ingredients are at room temp.
3. Blend the vegan sour cream! Blend until smooth and slightly thickened. Don't worry if it's not quite your dream sour cream thickness just yet. This will happen in the next step and you'll be VERY happy.
4. Refrigerate! You'll find the texture improves massively if you refrigerate it for a minimum of two hours. If you don't have two hours, don't worry! It'll still be deliciously thick and creamy!
Hint!
If you're planning to use this vegan sour cream in a sweet recipe, add two tablespoons of icing sugar to the mixture before you blend it! It'll match the flavour of whatever you're making much better this way! I do this sometimes when I'm serving it with vegan scones!
🫙 Storage
Be sure to store your vegan sour cream in a sealed container in the fridge. Not only will the texture get thicker as it gets colder, but it'll last much longer this way too.
I wouldn't recommend freezing this recipe though, as the ice crystals will likely cause the mixture to split. Just stick to the fridge and use within 1-2 weeks.
🍪 Vegan Sour Cream Uses
I love to use this recipe on sweet AND savoury dishes. It works well on anything from Mexican food to home-made English scones! Here are some tips for great pairings:
On Nachos! - Use on nachos with nacho cheese, pico de gallo and all your other fave loaded nacho toppings.
On Scones! - I know - sounds odd - but it works! Trust me! It combines beautifully with any jam you might use too!
In a Burrito! - Use to add some velvety smoothness to your fave vegan burrito! Extra guac for me!
Looking for a different kind of vegan cream? I got loads! Buttercream I mean! The smoothest vegan vanilla buttercream in the world! You can also find my game-changing, often imitated but never beaten vegan whipped cream right here!
🔪 Equipment
Technically you only need one thing to make this vegan sour cream: A BLENDER! But it's also helpful to have a decent storage container to keep it in, oh and make sure it's fridge safe. I like to use a standard Weck jar for my vegan sour cream.
🤷‍♀️ Vegan Sour Cream FAQs
Q: Is sour cream vegan?
A: Ordinarily no! Sour cream is made from real dairy cream so contains animal products. This recipe, however, uses soy milk and vegetable oil to achieve a thick, spoonable sour cream with a delicious tangy flavour.
Q: What is vegan sour cream made of?
A: Most vegan sour creams are made of soaked blended cashews or blended tofu. This recipe uses soy milk and vegetable oil, so requires no pre-soaking of ingredients and takes around 1 minute to make.
Vegan Sour Cream
The easiest vegan sour cream ever! No cashews, no tofu and no coconut oil required! Ready to use in seconds, smooth, creamy and tangy!
Ingredients
240

ml

soy milk

(at room temperature)

240

ml

vegetable oil

(or any neutral vegetable oil like sunflower or canola oil)

50

g

vegan yoghurt

(choose a thick Greek-style variety, unflavoured and unsweetened)

2

teaspoon

lemon juice

4

teaspoon

white wine vinegar

(or any plain white vinegar)
Instructions
Place all the ingredients in the cup of a blender and blend until smooth. Alternatively place all the ingredients in a cup and blend with an immersion blender until smooth.

240 ml soy milk,

240 ml vegetable oil,

50 g vegan yoghurt,

2 teaspoon lemon juice,

4 teaspoon white wine vinegar

The vegan sour cream is ready to use right away but will thicken slightly in the fridge if left to chill for at least 2 hours.
Notes
As far as I'm aware, this recipe only works with soy milk. Soy milk naturally contains lecithin (also present in egg yolks) which act as an emulsifier. This means the lecithins in the soy milk force the water and vegetable oil to emulsify, meaning they stay blended together in an emulsion. This works on a similar principle to my vegan whipped cream, which some people have told me can also work with almond and oat milk, but I haven't tried this myself. If you have a soy allergy, by all means try this method with an alternative milk other than soy milk!
Whichever milk you use, it must be used at room temperature, otherwise it won't emulsify and the mixture will split. 
Do not try this recipe with anything other than a neutral vegetable oil. Firstly, much of the flavour comes from the oil, so you don't want anything too strong or bitter. Secondly, many oils like olive oil are too acidic for this recipe. They'll cause the mixture to split and it won't emulsify. Stick to vegetable oil, sunflower oil, canola/rapeseed oil or deodorised coconut oil. 
Nutrition
Calories:
351
kcal
Carbohydrates:
2
g
Protein:
2
g
Fat:
38
g
Saturated Fat:
6
g
Polyunsaturated Fat:
22
g
Monounsaturated Fat:
9
g
Trans Fat:
0.3
g
Cholesterol:
0.5
mg
Sodium:
24
mg
Potassium:
59
mg
Fiber:
0.2
g
Sugar:
1
g
Vitamin A:
162
IU
Vitamin C:
4
mg
Calcium:
66
mg
Iron:
0.2
mg
Love this recipe?
Let me know on Instagram!