Publised on 07/12/2020 by Richard. Last Updated on 19/10/2022 by Richard.
Succulent vegan roast chicken "breasts" with seasonal roast veggies and a deliciously festive cranberry marinade. It's your winter dinner sorted!
---
Ding dong - it's a hot plate of vegan roast chicken calling! Gorgeous, versatile, talented, brilliant, incredible, amazing, show stopping, spectacular, never the same, totally unique - you know the rest!
This gorgeous dinner of roast seitan chicken and delicious seasonal veggies is perfect for all your winter celebratory feasts! Winter Solstice! Yule! Christmas! Hanukkah! Kwanzaa! Newtonmas! You name it! You're gonna please the ENTIRE family with this one!
WHAT AM I LOOKING AT??
You're looking at vegan roast chicken duh!? Oh, you want more detail? Sure thing. Here goes. You've got THREE main elements to this dish:
Roasted seasonal veggies - I've used carrots, wee baby potatoes, shallots and garlic. Keep reading and I'll make some suggestions for alternatives which might make you EVEN HAPPIER!
Balsamic cranberry marinade - That's right! I've smashed together that zingy sweetness of balsamic vinegar with the tart festive vibes of cranberries. The marinade ties the seitan chicken together with the roasted veggies, JUST YOU WATCH!
Roasted seitan chicken - We're talking MEGA SUCCULENT, crazy tender roasted chicken WITH CRISPY CARAMELISED SKIN MIGHT I ADD! Similar to my vegan chicken recipe, so you know it's a classic!
I'm scared.. but slightly aroused..
Fantastic! Cortisol is a natural appetite builder - you're SO ready for this meal.
Look, I know a lot of vegans out there have a LOT of opinions about food which is designed to LOOK and TASTE like meat, but here's the deal. As long as no animals were harmed and nobody's being TRICKED into eating vegetables (Glob forbid!) then WHO CARES!?
For me (and many others) food memories and culinary rituals are a huge part of my culture and I feel no need to alienate myself from that culture just because I choose not to eat animal products. This meal is EVERYTHING I love about wintery meals and triggered some serious flavour memories for me - and guess what - NOBODY DIED FOR IT!
By all means, skip this recipe if it's not for you, but I guaran-damn-tee you that you're missing out. Quit pouting, get over here and let Mamma Makin (me) feed you a big magic fork-full of heaven. C'mon c'mon! Alternatively you can try my vegan roast beef or my vegan turkey roast!
VEGAN chicken?? What the PECK??
You're gonna love it! here's how it works!
We make a really simple, super stretchy "seitan" dough out of wheat gluten, tofu and a bunch of other tasty ingredients. We form the dough into a shape which KINDA looks like chicken breasts.
2. We take some Yuba (which is also known as tofu skin) and we hydrate it in boiling water. Then we WRAP the yuba around the seitan dough to mimic chicken skin.
3. Then we wrap the breasts up individually in either heatproof wrap, baking parchment or muslin and we steam it good. Once steamed, the seitan will be nice and firm - ready for roasting! We marinate the seitan chicken in a DELICOUS balsamic cranberry marinade while we roast some delicious seasonal veggies.
4. Finally we roast the seitan chicken along with the veggies until it's gorgeous and golden brown!
And then you eat it!!
I'm not going to lie and say this is a simple recipe. There are a few unique ingredients which I'm going to explain below. But take it easy - prepare what you can in advance and make sure you have the right tools.
Also, if you ARE making this for the holidays, why not do a trial run a few weeks before to make sure everything runs smoothly on the day?
Some ingredients EXPLAINED!
1. Mushroom Bouillon
This guy (in my opinion) is a vegan store-cupboard HERO. It's a vegan bouillon powder which you can find at most Chinese supermarkets as well as online. It has a strong umami flavour which makes it great for seitan meat recipes. But what makes it EXTRA special is that it's colourless (unlike normal veggie bouillon) which has added turmeric and will turn your seitan chicken VERY YELLOW.
2. Vital Wheat Gluten
If you've been here a while, you'll probably know this stuff well. But for any beginners - vital wheat gluten is a form of protein extracted from wheat. When cooked correctly, it can really beautifully mimic the texture of meat. It's also great at taking flavours and HOLDING ONTO THEM which makes it wonderfully versatile!
3. Yuba (or tofu skins)
These guys are my faves! Again, you'll find these in Chinese supermarkets. They're made by simmering soy milk until it forms a thin skin on the surface. The skin is skimmed off and allowed to dry. Once rehydrated they can be used for all sorts of stuff including tofu scramble and vegan chicken noodle soup!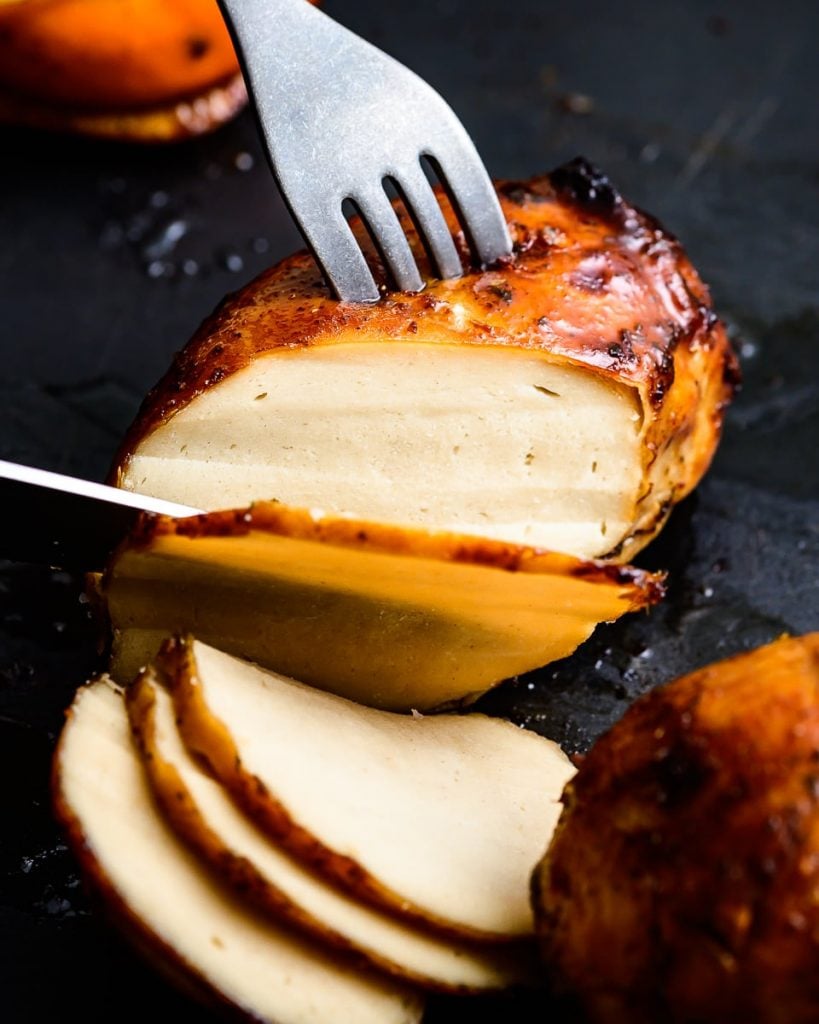 And that's it! One of my favourite ways to eat seitan chicken: Vegan roast chicken! You're gonna love this recipe so much I can feel it in my bones! Give it a go and let me know what you think over on my instagram.
Need more meaty vegan recipes??
Then you came to the right place! Why not give these bad boys a try!?
Beef Stew with Barley (Vegan Scouse Stew)
Vegan Roast Chicken
Succulent vegan roast chicken "breasts" with seasonal roast veggies and a deliciously festive cranberry marinade.
Equipment
High Speed Blender

Steamer (bamboo or electric)
Ingredients
For the Seitan Chicken Breasts
300

g

firm tofu

400

g

tin of butter beans

((including the soaking water. Tinned cannellini beans work too))

2

tablespoon

mushroom bouillon

((available at Chinese supermarkets. Alternatively use uncoloured vegetable stock))

4

tablespoon

olive oil

1

teaspoon

fine sea salt

1

tablespoon

white miso paste

2

teaspoon

rice vinegar

((alternatively use apple cider vinegar))

350

g

vital wheat gluten

6

sheets

yuba

((or dried, paper tofu))
For the Marinade
3

cloves

garlic

((peeled))

60

ml

balsamic vinegar

3

tablespoon

olive oil

2

teaspoon

light soy sauce

2

teaspoon

dried parsley

1

teaspoon

dried thyme

½

teaspoon

ground black pepper

3

tablespoon

cranberry sauce
For the Roast Vegetables
3

carrots

((peeled and roughly chopped))

4

shallots

((peeled and halved))

200

g

new potatoes

1

orange

((cut into eighths))

1

small bunch parsley

4

sprigs rosemary
Instructions
To Make the Seitan Chicken Breasts
Place the tofu, butter beans, bean water from the tin, mushroom bouillon, olive oil, sea salt, miso paste and rice vinegar into the largest cup or jug attachment of a high speed blender.

Blend on high speed for a minimum of 1 minute. Remove the cup, shake it well or use a spatula to make sure no chunks are stuck to the side then blend again for another 30 seconds until very smooth and creamy.

Add the vital wheat gluten to the mixture and blend on low speed until the mixture comes together. Increase the speed to medium for at least 1 minute. At this stage, the seitan dough should be very smooth and stringy - almost like the texture of tough chewing gum (don't worry - this is correct - it won't be like this once cooked!). Remove the dough and wrap in reusable wrap or a plastic bag, to stop it from drying out.

Place the yuba into a deep baking tray and cover with boiled water. Leave to hydrate for a few minutes then discard the water. Set the hydrated yuba aside.

Divide the seitan chicken dough into 8 pieces, roughly 150g each. Working with one at a time, pinch the edges of the piece of seitan and tuck it over and into the centre, making one smooth side and one folded, tucked side. Roughly shape the dough into a fillet. Repeat with the remaining pieces.

Lay a sheet of greaseproof paper on a clean surface and place a roughly crumpled piece of yuba, slightly larger than the fillet, in the centre. Place the fillet on top of the yuba, smooth side down so it's in contact with the yuba. Fold the sides of the greaseproof paper over and wrap tightly. Repeat with all the remaining seitan.

IMPORTANT: it's essential that each fillet is wrapped as tightly as possible otherwise the seitan will expand and become spongy rather than firm and meaty. If you have heat-safe cling film, use this to wrap around the greaseproof paper tightly and secure it in a roughly fillet-like shape. Alternatively you can use muslin or cheesecloth bound with thread. Aluminium foil will also work.

Place the tightly wrapped seitan chicken "breasts" into a steamer. A bamboo or an electric steamer will work fine. Steam for 1 hour.

Once steamed, remove the seitan chicken breasts from the steamer and without unwrapping, leave to cool for at least 20 minutes. While the seitan chicken cools, preheat the oven to 200c (fan) and make the marinade.
To Make the Marinade
Place all the ingredients in a blender with 4 tablespoon water. Blend on high speed for 10 seconds.

Unwrap the cooled seitan chicken breasts and place in a bowl or roasting tin. Pour over half of the marinade. Carefully stir to make sure the marinade covers all of the seitan cover and leave to marinate while you roast the vegetables. Alternatively, place in the fridge and leave to marinate overnight.
To Roast
Place the vegetables in a medium bowl. Pour over half of the remaining marinade. Toss to coat the vegetables. Transfer the prepared vegetables and herbs into a roasting tin or a cast iron skillet. Place in the preheated oven and roast for 30 minutes.

After 30 minutes, remove the seitan chicken breasts from the marinade. Remove the vegetables form the oven, give them a stir and top them with the marinated seitan chicken. Place in the oven and continue to roast for a further 15 minutes.

After 15 minutes, check on the veggies and seitan. The seitan chicken should be nicely browned on the surface. Use a pastry brush to apply more of the remaining marinade to the seitan and return everything to the oven for a final 5 minutes.

Remove from the oven and sprinkle with finely chopped parsley (optional) before serving with gravy.
Nutrition
Calories:
491
kcal
Carbohydrates:
45
g
Protein:
46
g
Fat:
15
g
Saturated Fat:
2
g
Sodium:
492
mg
Potassium:
565
mg
Fiber:
7
g
Sugar:
10
g
Vitamin A:
3858
IU
Vitamin C:
20
mg
Calcium:
179
mg
Iron:
6
mg
Love this recipe?
Let me know on Instagram!