Publised on 13/07/2019 by Richard. Last Updated on 13/11/2022 by Richard.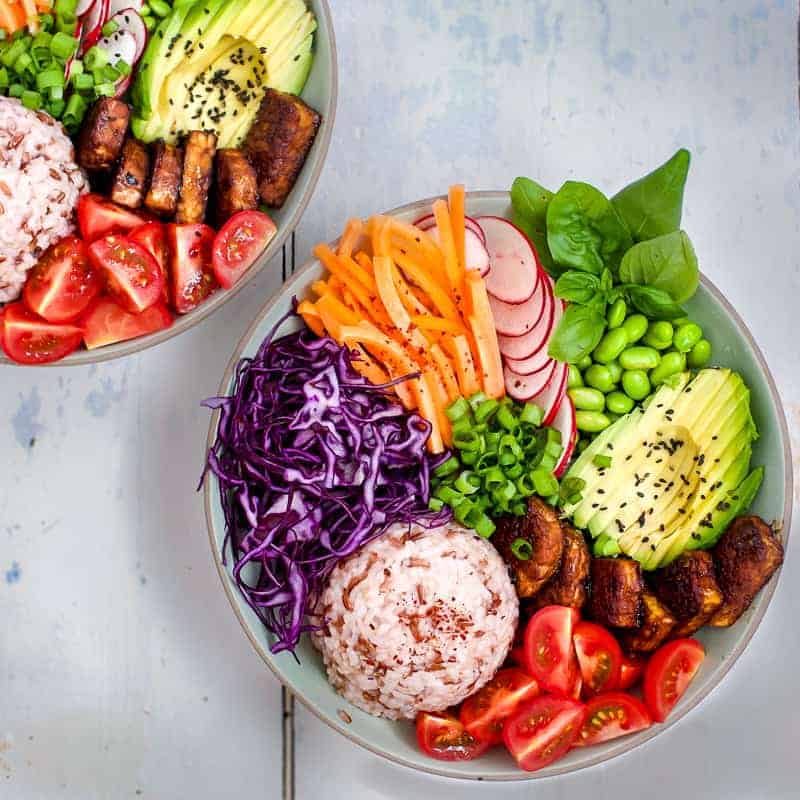 Vegan rice bowls! Packed with veggies, high protein tempeh and dressed with a delicious hoi sin glaze. Perfect for a California style lunch!
---
Holy Health Balls!
Yep, these vegan rice bowls, packed with bright vegetables, might seem slightly off brand for School Night Vegan, but rest assured, they're an absolute taste sensation (which is most certainly ON brand!)

Smoky sweet tempeh, a medley of veggies, fresh herbs and delicious, sticky sushi rice - you've never had a vegan rice bowl this good! As soon as the mercury rises over 20 degrees, these bowls are ALL I can think about eating. They're a perfect balance between a refreshing raw salad and an indulgent teriyaki or poké bowl.
Why vegan rice bowls?
I'm luck enough to live by the sea, on the south coast of England, and I'm double lucky because the last few weeks have been glorious weather. It took a bit of mental preparation and deep breathing but I've managed to get into the habit of wild-swimming most mornings. This definitely isn't the food blog to come to if you'd like to read about the benefits of exercise, but boy, the mental health improvements are awesome! It also makes me feel like I live in Malibu, which is also nice.
SO these bowls are my homage to California cuisine. Not into all this goodness? Whip up a batch of my oregano fries for on the side - I don't care! You do you, just make sure you enjoy it. Not into all of these ingredients? I've made a list of substitutions for you below - so feel free to customise this recipe however you'd like!
Can I sub and swap stuff?
Of course! Here are my suggestions!
THE TEMPEH - This recipe works well with almost any protein so if you're not a fan of tempeh, try tofu, TVP or even sliced vegan sausage! The flavour really comes from the glaze, which works well with everything, so go crazy on this one!
THE RICE - I've mixed up the sushi rice with some beautifully nutty and sweet red rice. This is by no means essential but it adds some colour to the carbs and lowers the GI, so it's slightly healthier. I sometimes use black "forbidden" rice for this, which adds a bit of drama to the look of things, but really any rice will do - just try to make sure it's a sticky variety. If you're not into rice, why not use quinoa, freekeh, or my fave pearl barley.
THE VEGGIES - Here are a few of my fave subs for this recipe. I LOVE eating Chinese greens raw, so try replacing the fresh herbs for some finely shredded baby bok choi. The radishes are a great crunch but cucumber or daikon work just as well. The edamame beans can be swapped for garden peas, chickpeas, broad beans or even sugar snap peas. The tomatoes bring really nice sweetness but I've even seen people use sliced mandarin to the same effect.
Need more healthy SNV recipes?
Check these guys out!
Tempeh Salad Lavash Wraps
Vegan Rice Bowl with Hoi Sin Tempeh
These super healthy vegan rice bowls, packed with bright vegetables, might seem slightly off brand for School Night Vegan, but rest assured, they're an absolute taste sensation (which is most certainly ON brand!)
Ingredients
For the Hoi-Sin Dressing/Glaze
4

teaspoon

vegan hoi sin sauce

4

cloves

of garlic

((finely minced or chopped))

1

teaspoon

Chinese black vinegar

½

teaspoon

agave syrup/maple syrup

1

tablespoon

toasted sesame oil

1

tablespoon

dark soy sauce
For the Rice Bowl
180

g

white sushi rice

60

g

red rice

650

ml

water

¼

small red cabbage

((shredded finely with a sharp knife or mandolin))

2

carrots

((peeled and finely chopped into batons))

2

large radishes

((finely sliced using a mandolin))

1

spring onion

((finely chopped))

around 10 cherry tomatoes

((quartered))

small bunch of fresh herbs

((I used basil, but coriander, thai basil or mint will all work great))

200

g

block of tempeh

((chopped into large cubes))

150

g

frozen shelled edamame beans

pinch

of chilli flakes

½

teaspoon

toasted black sesame seeds
Instructions
To Make the Hoi Sin Dressing/Glaze:
Add all the ingredients in a jam jar and shake to combine. Set aside.
To Make the Rice Bowl
Place both the rices in a medium bowl and cover with cold water. Rub the rice between your fingers to release the starch - the water should go milky. Drain the water, reserving the rice, cover with more water and repeat the process. Wash the rice until the water does not turn milky.

Place the rice in a medium saucepan and cover with the 650ml of water. Place over a low heat and bring to the boil gradually - do not stir! Once the rice has reached a low simmer, reduce the heat to the lowest possible, cover with a lid and do not lift for 15 minutes.

Once the rice has boiled for 15 minutes, remove the lid and cover the top of the pan with a clean tea towel then return the lid. Leave to steam for at least andother 10 minutes while you prep your veg.

After 10 minutes is up, remove the lid and spread the rice out on a baking sheet. Sprinkle evenly with the sushi seasoning and leave to cool fully. While the rice is cooling, use a spatula to flip the rice to make sure the moisture can evaporate.

While the rice cools, assemble your bowls with all ingredients except the edamame and the tempeh (these need to be served warm, so leave those until last). Once the rice is cooled, add a good ½ cup to each bowl.
To Make the Tempeh and Edamame
To make the tempeh. Turn the grill/broiler up to full temperature. Lay the cubes of tempeh out onto a baking tray and brush with some of your hoi-sin glaze. Place under the grill for around 3-4 minutes before flipping the tempeh, brushing again with glaze and grilling for a further 3-4 minutes. Remove from the grill.

If you'd like a less chunky texture, use a potato masher to reduce the size of the tomato chunks before adding the vinegar and stirring. Remove from the heat and add to your bowls

To Make the edamame, fill a small saucepan with boiling water and add place over a medium heat. Add your edamame beans and boil for 3-5 minutes or until they're fully defrosted but still a fresh, bright green. Remove from the heat and add to your bowls.

Top your bowls with a sprinkle of chilli flakes, some black sesame seeds and a good drizzle of your remaining hoi sin dressing.
Nutrition
Serving:
1
grams
Calories:
815
kcal
Carbohydrates:
119
g
Protein:
37
g
Fat:
23
g
Saturated Fat:
4
g
Cholesterol:
1
mg
Sodium:
743
mg
Fiber:
11
g
Sugar:
12
g
Love this recipe?
Let me know on Instagram!