Publised on 03/10/2022 by Richard. Last Updated on 10/09/2023 by Richard.
Super easy vegan pumpkin pie. Super creamy, custardy texture and packed with delicious fall spices. Ideal for thanksgiving or a spooky halloween!
Looking for an easy vegan pumpkin pie this thanksgiving? Then I'm your guy! We're getting into snuggle season and I'm currently on the couch wrapped in 76 cosy blankets while autumn leaves fall around me (miraculously, because I'm indoors) and I'm holding a freshly baked vegan pumpkin pie in one hand and a fork in the other. If you're mad, it means you're jealous.
Nothing says fall like pumpkin pie (except perhaps maybe apple pie and pecan pie) and nothing says fall 2022 like VEGAN pumpkin pie. Other recipes contain eggs, condensed milk AND butter, but not mine! I've veganised this classic the way you've come to expect me to - with PANACHE and SPARKLES and MAGIC! So get Hocus Pocus on the telly and let's make a damn delicious pie!
Jump to:
🧈 Vegan Pumpkin Pie Ingredients
Firs things first, what's INSIDE a vegan pumpkin pie? Besides pumpkin obvs! Here's a list of all the ingredients you'll need to make this dream dessert come true!
As always I tried a bunch of other vegan versions of pumpkin pie before making my own recipe and I found a few rather consistent issues with other recipes. The main one being the texture of the filling. Pumpkin pie is essentially a custard pie, so the texture should be light and fluffy but also jiggly and custardy. Every recipe I tried either came out too dry, or like pudding! Luckily, I cracked the code and this recipe is BONKERS good.
Canned pumpkin puree (don't be tempted to try and make your own. It NEVER WORKS as well)
Silken tofu
Coconut cream, melted
Maple syrup
Cornstarch
Cinnamon
Ground ginger
Nutmeg
Ground cloves
Fine sea salt
Vegan pie crust (blind-baked)
As always, the full recipe is at the bottom of the page, so check there for quantities.
🥣 Method
Before you even start making this vegan pumpkin pie, you'll need to whip up my vegan pie crust and blind bake it without any filling inside. So do that now, before you get started.
1. Any good vegan pumpkin pie recipe starts with spices. That's why pumpkin spice lattes are a thing - because the best thing about pumpkin pie is the spice blend! We're using all the classics: cloves, nutmeg, ginger and cinnamon, but I'd also recommend introducing your cornstarch at this stage too, as it just helps it to blend into the ingredients better and avoid lumps.
2. To the spices and cornstarch, we're going to add our pumpkin puree. For this recipe I strongly advise using canned pumpkin puree, as it is considerably more consistent than homemade stuff. Some people simply call this canned pumpkin, so just to avoid any confusion, these are the same things! Canned pumpkin is not the same as canned pumpkin pie filling, which contains other spices and sugar, so avoid that stuff.
3. Like I mentioned earlier, you'll need a pre-baked pie crust ready to go for this recipe. I'd also advise wrapping the edges of the crust in tin foil to make sure they don't burn. Pour the filling into the centre and smooth out as best you can.
4. When baking the vegan pumpkin pie, try your best not to open the oven. The change in temperature can cause the top of the pie to crack. Just let it bake for the full 55 mins. Yes, I know that feels like a long time to wait, but trust me, it's what's best for the pie!
Hint!
Once your pie is fully cooled after baking, you're ready to slice and serve. I like to serve my vegan pumpkin pie with a good splodge of my vegan whipped cream but feel free to top it however you'd like. Maybe with some vegan ice cream or Oatly creme fraiche?? No, I do not have shares in Oatly, but I LOVE that creme fraiche!
It's also a controversial move but I love to top my vegan pumpkin pie with a tiny grating of orange zest! It just lifts everything up another level! Zingy!
🔄 Subs and swaps
Here's how to make this vegan pumpkin pie suit your diet, whatever your requirements!
Gluten free - Just swap the flour for a gluten free blend. Freee or Bob's Red Mill are my favourite brands, but definitely stick to one you know and love.
Vegan Butter - Don't fancy using vegan butter? Or perhaps you can't get hold of it? Try using coconut oil instead - deodorised works best if you can find it.
Let me know in the comments on instagram if you try this recipe! I'd love to hear if you made any swapsies!
🍪 Vegan Pumpkin Pie Variations
I wouldn't recommend deviating from the classic too far, since it's so good! But if you want to try something new, here are my tips!
Cookie Crust! - Don't fancy making the pie crust? Just use a cookie crust instead! Follow the crust instructions in my vegan tahini pie recipe!
Caramel pumpkin pie! - Replace the maple syrup for equal proportions of my vegan caramel sauce for a salt caramel kick!
Boozy version! - Add a shot of rum to the wet ingredients for a grown-up twist on this classic!
And hey, if this pumpkin pie isn't for you, don't sweat it! Why not make some vegan shortbread cookies instead?! Feeling festive? Whip up some vegan mince pies! Want a savoury pumpkin dish? Make my pumpkin orzo!
🔪 Equipment
We're getting so close to making this delicious vegan pumpkin pie! Here's all the equipment you're gonna need!
oven
1 x baking sheet
Blender
1 x 23cm (9 inch) pie tin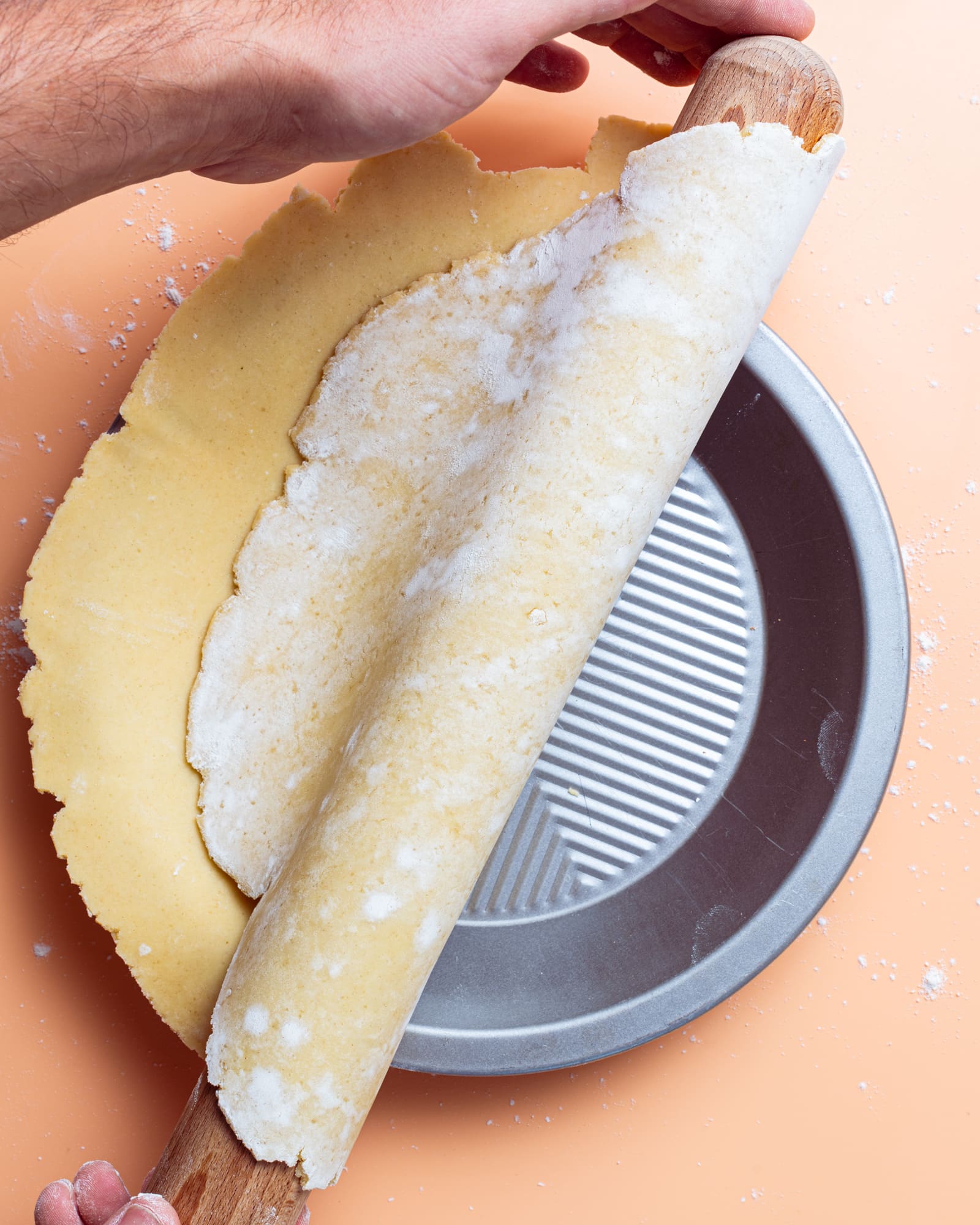 💅 Make Ahead Tip!
If you're making ahead, keep this in mind:
1. The entire cooked pie can be made ahead and stored in the fridge for a day.
2. Alternatively, you can make the pie crust and freeze before baking for up to a week. The filling should be prepared on the day of baking but takes literally seconds to prepare.
🤷‍♀️ Vegan Pumpkin Pie FAQs
Q: Is pumpkin pie vegan?
A: Usually no. Most pumpkin pie contains eggs and sometimes milk, butter and condensed milk. This recipe uses none of these ingredients and is completely vegan.
Q: Is pumpkin pie savoury or sweet?
A: Pumpkin pie is a dessert and is sweet, not savoury. Pumpkin actually works as both a sweet and savoury ingredient, especially when combined with spices and sugar or maple syrup.
And that's it! You're now the proud owner of a vegan pumpkin pie. Please don't do what I did at my first ever American thanksgiving and eat four slices of different pies within five minutes. Pace yourself. There's no rush!
If you're now looking to make something similarly autumnal but SAVOURY, remember, I have recipes for my vegan turkey roast, gravy, stuffing and mashed potatoes too! I've got your whole holiday season covered!
Vegan Pumpkin Pie
Super easy vegan pumpkin pie. Super creamy, custardy texture and packed with delicious fall spices. Ideal for thanksgiving or a spooky halloween!
Equipment
oven

1 x baking sheet

Blender

1 x 23cm (9 inch) pie tin
Ingredients
425

g

can pumpkin puree

100

g

silken tofu

175

ml

coconut cream, melted

160

ml

maple syrup

3

tablespoon

cornstarch

1

teaspoon

cinnamon

1

teaspoon

ground ginger

¼

teaspoon

nutmeg

Pinch

ground cloves

Pinch

fine sea salt

1

vegan pie crust

(blind-baked)
Instructions
Preheat the oven to

175

°C

and place a baking sheet inside. 

Place all the filling ingredients in a blender and blend for around 2-3 minutes on full speed. 

425 g can pumpkin puree,

100 g silken tofu,

175 ml coconut cream, melted,

160 ml maple syrup,

3 tablespoon cornstarch,

1 teaspoon cinnamon,

1 teaspoon ground ginger,

¼ teaspoon nutmeg,

Pinch ground cloves,

Pinch fine sea salt

Wrap the crusts of the pie case in 2 layers of tin foil to prevent burning. Pour the filling into the pie crust and place on the hot baking sheet in the oven to bake.

Bake for 55 minutes.

When baked, a knife inserted in the filling a few cm from the crust should come out clean but the centre should still be a little jiggly. Allow to cool fully before slicing and serving with vegan whipped cream.
Notes
1. You can find my recipe for the perfect vegan pie crust here. For this recipe it's important to blind-bake the pastry before adding the filling, so follow the instructions in my recipe. Alternatively you can use a store bought pie crust but just make sure it's a vegan one and doesn't contain butter.
2. Since the pastry is already pre-baked, it's important to use a crust protector to stop the edges from burning. No need to buy a fancy silicone one, just fold over a sheet of aluminium foil to form two layers and wrap it around the pre-baked crust. This should reflect some of the heat away from the pastry, ensuring the filling has time to cook, but the pastry doesn't have time to burn.
3. I use canned pumpkin puree because it's so much more consistent than roasting and making your own from fresh pumpkins. However, if you're really into the idea of making everything from scratch, you can find advice on making pumpkin puree here! I also find that homemade pumpkin puree is usually a lot "wetter" than canned pumpkin, so you may get a different finished product this way. If this happens, I'm sorry, but you can't say I didn't warn you!
Nutrition
Calories:
254
kcal
Carbohydrates:
33
g
Protein:
3
g
Fat:
13
g
Saturated Fat:
7
g
Polyunsaturated Fat:
1
g
Monounsaturated Fat:
4
g
Sodium:
85
mg
Potassium:
237
mg
Fiber:
2
g
Sugar:
15
g
Vitamin A:
6615
IU
Vitamin C:
2
mg
Calcium:
47
mg
Iron:
2
mg
Love this recipe?
Let me know on Instagram!