Publised on 02/08/2019 by Richard. Last Updated on 13/11/2022 by Richard.
Oh, look, it's my crispy vegan onion bhaji recipe! When it comes to crispy, aromatic, Indian inspired snacks, nothing beats these perfect vegan onion bhajis!
---
Why Onion Bhajis?
This super crispy vegan onion bhaji recipe is a labour of love for me! Back when I used to run a street food company in London, I would take part in a super exciting Indian street food festival every spring. My speciality was ice cream, and luckily, every year I was positioned opposite the onion bhaji stand - manned by Dosa Deli.
They weren't your average, soggy, doughy, supermarket bhajis though. Instead they were HUGE, crispy and freshly fried with just a hint of spice. The cherry on top? They were served with an enormous dollop of mango chutney and no fork - this was ambitious finger food!
After my first day of trading, we'd finish at 10pm (my wrist THROBBING from scooping ice cream) and I'd zombie-walk over to the bhaji store and order a large bowl and a cold beer. I can tell you now, NOTHING hits the spot like that combo, and that's exactly why I developed this recipe.
Aren't onion bhajis always vegan?
In short, it depends! Most onion bhaji recipes seem to contain egg or milk or BOTH, but not these. My onion bhaji recipe is completely vegan! I use psyllium husk powder as a "binder" but see below for my substitution suggestions if you don't have any to hand.
Can I make any swapsies?
Here are my suggestions for swaps and substitutions:
Psyllium Husk Powder - as usual, psyllium husk acts as a binding agent, much like eggs, once it's hydrated in water. If you can't get hold of it, you can replace with ground flax/linseed. Just change the measurement from teaspoon to tbsp!
White Rice Flour - This is the difference between a crispy bhaji and a SUPER crispy bhaji. I highly recommend leaving this ingredient in, but if you MUST swap it out, try replacing with plain white flour.
The Spices - Here's where you can let your imagination go wild! I've used my favourite spices but if you have a blend you'd rather use, then feel free!
Sunflower Oil - The important thing to remember here is that you need to use a nice NEUTRAL oil! If you'd rather use vegetable oil or rapeseed oil then go ahead, but olive oil has far too much flavour. Keep it simple!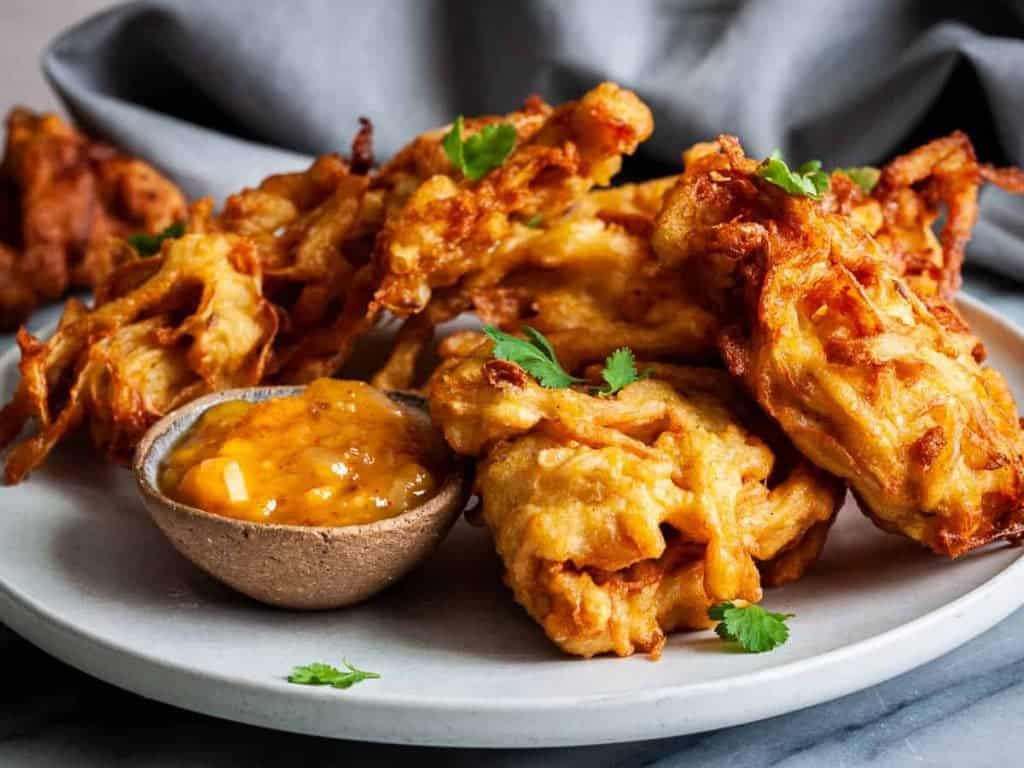 How do I Make em!?
The process is super simple for making these crispy onion bhajis. Here's what to expect:
You'll need to make your delicious spicy batter by mixing together the hydrated psyllium husk powder, lemon juice, flours, spices and salt.
Next you'll add the plant milk until you have a nice runny batter. Once everything's mixed up, cover and stick in the fridge while you prep your onions!
Slice a big onion (or a few smaller onions) in half then, using a mandolin, slice the onion super thin. Mix the sliced onions into the batter and return it to the fridge (the colder the bhaji batter is when it goes into the hot oil, the crispier the bhajis will be!)
Heat a good few inches of oil in a deep saucepan and bring to around 170c. Test a bit of the coated onion in the fat to see if it bubbles straight away - if it does, you're good to go!
Dollop a good heaped dessert spoon of the battered onions into the fat and allow to fry for around 30 seconds on each side, then remove and drain on some kitchen towel! Repeat until you've no batter left - and that's it! Easy peasy! Crispy vegan onion bhajis!!
Where can I find more vegan Indian recipes!?
If you love Indian food, make sure you check out my Beetroot Dal recipe, or perhaps you're more of a Tarka Dal kinda cook? Like your curries chunky? Give this Butter Cauliflower recipe a go!
Oh and if you tried this recipe, be sure to let me know what you think! Comment and rate the recipe below! Enjoy!
Super Crispy Vegan Onion Bhajis
A super simple recipe for mega crispy vegan onion bhajis, free from egg and milk but full of flavour!
Ingredients
1

teaspoon

psyllium husk powder + 6 teaspoon water

100

g

gram flour / chickpea flour

3

tablespoon

white rice flour

1

teaspoon

chilli flakes or chopped fresh chilli

1

teaspoon

cumin seeds

1

teaspoon

garlic masala

¼

teaspoon

ground coriander

¼

teaspoon

ground turmeric

½

teaspoon

fine sea salt

2.5

tablespoon

lemon juice

((freshly squeezed))

150-200

ml

plant milk

300

g

finely sliced onions

((use a mandolin if you have one))

sunflower or vegetable oil for frying

1

pinch

fresh coriander

((roughly torn))
Instructions
In a small bowl, combine the psyllium husk powder and water then stir well. Set aside to thicken for 5 minutes.

In a medium bowl, mix together the gram flour, rice flour, spices and salt. Add the lemon juice, thickened psyllium husk powder and 150ml of the plant milk.

Psyllium husk has a tendency to clump, so make sure you mix very well to avoid lumps. IF this doesn't work, use a blender to smooth out the batter. The batter should be thick enough to coat the slices of onion but still quite runny. If your batter is too thick, add more of the plant milk until you have the perfect texture. Once you're happy with the batter, cover the bowl and place in the fridge to cool for minimum 15 minutes.

While the batter chills, peel and chop an onion in half, then using a mandolin on the lowest setting, slice the onion very thinly. Add the sliced onion to the batter, mix well to coat and return to the fridge for a further 5 minutes.

While the onion batter chills, place a medium high-sided saucepan over medium heat and add 2-3 inches of sunflower oil. Using a probe or candy thermometer, bring the oil to 170c/340f. If you don't have a thermometer, test the heat of the oil by dropping a small amount of batter into the pan - it should bubble immediately and brown in around 30 seconds.

Once the oil is up to temperature, remove the bhaji batter from the fridge. Carefully place a heaped dessert spoon of batter into the hot fat and fry for 30 seconds on each side or until very crispy and golden brown. Using a spider or slotted spoon, remove the hot bhaji and place on a plate lined with kitchen towel. Repeat the process until you have no remaining batter.

Serve the fresh bhajis immediately with mango chutney and some fresh coriander.
Nutrition
Serving:
1
grams
Calories:
350
kcal
Carbohydrates:
59
g
Protein:
16
g
Fat:
6
g
Saturated Fat:
1
g
Sodium:
676
mg
Fiber:
11
g
Sugar:
14
g
Love this recipe?
Let me know on Instagram!