Publised on 27/08/2022 by Richard. Last Updated on 20/11/2022 by Richard.
Vegan mushroom stroganoff with an incredibly comforting creamy texture. Silky smooth and easy to make for a perfect mid-week dinner.
---
You might have guessed that this vegan mushroom stroganoff was coming, because I've been PLOUGHING through some old timey favourite recipes recently. By old timey I mean "the stuff I ate as a kid" and by ploughing I mean "veganising"! Something about the creaminess of a classic mushroom stroganoff has been missing form my life for a long time. It's the way those earthy mushroom fellas combine so well with that glossy white-wine heaven sauce then BAM in goes the cream and it's a strog!
What could be better? What could be easier?? Ladies, gaydies and theydies I present you the SNV vegan mushroom stroganoff!
Potential Substitutions
Before we get started on the recipe, I thought I'd go through some potential substitutions for you. When it comes to the classics, we stan a versatile dish! We stan a flexible dish and good lord that's what I'm gonna provide!
The Mushrooms
It's always a surprise to me that people out there don't actually like mushrooms. Why you'd be reading a vegan mushroom stroganoff recipe if you hated mushrooms, I'll never know, but I bet at least ONE of you does - so this is for you friend. This recipe will work equally beautifully as a vegan beef stroganoff if you replace the mushrooms for vegan beef chunks! Perhaps use these from Tesco or even substitute for TVP chunks - just be sure to rehydrate them first!
There are plenty of options out there for fake meats these days, so go wild!
The Vegan Cream
I wanted this recipe to work as an easy week-night (or school night - eh? eh?!) dinner! As such I've used store-bought vegan cream. For me the best option is the double cream from Oatly but there are obviously loads of options out there. If you'd like to pack some more protein into this dish, you can follow my cannellini bean trick from my vegan vodka sauce recipe.
This just involves blending an entire can of cannellini beans with a splash of soy milk to make a home-made cream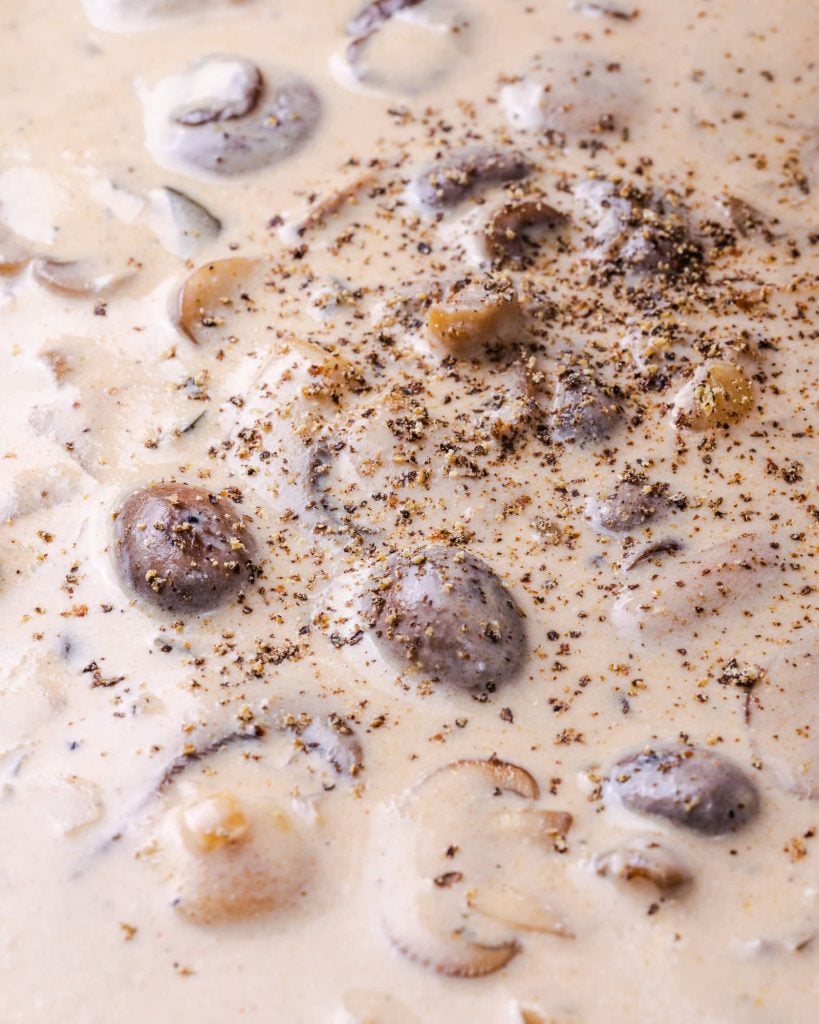 So, how do I make perfect vegan mushroom stroganoff!?
There's a reason why this is a classic dinner - it's SUPER easy and doesn't require any specialty ingredients. Still, I like to walk you through the process with photos be I'M a VISUAL LEARNER! So here we go!
1. Fry off the onions and garlic!
As per usual we're going to fry off the onions and garlic. I like to do this in some vegan butter instead of oil for this recipe, as I find it helps to make the final dish super creamy and delicious. Don't let them brown though - we're just trying to soften up those onions and take away some of the raw garlic bite.
2. Add the mushrooms etc!
Next I like to throw in the mushrooms, along with my crunchy pickly ingredients. These arent necessarily for everyone, but I didn't mention them in the substitutions section because I REALLY want you to give them a go! The tang just cuts right through the creaminess and the crunch is always welcome!
3. Add your vegan mushroom stroganoff liquids!
Next we add the liquids! This includes wine (which you can obvs sub for more stock if necessary) and mushroom stock. I like to use Kallo brand mushroom stock cubes for this recipe. They're so insanely tasty and work so wonderfully with this recipe!
It's then important to simmer everything down until nicely reduced. I'd say by around half the volume. This way we've concentrated all the flavour and yet when we add the vegan cream, it won't become far too runny!
4. Add the cream!
Now we're adding the vegan cream and there's only one thing to be careful with here. If your sauce is too hot when the cream goes in, it'll likely split and you'll lose all of that beautiful creaminess. I always reduce my heat right before adding my vegan cream to the vegan mushroom stroganoff to prevent this from happening. Give everything a good stir and allow the very low heat to warm the dish through to serving temp.
Finally I like to finish with some lemon juice and some nice chopped parsley.
4. Serve your vegan mushroom stroganoff!
And that's it! your vegan mushroom stroganoff is done and dusted!
As always, it helps me MASSIVELY if you can rate and review this recipe below. This blog only exists because people like you actually use it and cook these recipes, so it would mean a massive amount to me if you could let others know that you rate this recipe or that you're just excited to make it!
Alternatively, take a picture and pop it on instagram! Be sure to tag me though - I can't wait to see how you use this recipe!
Vegan Mushroom Stroganoff
Vegan mushroom stroganoff with an incredibly comforting creamy texture. Silky smooth and easy to make for a perfect mid-week dinner.
Ingredients
40

g

vegan butter

1

onion

(finely chopped)

2

garlic cloves

(peeled and crushed)

500

g

mixed mushrooms

(halved where necessary (see recipe notes below))

3

cornichons

(roughly chopped)

4

stalks of fresh parsley

(stalks and leaves separated)

1

tablespoon

capers

1

teaspoon

english mustard

1

teaspoon

paprika

50

ml

dry white wine

200

ml

mushroom stock

( or vegetable stock)

Flaky sea salt and ground black pepper

250

ml

vegan double cream

( or vegan creme fraiche)

½

a lemon

2

tablespoon

finely chopped fresh parsley

Cooked rice for serving
Instructions
1. Place a large frying pan over medium heat and add the vegan butter. Once melted, add the onion and fry for a few minutes until softened. Add the garlic and fry for a further few minutes. Add the mushrooms and fry together for 2 minutes.

40 g vegan butter,

1 onion,

2 garlic cloves,

500 g mixed mushrooms

2. Add the cornichons, the stalks of the fresh parsley, the capers, mustard and paprika then stir together. Add the wine and stock, stir and then leave the pan to come to a simmer. Reduce the heat slightly and allow the liquid to reduce by about half (roughly 10 minutes).

3 cornichons,

4 stalks of fresh parsley,

1 tablespoon capers,

1 teaspoon english mustard,

1 teaspoon paprika,

50 ml dry white wine,

200 ml mushroom stock

3. Once the liquid has reduced, season to taste with the salt and black pepper then turn the heat to low and add the vegan double cream. Stir to combine and allow to heat through but don't let it boil. Remove from the heat when the dish is warmed through and add the juice of half a lemon. Stir through the parsley and serve with freshly cooked rice or tagliatelle.

Flaky sea salt and ground black pepper,

250 ml vegan double cream,

½ a lemon,

2 tablespoon finely chopped fresh parsley,

Cooked rice for serving
Notes
- You can really be creative when you're selecting your mushrooms. If you want to keep it classic (like me!) stick to closed cup, brown or button mushrooms. The larger ones should be halved but it's great to have a couple of little whole guys in there too.
- I love adding cornichons and capers to my stroganoff. It not only adds a little crunch but the tang is wonderful for cutting through that earthiness of the mushrooms and the creaminess of the final dish. If you're not a fan of tangy, feel free to leave these out, but I promise you'll be pleasantly surprised if you choose to give them a go.
Nutrition
Calories:
400
kcal
Carbohydrates:
41
g
Protein:
7
g
Fat:
23
g
Saturated Fat:
8
g
Polyunsaturated Fat:
10
g
Monounsaturated Fat:
4
g
Trans Fat:
0.1
g
Sodium:
995
mg
Potassium:
600
mg
Fiber:
5
g
Sugar:
12
g
Vitamin A:
985
IU
Vitamin C:
3
mg
Calcium:
20
mg
Iron:
1
mg
Love this recipe?
Let me know on Instagram!
WANT MORE VEGAN DINNERS!?
Why not try: