Publised on 17/10/2022 by Richard. Last Updated on 20/11/2022 by Richard.
Incredibly easy vegan mince pies, packed with homemade mincemeat and homemade pastry - no rolling required!
Ok, roleplay scenario, it's Christmas and you're searching for a vegan mince pie recipe. Chances are, and let's be honest, you're actually searching for an EASY vegan mince pie recipe. We've all grown accustomed to store-bought mince pies (there are even store-bought vegan mince pies most places now too) so the idea of making your own from scratch is a little daunting. But here's why you should really give this recipe a go.
These are the easiest vegan mince pies I've ever made in my life. I know, I'm bias, but would I lie to you? Your big gay brother?? I literally just want you to thrive and slay all day - especially CHRISTMAS DAY! Also, these pies will literally change things in your biological make-up, they're SO good. The pastry is buttery and crumbly but WILL NOT fall apart in your hand. Meanwhile the filling is FRUITY AF and just so festive. Want to use store-bought filling instead? NO SWEAT! I'll tell you how below!
Jump to:
What's in a vegan mince pie?
For people in the UK this section might seem like overkill, but remember - mince pies kind of AREN'T a thing in many places... I know, Imagine Christmas without a vegan mince pie!? Tragedy!

So here's a little breakdown of the main ingredients in my vegan mince pies. And no, America, it doesn't ACTUALLY contain minced meat - it's all fruit baby!
Vegan Mincemeat Ingredients
Raisins & currants - the main body of the mincemeat filling!
Chopped mixed peel - there for that extra zesty sweetness and a little chunky bite.
Shredded vegetable suet - it's like firm, shredded vegetable shortening.
Dark brown sugar - mmm, winter warmer!
Lemon and orange zest and juice - more citrus baby!
Brandy - for that yule-tide glow!
Nutmeg - for the spiceification!
Bramley apple - grated, for ease!
OR use 410g pre-made mincemeat from a jar
Vegan Mince Pie Pastry Ingredients
Plain white flour - also known as all purpose flour. Nothing fancy!
Caster sugar - also known as white superfine sugar.
Fine sea salt - not the flaky stuff for this recipe, we want a fine variety.
Water - make sure it's literally ice cold by adding a few ice cubes and stirring for a min.
Plant milk - any will do - it's just for brushing the pastry before baking. Make sure it's unsweetened though.
As always, the full recipe is at the bottom of the page, so check there for quantities.
OK now I can tell you're curious about how to actually make these little babies! Chill your boots babs! That's the next section!
How do I make vegan mince pies?
I've simplified this whole process for you because I love you and, like your free-time, you're very precious. So here goes! The easiest vegan mince pies on the planet or maybe universe!
1. Make your pastry! Again, don't be daunted. These vegan mince pies are ALL about this pastry, so please don't skip this process and use store-bought pastry. It's JUST not the same - this stuff is so much more buttery and short! Delicious!
2. Make the pie crusts! This is the easy bit - and actually super kid friendly. Just plop a walnut sized ball of dough in each well of a cupcake tray and push the dough down and up the sides. You can be pretty rough here, but just make sure the dough is a similar thickness all round.
3. Fill the vegan mince pies! Regardless of which filling you're using (homemade or store-bought) this is when you put it to good use! Divide the filling evenly between the cases and don't overfill! Otherwise the filling will burst out and make your pies stick to the cupcake tin, which isn't fun!
4. Bake the pies! They're done super quickly, usually 20-25 mins. I like to make a little hole in the top of the pastry to let the steam out, but this usually ends up re-sealing itself anyway, so feel free to ignore this step if you please!
Hint: The easiest way to decorate your pies is to use a paper plate to make a stencil. Place on top of the pie and dust liberally with icing sugar - oooh it's like falling snow! And there you have it - beautifully decorated vegan mince pies.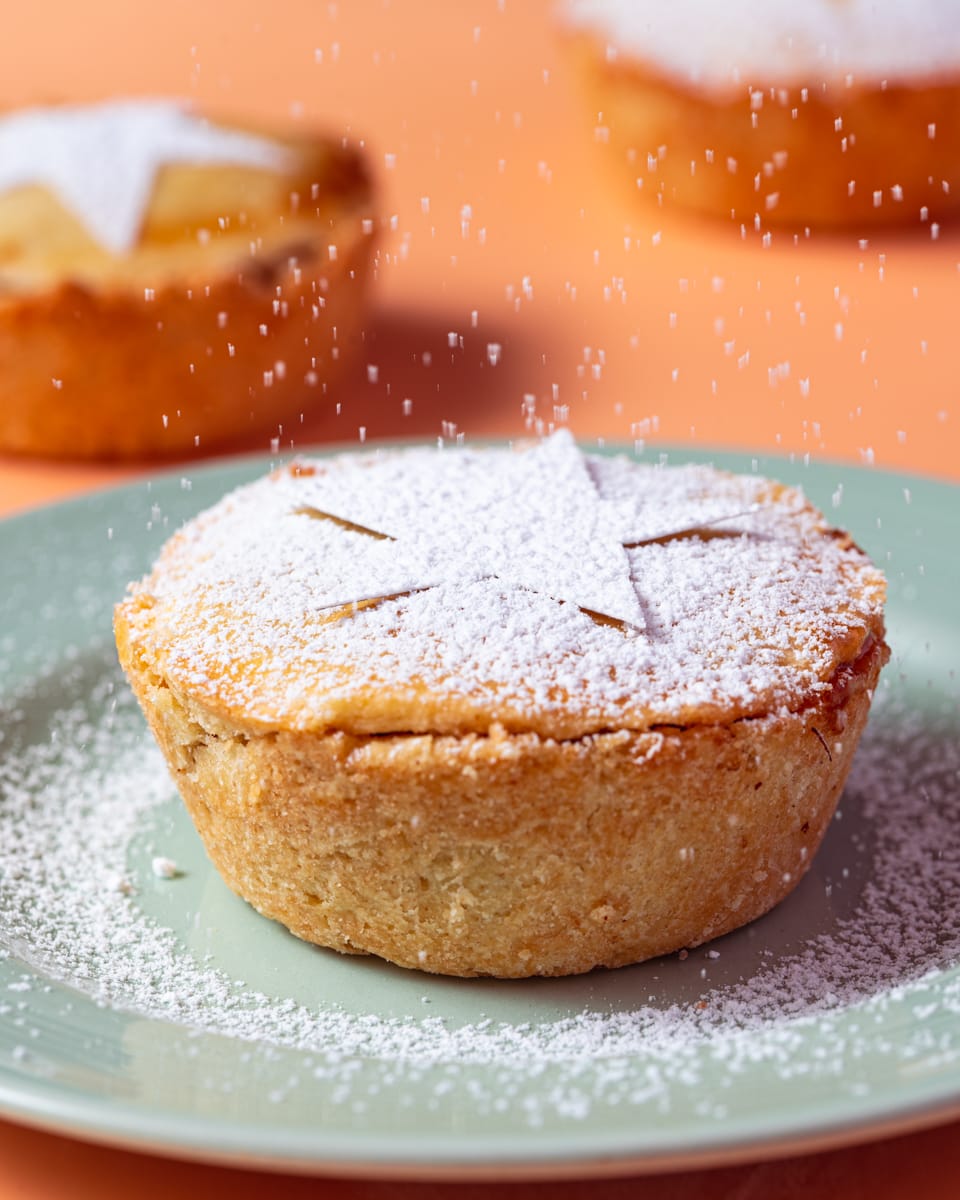 Subs and swaps
Here are my recommendations for switches and swaps:
Flour - If you're gluten free, this recipe works great with a simple sub for a decent gluten free plain flour blend. My favourite brand is Freee or Bob's Red Mill.
Brandy - If you're booze free, brandy is super easy to replace. It can be swapped out for either apple juice, orange juice or grape juice. This'll keep the pies kid friendly too!
Vegan Butter - If you can't get hold of vegan butter, or simply don't want to use it, swap it for coconut oil. It's a simple gram for gram swap, but make sure you freeze the coconut oil before use.
I'd love to hear your suggestions for swaps, so please pop them in the comments. Thank you!
Level up those vegan mince pies!
OK now you're in the swing of things and looking to take everything a step further?? What have I always said about you?? You're EXTRA and I LIVE for it! Here are some suggestions:
Orange you glad it's Christmas!?- I LOVE a bit of extra citrus in my mince pies. This recipe already contains orange and lemon zest, but why not swap out the brandy for cointreau! It's an orange flavoured liqueur and it'll elevate everything with a Christmas kick!
Get fruity! - Since you're making your own filling, why not go a bit crazy! Swap out some of the raisins and currants for diced dried apricots, cranberries or cherries! Anything goes - it's Christmas after all!
Spicy mama! - Why not mix up a spiced sugar (cinnamon, nutmeg, ginger and allspice with granulated sugar) and sprinkle over the top of the pies before baking? The sugar will caramelise and give your pies a delicious crust.
Creme de la creme! - Looking for a delicious topping for with your mince pies? Why not whip up a batch of my vegan whipped cream?? You can even add a dash of brandy to the mix!
And hey, look, it's not too late to back out of making these vegan mince pies. You could always whip up a pecan pie instead, or maybe even a pumpkin pie? I've even got a spiced eggnog custard tart with your name on it!
Essential mince pie kit!
Again, this is an insanely easy recipe, but just to keep things transparent, here's the kit you'll need for the entire recipe!
2 x medium bowls
1 x food processor
1 x non-stick 12 well cupcake tin
1 x pastry brush
1 x sharp knife
1 x wire cooling rack
Bonus Tip!
Scared of getting a soggy bottom on your pies? The DREADED soggy bottom haunts us all. The risk of a soggy bottom is increased if you use your own homemade mincemeat, but there's a hack to keep things deliciously crispy downstairs. Place a pizza stone or a thick metal tray in your oven as it pre-heats. When ready, place the cupcake tray on the hot stone/tray to make sure the base of the pastry bakes first!
Vegan mince pies FAQs
Q: Is there meat in mince pies?
A: There used to be! Back in the early 20th century though, bakers swapped the meat for "mincemeat", which became a term for a mixture of dried fruit, sugar and spices! Original plant-based pioneers!
Q: What pastry are mince pies made from?
A: Mince pies are made from shortcrust pastry. This usually involves flour, sugar and butter but vegan varieties use vegan butter or coconut oil instead.
Vegan Mince Pies
Incredibly easy vegan mince pies with homemade mincemeat and homemade pastry - no rolling required!
Equipment
2 x medium bowls

1 x food processor

1 x non-stick 12 well cupcake tin

1 x pastry brush

1 x sharp knife

1 x wire cooling rack
Ingredients
For the Mincemeat
65

g

raisins

95

g

currants

35

g

chopped mixed peel

75

g

shredded vegetable suet

65

g

dark brown sugar

½

lemon

(zest and juice only)

½

orange

(zest only)

50

ml

brandy

pinch

nutmeg

1

bramley apple

(small, peeled and grated)

OR use 410g pre-made mincemeat from a jar
For the Pastry
200

g

vegan butter

(block style, frozen plus extra for greasing)

400

g

plain white flour

(aka all purpose flour)

70

g

caster sugar

(aka superfine sugar)

¼

teaspoon

fine sea salt

50

ml

water

(ice cold)

35

ml

plant milk
For Decorating
100

g

icing sugar

(sieved)
Instructions
To make the mincemeat
If using homemade mincemeat, start this process the day before you plan to bake. If using store-bough mincemeat, skip to the pastry. In a medium bowl, combine all the mincemeat ingredients in the order listed.

65 g raisins,

95 g currants,

35 g chopped mixed peel,

75 g shredded vegetable suet,

65 g dark brown sugar,

½ lemon,

50 ml brandy,

pinch nutmeg,

1 bramley apple,

OR use 410g pre-made mincemeat from a jar

Cover the bowl and place in the fridge for 24 hours.
To make the pastry
Place the vegan butter, flour, sugar and salt in a food processor and pulse a few times or until the mixture resembles a coarse sandy texture.

200 g vegan butter,

400 g plain white flour,

70 g caster sugar,

¼ teaspoon fine sea salt

Transfer the mixture to a medium bowl and use a fork to stir in the ice cold water. Mix just until the crumbs start to clump together into larger lumps. Do not overmix.

Turn the very crumbly mixture out onto a counter and knead one or two times to create a crumbly ball of dough.

Grease a non-stick 12 well cupcake tin with some extra vegan butter and preheat the oven to 180c. Use a small cookie scoop to add a walnut-sized ball of dough into each well (this should leave just under half of the dough left for creating the pie lids).

Use your thumbs to push the dough down and up the sides of each well by around 1.5cm to create your pie crusts.

Divide the mincemeat between the pie crusts. To make the lids, dust a counter with a little flour then take another slightly smaller ball of dough and press flat against the counter with the palm of your hand until it's roughly the size of the top of the pie.

Place the pie lid over a filled pie and roughly push the edges of the lid and the crust together (you do not need to be super neat, the pastry should seal itself loosely). Brush the top with a little plant milk.

Place the cupcake tin of filled and covered pies in the oven to bake for 20-25 minutes. Remove and allow to cool in the tin for 5 minutes.

Carefully run a small sharp knife around each cupcake well to loosen the pies and gently remove them. Place the pies on a wire cooling rack until fully cooled.

To decorate the pies, cut out a design from a piece of card. Place on the top of a pie and dust with icing sugar, using the card as a stencil. Remove the card to reveal the design before serving.
Nutrition
Calories:
408
kcal
Carbohydrates:
58
g
Protein:
4
g
Fat:
18
g
Saturated Fat:
4
g
Polyunsaturated Fat:
5
g
Monounsaturated Fat:
7
g
Trans Fat:
1
g
Sodium:
166
mg
Potassium:
181
mg
Fiber:
2
g
Sugar:
26
g
Vitamin A:
663
IU
Vitamin C:
4
mg
Calcium:
24
mg
Iron:
2
mg
Love this recipe?
Let me know on Instagram!