Publised on 13/10/2022 by Richard. Last Updated on 25/10/2022 by Richard.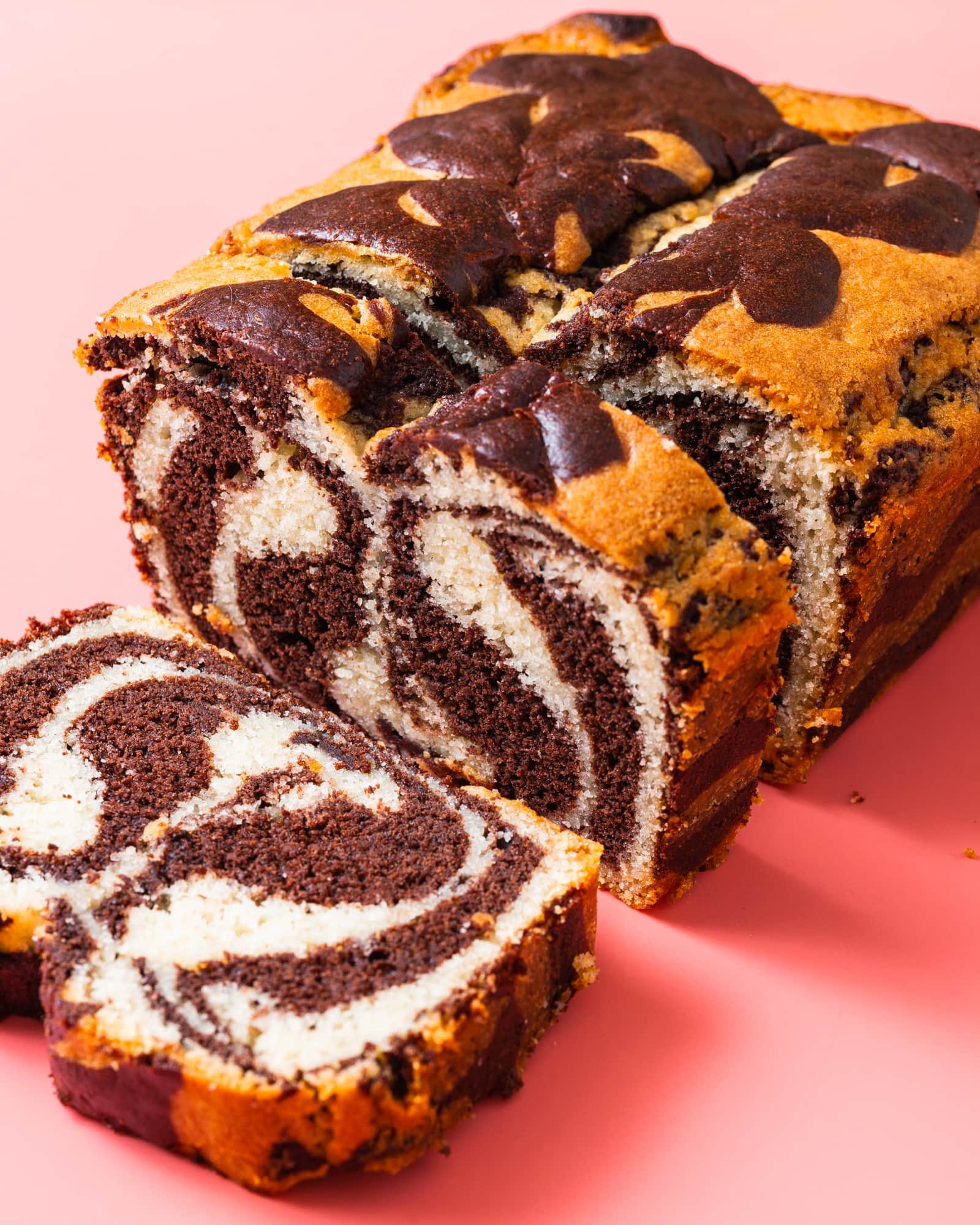 Super easy vegan marble cake with chocolate and vanilla swirls! Moist and tasty all the way through!
I've been meaning to make a vegan marble cake for absolutely ages and since I've posted so many loaf cakes recently (like my vegan lemon poppy seed cake and my vegan lemon drizzle cake) I figured we were well overdue!
I'd love for School Night Vegan to become your home for vegan cakes in general - I am, after all, about 70% cake by this point. Everyone wants to know that their cake will turn out great every time, so this vegan marble cake is the next in my collection of FOOL PROOF vegan cakes!
I asked my husband recently whether he has eaten a marble cake before and his answer alarmed me. Turns out there are TWO different kinds of marble cake! He used to get served a marble cake as part of his very English school dinner, back in the day. His imposter marble cake was just a simple vanilla sponge topped with pink and white marbled icing.
MY marble cake, however, is vanilla and chocolate sponge SWIRLED together and baked to form a gorgeous marble effect! The texture is similar to a standard pound cake (aka madeira cake) and has that moist, close textured sponge!
How do I make a vegan marble cake?
If you're in a rush to get your gnashers round this vegan marble cake, then don't worry - scroll down to the bottom of the page and you'll find my recipe! If you want some more info on how to make this tasty treat, keep readin!
I've also got some extra tips for you, including how to get that perfect pound cake style crack right down the centre of your cake!
1. Start with the cocoa!
To begin with, we're going to make the cocoa paste which will be responsible for making our chocolate cake batter, well, CHOCOLATEY! The cocoa powder needs to be mixed with boiling water to form the paste, which is why we do this step first. The cocoa paste needs to cool down before we add out batter to it.
Just give everything a whisk together in a small bowl and set aside, before starting to make your vegan marble cake batter!
2. Measure your dry and wet ingredients!
This vegan marble cake batter is a simple two-parter to begin with. We're just going to mix our dry ingredients with our wet. As always, I recommend sifting your dry ingredients together to ensure even distribution of the raising agents and salt.
I also recommend blending together your wet ingredients, as it emulsifies the fat, sugar and water, ensuring a smooth batter.
3. Divide the vegan marble cake batter!
Here's where things get interesting. Instead of just pouring the vegan marble cake batter straight into the loaf tin, we're going to split the batter in two! Just under half of the batter should go into the bowl with the chocolate paste. Mix until well combined, but don't overmix, otherwise the batter will end up tough and rubbery!
The other part of the batter will remain flavoured by just the vanilla. At this stage you can either place the batters into piping bags, or alternatively just leave them in the bowls for now.
4. Layer the batters!
Because I'm a bit weird and a bit of a perfectionist, I like to pipe my batter into the cake tin, to guarantee an even layer of each batter. It's just as easy to scoop the batter into the cake tin though, so do it however you'd like.
Just make sure you apply a layer of vanilla followed by a layer of chocolate batter then repeat until you run out. Another good tip is to tap the cake tin on the table to release some of the air bubbles. It'll result in a nice, even crumb.
5. Swirl the batters!
Once the batters are layered nicely, you'll want to grab a bamboo skewer. Use it to swirl the batter but not too much - you're not trying to blend the batters together, just create a gentle swirl pattern.
As the cake bakes and the batter puffs up, the cake will swirl itself gently, so overdoing it with the skewer is definitely unnecessary.
6. Add a strip of vegan butter!
Here's my final tip for the perfect vegan marble cake! While your cake bakes, the top will expand and crack. The crack can be rather unpredictable in shape and position, so this tip is designed to guide the position of the crack and make your vegan marble cake nice and symmetrical.
Just slice the edges off a block of vegan butter (I like to use Naturli) and pop them in the freezer for a while. Once frozen solid, place the strips of butter down the centre of the cake. As it bakes, the cake will split along the line of butter - lovely and neat!
7. Bake, cool and serve!
Like most loaf cakes, it's important to bake this one for a while, but don't be put off. The sponge will remain lovely and moist. Also, don't be tempted to slice the cake before it's completely cool. Ideally leave the cake overnight before slicing - this will preserve the structure of your lovely swirls even more.
And that's it! You've made the best vegan marble cake on the planet! Lucky you! Can I have a slice!?
I love baking and want to make sure you love baking my recipes! If you think this one looks great, do me a massive favour, scroll down to the recipe below and give me a 5 star rating! If you make this recipe and ABSOLUTELY love it, why not leave a comment below too!
Alternatively, if you take a pic of your vegan marble cake, be sure to tag me on instagram! I can't wait to see how you get on, my pal!
Want more vegan desserts?
If you're after something autumnal and warming, why not bake your own vegan pumpkin pie? I also adore this vegan chocolate cake with all my heart, like a child of mine, so this is also a must-bake! And as a lovely little curve ball, why not try these vegan cinnamon swirls with pecan glaze! Oh and don't forget my vegan coffee walnut cake!
Vegan Marble Cake
A foolproof vegan marble cake with swirled vanilla and chocolate sponge! Easy to make and impressive to serve!
Ingredients
170

g

vegan butter

(block style, melted, plus 15g extra refrigerated)

40

g

cocoa powder

4

tablespoon

boiling water

250

g

plain white flour

(aka all purpose flour)

2

tablespoon

cornstarch

(aka cornflour)

1 ½

teaspoon

baking powder

¼

teaspoon

bicarbonate of soda

(aka baking soda)

½

teaspoon

fine sea salt

280

g

caster sugar

(aka white superfine sugar)

150

g

vegan yoghurt

(unflavoured and unsweetened at room temperature)

180

ml

soy milk

(unflavoured and unsweetened at room temperature)

1

tablespoon

vanilla extract

1

tablespoon

white vinegar

(lemon juice, rice vinegar or white wine vinegar will also work)
Instructions
From the block of vegan butter, slice off two corners to make two thin oblong rods of vegan butter totalling around 15g in weight. Pinch them together into one long strip then place in the freezer. 

Preheat the oven to

160

°C

and place a baking sheet inside. Line a 2lb loaf tin with a greaseproof paper liner.

In a small bowl, whisk together the cocoa powder and boiling water. Set aside to cool fully. Meanwhile, in a medium bowl, whisk together the plain white flour, cornstarch, baking powder, bicarbonate of soda and fine sea salt. Set aside.

40 g cocoa powder,

4 tablespoon boiling water,

250 g plain white flour,

2 tablespoon cornstarch,

1 ½ teaspoon baking powder,

¼ teaspoon bicarbonate of soda,

½ teaspoon fine sea salt

In the cup of a high-speed blender, blend together the caster sugar, vegan yoghurt, soy milk, vanilla extract, white vinegar and melted vegan butter. Once smooth, gradually add the blended mixture to the dry ingredients in increments, whisking together between additions until the mixture is fully combined and smooth, but not overmixed.

280 g caster sugar,

150 g vegan yoghurt,

180 ml soy milk,

1 tablespoon vanilla extract,

1 tablespoon white vinegar,

170 g vegan butter

Place just under half of the batter in a separate medium bowl, add the cocoa mixture and whisk until combined.

Starting with the vanilla batter, spoon just enough into the prepared loaf tin to cover the bottom in a thick layer. Repeat with the chocolate layer on top then continue to alternate between batters until the loaf tin is filled and the batters have all been used. Alternatively, layer the batters using a piping bag.

Use a bamboo skewer to create a few swirls in the batters but don't overmix. Remove the strip of vegan butter from the freezer and lay it down the centre of the batter.

Place the loaf tin in the oven on the pre-heated baking sheet to bake for 60 minutes.

Remove from the oven once baked and allow to cool for 15 minutes before removing the cake from the tin and leaving to cool fully on a wire cooling rack. Once cooled to room temperature the cake is ready to slice and serve.
Nutrition
Calories:
422
kcal
Carbohydrates:
66
g
Protein:
7
g
Fat:
16
g
Saturated Fat:
4
g
Polyunsaturated Fat:
4
g
Monounsaturated Fat:
6
g
Trans Fat:
0.1
g
Cholesterol:
1
mg
Sodium:
339
mg
Potassium:
227
mg
Fiber:
3
g
Sugar:
37
g
Vitamin A:
911
IU
Vitamin C:
2
mg
Calcium:
98
mg
Iron:
2
mg
Love this recipe?
Let me know on Instagram!