Publised on 02/09/2022 by Richard. Last Updated on 25/10/2022 by Richard.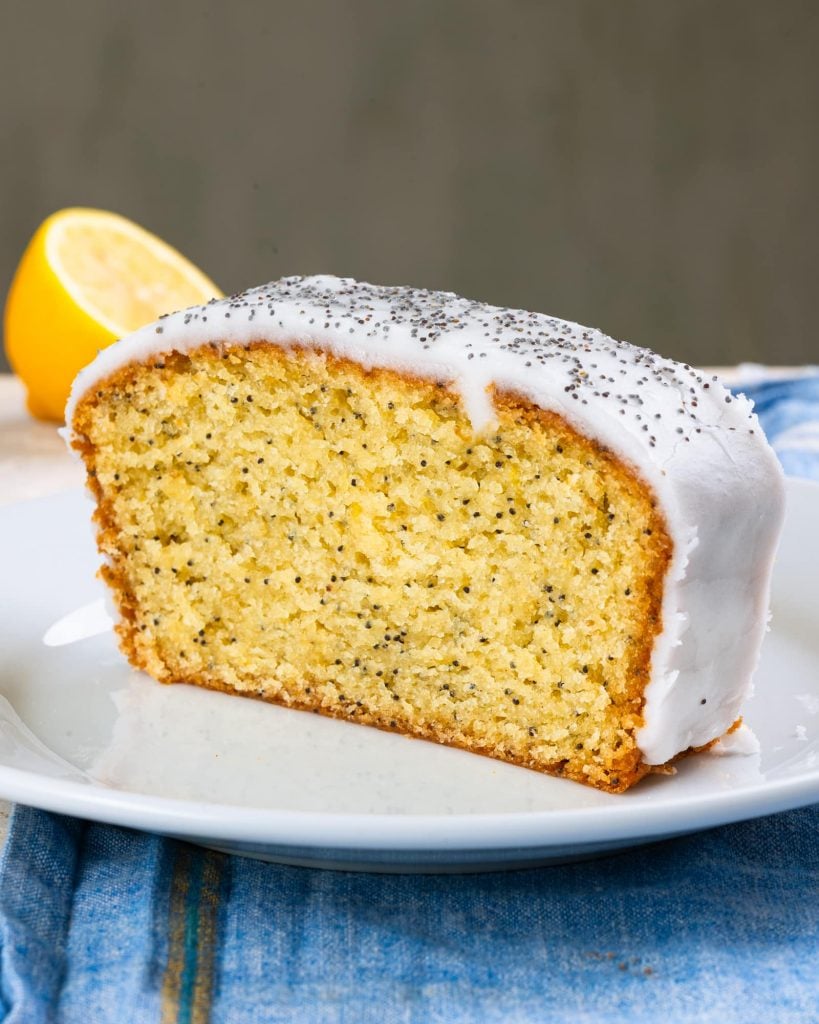 Deliciously zingy vegan lemon poppy seed cake! Light sponge dotted with poppyseeds and lemon zest, topped with delicious lemon glaze.
---
Ok, this vegan lemon poppy seed cake was an inevitability after publishing my vegan lemon drizzle cake last week! It's a very slight variation but definitely worth trying both and seeing which you prefer! The vegan lemon poppy seed cake is a little tangier since it's made with vegan yoghurt, but the crumb is still mind-blowingly light.
It's also super convenient because it's a loaf tin bake, which means it's super simple to slice and requires no fancy decoration (thank bloody jeebus! That's my least fave thing to do!) so you can blast a delicious cake out the kitchen in a flash!
I love how easy this cake is but I also love how joyfully tasty it is. I think this recipe will please your lil tiny kiddy winks AS WELL as the big burly builders working on your extension (just make their cup of tea extra strong!). Everyone's a winner! I'd say the only other cake on my blog which miiight please a larger crowd is my vegan coffee walnut cake... but I'll let you decide!
How do I make vegan lemon poppy seed cake!?
As always, the FULL RECIPE is at the bottom of the page - scroll on down if you're in a hurry. If you've got time for a visual walk-through, keep reading!
1. Combine those wet ingredients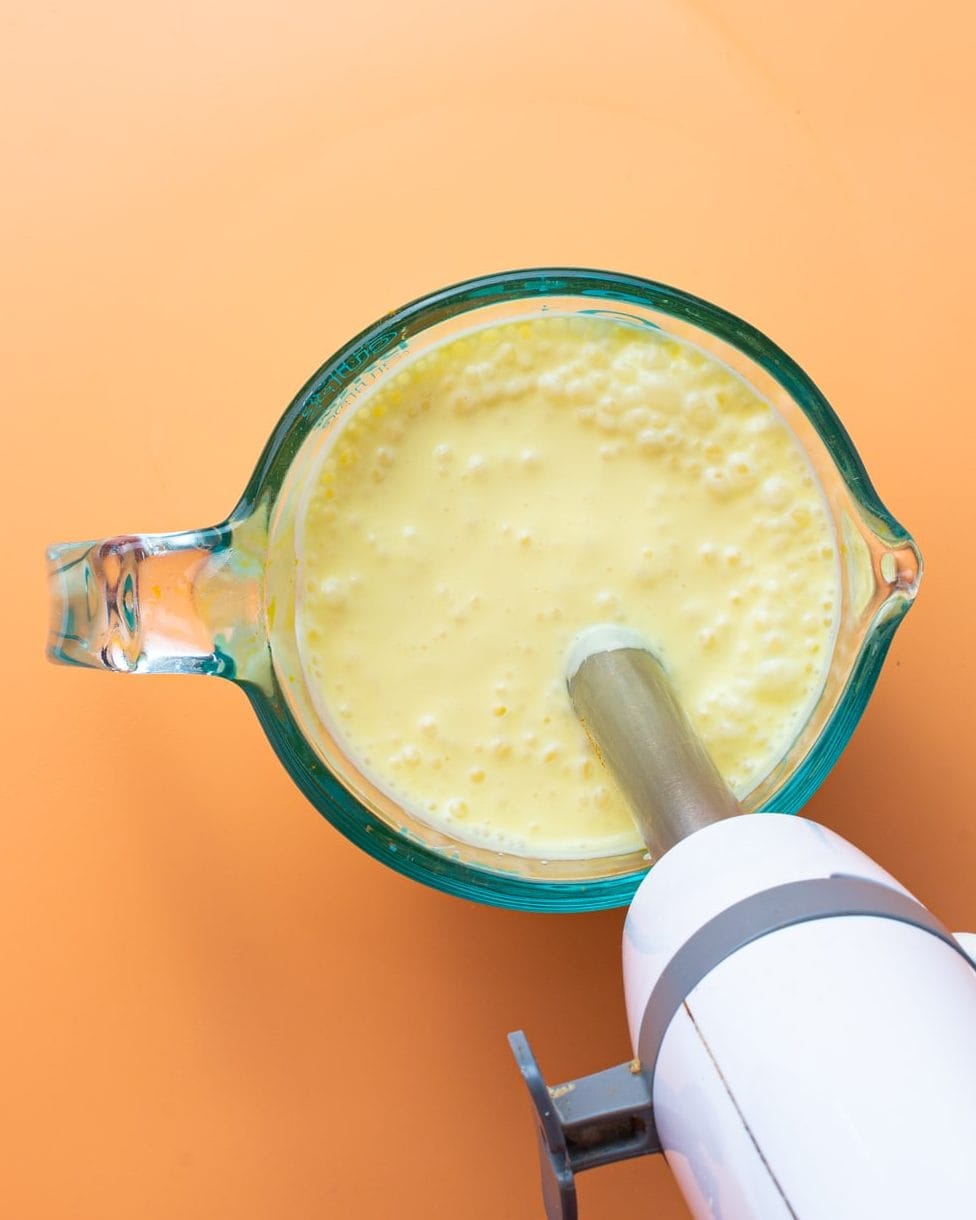 I've mentioned this before but it bears repeating - when making a vegan cake, be sure to emulsify your wet ingredients first! This blends the fat and liquids together in a way which makes it much trickier for the cake batter to split. And as we all know, a split cake batter is a sad cake batter.
I just use a simple stick blender like this one - it does the job really well!
2. Add the sugar
My next tip for a super smooth cake batter involves adding the sugar. We're going to combine the wet ingredients with the sugar but we're going to make sure we give everything a decent whisk until the granules of sugar start to dissolve. I've noticed this results in a way more even crumb.
Oh and you'll want to rub your lemon zest into your sugar beforehand. This way all those essential oils will permeate nicely.
3. Combine the dry ingredients
I know, I know, I harp on about this a lot, but PLEASE always make sure you sieve your dry ingredients together before adding to your batter. It's super important for an even crumb, and the vegan lemon poppy seed cake is no exception!
4. Add those poppy seeds
It always seems to me like I'm not adding enough poppy seeds to my vegan lemon poppy seed cake, but don't worry. Once they're stirred through the batter, you'll see that this is just the right amount.
5. Bake the vegan lemon poppy seed cake
You'll know the cake is done because it'll turn a gorgeous golden brown. If you want to be sure, try the cocktail stick test. Inserted into the centre of the cake, it should come out clean. Leave it to cool and once it's room temperature, transfer to the fridge.
5. Glaze the cake
You'll fin it's necessary to set this cake over a cooling rack placed on top of a baking tray before glazing. This glaze is rather runny so you'll definitely get some extra drippy lemony bits on your counter if you dont! You have been warned!
And there you have it! A delicious vegan lemon poppy seed cake! Perfect for feeding the builders, or even maybe for feeding yourself? Perhaps keep half of it for you and half for the builders? Or whatever, just eat the whole thing.
As always, it helps me MASSIVELY if you can rate and review this recipe below. This blog only exists because people like you actually use it and cook these recipes, so it would mean a massive amount to me if you could let others know that you rate this recipe or that you're just excited to make it!
Alternatively, take a picture and pop it on instagram! Be sure to tag me though – I can't wait to see how you use this recipe!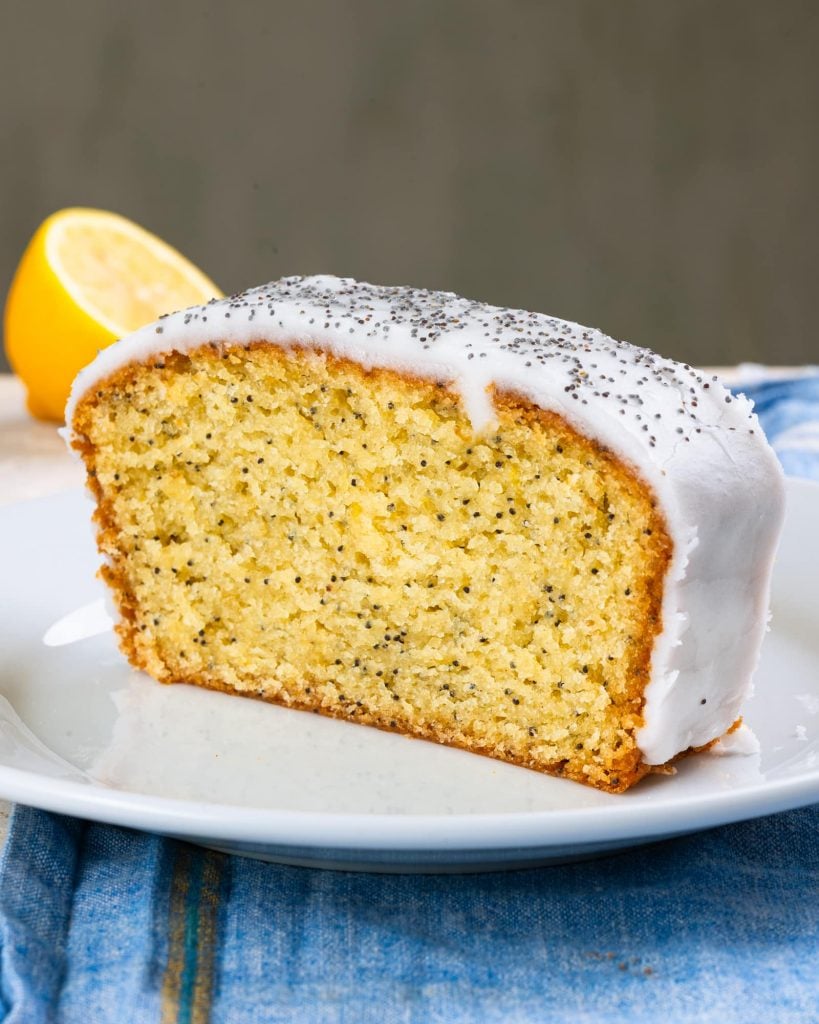 Vegan Lemon Poppy Seed Cake
Deliciously zingy vegan lemon poppy seed cake! Light sponge dotted with poppyseeds and lemon zest, topped with delicious lemon glaze.
Ingredients
For the Cake
110

ml

sunflower oil

150

g

vegan yoghurt

100

ml

soy milk

50

ml

lemon juice

½

teaspoon

lemon extract

(or vanilla extract)

250

g

plain white flour

1 ½

teaspoon

baking powder

½

teaspoon

bicarbonate of soda

¼

teaspoon

fine sea salt

1

tablespoon

corn starch

220

g

sugar

Zest of one lemon

1

tablespoon

poppy seeds
For the Lemon Glaze
300

g

icing sugar

40

ml

lemon juice
Instructions
Preheat the oven to

175

°C

. Grease and line a 2 lb/900g loaf tin with baking parchment or a pre-cut loaf tin liner. 

In a measuring jug, blend together the sunflower oil, vegan yoghurt, soy milk, lemon juice and lemon extract until smooth using an immersion blender. Alternatively use a whisk to combine the wet ingredients. Set aside.

110 ml sunflower oil,

150 g vegan yoghurt,

100 ml soy milk,

50 ml lemon juice,

½ teaspoon lemon extract

In a large bowl sieve together the plain white flour, baking powder, bicarbonate of soda, salt and corn starch then stir well to combined. Make sure there are no large lumps of corn starch in the mix before proceeding.

250 g plain white flour,

1 ½ teaspoon baking powder,

½ teaspoon bicarbonate of soda,

¼ teaspoon fine sea salt,

1 tablespoon corn starch

In a medium bowl, place the sugar and lemon zest. With your finger tips, rub the lemon zest into the sugar until combined and fragrant. Add the blended liquid ingredients and whisk together until smooth. It should take around 20-30 seconds for the sugar granules to dissolve slightly. Finally add the wet ingredients to the flour mixture and stir until just combined and no lumps remain.

220 g sugar,

Zest of one lemon

Finally add the poppy seeds and mix through the batter.

Pour the cake batter into the prepared loaf tin and bake for 40 minutes or until risen and golden. A toothpick inserted into the centre of the cooked cake should come out clean. Remove from the oven and set on a wire cooling rack until room temperature then transfer to the fridge to chill for at least 20 minutes. While the cake is cooling, prepare the lemon glaze.

To make the lemon glaze, mix the sugar and lemon juice together in a bowl. Place the cooled cake on a wire rack over a baking tray (to catch any drips) and pour the glaze over the top of the cake sprinkle with some extra poppy seeds. Return to the fridge until set then slice and serve.

300 g icing sugar,

40 ml lemon juice
Nutrition
Calories:
340
kcal
Carbohydrates:
61
g
Protein:
4
g
Fat:
9
g
Saturated Fat:
1
g
Polyunsaturated Fat:
1
g
Monounsaturated Fat:
7
g
Cholesterol:
1
mg
Sodium:
105
mg
Potassium:
99
mg
Fiber:
1
g
Sugar:
44
g
Vitamin A:
40
IU
Vitamin C:
4
mg
Calcium:
63
mg
Iron:
1
mg
Love this recipe?
Let me know on Instagram!
WANT MORE VEGAN CAKES!?
Why not try: