Publised on 08/08/2019 by Richard. Last Updated on 13/11/2022 by Richard.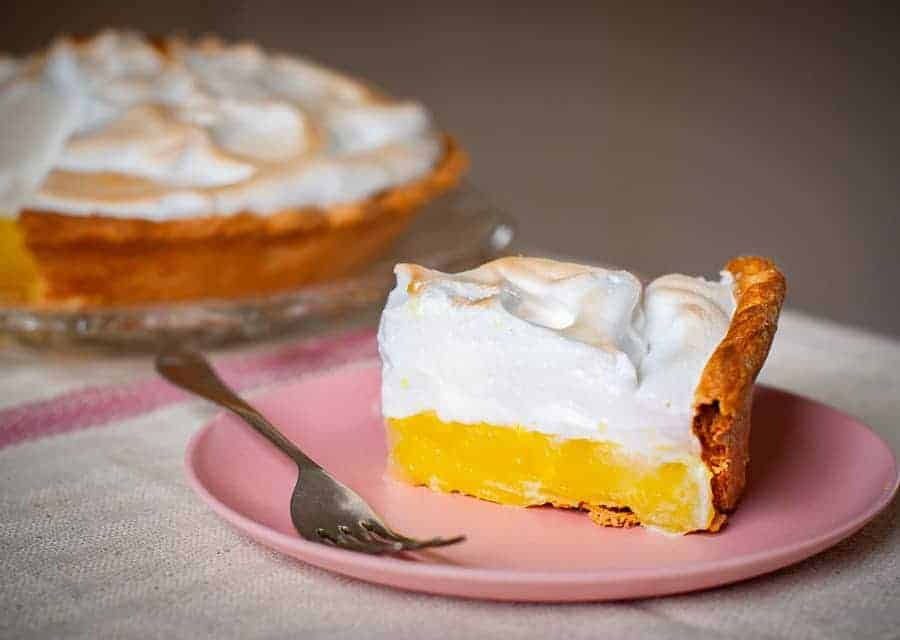 Vegan lemon meringue pie, made with the freshest vegan lemon curd and torched aquafaba meringue!
---
What could be better than a super classic vegan lemon meringue pie! The base is crisp and the lemon filling is just sharp enough but extremely smooth. And if you haven't made aquafaba meringue yet, you're in for a treat, because it works PERFECTLY on this pie!
Ok, so this recipe looks rather complicated but it's actually surprisingly simple. Break it into the component parts (pastry, curd, meringue) and get cracking. You can even use store bought pastry if you like. The majority of them are vegan, but just double check the packaging.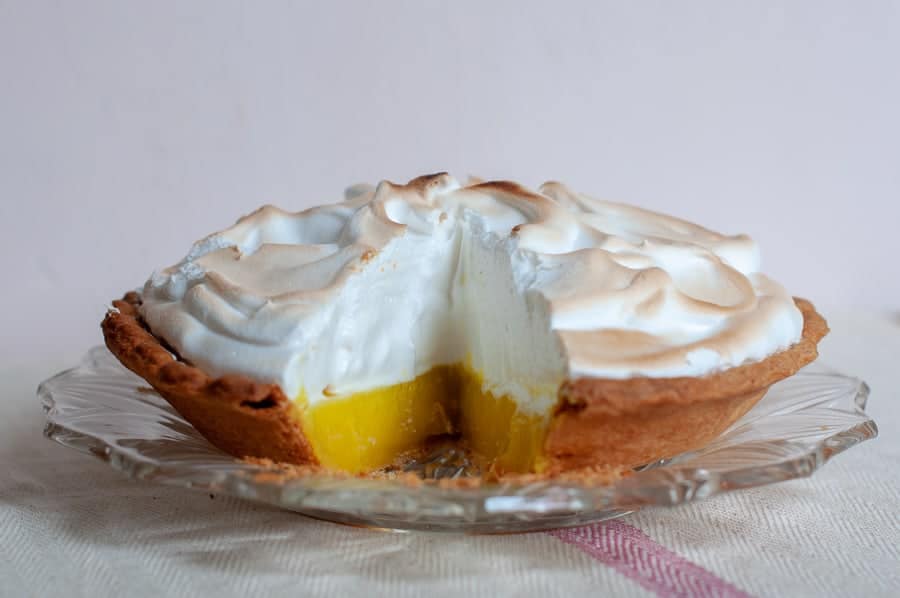 Why lemon meringue?
This entire recipe was a double challenge for myself. Challenge 1 was to successfully veganise a dessert which is basically 100% butter and egg - you can judge whether I succeeded.
Challenge 2 was to make myself ACTUALLY LIKE lemon meringue pie. Yep - unpopular opinion: I wasn't a massive fan of LMP UNTIL I developed THIS RECIPE!
It's SO refreshingly zingy - the lemon flavour is insane! The aquafaba meringue is absolutely delicious and so much easier to eat in massive quantities than normal meringue. And the pie crust is satisfyingly salty alongside the two other sweet components. All three of the parts of this recipe are good skills to master in the kitchen, so give it a go!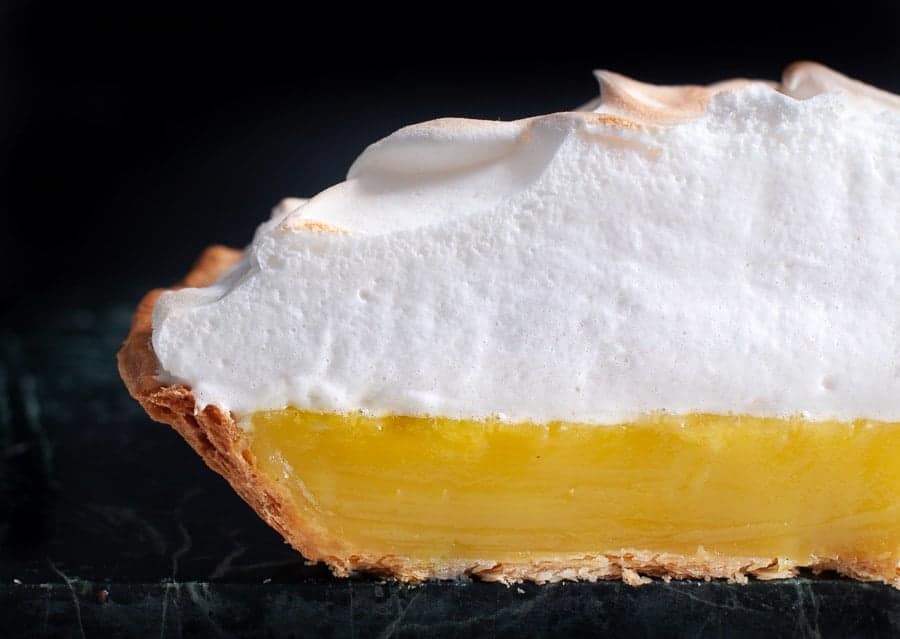 Scared of Aquafaba??
Yes, I know, it comes from chickpeas, but I promise you it does not taste like chickpeas! I'm no scientist, but I believe the reason aquafaba whips the way it does is because it has a relatively high protein content (like egg whites) which means it holds onto air bubbles very well.
Here are a few things you can do to make sure your aquafaba doesn't let you down:
Use a stand mixer or electric whisk - doing this by hand will ruin your wrist and knock you out from exhaustion. That's not how we like to bake!
Refrigerate your aquafaba! Before you drain off the chickpeas, be sure to place your can in the fridge overnight! It increases the viscosity and makes it more likely to whip up beautifully.
Wipe the inside of your bowl with a slice of lemon. The absolute worst enemy of aquafaba (and egg whites for that matter) is oil! Even the grease from your fingers will affect how much it whips, so use a lemon wedge to help break down the oils.
Once youve got the hang of it, you can use it in all sorts of things, such as Apricot and Frangipane Tarts and these Chocolate Creme Donuts!
Please keep in mind...
I love sharing my food with you - it seriously gives me so much joy! As a result, I put a huge amount of time and energy into creating these recipes. This recipe right here is my lil baby and I wouldn't change a single thing about it. As such, I won't give advice on any ingredient swaps, substitutions, omissions or changes to the method described above (how dare you talk about my baby like that!)
But seriously, if this recipe doesn't do it for you and you want to customise it - that's cool - no probs. Put that finely honed chef's intuition to good use and tailor the recipe to suit you! Regardless of whether you make any changes or not, let us know how you get on in the comments below.
Vegan Lemon Meringue Pie
It's SO refreshingly zingy - the lemon flavour is insane!
Ingredients
For the Pie Crust
325

g

plain white flour

½

teaspoon

sea salt

1.5

tablespoon

caster sugar

115

g

cool coconut oil

((it must be solid))

8

tablespoon

ice cold water

((you may not need all of the water))
For the Lemon Curd
300

g

granulated or caster sugar

65

g

corn flour

((corn starch if you're American))

⅛

teaspoon

fine sea salt

235

ml

oat milk

((whole fat))

115

ml

water

235

ml

lemon juice

Zest of 1 unwaxed lemon

¼

teaspoon

turmeric powder

15

g

vegan butter
For the Meringue
115

ml

aquafaba

((chickpea brine - one can will do, refrigerated))

150

g

caster or icing sugar

½

teaspoon

vanilla extract

½

teaspoon

lemon juice

⅛

teaspoon

cream of tartar
Instructions
To Make the Pie Crust
Place the flour in a food processor along with the salt and sugar. Pulse a few times to combine.

Add the coconut oil and pulse again to combine. The flour should begin to clump together slightly in a sandy texture but will be too dry to form a ball of dough.

While the processor is running, add the water a tablespoon at a time until the dough just about holds together. Try not to overhydrate the dough. Remove the dough from the processor, wrap in clingfilm or ecowrap and pop in the fridge for a good half hour.

Once cool, take the dough out of the fridge and dust a clean surface with flour. Roll out the dough into a circle large enough to overlap your pie tin by a good inch and a half. Lay the pastry over a rolling pin and gently lower it onto the pie tin. Push gently into place making sure there are no air bubbles and crimp the sides. Wrap and refrigerate for another 20 minutes. Preheat your oven to 180c.

Once the Pie Crust is chilled, remove it from the fridge. Prick the base with a fork and line the crust with baking parchment. Fill with baking beads and then cover the edges of the crust with tinfoil to keep them from burning.

Bake for 10-15 minutes. If you can, peel under the Pie weights to check that the base is cooked. If it needs an extra 5 minutes then go ahead, if not, remove and allow to cool fully.
To Make the Lemon Curd
Combine all the ingredients besides the butter in a medium saucepan over a medium/low heat. Whisk constantly while the temperature raises. If you leave it for too long, the corn flour will curdle or burn, and that's not good. After about 5 minutes you'll notice the mixture start to thicken. Once thick enough to coat the back of a spoon, turn off the heat and stir in the vegan butter. Set aside to cool, stirring occasionally.
To Make the Meringue
Place the aquafaba in the bowl of a stand mixer fitted with the whisk attachment. Switch to high speed for around 2 minutes, until the aquafaba is thick and foamy. Turn the speed to low, add the remaining ingredients and gradually turn the speed back up to full for around 5-8 minutes, or until stiff peaks form.
To Assemble
Pour the cooled curd into the cooled pie crust. Don't fill all the way up - leave a bit of space for the meringue. Cover with cling film and place in the fridge to cool for 10 minutes. Once cooled, spoon the meringue onto the curd, piled high in the centre. Using a kitchen blow torch, blast the peaks of the meringue until they're lightly browned. If you don't have a blow torch, place it under a grill on full temperature, rotating frequently and watching constantly to make sure it doesn't burn.

Serve straight away - (the meringue will droop slightly after a few hours but if stored in the fridge it'll be safe to eat for a few days).
Nutrition
Serving:
1
grams
Calories:
451
kcal
Carbohydrates:
82
g
Protein:
4
g
Fat:
13
g
Saturated Fat:
10
g
Sodium:
170
mg
Fiber:
1
g
Sugar:
49
g
Love this recipe?
Let me know on Instagram!