Publised on 13/09/2019 by Richard. Last Updated on 12/10/2022 by Richard.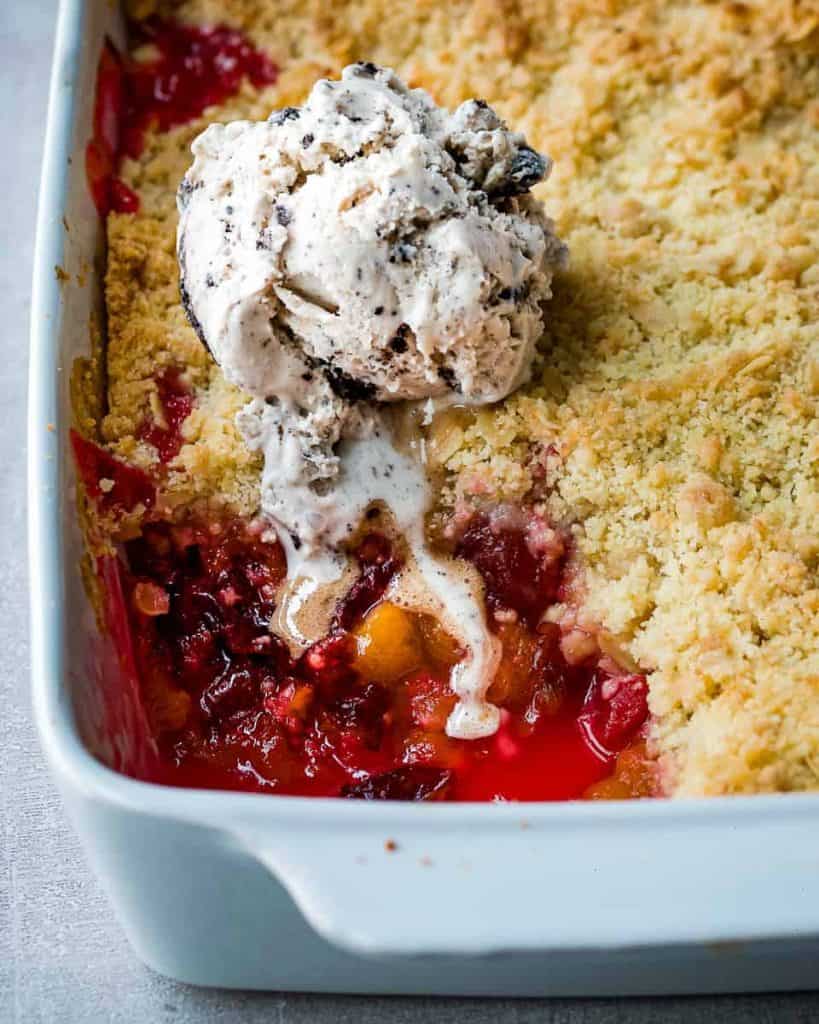 A classic British vegan fruit crumble, with a delicious buttery topping and sweet, sharp fruit filling. Perfect for blackberries, plums and apples!
---
It's late summer and all I've been able to think about is making a vegan fruit crumble. My Mum gave me about 8 kilos of damson plums a few days ago. I was considering doing something absolutely spectacular, but then truly, all I wanted was a crumble.
So I decided to whip this guy up. And let me tell you! This was a SMART move!
What's a crumble anyway?
Most of my readers from the UK can skip this section. By around 5 years old, most Brits have usually made their first crumble. It's associated with late summer and the wild fruit hauls that go along with it! Blackberry season in the UK means two things: stained fingers and blackberry crumble!
Truth is, you can make a crumble from just about any fruit, however stone fruit, sharp berries and baking apples make the best fillings.
In the states, the closest thing you'll find to a crumble tends to be a "crisp". In fact, they're basically identical. The only difference I can tease out is that a crisp topping usually seems to have more to it. More nuts and more oats usually. But the differences are minimal.
Either way, the key factors are:
a fruity, sweet/sharp base
a crispy, crumbly, buttery topping
a beautifully weird LIMINAL limbo space between the fruit and the crumble where things get really, really gooey and sexy.
The other factor, which I guess is unspoken but universally agreed, is that these guys are SUPER easy to make! Like, WAY easier than a fruit pie. For starters you don't have to deal with pastry (top OR bottom!). This is what makes this vegan fruit crumble a classic for making with kids, or for a mega quick dessert.
Any magic ingredients?
This vegan fruit crumble is such a simple recipe that the focus is really on the quality of your ingredients, more than anything else! Here are a few of my recommendations when picking fruit for a crumble.
If possible, use organic! Most of the fruits people buy to put in crumbles are members of the "dirty dozen" (the fruits found with the most pesticide residue). The only real way to avoid this (even after washing) is to buy organic wherever possible!
If using stone fruits, go for ones which are just under-ripe. If your fruit is too ripe, it'll turn to mush in the crumble and you'll have no texture left to your dessert. You'll also find that fruit which is too ripe is much sweeter. Sweetness in fruit intensifies when baked, so you can end up with a rather flat, one dimensional dessert if you're not careful.
Feel free to do a combo! I adore blackberry and apple crumble and (top tip!) i usually stick a bay leaf in there! Yes, I know, rather wacky! But I find it really brings out the perfuminess (obvs not an actual word!) of the blackberries.
So what's the process?
Yep, this vegan fruit crumble is unbelievably easy to make! Here's a quick rundown of the essential steps you're going to follow.
1. Make the crumble topping
Mix up all the ingredients to make your crumble topping. There's no need to be as delicate as when you make pastry, but it's still good to avoid using your hands to mix together the ingredients.
If you use your hands, you'll melt the vegan butter which will make the crumble topping more likely to stick together into a big lump. You want to keep everything in small and crumbly pieces, so I like to cut the ingredients together with knives or a pastry cutter.
2. Make the fruit filling
If using stone fruits, you'll need to remove the stones before preparing the filling. Obviously there's no need to do this with berries, but I advise you peel, core and dice any apples you plan on using.
Once the fruit is prepped, add the sugar, lemon juice and corn starch. Mix up and set aside. If you're using a particularly tart berry, feel free to leave out the lemon juice. If your fruit is particularly sweet and ripe, maybe add half the zest of a lemon to keep your filling lovely and 3 dimensional.
3. Assemble the crumble
Layer your fruit on the base of a ceramic dish. You can use any shape or size, just make sure it's nice and deep. Once your fruit is in, top with the crumble. I like to sprinkle the crumble over the fruit until it's completely covered. Some people like to leave some gaps so the juice from the fruit can bubble through. I find that happens anyway, so don't worry too much.
At this stage, you can cover and leave in the fridge, if you're not ready to bake straight away.
4. Bake the Crumble
In an oven preheated to 180c, bake the crumble for around 30-40 minutes. The aim is to get the top nice and golden (without burning!) and to make sure the fruit is cooked through!
Once baked, I like to let my crumble cool slightly (for maybe 10-15 minutes) and then serving with a big scoop of ice cream!
Need some more desserts?!
Why not try these guys:
Vegan Crumble Recipe
A classic British vegan fruit crumble, with a delicious buttery topping and sweet, sharp fruit filling. Perfect for blackberries, plums and apples!
Ingredients
For the Crumble Topping
90

g

vegan butter

190

g

plain white flour

60

g

rolled oats

100

g

sugar

½

teaspoon

flaky sea salt

½

teaspoon

ground cinnamon
For the Fruit Filling
1.5

kg

plums

(cherries, blackberries or apples, (you can really use any stone fruit or berry))

50

g

sugar

1

tablespoon

corn starch

2

tablespoon

lemon juice
Instructions
To Make the Crumble Topping
In a medium bowl, combine the vegan butter and plain white flour. Using two knives or a pastry cutter, chop up the vegan butter into tiny pieces until evenly distributed throughout the flour.

Add the rolled oats, sugar, flaky sea salt and cinnamon. Combine again with the pastry cutter until crumbly and sandy textured with some larger lumps of the vegan butter. Set aside.
To Make the Fruit Filling
Pre-heat the oven to 180c.

If using stone fruit, remove the stones and slice into bite-size pieces. If using blackberries, give them a wash. If using apples, peel, core and dice them into 2cm cubes.

In a medium bowl, combine the fruit, sugar, corn starch and lemon juice. Toss and stir to combine until all the fruit is coated.
To Assemble and Bake
Place the fruit and all the juices in a pie dish, casserole dish or deep baking tray.

Top the fruit with the crumble and place in the oven. Bake for 30 - 40 minutes or until the crumble is golden brown and some juices are bubbling through the surface.

Remove form the oven and serve with your favourite vegan ice cream.
Nutrition
Serving:
1
grams
Calories:
416
kcal
Carbohydrates:
77
g
Protein:
6
g
Fat:
11
g
Saturated Fat:
3
g
Sodium:
286
mg
Fiber:
5
g
Sugar:
42
g
Love this recipe?
Let me know on Instagram!