Publised on 19/08/2019 by Richard. Last Updated on 13/11/2022 by Richard.
Vegan fish tacos (crispiest ever!) with baja slaw, lime pickled onions and spicy mayonnaise. Made with beer battered banana blossoms!
---
I never thought I'd be able to nail vegan fish tacos until I found this one incredible ingredient.

You may have heard of it before, but it's pretty much revolutionised my life: BANANA BLOSSOMS!
It was my sister who introduced me to this vegan fish taco game-changer. She took my mum for a birthday meal to a vegan restaurant and shared photos with me of their fish goujons, made with banana blossoms!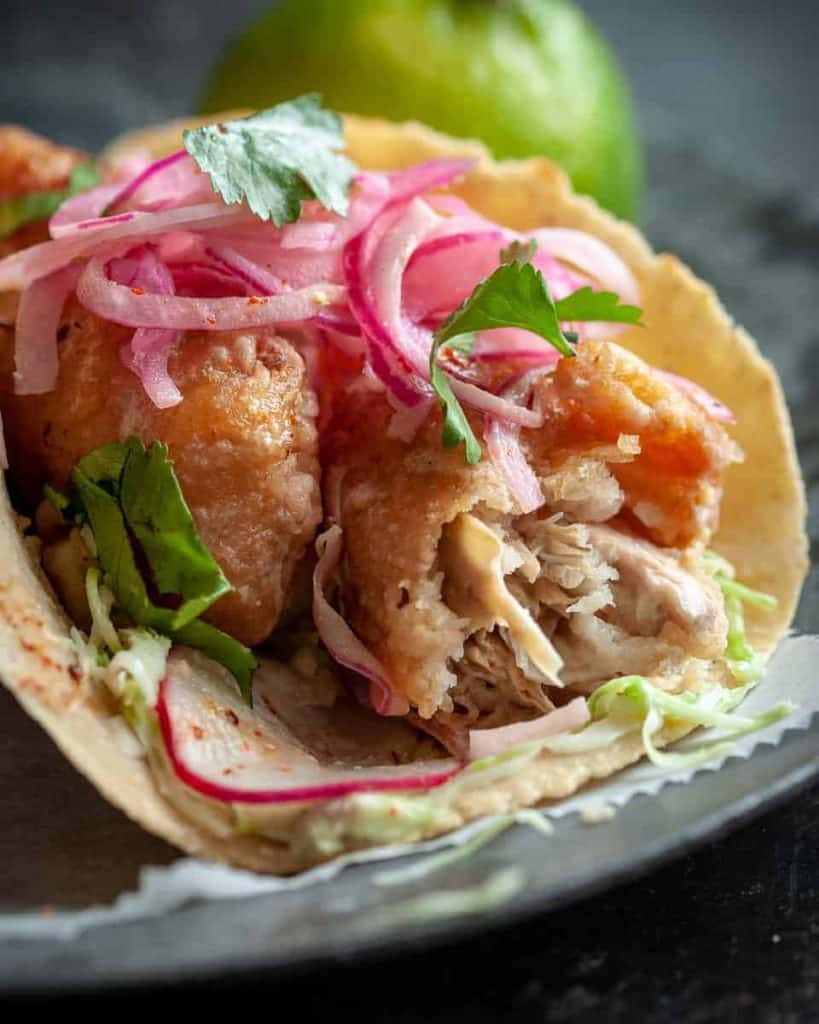 They looked like little flaky fillets of fish and my mind was OFFICIALLY BLOWN! Immediately my brain started whirring, trying to figure out how to use this vegan wonder ingredient. And then it hit me! My favourite thing ever! VEGAN FISH TACOS!

I have super happy memories of eating tacos on a pier in Ventura, California with my Husb and as soon as I started to work on this recipe I got really rather excited!
What are Banana Blossoms?
Banana blossoms are sort of exactly what they say on the tin...literally. They're the flowers of the banana plant which would ordinarily go to waste. Instead, they're picked and either sold fresh, or canned in brine to improve their shelf-life. 
There are many traditional recipes which make great use of banana blossoms and it's important to note that these are not a new ingredient, discovered by western vegans!
Mochar Ghonto, for instance, is a delicious traditional banana blossom curry from West Bengal.  
Because of their flaky, somewhat fibrous texture, they also make an absolutely awesome fish replacement for many recipes. I've seen them used for fish and chips, which I'm also desperate to try, but my favourite ever has to be fish tacos. 
What makes it a Baja fish taco?
I'm definitely not an expert on this, since I've never been to Mexico and I don't eat fish! However, quite a few years ago I'll admit that I dabbled with eating some fish (in a large part my switch to vegan was in response to this). My husband an I were driving around California, trying the wares of as many taco stands as we could find. 
I tried a fair few fish tacos and, strangely, found that consistently the fish made very little impact on the overall flavour of the taco.
The majority of the flavour came from the cabbage slaw, the spicy mayonnaise and those lime pickled red onions. The fish was almost exclusively a textural experience (flaky inside, crispy outside). 
I'm proud to say that these vegan fish tacos absolutely NAIL the flavour AND TEXTURE of a non-plant-based version!  
What makes them FISHY?
So, I wanted to make these vegan fish tacos SLIGHTLY fishy. As mentioned above, there isn't usually an overwhelmingly fishy flavour to fried fish tacos, so I've deliberately kept things subtle. 
I've used a combination of old bay seasoning, lemon juice and kombu (a type of sea kelp) to bring flavours of the seaside!
The banana blossoms are marinated in these guys and soak up the flavour like you wouldn't believe. 
They're a fantastic trio for any fish replacement recipe, so make sure you've got them in the pantry/fridge. 
Finding Vegan Fish Taco Ingredients
Sourcing some of these specific ingredients can be a little tricky, so I've hunted down some of the essentials for you! Tap the link to view my choices on Amazon.
Banana Blossoms

- They come in a tin and are super easy to work with. They're the "fish" in these vegan fish tacos!

Old Bay Seasoning

- AKA, vegan EVERYTHING spice! I use this stuff on all things "fishy" and "meaty". You'll also find it in my Vegan Fried Chicken recipe.

Kombu

- This is the sea kelp which gives a really gentle hint of fish flavour to the tacos. It's essential to get that fishy flavour.

Tajin

- Another seasoning blend, used in so many mexican dishes! It's spicy and zingy, made with chilli and lime!
Vegan Mayonnaise - There are loads of brands out there now, but my all time fave is Hellmann's. It just tastes exactly like the real deal!
Vegan Fish Tacos
The crispiest vegan fish tacos, made with banana blossoms, baja slaw and spicy mayonnaise.
Ingredients
For the Banana Blossom "Fish"
290

g

banana blossoms

((that's one 510g can))

4

g

kombu

((or any other kelp))

1

teaspoon

old bay seasoning

360

ml

water

⅛

teaspoon

fine sea salt
For the Lime Pickled Onion
1

red onion

juice of 1.5 limes
For the Baja Sauce
90

g

vegan mayonnaise

20

ml

soy milk

½

teaspoon

apple cider vinegar

¼

teaspoon

garlic powder

½

teaspoon

lime zest

2

teaspoon

lime juice

½

teaspoon

sriracha hot sauce
For the Baja Cabbage Slaw and Toppings
100

g

white cabbage

((shredded finely with a mandolin or vegetable peeler))

1

tablespoon

vegan mayonnaise

½

teaspoon

lime juice

salt and pepper to taste

3

radishes

((finely sliced))
For the Crispy Batter
200

g

plain white flour

1.5

teaspoon

baking powder

275

ml

beer

((make sure it's vegan))

vegetable oil for frying
To Serve
10

taco tortillas

25

g

fresh coriander

1

avocado

((finely diced))

2

teaspoon

Tajin seasoning

((optional))

lime wedges for squeezing
Instructions
To Make the Banana Blossom "Fish"
Carefully open and drain the tin of banana blossoms. Gently rinse under cold water to remove the brine. Place in a medium bowl or ziplock bag.

To the bowl/bag, add the remaining "fish" ingredients. Cover/seal and place in the fridge to marinade for a minimum of 4 hours.
To Make the Lime Pickled Onion
Using a mandolin or very sharp knife, slice the red onion as thinly as possible. Place in a bowl or ziplock bag and add the lime juice. Cover/seal and place in the fridge to pickle for a minimum of 4 hours.
To Make the Baja Sauce
If you have a squirty bottle (an old ketchup bottle will do) add all the ingredients and give it a good shake. If you don't have a bottle, just use an old jam jar. Leave in the fridge while the banana blossoms marinate.
To Make the Baja Slaw
In a medium bowl, mix the finely shredded cabbage with the remaining slaw ingredients. Cover and place in the fridge until needed.
To Make the Crispy Batter
In a medium bowl, mix together the flour and baking powder. Place in the freezer for a minimum of 30 minutes to chill, or until you're ready to fry. Place the can/bottle of beer in the fridge to make sure it's super cold.

Once the banana blossoms are marinated, remove them from the marinade and place on a plate. Using a very sharp knife, slice them into taco-sized portions (around 2-3 inches long).

If necessary, heat your tortillas in a dry frying pan and wrap in a napkin to keep warm.

Place a medium, high-sided saucepan on a medium heat and add around 3-4 inches of vegetable oil. Using a probe or candy thermometer, bring the oil to 170c. Once the oil is to temperature, reduce to heat to low.

Remove the flour mixture form the freezer and pour in the beer. Mix well until you have a thick, smooth batter. Take two pieces of banana blossom and dunk them in the batter, making sure they're nicely coated. Carefully place them both in the hot oil (they should sizzle immediately). Fry for a total of around 2 minutes, flipping half-way through, or until golden brown all over. Remove from the oil and place on a plate lined with kitchen towel. Repeat the process with the remaining pieces of banana blossom. If any of the pieces go soggy or cold while waiting for the later pieces to fry, give them a second fry to crisp them back up.

To assemble, take a tortilla and add some slaw, followed by a piece of "fish", topped with some pickled onions, a good squirt of baja sauce, some diced avocado, coriander, a sprinkle of Tajin and a squeeze of lime juice.
Nutrition
Serving:
1
grams
Calories:
266
kcal
Carbohydrates:
36
g
Protein:
5
g
Fat:
11
g
Saturated Fat:
1
g
Sodium:
117
mg
Fiber:
6
g
Sugar:
1
g
Love this recipe?
Let me know on Instagram!