Publised on 18/11/2019 by Richard. Last Updated on 13/11/2022 by Richard.
Soft-batch, vegan double chocolate cookies, packed with bittersweet dark chocolate.
---
I've said this a lot, but these vegan double chocolate cookies are going to CHANGE THINGS UP! These are now my go-to chocolate cookies for making in a pinch because they take virtually no time at all and are ALMOST TOO EASY to make!
These are soft-batch cookies, so if you're after something mega chewy OR mega crispy, these ain't the fellas for you! These vegan double chocolate cookies are almost exactly half-way between gooey and cakey with a lightly crisp texture on the outside.
Eat them warm and you'll have delicious melted chocolate pouring out all over the place! Let them cool and you'll get beautifully chunky chocolate chip cookie - the choice is yours!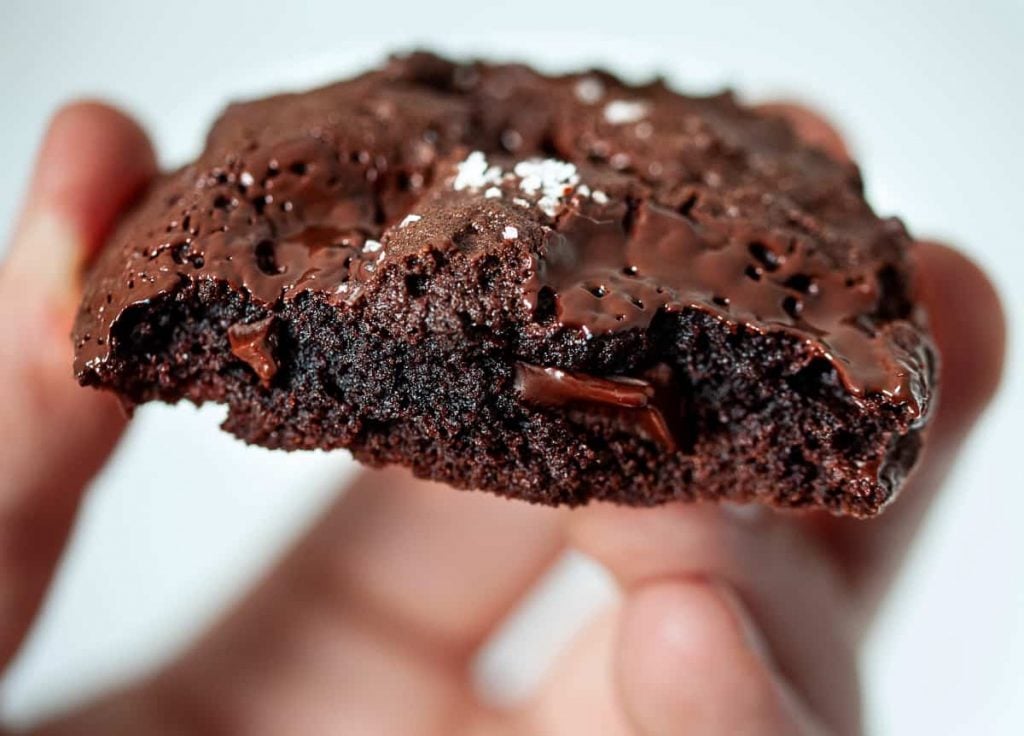 What do these vegan double chocolate cookies taste like?
For me, these guys are all about texture! I tried really hard to make these guys the PERFECT texture. I wanted these cookies to be border-line brownie texture - deliciously gooey and mildly cakey.
The chocolate flavour is dark and slightly bitter with a malty sweetness from the brown sugars. This sounds weird, but these are definitely winter cookies. They're moreish and you're defs gonna need a hot cup of coffee (or cocoa!) to go with em!
Any specialist ingredients?
Just a hand-full, but they're really 100% worth grabbing because they'll change the texture and flavour of your cookies HUGELY!
Psyllium Husks
These guys are your saving grace when it comes to vegan cookies! They're the perfect egg replacer and they act as a perfect "binder" to make sure these cookies don't become dry and crumbly.
I'd recommend grinding psyllium husks well before using - either in a spice grinder, blender or mortar and pestle.
You can grab psyllium husks here!
---
Vanilla Bean Paste

I use this stuff like every day! It's so much easier to work with than fresh vanilla (and marginally less expensive). It's essentially really high quality vanilla extract with the little tiny black vanilla pods left in, which gives a nice visual once added!
You can grab vanilla bean paste here!
---
Espresso Powder
I like to use espresso powder, not for its coffee flavour, but for the bitterness. It really wakes up the chocolate flavour like no other. It's super important for this vegan double chocolate cookie recipe.
You can grab espresso powder here!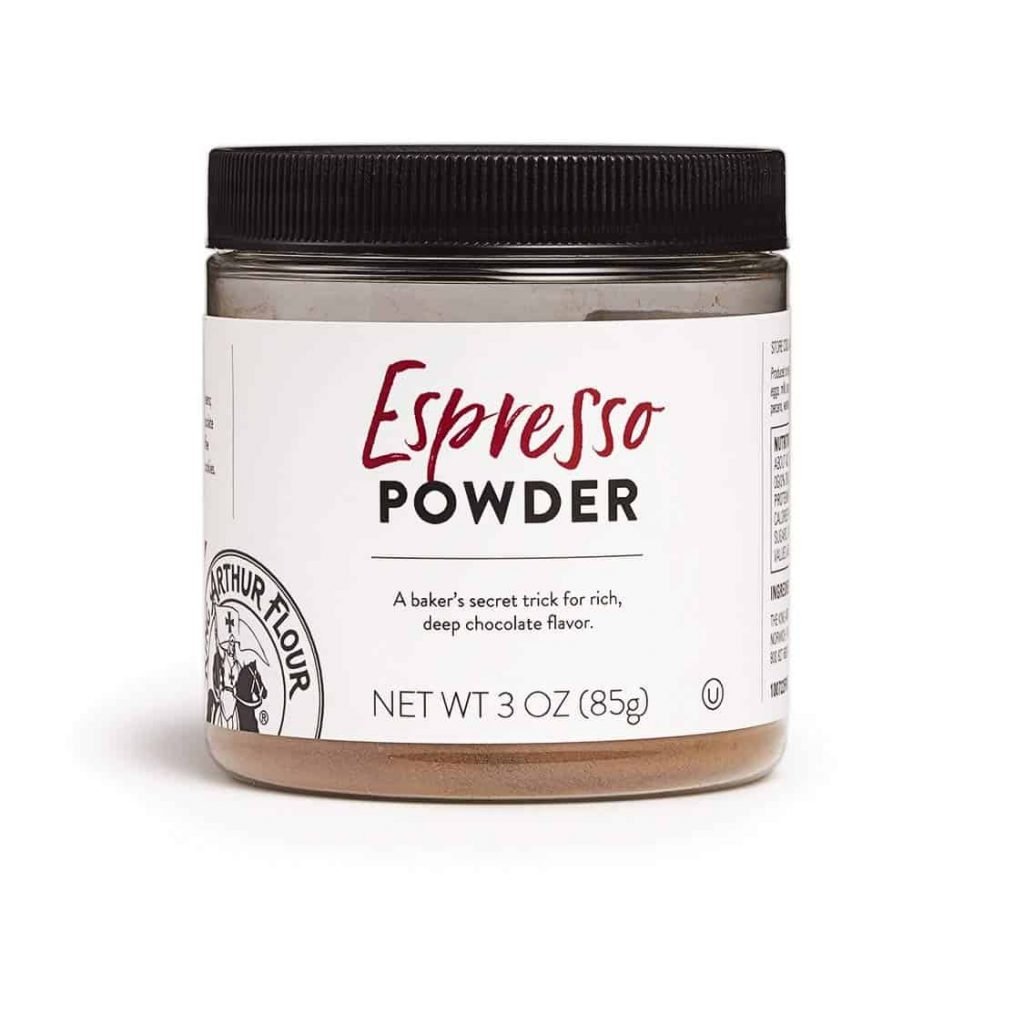 Want more cookie recipes?!
What can I say? I'm a MASSIVE cookie fan. But if these vegan double chocolate cookies aren't your thing, why not try these guys instead?
Disclosure: some of the links above are affiliate links, meaning at no additional cost to you, I may earn commission when you click through and make a purchase.
Vegan Double Chocolate Cookies
Soft-batch vegan double chocolate cookies with a lightly crisp exterior, packed with melty dark chocolate. Idea for dunking in a tall glass of oat milk!
Ingredients
2

teaspoon

psyllium husks

((ground finely))

225

g

vegan butter

((I use Naturli or Miyokos because they brown, but most vegan margarines will work))

170

g

light brown sugar

170

g

dark brown sugar

6

tablespoon

plant milk

((full-fat unsweetened))

2

teaspoon

vanilla bean paste

325

g

plain white flour

100

g

dark cocoa powder

½

teaspoon

espresso powder

1

teaspoon

baking powder

1

teaspoon

baking soda

¼

teaspoon

fine sea salt

180

g

dark chocolate

((chopped into rough chunks - as always make sure it's vegan chocolate))

pinch

flaky sea salt

((for sprinkling))
Instructions
Preheat the oven to 160c

In a small bowl, combine the psyllium husks with the water. Set aside to thicken.

Place the vegan butter in a small saucepan over a medium/low heat until melted. If using one of the listed brands of butter or a brand which you know will brown, keep cooking until the butter foams and starts to smell nutty and picks up small brown flecks  - remove from the heat and make sure it's not burnt! If your butter doesn't brown, then just make sure it's melted. Set aside.

In the bowl of a stand mixer fitted with the paddle attachment add the sugars, oat milk and vanilla followed by the melted/browned butter and thickened psyllium husks. Beat until pale (for a minimum of 5 minutes) on high speed.

While beating, in a medium bowl, combine the flour, cocoa powder, espresso powder, baking powder, baking soda and salt. Stir to combine.

Stop the mixer and add the flour mixture. On low speed, beat until the flour is fully incorporated. Remove the bowl and stir in the chocolate chunks.

Line a cookie sheet with baking parchment and scoop out balls of cookie dough, a couple inches apart, making sure each one has a good amount of chocolate showing on top. Sprinkle with a little sea salt and place in the preheated oven. Bake for 16 minutes.

Once baked, allow to cool on the baking sheet for about 5 minutes and then transfer to a wire cooling rack. Once cooled, ENJOY!
Nutrition
Serving:
1
grams
Calories:
580
kcal
Carbohydrates:
83
g
Protein:
8
g
Fat:
27
g
Saturated Fat:
10
g
Cholesterol:
1
mg
Sodium:
389
mg
Fiber:
8
g
Sugar:
43
g
Love this recipe?
Let me know on Instagram!