Publised on 05/06/2019 by Richard. Last Updated on 12/10/2022 by Richard.
Vegan donut recipe with a smooth chocolate creme filling, gently dusted in sugar. Super easy to make and even easier to eat!
---
I have a debate in my head, surrounding this vegan donut recipe. It comes down to the age-old debate: filled or ring donuts!
Up until recently I was 100% a ring donut fan. Simple, glazed, ring donuts. But since I worked out how to make creme pat, particularly chocolate creme pat, I've been converted. There's something about biting into the soft, delicate dough to find a super smooth, indulgent filling inside. Add to that the bittersweet vibes of dark chocolate and you're sailing!
Donut shop HEAVEN!
My inspiration for this vegan donut recipe comes from my latest USA road trip with my husband. We drove around California, stopping at everywhere with good vegan options (which is a LOT in California). 
One of my favourite spots was SLODOCO in San Luis Obispo. They were SUPER vegan friendly and oh good lord their donuts were FIIINE! We wanted to swing back round on our return trip but ran out of time and we were DEVASTATED! 
So as soon as we came home, I got straight onto developing this recipe!
Creme pat, creme WHAT??
Creme pat, also known as crème pâtissière also known as pastry cream is a very thick kind of custard which is used in lots of french patisserie. You can find it in custard tarts, danish pastries and, of course, donuts!
It's usually very much off brand for vegans, since it contains milk, butter AND EGGS, but not mine! My variety is completely plant-based, making these vegan chocolate creme donuts a delicious animal-free treat.
The creme pat in this recipe is flavoured with cocoa, so it has a beautiful velvety chocolate flavour. If, however, you'd like to try a simple vanilla custard donut, just leave out the cocoa and you'll be on the right track!
How do I make the dough!?
The full recipe for this dough is below, but here is the process for this vegan donut recipe in a little more details. It's useful to talk through the important bits of the dough so you know when to have a coffee and watch netflix!  
1. Activate the yeast
We're using dried yeast for this recipe, so make sure you activate it before you add it to the rest of your ingredients. For this, we warm the plant milk, aquafaba, and coconut oil to around 30c. If you don't have a thermometer, just make sure it feels slightly cooler than body temperature. Sprinkle the yeast over and leave until it's nice and bubbly for a few minutes.
2. Thicken the psyllium husks
The psyllium husks act as our egg and keep everything bound together. It also makes the dough feel much more like an "enriched" dough, which is traditionally made with egg yolk. To thicken the husks (or husk powder) just mix it with water and set aside. It'll turn into a jelly-like texture.
3. Knead everything together
I like to use a stand mixer for this, fitted with the dough hook. You can do this with a silicone spatula and kneading by hand if you like but it'll take longer.
4. Prove the dough
Cover the dough up and allow it to prove at room temperature until it's doubled in size. This should take an hour but it's best to OVERPROVE at this stage than underprove.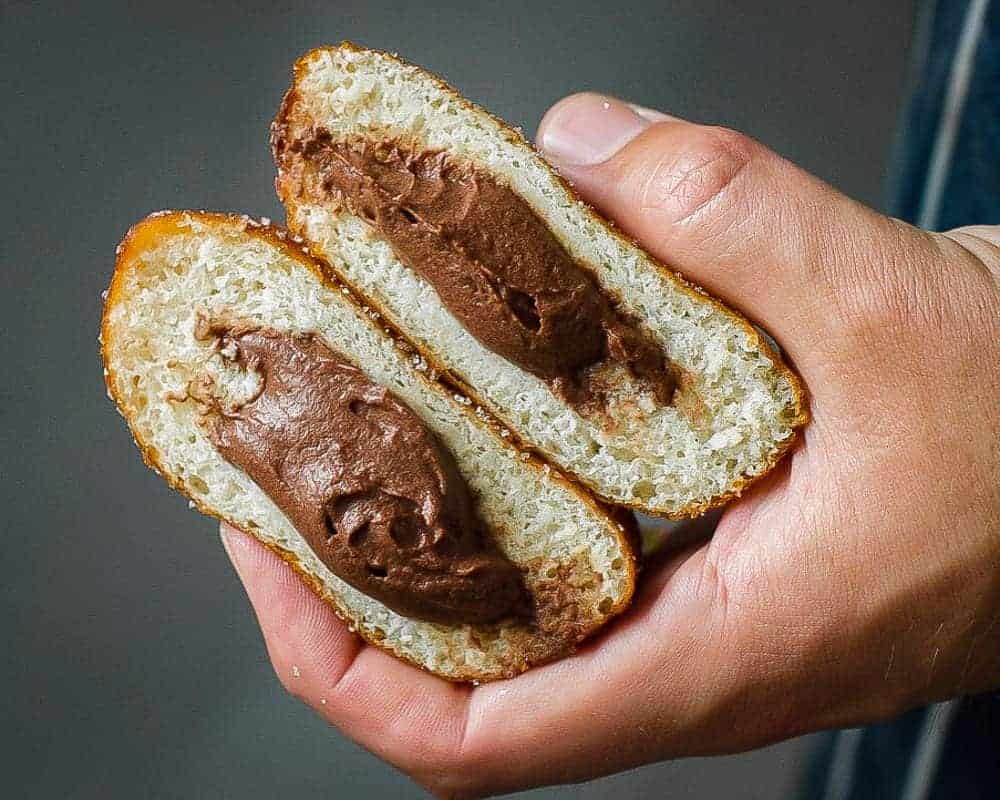 5. Roll out and cut out and prove
Once proved, roll out the dough to about ½ an inch thick (don't worry, it'll rise a lot!) and use a cookie cutter to cut out the dough. I use a 3 inch circle. Place the circles of dough on squares of baking paper then place in a deep baking tin. Cover with cling film and allow to prove again for around 45 mins. The donuts should be big and should jiggle when you shake the tin.
6. Fry the donuts
Once completely proved, the donuts can be fried in any neutral vegetable oil. Heat it to around 185c and plop the donuts in one at a time! Fry for around 30 seconds on each side and HEY PRESTO! You've got a donut! Drain on kitchen paper and repeat until you've used all your dough up!
Vegan Chocolate Creme Donuts
Vegan donut recipe with a smooth chocolate creme filling, gently dusted in sugar. Super easy to make and even easier to eat!
Ingredients
For the Chocolate Creme Patisserie
50

g

raw unsalted cashews + 200g boiling water

1

teaspoon

psyllium husk + 6 teaspoon water

315

g

full-fat plant milk

((I used oat))

1

teaspoon

vanilla bean paste or extract

80

g

caster sugar

2.5

tablespoon

corn starch

Pinch

fine sea salt

1

tablespoon

cocoa powder

200

g

vegan dark chocolate

((must be over 60% cacao))

20

g

vegan butter
For the Donuts
100

ml

oat milk

28

g

coconut oil

((deoderized is ideal but any works))

3

tablespoon

aquafaba

((water from a can of unsalted chickpeas))

1

teaspoon

quick rise yeast

28

g

caster sugar

1

teaspoon

psyllium husk powder + 3 teaspoon water

160

g

strong white bread flour

70

g

plain white flour

½

teaspoon

fine sea salt

Vegetable oil for frying
Instructions
To Make the Chocolate Creme Patisserie
In the cup of a high-speed blender, combine the cashews with the boiling water. Cover and leave to soak for minimum 30 minutes.

Once the cashews are soaked, combine the psyllium husk and the water in a small bowl and leave to thicken for a minute. Transfer to the blender cup with the cashews and their soaking water and blend on a high speed until very smooth. Set aside.

In a medium bowl combine the sugar, corn starch, salt and sugar. Add the cashew psyllium husk mix and give it a whisk to combine. Set aside.

In a small saucepan, combine the plant milk and vanilla. Place over a medium/low heat and bring to a simmer. Remove from the heat as soon as the milk begins to simmer and, while whisking, carefully pour over the cashew/psyllium/corn starch etc mixture in a slow stream. Place a sieve over the now empty saucepan and pour the mixture back into the saucepan.

Place the saucepan back on the medium/low heat. Whisking very regularly, heat the mix until it starts to get nice and thick. Once thick, stop whisking and leave until you notice one or two big bubbles rise to the surface. Remove from the heat immediately and whisk in the chocolate and the vegan butter. Whisk until smooth.

Pour the creme pat into a brownie tray or baking sheet and cover with a piece of cling film, pushing it down gently to make sure the surface of the creme is completely covered to ensure a skin doesn't form. Allow to cool for 15 minutes then transfer to the fridge for at least 30 mins.
To Make the Donuts
In a small saucepan, place the oat milk, coconut oil and aquafaba. Place over a low heat and warm very slightly for under a minute or until the coconut oil starts to melt (it should be around 30c). Remove from the heat and stir until the coconut oil is fully melted. Stir a tablespoon of the sugar into the mixture (reserve the rest of the sugar for lateand then sprinkle the yeast on the surface. Set aside for the yeast to activate (around two minutes).

In a small bowl mix the ground psyllium husks and the water. Set aside to thicken for two minutes.

In the bowl of a stand mixer fitted with the dough hook attachment, add the flours, salt and remaining sugar. Mix briefly to combine then form a well in the centre of the flour with your hand. Pour the oat milk mixture and the psyllium husk mixture into the well and mix on medium speed to combine (the psyllium husk likes to clump together so make sure it's evenly distributed. If needs be, remove the dough and knead with your hands to get things going then return to the stand mixer). Rather quickly, a ball of dough should form. Allow the dough to knead on medium speed for around 5 minutes until smooth and springy.

Remove the bowl from the stand mixer and cover with cling film. Leave to prove for around an hour or until doubled in size. Once proved, tip the dough out onto a lightly floured work surface and press out the large air bubbles with your fingers. Give it a quick knead and then roll out into a ½ inch thick rough oblong.

Using a cookie cutter with a diameter of around 3 inches, cut out as many circles of dough as possible (I managed 5 with some offcuts). Form any excess dough into a ball and then roll out into a ½ inch circle and and cut out any remaining donuts. You should get a total of five or six donuts.

Carefully place the cut donuts onto individual circles of baking parchment, place them all on a baking tray and cover with loose cling film or a damp tea towel. Allow to prove for a further 45 minutes.

In the last 5 minutes of proving, fill a deep medium saucepan with around 2-3 inches of vegetable oil or fill and turn on a deep fryer. Place over medium low heat and bring to around 185c. If you don't have thermometer, you can test the oil with any excess dough. It should start bubbling immediately on contact with the oil and should brown with around 30 seconds on each side.

When your oil is hot, carefully lower a donut into the fat, using the greaseproof paper to lift it. Allow to fry for around 30 seconds before checking the under side using a spider or slotted spoon. If it's golden brown, flip the donut and fry the other side. If it needs longer, up the heat slightly and return it to the oil. Remove the donut from the oil and place on two layers of kitchen towel. Repeat with the remaining donuts.

Once all donuts are fried, roll them individually in a small bowl of granulated sugar. Set aside to cool fully.

While the donuts cool, prepare your creme pat.

Take the creme pat out of the fridge and plop it into the bowl of a stand mixer fitted with the paddle attachment (it'll be quite firm at this stage). Beat the creme until its nice and smooth and creamy - just a few secs on a high speed should do it.

Fill a piping bag with the creme pat and with a ½cm round nozzle, pierce the side of each donut and fill until you see the centre starting to swell. Gradually withdraw the nozzle leaving a nice little blob of overflow creme on the outside. If you like, sprinkle some cacao nibs or chocolate chips on the outside blob of creme.

Serve straight away or store in an airtight container. These guys are best eaten fresh but they'll still be delicious up to 24 hours if stored properly.
Nutrition
Serving:
1
grams
Calories:
555
kcal
Carbohydrates:
80
g
Protein:
10
g
Fat:
22
g
Saturated Fat:
15
g
Cholesterol:
1
mg
Sodium:
287
mg
Fiber:
4
g
Sugar:
36
g
Love this recipe?
Let me know on Instagram!