Publised on 26/07/2022 by Richard. Last Updated on 17/10/2022 by Richard.
The quickest vegan crab salad around! Packed full of flavour and bite with a gentle hint of seafood vibes - ideal for a party side or a sandwich stuffer!
---
My vegan crab salad is for everyone who's ever prayed for an insanely quick vegan lunch that's packed with protein. Yeah - I know, School Night Vegan finally doing a recipe that's fast and healthy with no unusual ingredients - I have not been taken by the body snatchers - don't worry. You see, it's also BLOODY DELICIOUS, so it's absolutely still within my wheel house!
There's a super simple solution to replicating that shredded crab-style bite and, actually, I shouldn't say this, but you can absolutely go rogue with this recipe! In fact, I encourage it! If you like your crab salad spicy, then go for it! Wan't to add capers? Woohoo! This is really just a base method and technique which will unlock a whole host of other recipes for you!
Most commonly, I stuff this salad into a sandwich or buttered hot dog bun with lettuce, crisps and radishes for a super convenient New-England-Style sea-food roll. But it's also so delicious you can also just serve as a side at a party for people to pack their plate with!
I've also tried this recipe in sushi with a little wasabi mixed in and the result is SO convincingly crabby! See - the possibilities for this vegan crab salad are endless!
How do I make vegan crab salad!?
As always, the FULL RECIPE is at the bottom of the page - scroll on down if you're in a hurry. If you've got time or want some extra pro-level tips on getting the perfect vegan crab salad, keep readin!
1. Prep your tofu!
The key to a super crabby vegan crab salad is EXTRA FIRM TOFU! When I say extra firm, I mean it! It's the kind that has a real rubbery bounce and has already been compressed. Usually it's sold in water like regular or medium firm tofu, but the texture is completely different. I use a brand called Tofoo, which holds together perfectly!
You're going to use the largest holes on a box grater and shred the tofu really roughly. This will result in the most crab-like texture. If you're using this recipe for sushi, I'd recommend using a microplane grater instead - it just makes the rolling process much easier.
2. Prepare the remaining ingredients
Next you're going to whack all the remaining vegan crab salad ingredients into a nice big bowl. This is mostly some veggies, herbs and spices, but the key ingredient here is the vegan mayo. Vegan mayo varies a lot from brand to brand. I've tried many with this recipe, but my favourite is always Hellmanns, So use this if you can get it.
Again, feel free to go rogue at this point. If you fancy adding some horseradish for a more Russian Dressing vibe, go for it! If you want to throw in some sriracha for a spicy kick, feel free!
3. Stir your vegan crab salad together!
This is something to do with as much care as possible. Tofu is still rather fragile - extra firm or not, so don't break everything up too much! Just a nice fold and stir will do. At this stage you can cover the salad and store in the fridge for the next day - so if you are prepping for a party, this is a great make-ahead recipe!
4. Serve and enjoy!
Whether you serve the vegan crab salad on its own or inside a sandwich, I like to sprinkle with a tiny bit of paprika and some extra fresh chives before serving. It's a good idea to serve this salad alongside something crunchy for added texture, like radishes or potato chips.
And that's it! It really is the simplest recipe I think I've ever written down, but I can't recommend it enough!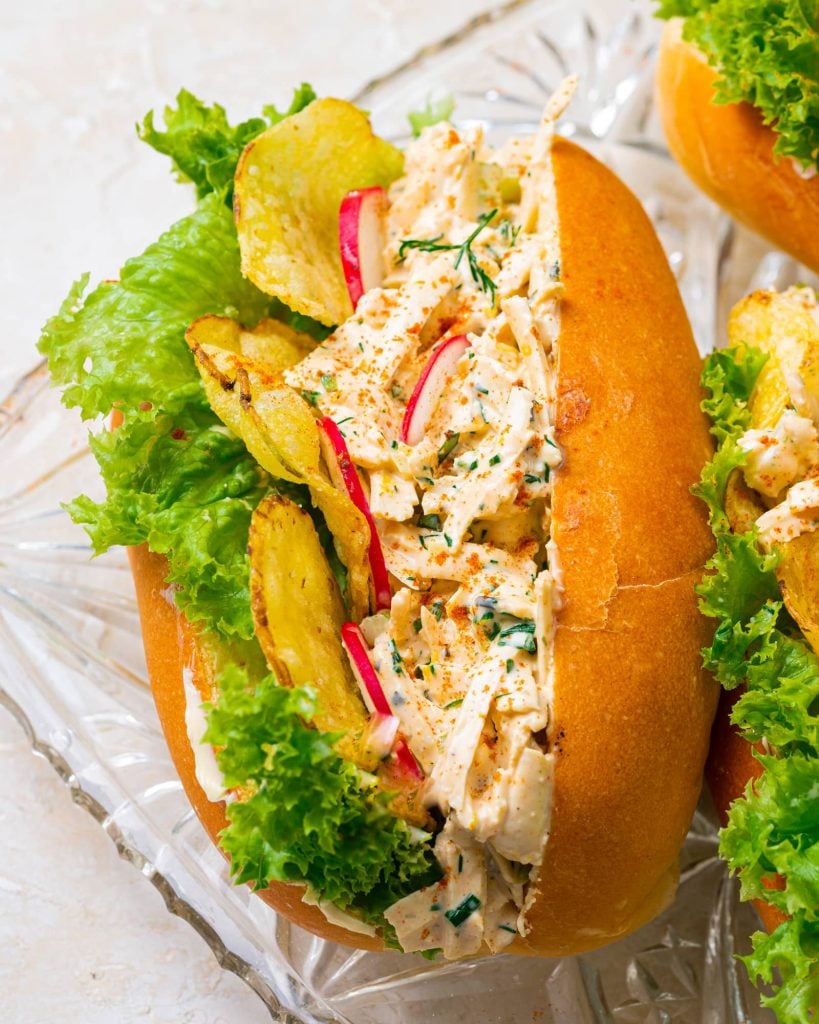 As always, it helps me MASSIVELY if you can rate and review this recipe below. This blog only exists because people like you actually use it and cook these recipes, so it would mean a massive amount to me if you could let others know that you rate this recipe or that you're just excited to make it!
Alternatively, take a picture and pop it on instagram! Be sure to tag me though - I can't wait to see how you use this recipe!
Vegan Crab Salad
The quickest vegan crab salad around! Packed full of flavour and bite with a gentle hint of seafood vibes - ideal for a party side or a sandwich stuffer!
Ingredients
200

g

extra firm tofu

(drained)

1

stick celery

Small bunch fresh chives

(finely chopped)

1

teaspoon

fresh tarragon

(finely chopped)

1

teaspoon

dill

(finely chopped)

80

g

vegan mayonnaise

30

g

vegan creme fraiche

(or vegan sourcream)

1

teaspoon

lemon juice

Zest of ½ a lemon

1

teaspoon

dijon mustard

1

teaspoon

old bay seasoning

Pinch

nori flakes

salt and pepper
Instructions
Use the coarse holes in a box grater to shred the extra firm tofu directly into a medium bowl.

Add the remaining ingredients and gently stir together until combined. Refrigerate until ready to serve.

1 stick celery,

Small bunch fresh chives,

1 teaspoon fresh tarragon,

1 teaspoon dill,

80 g vegan mayonnaise,

30 g vegan creme fraiche,

1 teaspoon lemon juice,

Zest of ½ a lemon,

1 teaspoon dijon mustard,

1 teaspoon old bay seasoning,

Pinch nori flakes,

salt and pepper
Notes
- Be sure to use extra firm tofu for this recipe. Firm or silken are just too soft and will turn to mush as soon as you stir through the other ingredients. For that crab-style shred and bite, you'll need extra firm. I use Tofoo brand - you can find a link for this below.
- If you like your crab salad spicy, try adding 2 tablespoon of hot sauce to the mix. I love using the "Extra Garlic" Sriracha for this, as it brings an extra level of flavour.
Nutrition
Calories:
182
kcal
Carbohydrates:
5
g
Protein:
4
g
Fat:
15
g
Saturated Fat:
2
g
Polyunsaturated Fat:
1
g
Monounsaturated Fat:
0.2
g
Sodium:
198
mg
Potassium:
101
mg
Fiber:
0.2
g
Sugar:
1
g
Vitamin A:
42
IU
Vitamin C:
1
mg
Calcium:
27
mg
Iron:
1
mg
Love this recipe?
Let me know on Instagram!
WANT MORE VEGAN LUNCHES!?
Why not try:
Vegan Jackfruit Melt Sandwich with Quick Pesto