Publised on 14/09/2020 by Richard. Last Updated on 13/11/2022 by Richard.
Light and fluffy vegan cornmeal buttermilk pancakes served with blueberries and maple syrup. Minimal ingredients for maximum flavour!
---
Whatchu know about vegan cornmeal buttermilk pancakes?? I'll be honest, until this morning, I didn't know much. I woke up literally dreaming about pancakes but only had about a third the amount of flour required, but I've got plenty of cornmeal. So I google "cornmeal pancakes" and BINGO! Turns out it's a thing!
So here's my attempt to make the BEST ever vegan version of this apparent classic which I've been SLEEPING ON for literally DECADES. In the same way that polenta creates such a unique texture in polenta cake, it does the same thing in pancakes too! Vegan cornmeal buttermilk pancakes have much more bite and a really moreish texture - they're BONKERS good. 
What the HECK is cornmeal!??
Chances are you already own most of the ingredients necessary for making these vegan cornmeal buttermilk pancakes. To some of you, cornmeal might sound like a rare esoteric ingredient from the specialist aisle of some strange supermarket - but it's not! It just has many names!
In the US this ingredient tends to be called cornmeal or cornflour. In the UK and most of Europe it's sometimes called polenta or polenta flour. It's the ingredient you tend to use in making polenta (obvs) and arepas (yum!) or cornbread (YAS!). It is NOT the same thing as cornstarch (which is known as cornflour in the UK). It's also not the same thing as masa harina, which is used for making corn tortillas. Got it?? GOOD!
Vegan Cornmeal Buttermilk Pancakes in 4 EASY Steps
Obviously it's fantastic when recipes are easy - but it's DOUBLE fantastic when BREAKFAST recipes are easy. You can whip these guys up in half an hour EASILY with zero magical specialist ingredients. HERE'S HOW!
1. Make the Buttermilk
You've probably done this before if you've followed one of my baking recipes. Vegan buttermilk is as simple as combining plant milk and a little acid (either lemon juice or vinegar) and allowing it to curdle slightly. You'll find that the buttermilk reacts with the raising agents in the flour and helps your pancakes to be lovely and fluffy!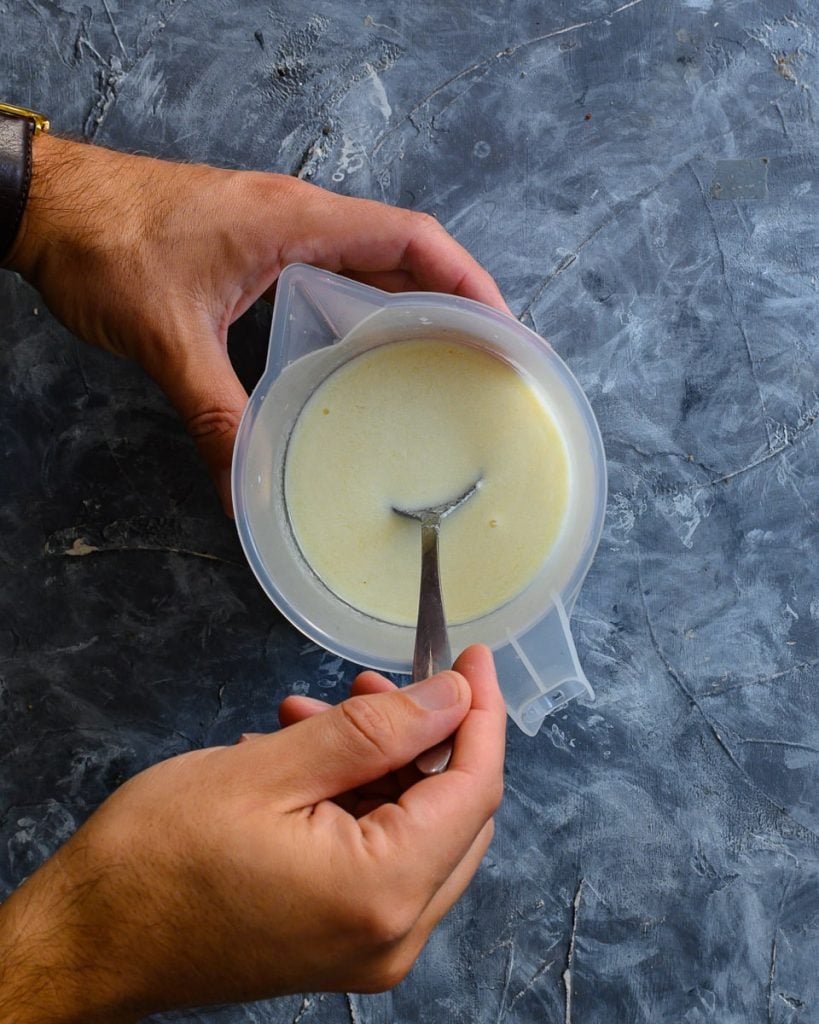 2. Combine with the Dry Ingredients
Next step you'll want to measure out your dry ingredients and add your buttermilk. There's no egg replacement in this recipe - which is one step removed! I find that the cornmeal helps to keep the pancakes lovely and light and moist, so no need for psyllium husks, flax seeds or fancy schmancy egg replacers. 
Be sure to not overmix the batter or you'll activate the gluten and end up with tough pancakes! Just mix until there are no lumps left. 
3. Cook the Pancakes
I like to cook my pancakes on a medium/low heat to make sure they don't overcook. Just a lovely gentle brown colour is great. Look for bubbles rising in the centre of the pancake which pop and leave little holes on the surface. Once the top of the pancake is covered in bubble holes, give it a flip. 
If you're cooking lots of pancakes, it's worth turning the oven to warm and keeping the pancakes in there while you finish the batch!
4. Top Those Bad Boys!
All done? Awesome! Time to top them and serve them! I like to keep things simple and classic with blueberries and maple syrup but you can top your vegan cornmeal buttermilk pancakes with WHATEVER you fancy!
How about toasted pecans, bananas and chocolate syrup? MIAM MIAM!
It's that easy! If you don't finish all the batter in one go, just pop the batter in the fridge and cook the rest tomorrow! Pancakes for TWO DAYS STRAIGHT?? HECK YEP!
Need more BREAKFAST??
Then you came to the right place! Why not give these bad boys a try!?
Vegan Cornmeal Buttermilk Pancakes
Super light and fluffy vegan cornmeal buttermilk pancakes served with blueberries and maple syrup. A super simple classic recipe using minimal ingredients for maximum flavour!
Equipment
no specialist equipment required
Ingredients
For the Pancakes
380

ml

plant milk

((soy works best, make sure it's unsweetened and unflavoured))

1.5

tablespoon

lemon juice

2

teaspoon

vanilla extract

200

g

self raising flour

110

g

cornmeal

((aka cornflour or polenta - not cornstarch))

1

teaspoon

baking powder

3

tablespoon

caster sugar

((aka superfine sugar))

pinch

sea salt

1

tablespoon

vegan butter

((or vegetable oil))
For Serving
200

g

blueberries

maple syrup

2

tablespoon

vegan butter
Instructions
To Make the Pancakes
To make the "buttermilk" combine the plant milk, lemon juice and vanilla extract. Whisk lightly and set aside. The "buttermilk" will look slightly curdled, this is ok!

In a medium bowl, whisk together the self raising flour, cornmeal, baking powder, caster sugar and sea salt.

Add the buttermilk mixture to the dry ingredients and mix until just combined and no lumps remain.

Use the 1 tablespoon vegan butter (or vegetable oil) to lightly grease a large frying pan or griddle. Place over a medium/low heat and bring to temperature.

If you don't plan to serve the pancakes straight from the pan, heat your oven to around 80c/175f and line a baking tray with baking parchment.

Test a small amount of pancake batter in the centre of the pan to check it's the right temperature. Within about 30-40 seconds bubbles should start to appear on the surface of the tester pancake. Once all the bubbles have popped, flip it over with a silicone spatula. The underside should be golden brown. Repeat with the rest of the batter, keeping the pancakes around 3-5 inches in size. If necessary, keep the cooked pancakes warm in the preheated oven.
To Serve The Pancakes
Stack your pancakes, top with a little vegan butter, some blueberries and a good drizzle of maple syrup. Serve and enjoy.
Nutrition
Calories:
466
kcal
Carbohydrates:
36
g
Protein:
5
g
Fat:
34
g
Saturated Fat:
21
g
Cholesterol:
1
mg
Sodium:
71
mg
Potassium:
354
mg
Fiber:
5
g
Sugar:
23
g
Vitamin A:
177
IU
Vitamin C:
1
mg
Calcium:
54
mg
Iron:
5
mg
Love this recipe?
Let me know on Instagram!