Publised on 25/10/2022 by Richard. Last Updated on 20/11/2022 by Richard.
My super moist vegan coffee walnut cake with a delicious coffee soak, coffee buttercream and candied walnuts.
It's a UK cakey classic - vegan coffee and walnut cake! I'm talking about a light coffee sponge made with tasty toasty ground walnuts, soaked in a coffee syrup then frosted with coffee flavoured vegan buttercream and studded with candied pecans!
I first made this recipe for my wonderful mother in-law's birthday (because she loves coffee walnut cake) and it wen't down a real treat! The coffee flavour is bold but not overpowering and the candied walnuts bring a kick-butt crunchy texture!
Jump to:
Ingredients!
What's involved in a vegan coffee walnut cake then (besides coffee and walnuts obvs). The full recipe is at the bottom of the page as per usual but here's a little breakdown of what you'll need!
OK, all the ingredients are at the bottom of the page, but here's what you'll need to make the coffee sponge part of this recipe!
Walnut halves - walnut pieces work well too, but you'll need some walnut halves for decoration!
Caster sugar (aka superfine sugar) - because SWEETNESS
Light brown sugar - because also sweetness but in brown
Vegetable oil - Using a veg-based oil instead of butter keeps this cake light, even though the batter is quite thick!
Vegan yoghurt (plain and unsweetened) - this replaces eggs but also brings a nice tang to the recipe.
Soy milk (plain and unsweetened)
Instant espresso powder - theeere's the coffee baby!
Plain white flour (aka all purpose flour)
Corn starch - helps to bind the cake batter and prevent it from splitting.
Baking powder & bicarbonate of soda (aka baking soda) - to get that rise!
Before you panic, this is not the recipe: see the recipe card at the bottom of the page for quantities.
Method!
Simple bake, delicious vibes! That's what they all say about my vegan coffee walnut cake! Here's the process I like to follow!
Make the sponge layers! This is a simple wet ingredients + dry ingredients scenario. However we're also going to blend some walnuts with our sugars to make sure we get all that nutty flavour throughout.
2. Soak the sponges! The best way to get flavour and moisture into your sponges is to make a simple syrup. This one's flavoured with instant espresso powder so it'll really wake up that coffee flavour!
3. Make the coffee buttercream! We're going to use my simple vegan buttercream recipe but add a little coffee kick. Be sure to check the ingredients in this post first to make sure you have everything you need.
4. Assemble the cake! There's no need for any fancy frosting techniques if that's not your thing. A layer of buttercream in the middle and on top will do. Oh and don't forget your candied walnuts!
Hint: Assembling a vegan coffee walnut cake is always easiest when the sponges are chilled. At very least you should wait for the sponges to be room temperature, but I'd strongly advise chilling the sponges in the fridge for an hour before you apply any frosting or syrup.
Swaps and subs!
We've reached that bit again! It's time to make any subs and swaps to this vegan coffee walnut cake! I understand that this cake isn't suitable for everyone, so here are a few suggestions for ways to change things up!
Flour - If you're gluten free, don't worry. This cake works great with a simple substitution of gluten free flour. My favourite brand is Freee or Bob's Red Mill.
Walnuts - For those with a nut allergy, you're obviously going to want to avoid the walnuts in this recipe. A simple fix is to replace them with sunflower seeds. Swap the candied walnuts for your favourite nut-free granola!
Soy milk - If you have a soy allergy, feel free to replace the soy milk in this recipe for any other plant milk. Also make sure that your vegan yoghurt is soy free too.
If you've made this recipe with some swaps, let me know how it worked out in the comments!
Variations!
This recipe is a simple classic, which not only means its a crowd-pleaser, but it's also easy to customise! Here are some ideas on switching things up!
Swap the nuts!- Sure, it's coffee walnut cake, but what about coffee pecan cake? Or even coffee macadamia cake! The possibilities are endless!
Matcha maker! - Because we use instant coffee in this recipe, it's very easy to make a swap for matcha to create a delicious matcha cake. I'd also recommend swapping the nuts for almonds, since that's an ideal flavour combo!
Chocify! - Chocolate makes everything better, no?? Why not add chocolate chips to the batter just before baking and top the finished cake with shards of flakes of chocolate?
Decided that vegan coffee walnut cake isn't the cake for you? Don't worry! There are a whole bunch of cakes on my blog, including my Vegan Lemon Poppy Seed Cake, which is zingy and so easy to make. You could also whip up this Vegan Chocolate Cake or keep it classic with a vegan Victoria Sponge Cake!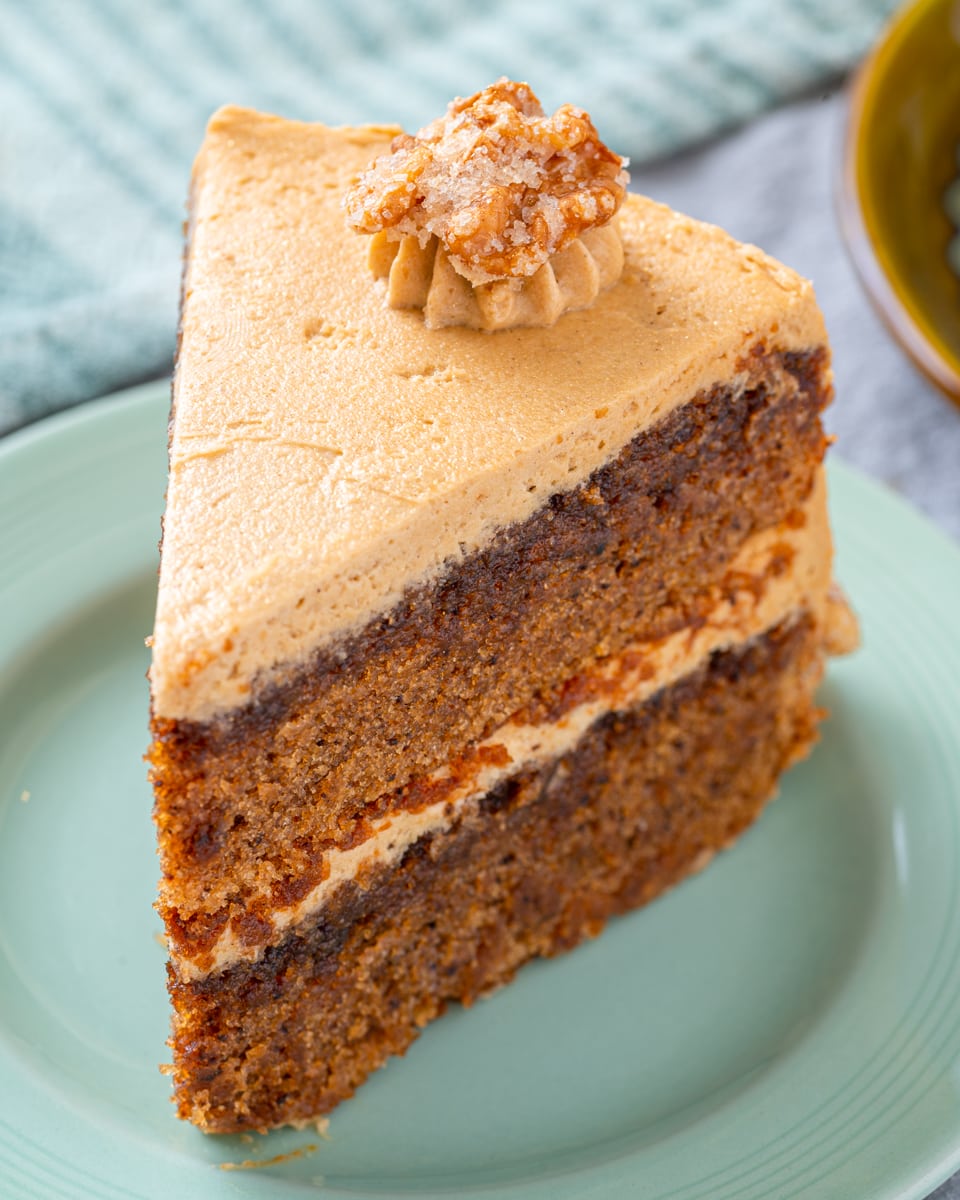 Equipment!
Nothing specialist this time! To make a vegan coffee walnut cake you'll just need a couple of cake making classics and you're all set! You're gonna be like Jamie Lee Curtis - a well prepared bad ass!
oven
2 x 20cm/7.8 inch spring-form cake tins
1 x food processor
1 x medium bowl
1 x sieve
1 x small bowl
1 x baking tray
Storage!
Like most cakes, this vegan coffee walnut cake is best served the day it's made, but obviously this isn't always a practical reality! If you need to make the cake in advance, be sure to choose a frosting design which covers the entire cake (this locks moisture into the sponge).
It's also a good idea to put the cake in a sealed container and store in the fridge for up to 2 days. Any longer and you'll notice a change in the texture. Alternatively, make the sponges in advance, wrap tightly and freeze until you need them. Defrost fully before frosting!
Bonus Tip!
This recipe calls for a food processor to grind up the walnuts and sugar. Don't worry if you don't have a food processor though, just place the walnuts in a ziplock bag, seal it and bash with a rolling pin until they're all evenly crushed into a sandy mixture.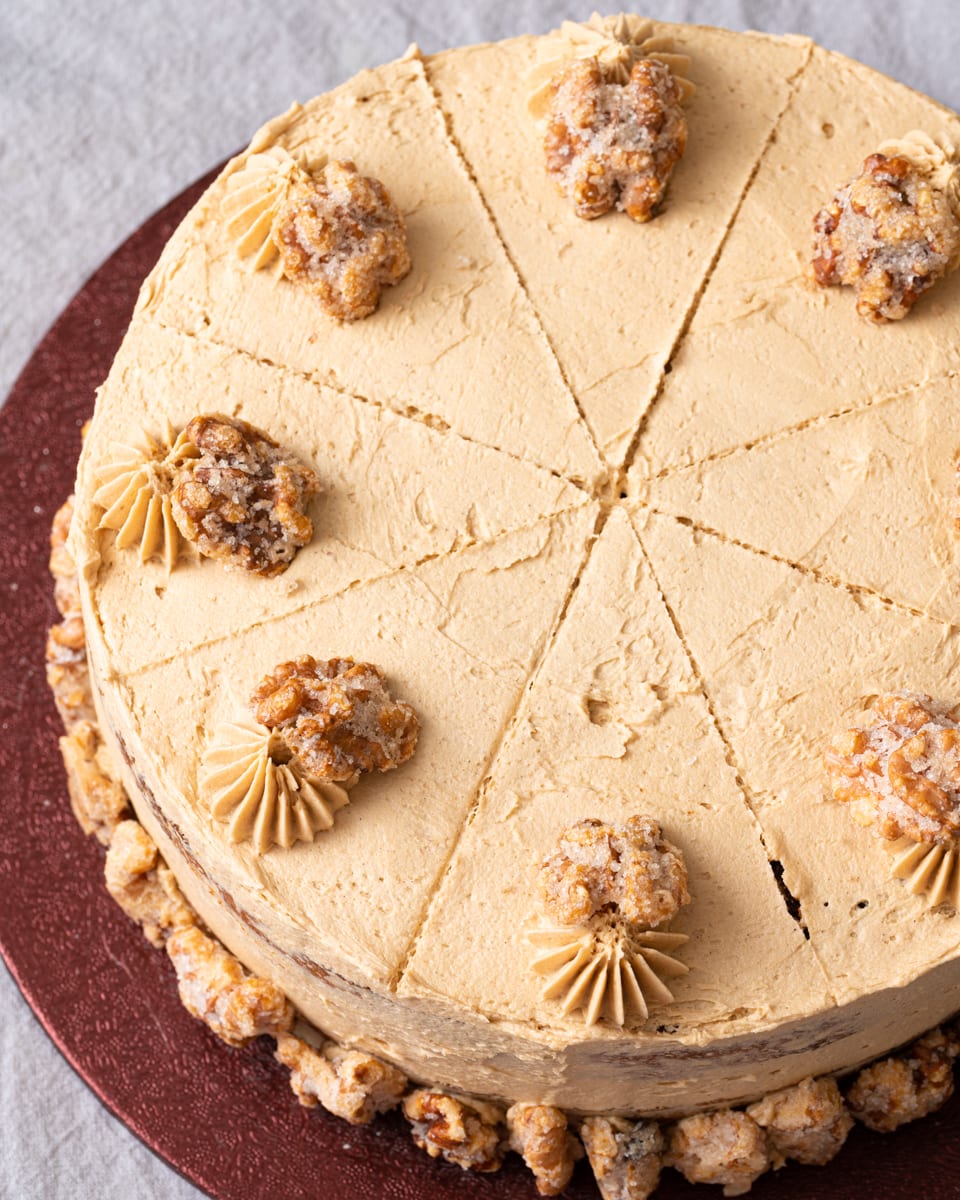 Coffee Walnut Cake FAQs
Q: Where does coffee walnut cake come from?
A: Coffee walnut cake originated in Britain. It was introduced as part of an ad campaign from flour brand McDougalls. It's now popular around the world!
Q: Does coffee walnut cake actually contain coffee?
A: Yes! Unlike American style coffee cake, coffee walnut cake actually contains coffee. The easiest way to introduce coffee to your cake recipe is to use instant espresso powder in the cake mix.
Vegan Coffee Walnut Cake
My super moist vegan coffee walnut cake with a delicious coffee soak, coffee buttercream and candied walnuts.
Equipment
oven

2 x 20cm/7.8 inch spring-form cake tins

1 x food processor

1 x medium bowl

1 x sieve

1 x small bowl

1 x baking tray
Ingredients
For the Coffee Walnut Sponges
60

g

walnut halves

180

g

caster sugar

(aka superfine sugar)

45

g

light brown sugar

200

g

vegetable oil

200

g

vegan yoghurt

(plain and unsweetened)

4

tablespoon

soy milk

(plain and unsweetened)

4

teaspoon

instant espresso powder

220

g

plain white flour

(aka all purpose flour)

2

tablespoon

corn starch

2 ½

teaspoon

baking powder

½

teaspoon

bicarbonate of soda

(aka baking soda)
For the Candied Walnuts
125

g

walnut halves

50

g

granulated sugar
For the Coffee Buttercream
1

batch

vegan buttercream

1

tablespoon

instant espresso powder

1

tablespoon

boiling water
For the Coffee Syrup
50

g

caster sugar

(aka superfine sugar)

1

tablespoon

instant espresso powder

50

ml

boiling water

½

teaspoon

vanilla extract
Instructions
To Make the Coffee Walnut Sponges
Preheat the oven to

160

°C

(fan). Line two 20cm/7.8 inch spring-form cake tins with greaseproof paper. Set aside.

Place the walnut pieces, caster sugar and light brown sugar in a food processor and process until sandy textured with no chunks of walnut remaining.

60 g walnut halves,

180 g caster sugar,

45 g light brown sugar

To the food processor, add the vegetable oil, vegan yoghurt, soy milk and instant espresso powder then run again until the mixture is thick and smooth. Set aside.

200 g vegetable oil,

200 g vegan yoghurt,

4 teaspoon instant espresso powder,

4 tablespoon soy milk

In a medium bowl, sieve together the plain white flour, corn starch, baking powder and bicarbonate of soda. Add the wet ingredients to the sieved dry ingredients and mix until just combined - the mixture will be a thick batter.

220 g plain white flour,

2 tablespoon corn starch,

2 ½ teaspoon baking powder,

½ teaspoon bicarbonate of soda

Divide the batter between the two prepared cake tins and smooth the tops of the batter with the back of a spoon. Bake the two cakes for 25 minutes.

Remove the cakes from the oven and turn the oven temperature to

140

°C

. Leave the cakes to cool in their tins for 15 minutes. Remove the tins and transfer the cakes to a wire cooling rack to cool completely before transferring to the fridge to chill. While the cakes cool, make the candied walnuts, coffee buttercream and coffee syrup.
To Make the Candied Walnuts
Place the walnut halves in a sieve or colander and run under cold water. Toss until all walnuts are wet all over. Place the walnuts in a small bowl and add the granulated sugar. Toss to coat the walnuts in the sugar.

125 g walnut halves,

50 g granulated sugar

Spread the walnuts out on a baking tray lined with baking parchment. Place in the oven and bake for 40 minutes, stirring halfway through.

Once baked, remove from the oven and allow to cool fully on the baking tray.
To Make the Coffee Buttercream
Place the prepared batch vegan buttercream in a medium bowl. In a separate small bowl, combine the instant espresso powder and boiling water then leave to cool for 5 minutes.

1 batch vegan buttercream,

1 tablespoon instant espresso powder,

1 tablespoon boiling water

Add the coffee mixture to the vegan buttercream and stir until combined. Set aside.
To Make the Coffee Syrup
In a medium bowl, whisk together the coffee syrup ingredients until the sugar and espresso powder are completely dissolved.

50 g caster sugar,

1 tablespoon instant espresso powder,

50 ml boiling water,

½ teaspoon vanilla extract

Remove the chilled coffee walnut sponges from the fridge and place upside down on a cooling rack. Divide the coffee syrup between the two sponges, drizzling it over and allowing to soak in fully before adding more.
To Assemble the Cake
Top one layer of sponge with a quarter of the coffee buttercream. Top with the other layer of sponge then use the remainder of the buttercream to frost the cake. Top the cake with 10 candied walnut halves one per slice) and push the remainder into the buttercream around the outside of the cake.

Serve the cake or place in a sealed container in the fridge for up to two days.
Nutrition
Calories:
333
kcal
Carbohydrates:
35
g
Protein:
5
g
Fat:
21
g
Saturated Fat:
3
g
Polyunsaturated Fat:
13
g
Monounsaturated Fat:
4
g
Trans Fat:
0.1
g
Cholesterol:
1
mg
Sodium:
44
mg
Potassium:
169
mg
Fiber:
1
g
Sugar:
21
g
Vitamin A:
24
IU
Vitamin C:
0.4
mg
Calcium:
64
mg
Iron:
1
mg
Love this recipe?
Let me know on Instagram!