Publised on 19/10/2022 by Richard. Last Updated on 20/11/2022 by Richard.
Super crisp and easy vegan Christmas cookies - perfect vegan sugar cookies with a hint of almond, topped with festive almond buttercream.
Marvel at the wintery majesty of these vegan Christmas cookies, aka the most perfect little vegan sugar cookies! Oh how you'll be the envy of every Christmas party you attend this year! I mean, LOOK at them! They're the most light, crisp vegan sugar cookies except they're in the shape of Christmas trees. Just try to tell me these don't make you feel festive!?
I've really gone all out this year with the Christmas cookies - see also my vegan crinkle cookies, which will blow your mind with their fudgy realness! But these ones simply must be the tip of the tree! They're topped with almond flavour buttercream and there's even a sprinkle of edible gold lustre! Phwoar!
Jump to:
What's in these vegan Christmas cookies?
Essentially these cookies are a simple vegan sugar cookie, but I've tweaked the standard sugar cookie recipe to make sure they're not only crisp, but also LIGHT and flavoursome! They're also obviously topped with my vegan buttercream, so they're a true delight to eat!

Here's a little breakdown of the ingredients:
Plain white flour - also known as all purpose flour
Cornstarch - also known as cornflour, this helps to keep the cookies nice and crisp and also helps to make them brown gently
Baking powder & bicarbonate of soda - also known as baking soda, both for giving the cookies a little *puff*.
Icing sugar - aka confectioners sugar. It's super fine so it sweetens the cookie without making it crumbly or dry.
Vegan butter - be sure to use a "block style" variety at room temp.
Soy milk - unsweetened and unflavoured if possible!
Vanilla extract & almond extract - for big flavour!
As always, the full recipe is at the bottom of the page, so check there for quantities.
Now, the method itself is super simple and actually bonkers enjoyable to make, so let me talk you through it!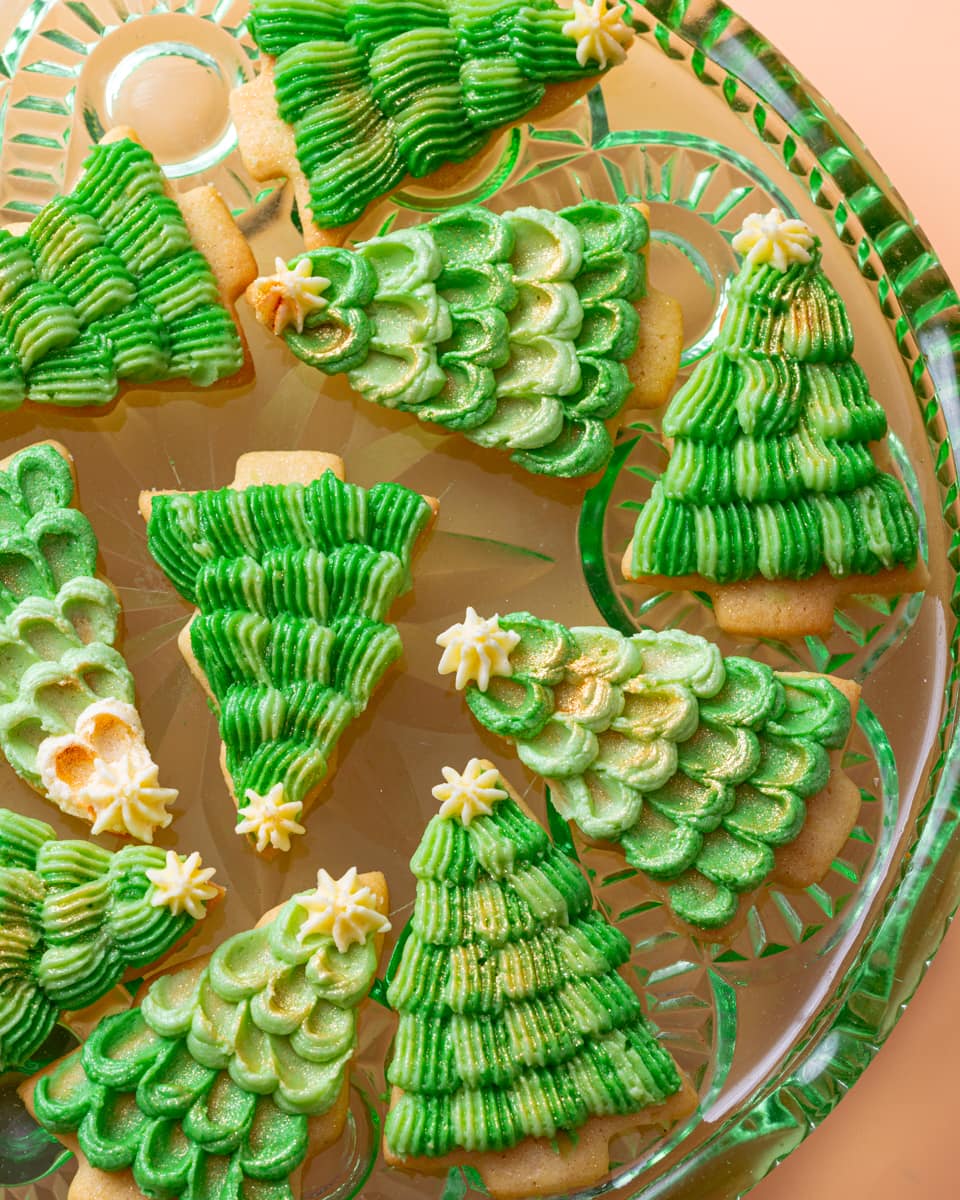 How do I make vegan Christmas cookies?
I've simplified things down to four steps to make the recipe easier to digest since I imagine you'll be doing a whole bunch of digesting this Christmas...
1. Make the dough! It's a simple vegan sugar cookie dough, so nothing fancy, but I would advise really creaming your vegan butter and icing sugar together before adding the soy milk. This introduces tiny air bubbles and keeps your cookies light!
2. Chill the dough! This dough is super soft at room temperature. I'm talking like cake batter soft! So make sure it's thoroughly chilled before trying to roll it out, otherwise it'll be a sticky disaster, Of and be sure to flour the counter!
3. Bake the cookies! Once your cookies are all cut out, arrange them on a cookie sheet and bake away! It'll only take 8 mins per batch, so you will find yourself with a bunch of cooling vegan Christmas cookies in no time!
4. Decorate the cookies! Now for the magic bit! Use my vegan buttercream recipe to make an ombre effect, starting with dark green, then light green, then white for a snowy Christmas tree vibe!
Hint: I can't over-emphasise how soft this cookie dough is at room temp. If you have the time, I'd even advise freezing your cookie sheet, before topping with unbaked cookies. This will keep the cookies chilled for longer and stop them from spreading so much in the oven as they bake.
Subs and swaps
So you wanna party like it's the first Christmas of ya life, but you're dubious about the cookie ingredients. Don't worry! Here are my recommendations for ingredient swaps:
Flour - Dodging gluten? Don't worry! Just use a gluten free flour blend and the cookies will turn out great regardless! Freee or Bob's Red Mill are my favourite brands, but use one you trust already!
Vegan Butter - Don't fancy using vegan butter? Or perhaps you can't get hold of it? Try using coconut oil instead - deodorised works best if you can find it.
Soy Milk - I always say that soy milk works best for baking, because it naturally contains lecithin, which stops batters and doughs from splitting. However, if you have an allergy, any plant milk will do!
Let me know if you make any subs or swaps of your own - I'd love to hear how they turned out!
Customise your vegan Christmas cookies!
These are such a simple recipe, which means they're great for making with kids, but also for customising! Here are some fun ideas for next level vegan Christmas cookies!
Sandwich session!- This recipe makes a LOT of cookies, so why not consider making these into sandwich cookies? Use your colourful buttercream as the filling and double up that cookie stack!
Flip the flavour! - I've gone for almond flavour, since it's a crowd pleaser, but if you'd like to go more Christmassy, why not try some peppermint extract in your buttercream?
Shape Shifter! - Obviously these cookies work for whichever shape you fancy! It doesn't have to even be Christmassy! If you don't celebrate Christmas, feel free to get creative with the shape you make and way you decorate!
If you'd rather explore different cookie options, why not try my Vegan Peanut Butter Stuffed Cookies! They're insanely delicious! If you're more of a classic cookie fan, why not bake a batch of Vegan Chocolate Chip Cookies? There's also these Vegan Double Chocolate Coconut Oatmeal Cookies for the choc-curious!
Vegan Christmas cookie equipment!
In the words of my favourite gay uncle, Scar from Lion King: "be prepared"! Here's the equipment you'll need:
1 x large bowl
1 x sieve
1 x electric mixer OR
1 x stand mixer
1 x oven
3 x cookie sheets
3 x piping bags
Bonus Tip!
My vegan buttercream is beautifully soft and smooth, which is great for a cake, but not always ideal for a cookie! If you'd like to store the cookies in a way which makes the buttcream actually SET, then here's how! Seal the cookies in an airtight container once decorated, making sure they're in a single layer, and place in the fridge to chill for an hour. The buttercream will set AND the cold fridge will make the cookies last longer.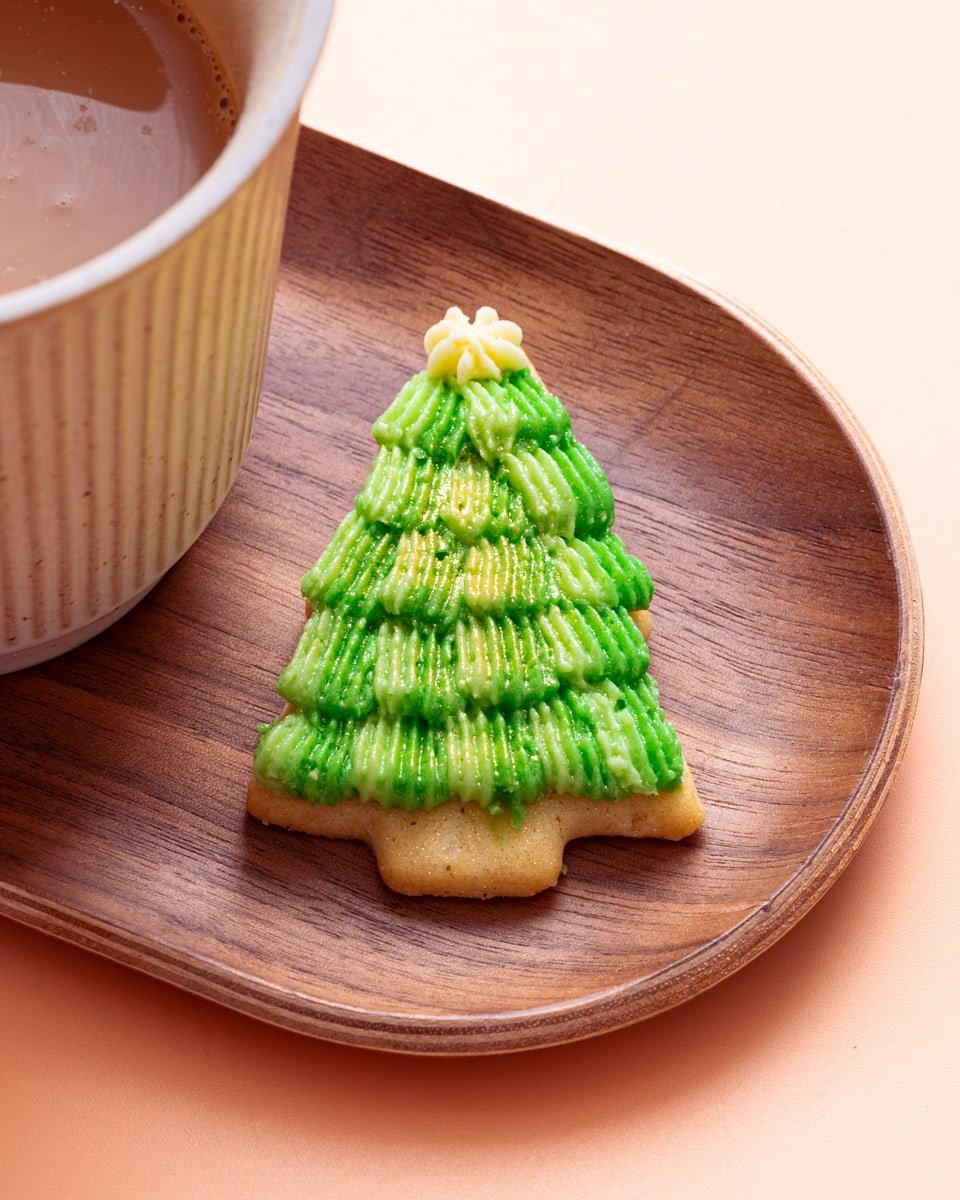 Vegan Christmas cookies FAQs
Q: What kind of cookies do vegans bake?
A: Most homemade cookies can be made vegan. Just swap any dairy products for the vegan equivalents and replace each egg for 50ml of soy milk.
Q: How do I stop vegan cookies from spreading?
A: Firstly make sure you're using a solid vegan butter, rather than margarine. Margarine has a higher liquid content so is more liable to spread as it bakes. Secondly, be sure to chill your vegan cookies or dough before baking.
Vegan Christmas Cookies
Super crisp and easy vegan Christmas cookies with a hint of almond, topped with festive almond buttercream.
Equipment
1 x large bowl

1 x sieve

1 x electric mixer OR

1 x stand mixer

1 x oven

3 x cookie sheets

3 x piping bags
Ingredients
170

g

plain white flour

(aka all purpose flour)

1

tablespoon

cornstarch

(aka cornflour)

½

teaspoon

baking powder

½

teaspoon

bicarbonate of soda

(aka baking soda)

90

g

icing sugar

115

g

vegan butter

(room temperature)

30

ml

soy milk

(at room temperature, unflavoured and unsweetetend)

½

tsp

vanilla extract

½

teaspoon

almond extract

1

batch

vegan buttercream frosting

(made in advance, covered with cling film/saran wrap and refrigerated)

natural green food dye

gold lustre spray

(for decorating)
Instructions
To Make the Cookies
In a medium bowl, sieve together the plain white flour, cornstarch, baking powder and bicarbonate of soda. Set aside.

170 g plain white flour,

1 tablespoon cornstarch,

½ teaspoon baking powder,

½ teaspoon bicarbonate of soda

In the bowl of a stand mixer fitted with the paddle attachment or in a large bowl using a hand mixer, beat together the icing sugar and vegan butter for at least 3 minutes or until light and fluffy. Slowly add the soy milk followed by the vanilla and almond extracts, beating as you go.

90 g icing sugar,

115 g vegan butter,

30 ml soy milk,

½ teaspoon vanilla extract,

½ teaspoon almond extract

Add the dry ingredients to the wet and beat slowly until just combined into a dough. The dough will be very soft, unlike typical cookie dough - but don't worry! Scoop the dough out onto a sheet of cling film/saran wrap and wrap completely. Place in the fridge to chill for at least 2 hours, ideally overnight.

Once the dough is thoroughly chilled, preheat the oven to

190

°C

and line three cookie sheets or baking trays with baking parchment.

Once the dough is thoroughly chilled, heavily dust a clean counter and unwrap the dough. Divide the dough in half and keep one half wrapped and refrigerated.

Roughly pat the other half of dough into a ball and dust the top with flour. Roll out into a ½ cm thick sheet and use a cookie cutter to cut out as many trees as you can. Transfer the cut-out trees to one of the lined baking sheets.

Gather the excess dough from the counter and push into a rough ball. Wrap again in cling film/saran wrap and place back in the fridge. Remove the other chilled half of dough from the fridge and repeat the process with this half, making sure you gather the excess dough trimmings, wrap them and refrigerate.

Place the two trays of cut out cookies in the preheated oven to bake for 8 minutes. While these cookies bake, rollout the chilled excess dough and repeat the process of cutting out as many cookies as you can. Transfer these last cookies to a sheet of baking parchment.

When the first batch of cookies are baked, remove them from the oven and allow

Divide the prepared vegan buttercream between three small bowls. Using the green food dye dye one of the bowls dark green, one of the bowls light green and leave one undyed.

1 batch vegan buttercream frosting,

natural green food dye

Transfer the buttercream into three separate piping bags and make a very small hole in the tip. Pipe a line of dark green blobs horizontally across the bottom of the tree. Use a knife to press down each blob and drag upwards. Repeat the process working your way up the tree, switching to light green half-way up the tree and white for the top of the tree.

Alternatively, put the two green buttercreams in a piping bag fitted with a decorative nozzle, try your best not to blend the two colours together. Decorate the tree cookies with the two tone buttercream and top with a white star. Once done, spray each tree with gold lustre spray and serve.

To store, seal in an airtight container and place in the fridge. Best consumed on the day of baking.
Nutrition
Calories:
28
kcal
Carbohydrates:
4
g
Protein:
0.3
g
Fat:
1
g
Saturated Fat:
0.3
g
Polyunsaturated Fat:
0.4
g
Monounsaturated Fat:
1
g
Trans Fat:
0.01
g
Sodium:
22
mg
Potassium:
8
mg
Fiber:
0.1
g
Sugar:
1
g
Vitamin A:
75
IU
Vitamin C:
0.04
mg
Calcium:
3
mg
Iron:
0.1
mg
Love this recipe?
Let me know on Instagram!