Publised on 25/06/2019 by Richard. Last Updated on 13/11/2022 by Richard.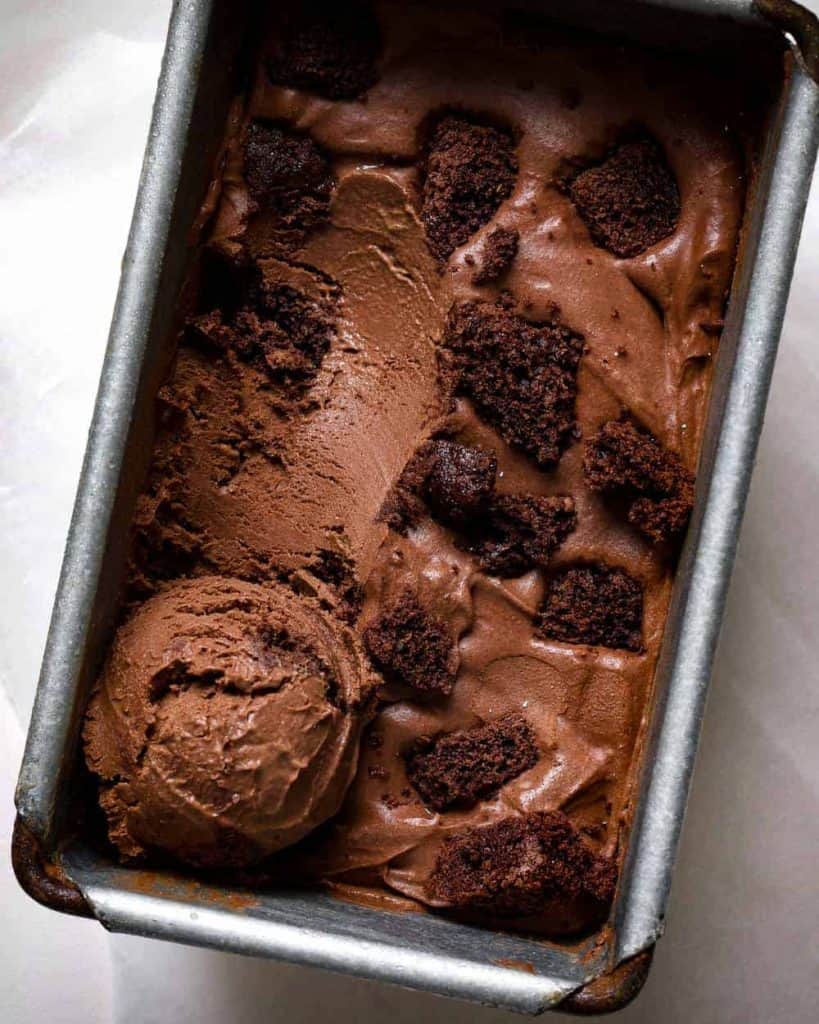 Vegan chocolate ice cream, packed with chunks of moist fudge cake. It's bitter-sweet and beyond creamy! It's your new favourite ice cream.
---
Death by choc - but frozen!
This vegan chocolate ice cream is fudgy, cakey and creamy - it's THE chocolate lovers ice cream. I'm talking super bitter sweet chocolate with chunks of delicious fudge cake throughout. I've been working on this for a MINUTE now (this must be recipe iteration number 10) but I think I'm finally happy.
For years I'd swear that I didn't like chocolate ice cream, but ironically, I've started craving the stuff since I went vegan! So it was inevitable that I developed this recipe!
What does it taste like!?
I like my vegan chocolate ice cream like I like my men: Nice and bold but slightly bitter! It has an extra little kick of espresso too, just for that rich darkness! The texture is SUPER rich, so this ice cream works best as a stand-alone dessert, rather than as a scoop on top of a pie or something!
Any ingredient notes??
Just one ingredient note - there really is no substitution for the condensed coconut milk. It is MAGICAL, so please don't skip it. It isn't hard to find, you just need to look in the right places. I use Nature's Charm - I got mine from a super provincial health food shop in the tail end of England, so I'm sure you can get it anywhere! For US readers, I have bought this stuff from Wholefoods, so you guys shouldn't have an issue finding it. If all else fails, try amazon!
Enjoy responsibly, this chocolate ice cream will CHANGE THINGS in your BODY AND MIND!
Need more chocolate??
Why not try these guys!:
Vegan Chocolate Creme Donuts
Vegan Chocolate Fudge Cake Ice Cream
Vegan chocolate ice cream, packed with chunks of moist fudge cake. It's bitter-sweet and beyond creamy! It's your new favourite ice cream.
Ingredients
For the Ice Cream
200

g

raw unsalted cashews

((soaked in boiling water for 1 hour))

310

g

water

210

g

sweetened condensed coconut milk

70

g

boiling water

40

g

cocoa powder

20

g

odourless coconut oil

100

g

dark chocolate

((finely chopped))

1

teaspoon

freeze dried espresso powder

pinch

salt
For the Cake Pieces
¾

teaspoon

psyllium husk powder + 3 teaspoon water

55

g

plain flour

1

teaspoon

baking powder

18

g

cocoa powder

2

tablespoon

boiling water

25

g

vegan margarine

68

g

granulated sugar

38

ml

oat milk
Instructions
To Make the Cake Pieces
Preheat the oven to 180c and line a cupcake tray with 3 cupcake cases.

In a small bowl combine the psyllium husks and the water. Mix and set aside to thicken.

In another small bowl, measure out the flour and the baking powder. Stir to combine and set aside.

In the bowl of a stand mixer, add the cocoa and the boiling water. Fit the paddle attachment and beat until smooth. Add the vegan margarine and psyllium egg and beat until smooth (the psyllium tends to clump very easily, so make sure you beat very well).

Add the remaining cake ingredients and beat until just combined.

Divide the batter between the six cupcake cases.

Place in the oven and bake for 30 minutes. Once baked, remove from the oven and allow to cool briefly in the tin before removing each cake delicately and allowing to cool fully on a wire cooking rack.

Once cooled, remove the cupcake cases and slice the cakes into ½cm - 1cm cubes. Place the cubes of cake on a baking tray and spread out so they're touching as little as possible. Place in the freezer to firm up.
To Make the Ice Cream
Drain the soaked cashews and discard the soaking water. Place the cashews in the cup of a high-speed blender along with the 310g of water. Blend until very smooth then pour out into a large bowl. To the bowl add the sweetened condensed coconut milk. Whisk to combine then set aside.

Combine all the remaining ingredients in a medium bowl and whisk well until all the chocolate and coconut oil has melted and everything is well combined. (nb. the heat from the boiling water should be enough to melt everything but if this doesn't work, place the bowl over a saucepan of boiling water and stir until everything is melted and combined).

Pour the chocolate "liquor" into the cashew and condensed coconut milk mixture. Blend with an immersion blender until completely combined and smooth. Cover the bowl with cling film or a large plate and place in the fridge to cool for an hour. Do not leave to cool overnight or it will become too solid!

Once cooled, give it another whizz with the immersion blender to homogenise and then pour into an ice cream maker and freeze according to the manufacturer's instructions. While freezing, select the vessel you'd like to store your ice cream in and place it in the freezer to chill.

Once the blades of the ice cream machine can't turn any more and the ice cream resembles soft serve, stop the machine. Remove the ice cream and place a few spoonfuls in the bottom of your storage container. Sprinkle over some pieces of cake then top with more ice cream. Repeat until you're out of ice cream then top with a final layer of cake. Press the cake down lightly into the ice cream.

Freeze the ice cream for at least 2 hours before eating it. If you freeze it overnight it'll need to defrost slightly before it becomes scoopable, so take it out of the freezer 10 mins before you need it.
Nutrition
Love this recipe?
Let me know on Instagram!