Publised on 19/01/2021 by Richard. Last Updated on 12/10/2022 by Richard.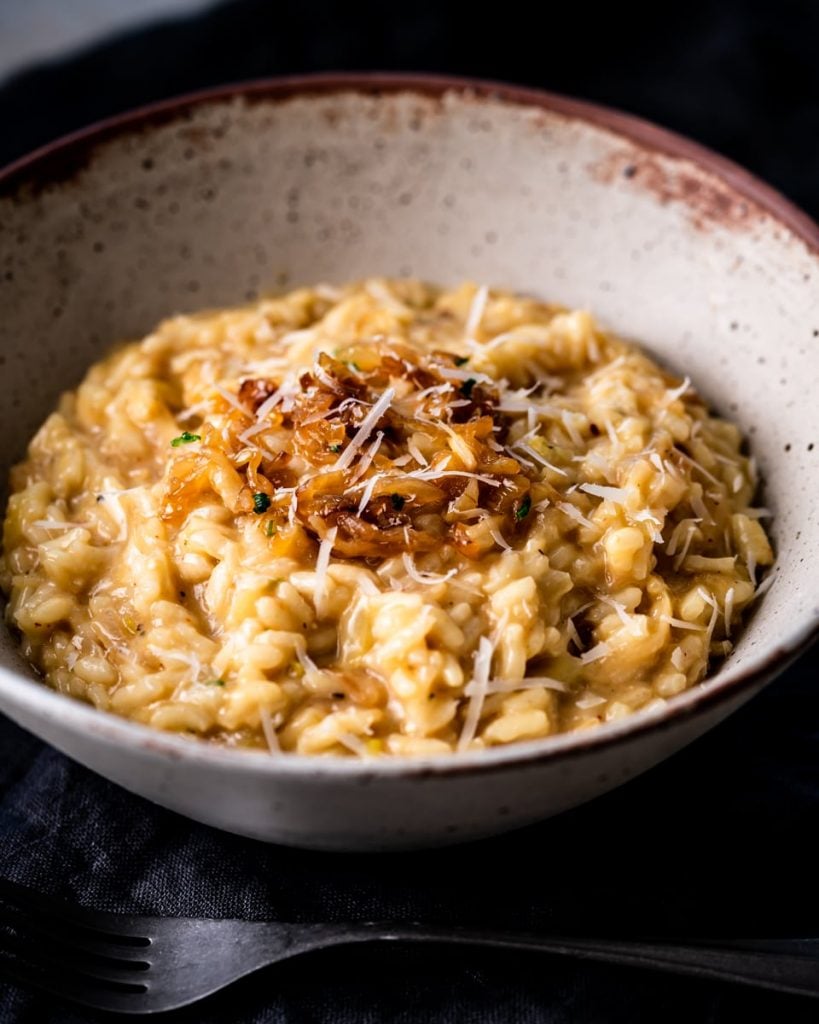 Satisfyingly silky vegan caramelised onion risotto. Glossy texture with perfect bite and a deep, rich flavour like you wouldn't believe!
---
OK, OK, this vegan caramelised onion risotto may not be my usual degree of vegan wizardry - I'm not making bacon out of radish or goats cheese out of chickpeas - but I GUARANTEE you need to try this recipe!
Here's the backstory: I WANTED SOME DAMN RISOTTO! Perhaps I dreamt about it last night or perhaps it's just been way too long, but some creamy, silky rice was calling my name from the minute I woke up today.
But guess what: I had basically no ingredients. No peas or courgettes or even mushrooms. Just onions and garlic. AND THEN IT STRUCK ME!
VEGAN CARAMELISED ONION RISOTTO!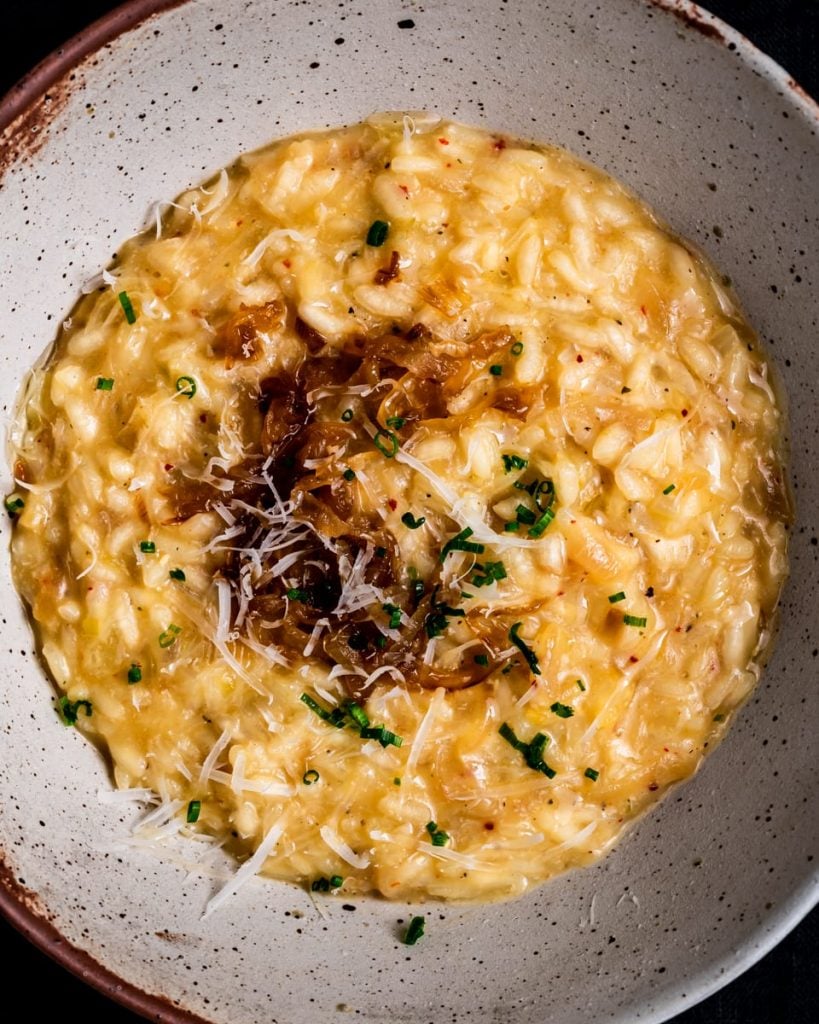 Having bare cupboards and a spookily empty fridge is sometimes all it takes to get your creative juices flowing (ew don't say "juices"). Somewhere in the depths of my memory banks I have stored the information that I've done this before, except with pasta, and it was FRICKIN DELISH.
So WHY wouldn't it work with risotto?? EXACTLY! NO REASON! It's a NO BRAINER!
What's so good about vegan caramelised onion risotto
LOADS of things! Don't you trust me?? How long have we known eachother!? Hasn't anyone ever told you that trust is the key to a happy relationship?? No, me neither, which is why I'm going to back my feelings up with HARD EVIDENCE:
Exhibit a: This recipe uses BASICALLY EXCLUSIVELY store cupboard ingredients. This means it can be ready to go in a flash. No panicked trips to the grocery with your hair still in curlers wearing one flip flop and one wellington boot because you got half-way through the recipe and realised you don't have half the ingredients. YOU'VE PROBABLY GOT THEM ALL ALREADY! So don't fret!
Exhibit b: This recipe is an absolute sweet-ass love song to the onion. So often such a perfunctory ingredient, thrown in and fried in a rush. Onions, IMO, deserve MUCH better! This recipe puts onions as the star of the show and BY GOSH that b*tch can sing!
How do I make vegan caramelised onion risotto??
As always, the recipe is at the bottom of this page. But guess what? Mama School-Night still gotta pay the mortgage, which means I'm going to explain the whole process AGAIN right here, to make room for some delicious, glossy ads. Hey, don't hate the player - hate the game!
But seriously, there are some useful tid bits below, so don't skip the next few steps unless you've just stumbled out of a jungle and need to eat a risotto in the next few seconds or risk death!
1. Caramelise them onions!
Clue's in the name my dudes - we gotta caramelise some onions to make VEGAN CARAMELISED ONION RISOTTO! So let's get crackin. I find a blend of light olive oil and vegan butter works best in the pan, and keep those onions nice and large-ly sliced.
The onions will lose a lot of size once caramelised, so don't be afraid to keep things chunky. Also remember that it's very easy to burn onions instead of caramelising them. Take it low and slow and use a splash of water to stop them catching if necessary.
2. Start the risotto
I like to give my risotto rice a light toasting with some onions and garlic before I add any liquid to the pan. I find this makes the whole flavour much more nutty and rich. Chuck your rice into the pan with the onion and garlic and give it a little heat. You're not looking for the rice to pick up any colour, but you may smell some delicious smells before adding your stock.
Oh and another thing - always make sure you're adding boiling hot stock/broth to your rice when making risotto. Anything less than boiling will reduce the temperature of the rice while cooking and slow the whole process down. I even find it impacts the final texture. So don't say I didn't warn you.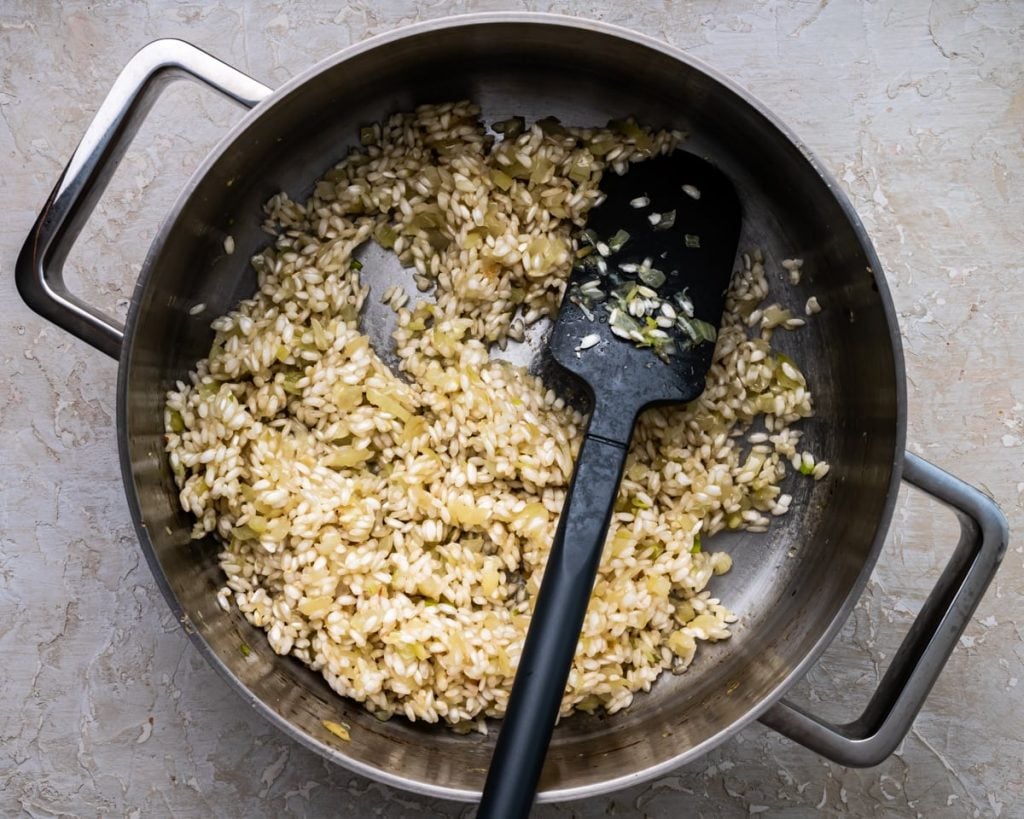 3. Add the caramelised onions
Here's where things get TASTY! Once your risotto is essentially cooked (al dente obvs) you're going to stir through your caramelised onions. This will change the flavour and colour of the risotto significantly. You're going to want to shovel it into your face at this point - but hang tight - there's a little more to do yet!
At this stage, make sure you season the risotto with salt and pepper and some nice red chilli flakes for PIQUANCY (which happens to be my favourite word).
4. Add the "cheesy sauce"
OK cheesy sauce is a weird way of putting this blend of soy milk, nooch, lemon juice and tapioca starch - but hear me out. In my opinion, vegan risottos usually suck because they lack glossy emulsification, a gentle tang and that rich nuttiness - all three of which come from cheese traditionally.
Instead of adding cheese, however, we're going to add this weird cheesy sauce mixture! The soy milk and tapioca starch will emulsify everything and make your sauce creamy, glossy and even a little mozzarella-ey. The nooch will add that cheesy, nuttiness you're looking for while the lemon juice will just lift the flavours slightly with a gentle ZING.
And that's basically it!! I like to top my risotto with some extra caramelised onions, some chives and some violife parmesan. (not sponsored, I'm just a crazy fan).
Need some more vegan Italian recipes?!
Then you came to the right place! Why not give these bad boys a try!?
Ricotta Stuffed Vegan Pasta Shells with Chive Pesto
Vegan Caramelised Onion Risotto
Satisfyingly silky vegan caramelised onion risotto. Glossy texture with perfect bite and a deep, rich flavour like you wouldn't believe!
Ingredients
3

onions

((medium and white))

1

l

vegetable stock

((or vegan bouillon))

30

g

vegan butter

2

tablespoon

olive oil

3

cloves

garlic

((peeled and crushed))

220

g

risotto rice

((I used arborio))

¼

teaspoon

red pepper flakes

70

ml

soy milk

1

tablespoon

tapioca starch

2

tablespoon

nutritional yeast

1

teaspoon

lemon juice

flaky salt and crushed black pepper

small bunch chives

1

teaspoon

vegan parmesan

(for topping)
Instructions
Peel the onions. Slice one of them finely and set aside. Slice the other two onions in half and then into thin crescents. Set aside but keep separate from the finely chopped onion. 

In a wide, heavy-bottomed saucepan, add the vegan butter and 1 tablespoon light olive oil and place over medium heat. Add the onion crescents and reduce heat to medium low. Fry the onions for around 10-15 minutes, adding a pinch of salt half way through and stirring occasionally. You need to let the onions brown but don't let them burn or dry out. If you notice the onions drying out, add a few tablespoon water to the pan and lower the heat slightly. Cook the onions until they're golden brown and sweet smelling. 

Once the onions are caramelised, transfer them from the pan to a small plate and set aside. 

Place the sautée pan back over medium heat and add the remaining 1 tablespoon olive oil and bring to temperature. Add the finely chopped onion and fry lightly for a minute or until soft - don't let the onions brown. Add the garlic and fry for a further few minutes, adding a splash of water if necessary. 

While the onion and garlic fry, place a medium saucepan over medium heat and add the vegetable stock. Bring to a simmer and then reduce the heat to low. 

Add the risotto rice to the frying onions and garlic. Gently cook the rice with the onions for a minute or so, stirring often. Using a large ladle, add just enough of the vegetable stock to cover the rice. Stirring often, allow the rice to cook until the stock is almost completely absorbed.

Repeat the process, adding just enough of the hot stock to cover the rice before allowing it to cook off and absorb gradually.

While the risotto cooks, place the soy milk, tapioca starch, nutritional yeast and lemon juice into a clean jar and shake well. Set aside.

Once all the stock is added, test the rice. It should be al dente, but shouldn't leave a floury or grainy mouthfeel. Season the risotto with the sea salt and pepper as needed, followed by the chilli flakes. Add the caramelised onions and stir well to combine.

Reduce the heat to low before adding the tapioca starch mixture. Stir well until the risotto is smooth and creamy. Remove from the heat and serve with a sprinkle of chives and your favourite vegan parmesan.
Nutrition
Serving:
1
grams
Calories:
507
kcal
Carbohydrates:
79
g
Protein:
9
g
Fat:
17
g
Saturated Fat:
3
g
Sodium:
1418
mg
Fiber:
5
g
Sugar:
8
g
Love this recipe?
Let me know on Instagram!