Publised on 05/09/2019 by Richard. Last Updated on 13/11/2022 by Richard.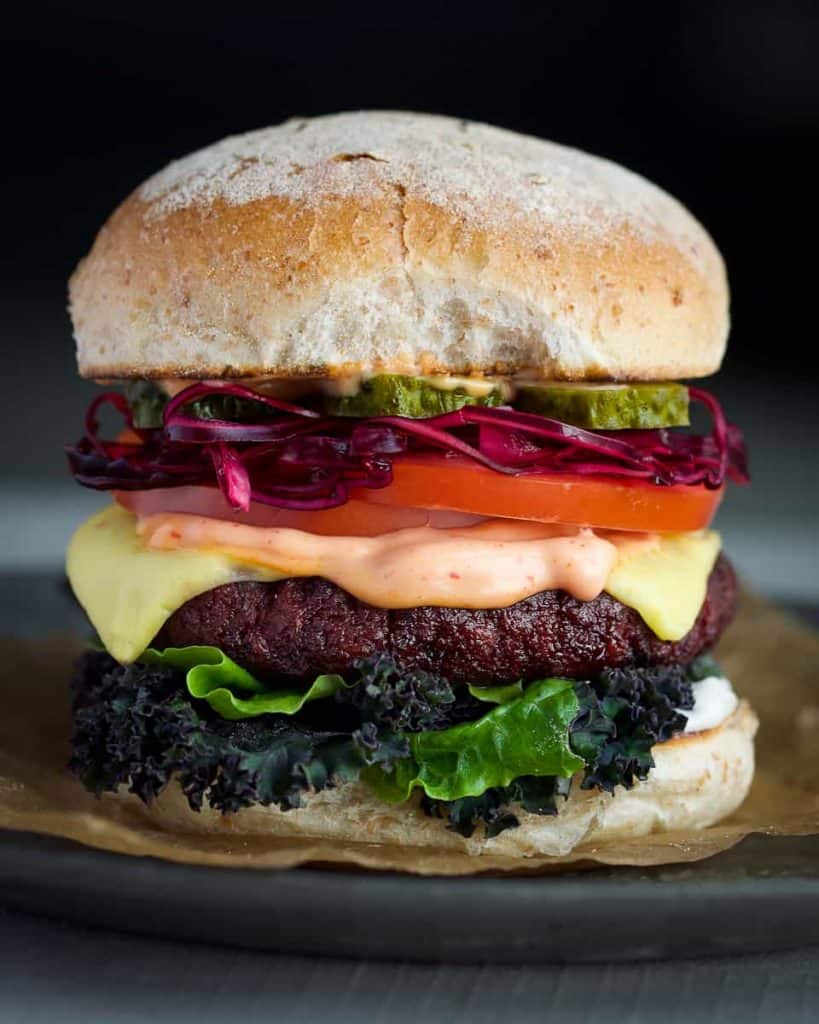 My classic vegan burger recipe! Super high protein and packed with flavour! Super convincing texture thanks to wheat gluten and soy with beetroot for colour!
---
Let's talk about, my gosh-darn classic vegan burger recipe. It's an ABSOLUTE classic at my house ever since I developed this recipe and I reckon you'll find the same happens in your house!
They have a beautifully tender, meaty texture. A deep, complex flavour profile and a satisfyingly meaty colour which actually changes as you cook them! Here's why they're so awesome:
Magic Ingredients!
Sure, they look FRICKIN gorgina but let's talk about what goes into making this vegan burger recipe absolutely next level!
For Texture!
Soya Mince

- Also known as TVP (or "textured vegetable protein") this stuff makes up the body of the burger.

It's essentially dehydrated isolated plant protein sourced from soya beans and it comes in all shapes and sizes. For this recipe we're gonna use soya mince (which some people call "grounds").

It needs to be cooked before it's used but it gives a super meaty, bouncy texture to this classic vegan burger recipe. It's completely vegan and soaks up flavour like you wouldn't believe.

You can grab soya mince here!  
Vital Wheat Gluten

- You'll have probably come across this stuff before if you've made my

meatball soup

.

It's super common in vegan meat substitutes because of its texture. Once kneaded and cooked (in this case steamed) it provides a super meaty texture. It also helps hold together the burgers.

You can

grab vital wheat gluten on amazon

!
For Flavour!
Brown Rice Miso

and

Marmite

- For me, a successful vegan burger has to have a super bold umami flavour. Both miso and marmite have that ideal sweet/salty vibe which really helps to make these guys taste a little more meaty.

Marmite, which any US readers might be unfamiliar with, is a yeast extract with a strong, sharp salty umami flavour. In my house we put it on toast, popcorn, roast potatoes!

You can grab

marmite

and

brown rice miso

on amazon!
Bisto Gravy Granules

- Another VERY British ingredient. This stuff is legendary among most vegan/vegetarian households. It's an instant gravy powder (just add boiling water).

It tastes so meaty that most UK homes have been using for years without realising that it's completely plant-based! SNEAKY SNEAKY! When added to this classic vegan burger recipe, it helps to bind the ingredients together at the same time as adding a seriously meaty punch!

You can grab Bisto gravy granules here.
For Mouthfeel and Beauty!
Vegetable Suet

- Yep, sounds kinda dodgy, but this stuff is ESSENTIAL for keeping these burgers moist and juicy without being greasy.

Vegetable suet is used in all sorts of recipes where a solid fat source is required - cobblers, steamed puddings, shortcrust pastry! It works here because it ensures that there's fat evenly distributed throughout the patty, giving it a much more tender mouth feel. It also makes the patties look super convincingly meaty!

You can

grab it here

!
The Glaze - This stuff is like a mega simple BBQ sauce which is super thin (no ketchup) so it really soaks into the burger and adds a smokey punch.

I keep this stuff in the fridge because it's perfect for glazing any vegan meat substitute - tempeh, tofu, you name it! The liquid smoke is key here, so don't skip it. 
Totally worth the effort!
OK, this might be a classic vegan burger recipe for those with a bit of spare time and a real taste for burgers! The process is quite lengthy, so here's a quick breakdown for you!
Prepping the Mince
First you're going to need to cook your soya mince. This stuff is magical but not when it's raw - it'll break your teeth it's so crunchy, so let's make sure it's fully hydrated first yeah??
All you need to do is boil it in water for around 10 minutes until it's nice and soft. Be careful not to let your water boil off or get soaked right up - this stuff really drinks up moisture so keep an eye on the pan.
Once your soya mince is cooked, you'll need to squeeze out some of the excess water before mixing in your extra ingredients. The beetroot will change the colour of the mixture and it'll suddenly start looking super meaty!
I Like to blitz my extra ingredients before they go in, but you can easily just chop everything up finely and it'll be just as tasty!
Kneading and Steaming
Next up you'll add your wheat gluten and give everything a good knead. This helps to bring everything together into a decent textured vegan burger mix! It should also be smelling pretty great by now!
Once everything just about holds together you'll need to divide your burger mix into 8 patties and wrap them in greaseproof paper before steaming them for a good hour and 20 minutes. Once the patties are steamed it's a good idea to test the texture. They should hold together well but still be nice and soft - not too firm.
Cooling and Grilling
At this stage you should let your burgers cool slightly, which will help to firm up their texture a little. You can now store them in the fridge or even in the freezer until you need to grill or fry them.
When you're ready to grill/fry, mix up your glaze ingredients and grab a pastry brush. While the burgers are cooking, baste them with the glaze for that extra kick of smokiness! Flip and cook on the second side and you're all set to stick them in a bun and eat!
Classic Vegan Burger Sides?
You're gonna need some classic vegan sides to go with this classic vegan burger recipe, right? Why not whip up some:
Disclosure: some of the links above are affiliate links, meaning at no additional cost to you, I may earn commission when you click through and make a purchase.
Vegan Burger Recipe
My classic vegan burger recipe, made with soy mince and vital wheat gluten for a super high protein patty! Packed with flavour and spices to make sure these guys are the meatiest vegan burgers you'll come across!
Ingredients
125

g

soya mince

((sometimes labelled TVP mince))

1

cooked beetroot

((the kind in the vacuum packs))

1

tablespoon

soy sauce

½

tablespoon

brown rice miso

1

teaspoon

marmite

((or any other vegan yeast extract))

½

teaspoon

agave syrup

1

tablespoon

bisto gravy granules

¼

teaspoon

ground cumin

½

teaspoon

smoked paprika

3

cloves

garlic

((finely crushed))

60

g

vital wheat gluten

2

tablespoon

corn flour

2

tablespoon

water

2

tablespoon

vegetable suet

¼

teaspoon

fine sea salt

pinch

black pepper

3

tablespoon

beetroot juice

((from vacuum packet of beetroot))

2

tablespoon

dark soy sauce

1

tablespoon

Chinese black vinegar

1

tablespoon

liquid smoke
Instructions
Bring a medium pot of water to the boil. With the pan over medium heat, boil the soya mince for 10 minutes. Once boiled and softened, pour the soya mince through a sieve and place the sieve back over the pan. Allow the excess water to drip into the pan while you prepare the rest of the ingredients.

Place the beetroot, soy sauce, miso, agave, gravy granules, cumin, paprika and garlic in a blender. Blitz but don't puree - it doesn't need to be smooth.

Pour the blitzed beetroot mixture into a medium bowl (or the bowl of a stand mixer) and add the rehydrated soya mince. Mix together until completely combined.

Add the wheat gluten and mix well. Mix together the water and the cornflour and add to the mix. If using a stand mixer, fit the dough hook and leave to knead for around 5 minutes on a low speed. If mixing by hand, tip the burger mix out and knead on the counter.

Add the vegetable suet and the salt and pepper. Knead again briefly to combine.

Separate the burger mix into 8 balls and flatten into burger patties with your hands.

Turn on a steamer or set up a bamboo steamer over a pot of boiling water. Wrap each patty with greaseproof paper and place seam-side down in the steamer. Allow to steam for 1.5 hours, being sure to flip the patties half way through.

Once steamed, leave the burgers to cool for ten minutes while you prepare your buns and burger toppings.

In a small bowl, mix together the beetroot juice, dark soy sauce, Chinese black vinegar and liquid smoke. This is your glaze.

Fry up your burgers in a hot frying pan (no oil necessary) for around a minute each side. Using a pastry brush, glaze each burger as it fries. Once flipped, glaze the other side too.

Serve your burgers however you like - I do mine with a simple slaw, some lettuce, vegan mayo, my fave vegan cheese and a bunch of gherkins.
Nutrition
Serving:
1
grams
Calories:
92
kcal
Carbohydrates:
5
g
Protein:
9
g
Fat:
4
g
Saturated Fat:
3
g
Cholesterol:
1
mg
Sodium:
478
mg
Fiber:
1
g
Sugar:
1
g
Love this recipe?
Let me know on Instagram!