Publised on 07/12/2022 by Richard. Last Updated on 19/09/2023 by Richard.
Perfect vegan blinis for canapés! The easiest vegan party food, ready to stack with your favourite toppings!
You know it's party season when then VEGAN BLINIS come out! These ones are light, fluffy and ready for stacking with all your favourite toppings! I've stacked these bad boys with my vegan smoked salmon, some vegan cream cheese and some delicious capers! Oh and don't forget the dill!
Blinis are essentially just tiny pancakes, designed to be vessels for transporting party-food delicacies directly into your mouth. They usually contain eggs and dairy, but not these ones!
Jump to:
🧈 Vegan Blinis Ingredients
Again, vegan blinis are essentially just tiny pancakes, so it's pretty basic on the ingredients front! Here's everything you'll need to get cracking!
Plain white flour (aka all purpose flour)
Bicarbonate of soda (aka baking soda)
Baking powder
Fine sea salt
Soy milk
Caster sugar (aka superfine sugar)
Lemon juice
Vegetable oil for frying
As always, don't panic! The amounts are all listed in full at the bottom of the page in the recipe card. Aaaand breathe...1...2...3! Ready to get down to the best vegan party food around? Let's go!
🥣 Method
OK look, this is PAINFULLY easy, so these four steps to make vegan blinis are going to be slightly drawn out, to say the least! But as we all know by now, the almighty google algorithm HATES it when bloggers keep things brief, so I'm gonna break this down as though it were the first time you've seen a frying pan.
1. Make the batter! First we're going to whisk together our ingredients to make the blini batter. It should be slightly more runny than a regular "thick" American-style pancake batter. Set aside and get your frying pan on the heat. In fact, if you can let the batter rest for 30 minutes at room temp, you should!
2. Fry the first side! Drop small amounts of the batter onto the pan, evenly spaced apart. I like to use a teaspoon measure for this, but feel free to use a tablespoon if you want them a bit bigger. Fry until bubbles start appearing on the surface and the edges of the blinis are no longer shiny and raw.
3. Flip the blinis! Time for side two! You know the score! It should be around 2 mins of frying on each side, but just judge it on brownness. Depending on the heat and pan you use it could be longer or shorter.
4. Load them up! A vegan blini is nothing without the vegan party food loaded on top. I've put some ideas in the sections below, but feel free to just keep it simple! Vegan cream cheese and herbs works great!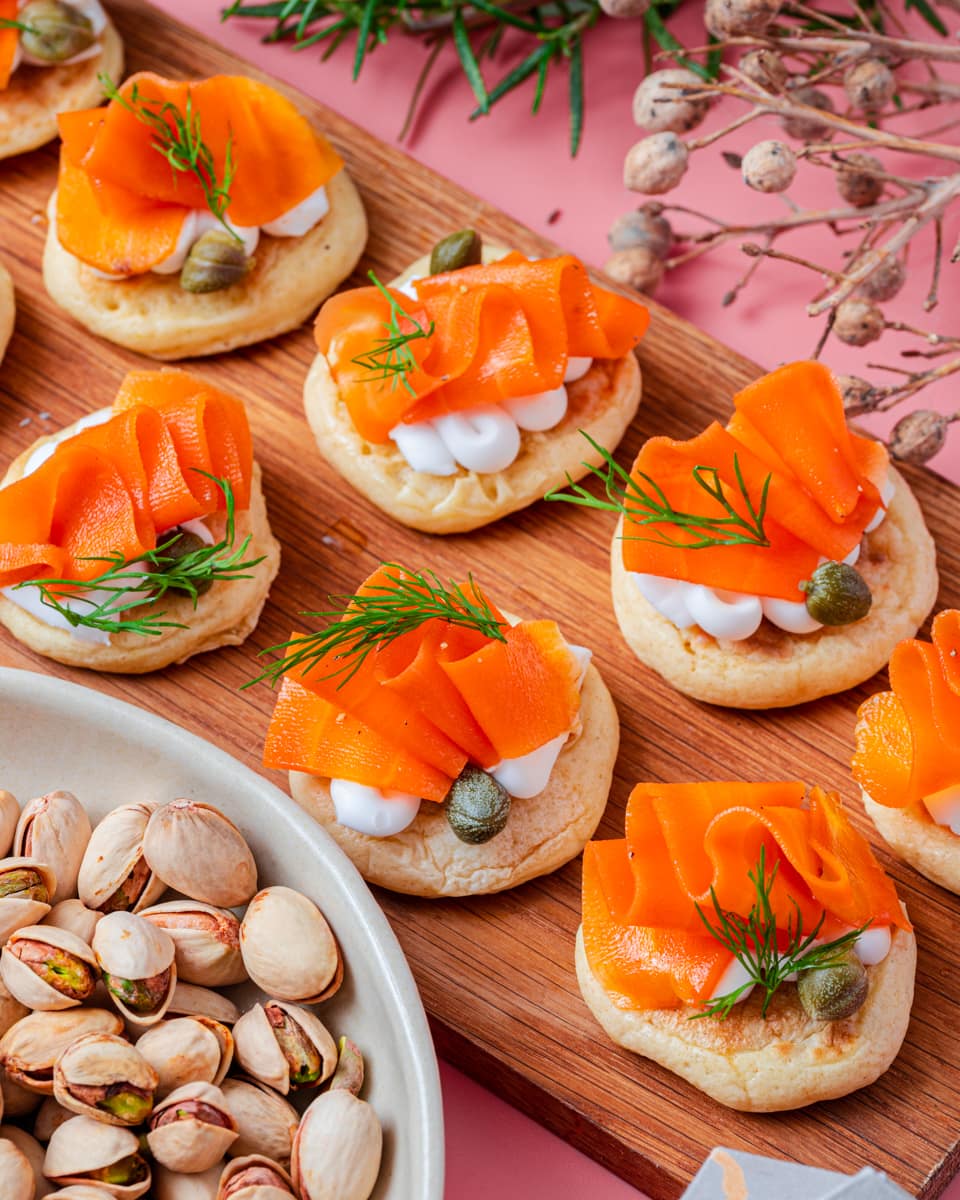 🧞‍♂️ Hint
As mentioned above, like pancakes, vegan blini batter does really well after being rested. It allows the gluten to relax after you whisked the batter together. So if you're not in a rush to get your vegan party food on the table, I'd advise leaving the batter on the counter for half an hour, covered with a plate or tea-towel.
🔄 Variations
Let's talk about making these vegan blinis suitable for ALL! What good is party food that can only be consumed by the select few!
Gluten Free Vegan Blinis - This recipe can be made with a 1-to-1 gluten free flour replacement like this one from Freee or this one from Bob's Red Mill. No need to alter the batter at all. Just a simple swap!
Soy Free Vegan Blinis - I always list soy milk as my preferred milk in recipes because I find it has the best balance of fat and minimal flavour. However, please feel free to replace the soy milk in this recipe for any other plant milk.
Sugar Free Vegan Blinis - There's only a touch of sugar in this recipe, which means it can easily be swapped for an unrefined variety ( like coconut sugar) or an alternative sweetener like Stevia. I find that removing the sugar means the blinis don't brown as much, but they'll still be delicious.
Let me know via instagram if you decide to make any swaps or subs. I always love to hear how you get on! I'm like your foodie gay uncle who just wants to know that you're having a good time! Keep me updated daaarlin!
🥞 Toppings for Vegan Blinis
So you're stood there, marvelling at your tray of perfectly browned, deliciously soft vegan blinis and you're thinking "But what do I load them up with??" and suddenly I'm there, right next to you, with a tray of delicious vegan options. Yes I'm technically a home intruder but I come bearing gifts! Don't you love gifts??
Vegan Smoked Salmon - Sure, it's the obvs choice, but when it comes to vegan party food, EVERYONE loves this stuff! It's also kinder to your party guests this way, because they don't have to touch anything messy! Pick up the blini and BAM, straight in the mouth.
Vegan Cream Cheese - We've all got our fave brands, but mine is Violife. It has a super smooth texture and a tangy, creamy flavour. Ideal for both sweet AND savoury options too!
Vegan Nutella - Yep! Blinis can be sweet OR savoury! Stack with a blob of vegan nutella (I love Vego spread) and some fresh fruit! Ideal for a vegan breakfast party!
Vegan Sour Cream - The ideal topping for a luxuriously creamy and tangy bite! Sprinkle with herbs or some caramelised onions to finish off!
🔪 Equipment
These guys couldn't be easier to make, so obvs the equipment needed is minimal! Here's the full list of everything you'll need!
1 Medium Bowl
1 Whisk
1 Medium Frying Pan
🤷‍♀️ Vegan Blinis FAQs
Q: Are blinis vegan?
A: Usually, no. Blinis are traditionally a type of Russian pancake made with yeast and buckwheat flour as well as milk and eggs. Most modern recipes use plain white flour and baking powder instead of yeast but still use dairy and eggs. This recipe is fully vegan and ideal for a vegan party!
Q: Are blinis served hot or cold?
A: Blinis are usually served warm but since they're a favourite for party food, they can be served at room temperature too.
Q: How do I store blinis?
A: Blinis are best stored in an airtight container in the fridge. They'll last around a week this way.
Vegan Blinis
Perfect vegan blinis for canapés! The easiest vegan party food, ready to stack with your favourite toppings!
Equipment
1 Medium Bowl

1 Whisk

1 Medium Frying Pan
Ingredients
120

g

plain white flour

(aka all purpose flour)

¼

teaspoon

bicarbonate of soda

(aka baking soda)

1

teaspoon

baking powder

½

teaspoon

fine sea salt

200

ml

soy milk

2

teaspoon

caster sugar

(aka superfine sugar)

½

teaspoon

lemon juice

vegetable oil for frying
Instructions
In a medium bowl, whisk together the plain white flour, bicarbonate of soda, baking powder, fine sea salt, soy milk, caster sugar and lemon juice until smooth. Set aside.

120 g plain white flour,

¼ teaspoon bicarbonate of soda,

1 teaspoon baking powder,

½ teaspoon fine sea salt,

200 ml soy milk,

2 teaspoon caster sugar,

½ teaspoon lemon juice

Place a large frying pan over medium heat and brush with a little oil. Drop teaspoon sized scoops of batter into the pan, spacing them apart by about 1 cm.

Fry for 2 mins on each side then remove from the pan and allow to cool. Repeat until all the batter has been used up.

Store in a sealed container in the fridge for up to 3 days.
Nutrition
Calories:
14
kcal
Carbohydrates:
3
g
Protein:
0.5
g
Fat:
0.1
g
Saturated Fat:
0.01
g
Polyunsaturated Fat:
0.1
g
Monounsaturated Fat:
0.02
g
Sodium:
39
mg
Potassium:
20
mg
Fiber:
0.1
g
Sugar:
0.3
g
Vitamin A:
20
IU
Vitamin C:
0.4
mg
Calcium:
12
mg
Iron:
0.2
mg
Love this recipe?
Let me know on Instagram!