Perfect vegan apple pie with super flaky caramelised vegan pie crust and a gently spiced apple filling.
We're DEEP into vegan apple pie season and all I can think about is sharing this flaky delicious apple monster with you! So here, take this mug of steaming mulled apple cider from my hand and GET INSIDE! It's time for a slice of something golden and gently spiced by the fire (which is actually just my TV playing a looped fireplace video on youtube)!
This vegan apple pie is special because it comes with a two new sets of skills. 1. you'll learn how to make the FLAKIEST pie crust ever without ANY animal products and 2. you'll learn how to pack more apples into your apple pie than EVER before without messing with baking times!
Jump to:
🧈 Vegan Apple Pie Ingredients
This is the third sweet pie I've posted in the last two months. We've got our classic pumpkin pie, perfect for early fall. We've got our vegan pecan pie, crunchy and caramelised in all the right places. And now we've got this vegan apple pie, which is such a classic waiting to happen!
Here's everything you need to make my vegan apple pie
As always, the full recipe is at the bottom of the page, so check there for quantities. I've also made some hints about how to substitute and change up these ingredients in the "Substitutions" section below!
For the Vegan Apple Pie Filling
Baking apples
Half a lemon
Light brown sugar
Granulated sugar
Plain white flour
Ground cinnamon
Ground nutmeg
Vanilla extract
For the Super Flaky Vegan Pie Crust
Plain white flour (aka all-purpose flour)
Caster sugar (aka superfine sugar)
Vegan butter (block type, fridge-cold)
Vodka (or white vinegar, ice cold)
Soy milk (or any plant milk)
Demerara sugar
🥣 Method
There's nothing like the smell of vegan apple pie wafting through the house in the lead-up to thanksgiving, or even just slap bang in the middle of autumn. I'm hoping you'll find the method of actually MAKING this pie just as enjoyable as the eating part. Here's how to do it:
1. Prepare the filling! I tried a bunch of vegan apple pie recipes before making this one and pre-cooking your pie filling is a must. You don't want to cook everything to a mush but if you use raw apples you'll notice they lose a lot of volume as they cook and your pie will appear sunken and sad.
2. Make the pastry! This pie involves a very special vegan pastry which is inspired by laminated croissant dough, but WAY easier to make. it flakes and puffs into layers lightly while baking, meaning this pastry is half-way between puff pastry and shortcrust. MMM delicate!
3. Fill and seal the pie! This vegan apple pie has a double crust, meaning it's got pastry on the top and the bottom. I love doing a lattice top (the method I use is here) but you can also just roll your pastry into a circle and top with a full layer. Just be sure to make steam holes!
4. Bake away! Because we pre-baked our pie filling, you'll see this pie doesn't take quite as long as others. You will need to pre-heat a baking tray as well as the oven to ensure the bottom of the pie bakes.
Hint!
I'd highly recommend using a crust protector (or a folded layer of tin foil) to stop over-browning on the edges of the pastry. Bake the pie until it's starting to brown (around 15 mins) then remove from the oven, lower the temperature and cover the crusts. PERFECT golden brown all over!
🔄 Subs and swaps
Here's how to make this vegan apple pie suit your diet, whatever your requirements!
Gluten free - Just swap the flour for a gluten free blend. Freee or Bob's Red Mill are my favourite brands, but definitely stick to one you know and love.
Vegan Butter - Don't fancy using vegan butter? Or perhaps you can't get hold of it? Try using coconut oil instead - deodorised works best if you can find it.
Alcohol free - I use vodka in my pastry because it evaporates more easily than water when heated and helps provide super flaky layers. If you're not into using alcohol, just swap for white vinegar instead!
Let me know if you make this recipe in the comments on instagram, particularly if you make a sub or a swap! It's super useful for me!
🍪 Vegan Apple Pie Variations
There's a reason why apple pie is a favourite around the world - it's simple and delicious! If you want to take things up a level though, why not try some of these ideas!
Apple and Blackberry Pie! - Apple pairs beautifully with blackberries or any other tart fruit. Try combining your fruit with some pitted sour cherries or even a handful of raisins soaked in calvados or rum!
Caramel apple pie! - Why not make a batch of my vegan caramel sauce and stir this through your apples once cooked? A good pinch of sea salt will also help things really pop!
Apple crumble pie?! - Lover of an apple crumble? Why not combine the two! Halve the pastry quantities for this recipe and use my crumble topping for the top layer of the pie!
And hey, if this vegan apple pie isn't for you, don't worry! You can give my pumpkin pie a go instead! It's creamy and so delicious! Prefer a crunch pie? Go for my vegan pecan pie instead! Want something a little more christmassy? Why not whip up a batch of vegan mince pies!?
🔪 Equipment
Get that kitchen ready to bake! Here's all the bits and bobs you'll need in order to make this vegan apple pie a reality!
1 x large saucepan with lid
1 x baking tray
1 x large bowl
knives or a pastry cutter
1 x measuring jug
1 x spatula
1 x rolling pin
1 x oven
1 x 9-inch (23-cm) pie tin
💅 Bonus Tip!
Vegan apple pies (and apple pies in general) can be notoriously difficult to slice. Be sure to allow your pie to cool fully before taking a knife to it, otherwise the filling will still be hot inside and is likely to leak out all over the plate! I know, I know, but patience is a virtue! And that's why pies are always cooling on random window-sills in cartoons I guess!
🤷‍♀️ Vegan Apple Pie FAQs
Q: Are apple pies vegan?
A: Most apple pies contain butter, milk and sometimes eggs, so are therefore not vegan. This recipe however is completely vegan since it uses vegan alternatives for butter and milk and avoids eggs altogether.
Q: What's in vegan pastry?
A: Vegan pastry can be made using vegan butter or vegan margarine or even coconut oil in place of dairy butter. All the remaining ingredients (flour, sugar, water) are vegan.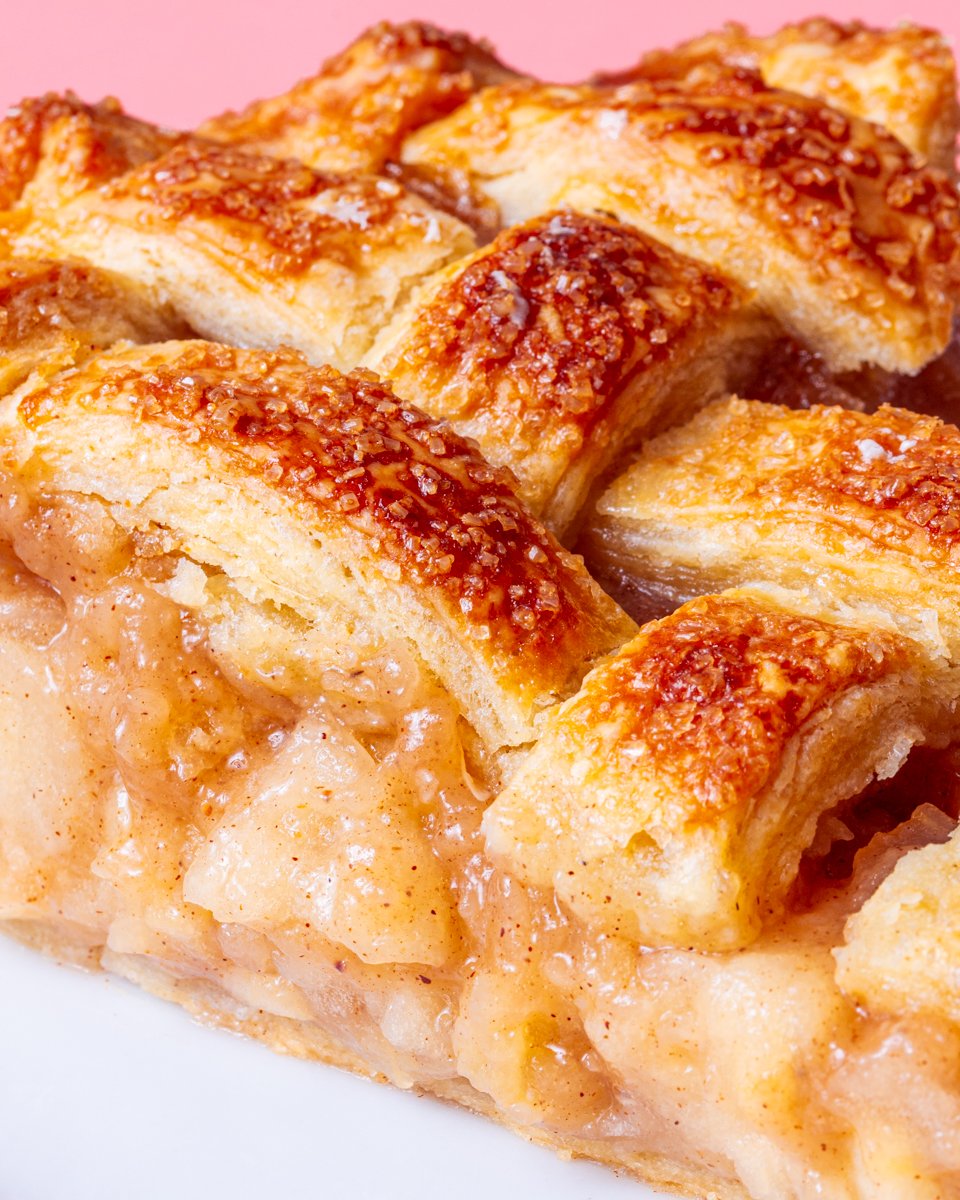 Vegan Apple Pie
Perfect vegan apple pie with super flaky caramelised vegan pie crust and a gently spiced apple filling.
Equipment
1 x large saucepan with lid

1 x baking tray

1 x large bowl

knives or a pastry cutter

1 x measuring jug

1 x spatula

1 x rolling pin

1 x oven

1 x 9-inch (23-cm) pie tin
Ingredients
Super Flaky Vegan Pie Crust
360

g

plain white flour

(aka all-purpose flour)

1

tablespoon

caster sugar

(aka superfine sugar)

1

teaspoon

fine sea salt

250

g

vegan butter

(block type, fridge-cold)

2

tablespoon

vodka

(or white vinegar, ice cold)

100

ml

water

(ice cold)

2

tablespoon

soy milk

(or any plant milk)

2

tablespoon

demerara sugar
For the Vegan Apple Pie Filling
2

kg

baking apples

juice and zest of half a lemon

190

g

light brown sugar

150

g

granulated sugar

5

tablespoon

plain white flour

pinch

flaky sea salt

1

teaspoon

ground cinnamon

¼

teaspoon

ground nutmeg

1

teaspoon

vanilla extract
Instructions
To Make the Vegan Apple Pie Filling
Peel and core the apples, then slice into ½ cm pieces. Add straight to a large saucepan and add the lemon juice and zest. Stir well to stop the apples from browning but be careful not to break them up.

2 kg baking apples,

juice and zest of half a lemon

Add the sugars, flour, salt, spices and vanilla and stir gently again until coated. Place the pan over a low heat and cover with a lid. Cook for 20 minutes, stirring occasionally.

190 g light brown sugar,

150 g granulated sugar,

5 tablespoon plain white flour,

pinch flaky sea salt,

1 teaspoon ground cinnamon,

¼ teaspoon ground nutmeg,

1 teaspoon vanilla extract

Once the apples are softened but still have a little bite, remove the pan from the heat and spread the apples (and their juices) out on a baking tray to cool. Leave to cool completely to room temperature while you make the super flaky pie crust.
To Make the Super Flaky Pie Crust
In a large bowl, combine the plain white flour, caster sugar and fine sea salt. Chop the vegan butter into cubes and add to the bowl. Use two knives or a pastry cutter to chop the butter into the flour mixture until there are no pieces of butter larger than a cooked chickpea.

360 g plain white flour,

1 tablespoon caster sugar,

1 teaspoon fine sea salt,

250 g vegan butter

In a measuring jug, mix together the vodka and ice cold water. Drizzle the liquid into the large bowl, mixing everything together at the same time with a spatula. Once the dough reaches a texture where it can be squeezed together into a slightly crumbly ball, stop adding the liquid. Divide the dough in two, press into a rough, flat disc, wrap in plastic wrap then place in the fridge to chill for at least 1 hour.

2 tablespoon vodka,

100 ml water

Once thoroughly chilled, unwrap one portion of the dough and transfer to a lightly floured counter. Dust the top with flour then roll out into a large, vertical rectangle, around ¼-inch (5-mm) thick. Fold in half lengthways like a book then fold the bottom half upwards to the middle and repeat with the top half. Gently roll out again into a rough, thick square of dough, then wrap again and return to the fridge to chill for 30 minutes. Repeat with the second portion of dough.

Preheat the oven to

220

°C

and place a thick-bottomed baking sheet in the oven to preheat also.

Once chilled, remove and unwrap one portion of dough again and transfer to a lightly floured counter. Roll out into a 12-inch (30-cm) circle of dough then drape over a 9-inch (23-cm) pie tin. Do not trim the excess pastry just yet. Roll out the second portion of dough into a roughly 9-inch (23-cm) circle to create the lid.

Transfer the vegan apple pie filling to the prepared tin then drape the rolled out pie top over it. Crimp the edges however you'd like and slice 4 holes in the centre of the lid to allow steam to be released. Alternatively, slice the lid into strips and arrange in a lattice configuration on top. Brush with the soy milk then sprinkle with the demerara sugar all over.

2 tablespoon soy milk,

2 tablespoon demerara sugar

Place the pie in the oven on the preheated baking sheet and bake for 15 minutes. Remove the pie from the oven and lower the oven temperature to

165

°C

. Cover the edges of the pastry with a pie crust protector or a doubled over layer of tin foil then return to the oven to bake for 40 minutes more.

Remove from the oven and allow the pie to cool to room temperature - this will take at least 2-3 hours, but is an essential step.

Once cooled, slice and serve with vegan vanilla ice cream.
Nutrition
Calories:
549
kcal
Carbohydrates:
95
g
Protein:
5
g
Fat:
17
g
Saturated Fat:
4
g
Polyunsaturated Fat:
5
g
Monounsaturated Fat:
7
g
Trans Fat:
0.1
g
Sodium:
404
mg
Potassium:
296
mg
Fiber:
6
g
Sugar:
58
g
Vitamin A:
1075
IU
Vitamin C:
9
mg
Calcium:
41
mg
Iron:
2
mg
Love this recipe?
Let me know on Instagram!