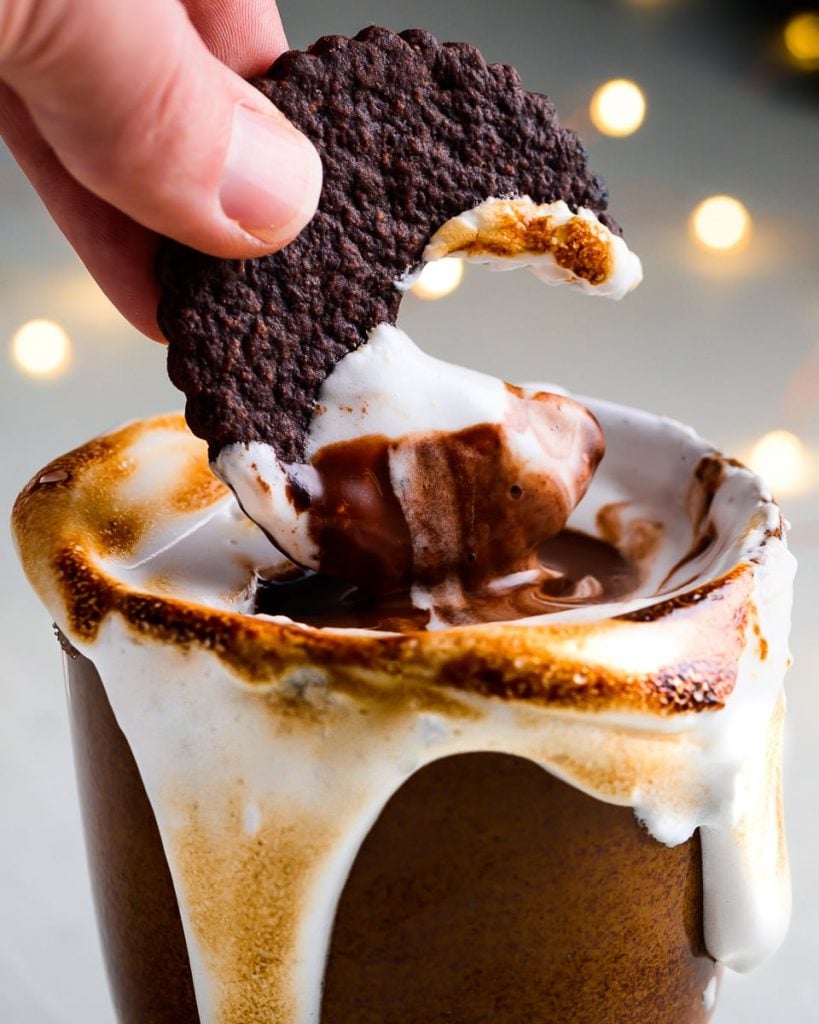 The most creamy, rich, bittersweet ultimate vegan hot chocolate. Served with toasted marshmallow fluff and a crisp, cocoa shortbread cookie.
---
"Holidayyyys are comin', hollllidayys are comin" and THAT's why you need the ULTIMATE VEGAN HOT CHOCOLATE. This is really a big one for me. I've needed this, honestly, for years. Why, oh why, have I been missing out on frickin' INSANELY good hot chocolate since I cut out animal products?? It's silly and downright foolish!
Needless to say I'm making up for lost time. No ordinary packet mix hot chocolate will do for me. I need:

- mega rich but pleasantly bittersweet hot chocolate
- the creamiest of mouthfeels
- some sort of marshmallow element (obvs toasted)
- a cookie for dunking. Preferably not too sweet.
(Did I manage it?? SPOILER ALERT: YEP! I DID)
How'd you do it?!
It was a challenge, I'll admit it. To create this ultimate vegan hot chocolate I needed to crack a few problems. I needed the creamiest, smoothest hot chocolate, to begin with. Italian meringue (aka marshmallow fluff) was also always going to be essential, BUT HOW!? Also a cookie for dunking which would be a part of the entire hot chocolate, rather than a separate element. Here's how it all works:
Oat milk hot chocolate - Oat milk really comes into its own in this recipe. It's around 3-4% fat so really gives that creamy mouthfeel. It also doesn't have that bitterness you can get from almond milk or soy milk. Obviously use whatever plant milk you can get hold of, but just make sure it's got a fat content around 3-4% if you can.
Aquafaba italian meringue - Where would we be without aquafaba! That bean soaking water you'd usually pour away from a can of unsalted chickpeas is the key to this marshmallow fluff! You'll see!
Gorgeous cocoa shortbread cookies - These guys are just the most perfect finish for the ultimate vegan hot chocolate. They're so crisp and buttery (even though they're made with coconut oil) and they're not too sweet or overpowering when dunked in the sweet hot chocolate!
How do I make the ULTIMATE vegan hot chocolate!?
Ok, it's not the same as pouring hot water over a powdered mix, but I promise it'll be worth it! There are a few steps, and it's wise to do them in the right order, so here are some tips.
As always, the full recipe is at the bottom of the page, so feel free to skip this section if you'e a big stinky know-it-all with defiance disorder who doesn't need telling what to do!
1. Start with the shortbread!
These guys take a while because the dough needs chilling before rolling out AND before baking. I like to make the shortbread in a food processor because:
a. it's much easier and quicker
b. you get a much finer crumb and gentle snap to the final cookie
c. you don't risk overworking the dough since you won't really be activating the gluten.  
Once your ingredients are all blended into a nice dough, wrap it up and chill it for a good 20 minutes before rolling out. I like to cut little notches out of my cookies so they slot onto the side of the hot chocolate mug. IT'S A DESIGN INNOVATION!!
Bake them for about 15 mins at 170c until crispy and light then let them cool completely. Now time to make the hot chocolate!
2. Make the hot chocolate!
This bit is easy and probably very similar to other hot chocolate you've made before. The one thing I'd REALLYYYY advise you do is make a cocoa liquor before even adding any plant milk.
In this instance, it just means bringing some water to the boil then adding your cocoa and whisking well. It means your hot chocolate will be suuuuper smooth and the cocoa will be fully cooked through, guaranteeing a deliciously rich flavour. 
3. Make the marshmallow fluff!
Marshmallow fluff is essentially just Italian meringue, but how do we make that without egg whites?? SIMPLE! We just use aquafaba. 
My one tip here is to make sure your aquafaba is SUPER chilled before using it. A good hour in the fridge should work. Oh, and make sure your bowl is SPOTLESSLY clean. I like to rub a slice of lemon around my bowl before whipping aquafaba because it ZAPS away any residual oils which will stop the aqafaba from reaching its full potenial.
It's also good to note that when you pour in the hot sugar syrup, the temperature of the meringue will rise dramatically. This makes the texture much looser and runnier. Don't be alarmed if this happens. Just put your meringue mix into the fridge for 10 minutes and then give it another good whip. It should be much stiffer after a while in time out. 
4. Assemble everything!
Get your finest, fancy ultimate hot chocolate mugs and divide the hot chocolate between them then top with the marshmallow fluff (either around the rim, or over the top of the hot chocolate).
I like to scorch my marshmallow topping so everything gets super toasty and warming. Use a chef's blowtorch to do this! Trust me, it's worth it!
Finally, slide one of those delicious cookies on the side of the mug and serve away! I like a little grating of nutmeg on top of my hot chocolate, but you do you!
And that's it! It really is super easy! You're gonna love this recipe so much I can feel it in my bones! Give it a go and let me know what you think over on my instagram. 
Need more chocolate recipes??
Then you came to the right place! Why not give these bad boys a try!?
Tahini and Dark Chocolate Refrigerator Pie
Vegan Double Chocolate Cookies
Ultimate Vegan Hot Chocolate
The most creamy, rich, bittersweet ultimate vegan hot chocolate. Served with toasted marshmallow fluff and a crisp, cocoa shortbread cookie.
Ingredients
For the Chocolate Shortbread Cookies
100

g

plain white flour

30

g

cocoa powder

3

tablespoon

light brown sugar

60

g

coconut oil

((deoderised or "refined" works best - make sure it's at room temperature in a solid state))

3-6

tablespoon

ice cold water
For the Hot Chocolate
3

tablespoon

cocoa powder

750

ml

plant milk

((make sure it's no less than 3% fat - I use oat milk))

170

g

vegan dark chocolate

4

tablespoon

light brown sugar
For the Marshmallow Rim
60

ml

aquafaba

((from a tin of chickpeas - chilled in the fridge for at least an hour))

¼

teaspoon

cream of tartar

100

g

caster sugar

60

ml

water
Instructions
To Make the Chocolate Shortbread Cookies
Place the flour, cocoa powder and light brown sugar in a food processor. Blend briefly to combine. 

Add the coconut oil to the food processor and blend until  the mixture looks even and sandy. 

With the mixer running on low, add the water one tablespoon at a time until a ball of dough forms (you may not need to add all the water, mine took 4 tbsp). 

Remove the dough from the food processor and pat into a rough rectangle. Wrap in reusable wrap and place in the fridge to chill for 30 minutes. 

Once chilled, remove the dough from the fridge and lightly flour a clean surface. Roll out the dough with a rolling pin to a large flat circle, around ½cm thick. 

Use a 7-9cm circular cookie cutter to cut out as many cookies as you can. Cut a 3cm notch out of the cookie to make sure it can slide onto the rim of your hot chocolate cup.

Transfer the cookies to a baking sheet lined with greaseproof paper and place them back in the fridge to chill for 30 minutes. Meanwhile, preheat the oven to 170c. 

Once chilled, bake the cookies at 170c for 15 mins. If the cookies lose their notch while baking, cut it out again while the cookies are still warm from the oven.

Allow to cool fully on a wire cooling rack.
To Make the Hot Chocolate
Place 175 ml water in a medium saucepan and bring to the boil. Whisk in the cocoa powder well until smooth. 

Immediately add the plant milk and bring the temperature back to a simmer (do not let it boil). 

Once simmering, add the chocolate, and sugar. Whisking constantly, allow to simmer until completely smooth and the chocolate is completely melted.

Remove from the heat and cover with a lid while you make the marshmallow rim.
To Make the Marshmallow Rim
Thoroughly clean the bowl of a stand mixer, fitted with the whisk attachment.

Place the aquafaba into the bowl and whip on medium speed until light and frothy. Stop the whisk, add the cream of tartar and continue whipping for around 10 minutes or until stiff peaks form. Stop the mixer.

Place the caster sugar and water in a saucepan and mix well until the sugar begins to dissolve and forms a paste. 

Place the saucepan over medium heat and bring the mixture to a simmer. Do not sit the mixture. 

Use a candy thermometer to bring the temperature of the sugar syrup to 115c.

Remove the syrup from the heat. Turn the stand mixer to a low speed and very carefully drizzle the sugar syrup into the whipped aquafaba, while the mixer runs.

Once fully incorporated, stop the mixer. If the marshmallow fluff appears too runny, place the mixing bowl in the fridge for 10-20 minutes to chill then whip again until more stiff. Transfer the marshmallow fluff to a piping bag fitted with the widest nozzle you have access to.
To Assemble
Divide the hot chocolate into mugs. Carefully pipe the marshmallow fluff around the rim of the mug or directly onto the top of the hot chocolate. (Optional) Use a chef's blowtorch to scorch the marshmallow topping lightly. Slot a shortbread cookie onto the side of the mug and serve.
Nutrition
Calories:
492
kcal
Carbohydrates:
68
g
Protein:
9
g
Fat:
23
g
Saturated Fat:
18
g
Cholesterol:
1
mg
Sodium:
100
mg
Potassium:
530
mg
Fiber:
5
g
Sugar:
43
g
Vitamin A:
491
IU
Vitamin C:
9
mg
Calcium:
285
mg
Iron:
3
mg
Love this recipe?
Let me know on Instagram!