Publised on 27/08/2019 by Richard. Last Updated on 13/11/2022 by Richard.
A mango chutney recipe to rival all others! Packed with spices and a mild kick of chilli, it's the perfect accompaniment for all curries or for dunking onion bhajis!
---
Mango Chutney: Queen of Condiments!
A quick mango chutney recipe? But isn't mango chutney just a condiment to grab at the supermarket? I mean, SURE! Grab that dusty jar of mango chutney from the top shelf if you like, but you'll never know the JOY which is THIS MANGO CHUTNEY. 
It's sweet but tangy, spiced but not too spicy and just such a perfect buddy for your tarka dal or your onion bhajis! At the moment I'm getting through about 2 jars a month, so I'm going to have to think up a way of stockpiling the stuff!
What makes it so good?
Here's five reasons why you should be making your own quick mango chutney rather than buying it:
It's cheaper! In the right season and from the right shop, mangos can be super cheap. If you're out of season or can't find any fresh mangos, use frozen! Most supermarkets keep them with the "smoothie blends" in the freezer aisle.
If you've bought mangos in bulk, making chutney is a way of making sure you use all your mango before it goes over-ripe. Economical!
You can control the spice and the sweetness! I love my chutney nice and sweet but with a good vinegary kick and a jab of chilli! You can tailor this recipe to suit your taste.
It's impressive - imagine whacking out a delicious jar of homemade chutney in front of your pals on curry night!
It's easy! Seriously, the process is very, very simple. AND QUICK! You'll see!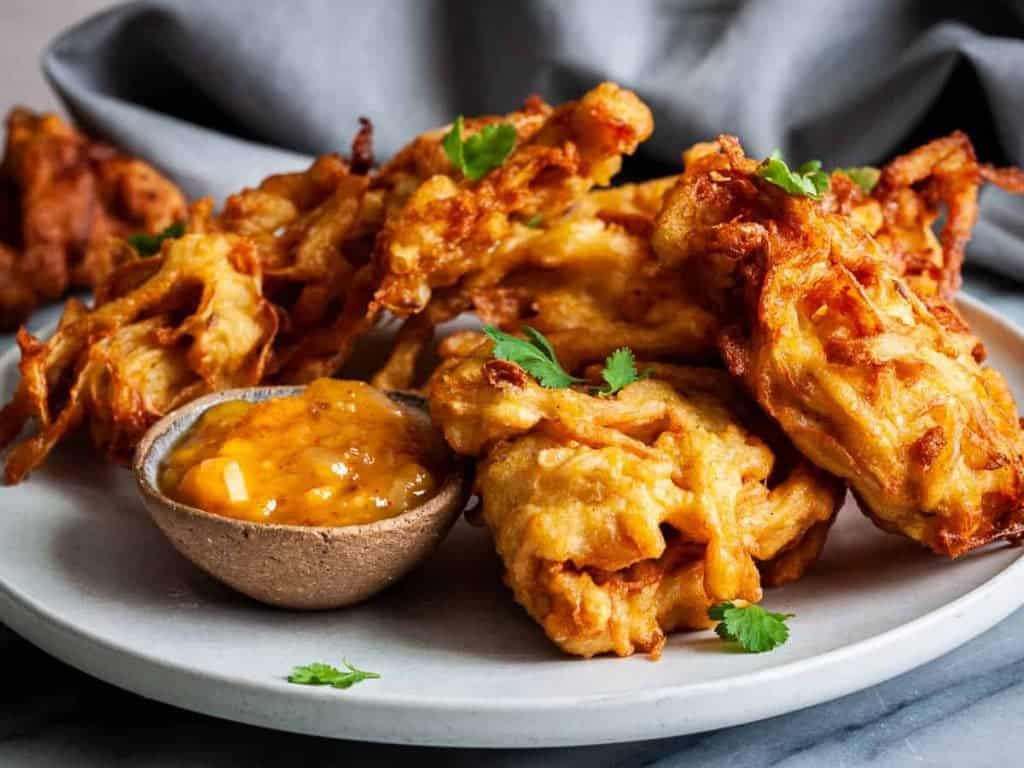 How do I make quick mango chutney?
Here's a breakdown of the process for making quick mango chutney from scratch:
First you'll need to toast your spices in a dry saucepan - this helps to bring out the flavour more. 
Next you'll add a bunch of onion and garlic, along with some vinegar and bring to the boil. You want to evaporate most of the moisture!
Next you throw in your nice diced mango and cook for a few minutes before adding some sugar and continuing to simmer.
If you want to serve immediately, then I'd recommend letting it cool and spooning out. If you want to jar it up, make sure you have a good sized sterilised jar ready to go. Add your chutney while warm, screw on the lid and leave to cool.
What can I serve it with?!
This recipe works well with all Indian recipes, such as my Tarka Dal, my Butter Cauliflower and definitely my Beetroot Dal! You're also missing a trick if you don't dunk some freshly fried Vegan Onion Bhajis in there!
Oh, and if you try this recipe, please make sure you leave a comment and rating below! I'd love to hear your thoughts!
Mango Chutney
A delicious, quick mango chutney recipe, packed with spices and sweet, fragrant mango.
Ingredients
1

teaspoon

cumin seeds

½

teaspoon

yellow mustard seeds

pinch

chilli flakes

2

medium shallots

((finely diced))

2

cloves

fresh garlic

((finely minced or crushed))

½

teaspoon

fine sea salt

175

ml

white wine vinegar

400

g

mango - fresh or frozen

((peeled and diced))

60

g

sugar
Instructions
Place a medium saucepan over a medium/low heat and add the spices. Toast them carefully until the seeds begin to burst (around 30 seconds)

Add the shallots, garlic and salt. Give the pan a quick stir then add the vinegar. Bring to a boil and then reduce heat to a simmer until almost all the moisture has evaporated - around 5 mins.

Add the mango and cook for a further 2 minutes until the mango begins to soften but still holds its shape. Finally add the sugar and cook for a further five minutes, stirring constantly.

If jarring, make sure you have a medium sterilised glass jar ready to go. While hot, add the chutney to the jar and screw on the lid. Allow to cool fully. If serving straight away, allow to cool and enjoy!
Nutrition
Love this recipe?
Let me know on Instagram!