Publised on 12/07/2019 by Richard. Last Updated on 13/11/2022 by Richard.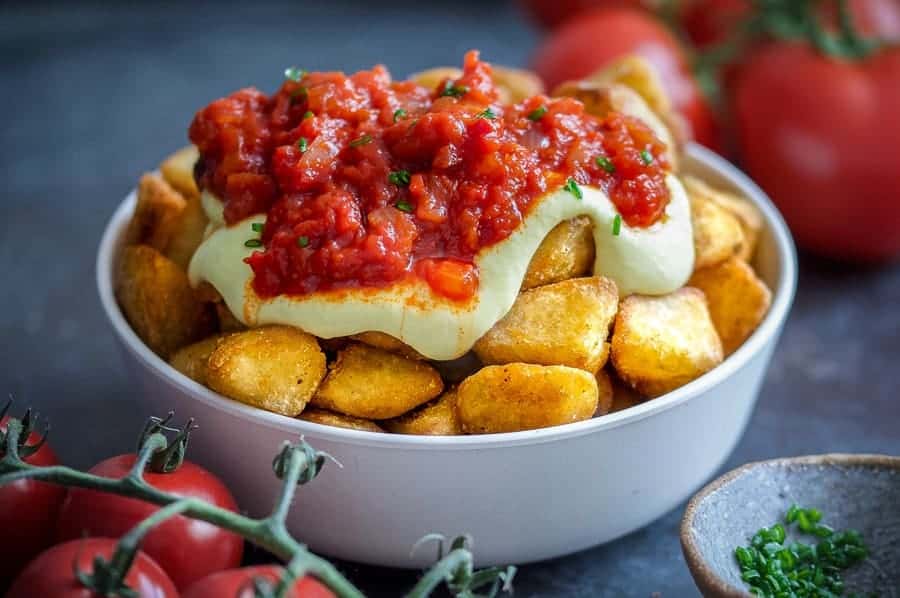 My vegan patatas bravas, served with a super creamy garlic aioli and a spicy tomato sauce are the most perfect summer side dish in the world (or at least, in España!!)
---
Vegan patatas bravas, whats that?!
This vegan patatas bravas recipe has an oddly emotional tale behind it! When I was 13 my sister went to University. Her new home was only 30 odd minutes away and she came home every weekend, but she was/is my best mate and I was just a little bit heart broken.
I'd also visit her sometimes in Manchester and we'd usually meet half-way in a shopping mall called the Trafford Centre. As (then) vegetarians and foodies, it was a pretty odd decision that we invariably chose to eat at a place called La Tasca (if you're not from UK, imagine 3/10 tapas in a mall, probably cooked from frozen). The only real reason why we ate there every time? PATATAS BRAVAS.
There was something suitably comforting about eating fried potatoes, swamped in garlic aioli and a super sweet yet sharp and spicy tomato sauce. If my memory serves me well, we'd sit down and immediately order three portions before even ordering drinks. Sure, they were about as far from authentic as you can get, but they were VERY GOOD.
So, here are my tips (and recipe) for making something MUCH closer to an actual authentic vegan patatas bravas recipe!
What's the key to perfect vegan patatas bravas?
Like most things in life, there's not just one key - but follow these rules and you'll nail this recipe!
Use a nice, waxy potato! For me, my favourite is maris piper! It's a great all-rounder and it'll give your patatas bravas a deliciously crispy, nicely browned outside.

Parboil your patatas with baking soda. Baking soda will activate the pectin in the outside of your spuds. This helps to keep everything crispy and perfect!

Once parboiled, use flaky sea salt to help scruff up the outside of the spuds. The slightly floury outside will crisp up in the frying pan like a dream!
In need of more summer holiday food?
Why not try these recipes to get you in that vacay vibe:
Classic Vegan Patatas Bravas
These fully vegan patatas bravas served with a super creamy garlic aioli and a spicy tomato sauce are the most perfect summer side dish in the world (or at least, in España!!)
Ingredients
For the Garlic Aioli
60

g

soy milk

1

tablespoon

lemon juice

4

cloves

garlic

((crushed and roughly chopped))

pinch

flaky sea salt

125

g

rapeseed/extra virgin olive oil
For the Spicy Tomato Sauce
1

tablespoon

olive oil

½

onion

((finely diced))

1

clove

garlic

((crushed and minced))

½

fresh red chilli

((finely chopped))

1

tin chopped tomatoes

½

teaspoon

sugar

½

teaspoon

fine sea salt

1.5

teaspoon

smoked paprika

2

tablespoon

white or red wine vinegar
For the Potatoes
500

g

waxy potatoes

2

teaspoon

baking soda

½

teaspoon

flaky sea salt

100

ml

vegetable oil

1

teaspoon

chives

((finely chopped))
Instructions
To Make the Garlic Aioli:
Place the soy milk and half of the lemon juice in a cup which is suitable for use with a stick/hand blender.In a mortar and pestle place the garlic, salt and remaining lemon juice. Grind until the garlic is nice and crushed - it doesn't need to be smooth.

Add the garlic mixture to the soy milk mixture and stir together. Give this mixture a quick blitz with the stick blender to combine, then with the blender still running gradually pour in the oil in a very slow stream and continue to blend until the mixture is nice and thick. Set aside.
To Make the Tomato Sauce
Place a medium saucepan over a medium/low heat. Add the oil and bring to temperature. Add the onion and fry for a few minutes until soft before adding the garlic and the chilli. Fry for another few minutes until the onions begin to brown.

Add the tomatoes, sugar, salt and paprika. Bring to the boil and then reduce the heat to a simmer. Allow to simmer uncovered for around 10-15 minutes, stirring regularly to ensure it isn't sticking to the bottom of the pan and burning. It should be thick and chunky when ready.

If you'd like a less chunky texture, use a potato masher to reduce the size of the tomato chunks before adding the vinegar and stirring. Remove from the heat and set aside.
To Make the Potatoes
Peel and cut the potatoes into irregular cubes, around 1-2 cm on the longest side. Bring a medium pot of water (around a 1.5 litreto a boil. Once boiling, add the baking soda.

Add the potatoes and wait for the water to come back up to boil before setting a timer for 5 minutes. Once boiled, drain the potatoes and spread them out on a baking sheet. Sprinkle with the salt and, using a spatula, flip the potatoes around to slightly roughen up the outside.

Heat a large frying pan over a medium/high heat and add the oil. Once hot, add the potatoes and fry, turning regularly, until they're gently browned all over (7-10 minutes). Once cooked and browned, remove the potatoes and lay them on a few layers of kitchen towel to absorb the excess oil.

Season with a sprinkle of flaky sea salt before plating up. Top with a few big spoons of the aioli followed by the tomato sauce and a sprinkle of chives. Enjoy!
Nutrition
Serving:
1
grams
Calories:
1308
kcal
Carbohydrates:
57
g
Protein:
8
g
Fat:
121
g
Saturated Fat:
47
g
Sodium:
2781
mg
Fiber:
8
g
Sugar:
12
g
Love this recipe?
Let me know on Instagram!