Publised on 25/11/2019 by Richard. Last Updated on 13/11/2022 by Richard.
The crispiest, juiciest, buffalo oyster mushroom bao. Totally vegan and beyond satisfying, these guys are the bao you've always dreamt of!
---
There's something strangely rewarding about these buffalo oyster mushroom bao. They're the perfect balance. The gentle flavour of the oyster mushrooms, matched with the buttery, spicy kick of the buffalo sauce. The crispy batter vs the soft, fluffy bao bun. Everything just works - like a symphony!
They're also surprisingly easy to make! Sure, there are a fair few elements to get right, but since we're not making any vegan meat substitute (we're just using oyster mushrooms) they're an absolute doddle!
Buffalo vs Bao?
Sure, these buffalo oyster mushroom bao combine two elements from two different continents, but I'm a true believer in fusion. Besides, find me ANYTHING that's deep-fried and spicy which DOESN'T work in a bao bun!
But seriously, this is a match made in heaven. The spicy jolt of the buffalo sauce just seems to make sense in the context of the mega fluffy bao bun. I garnish the baos with fresh coriander which really ties together the Asian/American connection, but this is totally optional. They work beautifully with OR without the coriander.
Do I need any specific kit?
Yes and no. In fact, I made the bao in this picture without the first three of these items I'm about to list (because I was away from home when I shot these photos). You'll find it much easier to make them, however, if you use the following.
I actually much prefer these guys to using electric steamers. They hide away in the cupboard when you don't need them and they fit over any normal saucepan. Just make sure you use perforated greaseproof to line the bottom of each tier before filling with your buns!
You can grab a bamboo steamer here!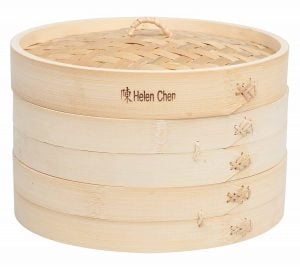 As you might have guessed by now, this isn't a health food bog - sorry bout it! In the recipe below I give instructions for cooking these guys in just a saucepan, but life gets a lot easier if you have a deep fryer. No, you don't have to use them all the time, but the way I see it, if I eat deep fried food I want it to be stuff that I've made. These machines are also a lot safer than dealing with pots of oil and open flames - obvs!
You can grab a deep fryer here!
Probe Thermometer
No! Not the ones that go up your bum! This one's for cooking - do not confuse those two guys! I'd say this is one of the most useful pieces of kit in my kitchen. In this instance, it's perfect for helping you get that ideal crisp without burning your batter.
You can grab a probe thermometer here!
How do I make buffalo oyster mushroom bao??
As always, the full recipe is below, but I've broken down the steps below for you. Have a run through before you start a cookin' to make sure you've got everything you need! The process is pretty easy but this is good practice for making sure you don't get caught out - plus look... PRETTY PICTURES!
Assemble your batter ingredients
You'll need two separate bowls, one for your dry, spiced flour and the other for your "egg" mixture. The flour mixture uses my favourite spice blend "Old Bay" seasoning, which works SO WELL with this recipe. You can grab Old Bay here and you won't regret it!
The "egg" mixture uses vegan yogurt. Try not to use any with a super strong flavour - coconut milk based yogurts tend not to work well here. I used soy yogurt. Also make sure it's unsweetened and unflavoured.
Make the buffalo sauce.
This bit's super easy. Just measure out the ingredients into a saucepan, heat and whisk together. If you're not a big fan of sriracha, or if you want a milder buffalo sauce, you can use basically any red chilli hot sauce.
I know this looks like a lot of hot sauce, but the vegan butter really mellows out the kick, so don't be put off! Speaking of vegan butter, I've tried this recipe with three different kinds - some block butter and some margarine. All worked great, so don't worry about buying fancy stuff for this one.
Batter the mushrooms.
This is probably the most fiddly part of the whole recipe, but once you get your head round it you'll nail it - I just know it! The idea is that you use one hand to deal with the dry bowl (spiced flour) and the other hand for the wet "egg mixture". This way you don't get loads of wet batter in the dry batter bowl and vice versa. You also don't get gross, sticky, battered fingertips.
Take your oyster mushrooms, one at a time, dunk in the spiced flour with one hand. With the same hand, lift it out of the flour and drop it into the egg mixture. Using your other hand, make sure the mushroom is covered in the mixture. Pick it up and plop it back in the flour. Use your original hand to make sure it's thoroughly dredged. Then pick it up and drop carefully into the hot oil.
Steam the bao.
If you're using frozen bao buns, your bao journey starts here. If you're using my recipe to make your own, you'll want to get started a lot sooner. Have a read through this recipe before you start making the mushrooms as you'll need to start the proving process a good few hours earlier.
If you're using frozen bao, just pop them in your bamboo steamer and steam while you fry up the mushrooms.
Fry the mushrooms.
If you're using a saucepan rather than a deep fryer, it's good to check the temperature of the oil first. We're aiming for 170c. If you don't have a thermometer, just try battering a small piece of mushroom and drop it in the oil. If it bubbles straight away and browns after a few minutes, you're ready!
I like to fry in batches of 3-4 mushrooms at a time - any more than this and you'll see a real drop in the oil temperature. Use a spider or slotted spoon to remove the fried mushrooms from the oil and place on kitchen towel to allow them to drain.
Sauce up the mushrooms!
This is the funnest part of making these buffalo oyster mushroom bao! You just DRENCH them in the red buffalo sauce. Throw the fried mushrooms into a decent sized bowl and toss them in the sauce. That's it! If a mushroom happens to fly out into your open mouth then so be it!
Assemble and enjoy!
Last bit! Snatch those freshly steamed bao straight out of the steamer (watch the fingies!) and fill each one with a few pieces of fried mushroom! If you're into it, stick a bit of coriander in there too - I love it, but it's not essential.
I like to serve these guys alongside other Asian appetisers like these kimchi pancakes or perhaps some pot stickers!
Disclosure: some of the links above are affiliate links, meaning at no additional cost to you, I may earn commission when you click through and make a purchase.
Buffalo Oyster Mushroom Bao
Ingredients
For the Egg Coating
120

g

vegan yogurt

((unsweetened and unflavoured))

40

g

plant milk

1

teaspoon

sriracha sauce
For the Spiced Flour
300

g

plain white flour

3

tablespoon

corn starch

2

teaspoon

fine sea salt

2

teaspoon

old bay seasoning

½

teaspoon

ground black pepper
For the Buffalo Sauce
113

g

vegan butter

((or margarine))

60

ml

sriracha sauce

2

tablespoon

white wine vinegar

1

teaspoon

soy sauce

¼

teaspoon

garlic powder
For the Bao
vegetable oil

((for frying))

120

g

oyster mushrooms

6

bao buns

((or use frozen store-bought buns))

small bunch coriander
Instructions
To Make the Batter
In a medium bowl, whisk together the ingredients for the egg batter. In a separate bowl, whisk together the ingredients for the spiced flour. Set aside.
To Make the Buffalo Sauce
Combine all the ingredients in a medium saucepan and place over medium heat. Allow the vegan butter to melt, while whisking constantly. Once the mix is smooth and homogenous, remove form the heat and set aside.
To Make the Bao
Separate the oyster mushrooms (if they're all connected in a bunch) into bite-sized pieces.

Place a bamboo steamer over a pan of simmering water or switch on an electric steamer. Fill with your bao buns, separated by greaseproof paper so the don't stick to the steamer or to eachother. Steam gently for around 20 minutes.

Meanwhile, place a medium, high-sided saucepan over a medium heat and fill with around 2 inches of vegetable oil. Bring to around 170c. If you don't have a thermometer, just drop a little bit of your spiced flour mixture in after a few minutes - it should sizzle and bubble immediately.

Once your oil is hot, with one hand take an oyster mushroom and roll it around in the spiced flour. Remove it from the flour with the same hand and drop into the "egg" mixture.

Use the other hand to remove the mushroom from the "egg" mixture and drop it back into the spiced flour. Cover it in flour with the same hand, then carefully drop it into the hot oil. Quickly repeat the process with another three mushrooms.

Fry the mushrooms in small batches until golden brown and crispy on the outside. Remove from the oil and place on a tray lined with kitchen roll, to help absorb some of the excess oil. Repeat until all the mushrooms are fried.

Whisk your buffalo sauce to re-homogenise. Place the fried oyster mushrooms in a bowl and then drizzle the sauce over them. Toss or gently stir to combine.

Fill each steamed bao bun with fried, dressed mushrooms and some sprigs of coriander. Enjoy!
Nutrition
Serving:
1
grams
Calories:
424
kcal
Carbohydrates:
61
g
Protein:
10
g
Fat:
15
g
Saturated Fat:
4
g
Cholesterol:
10
mg
Sodium:
1334
mg
Fiber:
2
g
Sugar:
6
g
Love this recipe?
Let me know on Instagram!