Publised on 20/07/2020 by Richard. Last Updated on 12/10/2022 by Richard.
The

only

way to serve runner beans: braised with hints of garlic, topped with a crispy sourdough pangritata. Perfect for a weekend small-plates lunch.
---
It's runner bean season again which means I'm whipping out this braised runner beans with pangritata recipe on a daily basis! If you've not know the pleasure of a slightly scorched but beautifully tender runner bean, aromatic with garlic, herbs and crispy with sourdough breadcrumbs, then you've not lived!
Well, actually you probably have lived. I'd never take that away from you. But your life will 100% be enhanced by this recipe! It's truly the best way to celebrate the G.O.A.T. bean - THE RUNNER BEAN!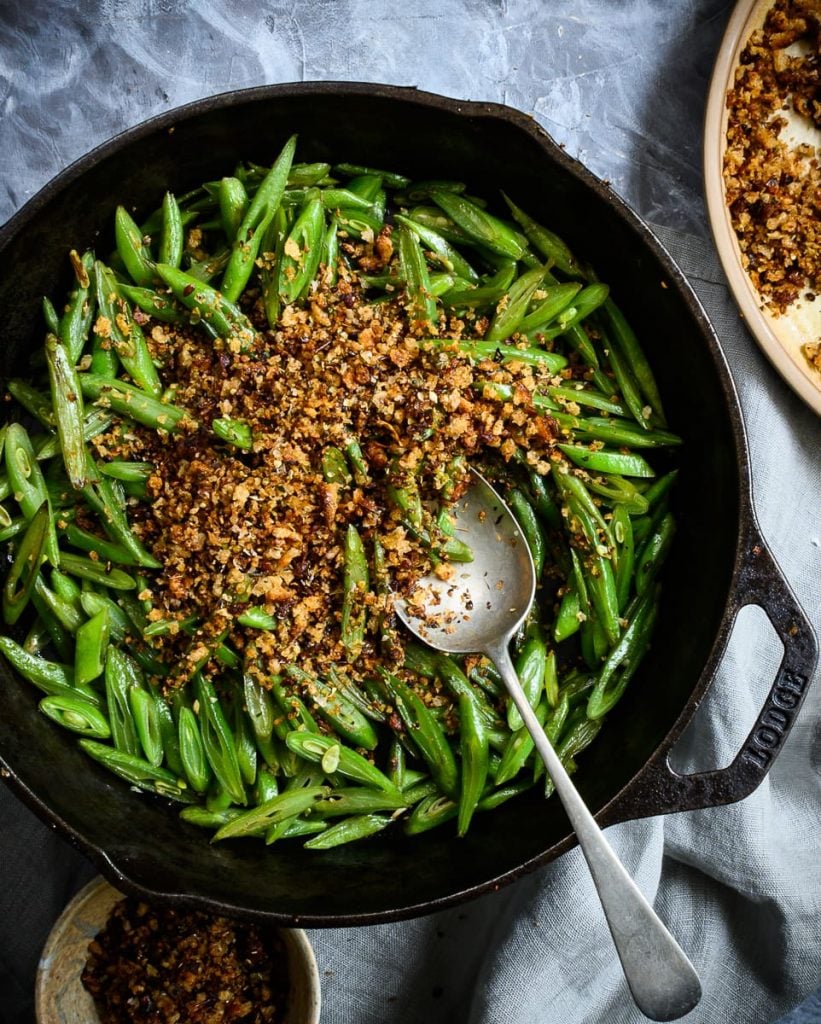 What's Pangritata?
Pangritata is potentially one of my favourite ways to use up stale bread. It translates to "grated bread" and is typically a blend of crispy fried bread crumbs with aromatic herbs. It adds a totally different textural dimension to basically any dish and works so perfectly with these tender, braised runner beans.
What's more, it's super easy to make and works best with old sourdough which has gone too hard to enjoy fresh. This recipe will make plenty of pangritata, so you might want to save some for use on other dishes. It works particularly well on Mac and Cheese! Just be sure to let it cool fully before storing in an airtight container.
Why Runner Beans?
Runner beans (or flat beans) are one of my favourite summer beans. They're flat compared to french or string beans, but have such a plump, tender texture that they work well as a stand-alone dish or a side. I could honestly eat these guys for every meal.
They're also crazy, crazy good for you! They're super high in fibre, vitamins A, K and C AND they're packed with antioxidants. Also, they're particularly high in Zea-Xanthin - an antioxidant thought to be important for eye health. Yes, it sounds like I'm funded by "Big Runner Beans" but I promise I'm not. They're just SUCH a good bean!
Tips for Cooking Runner Beans
These guys don't need much prep and are super versatile, but here's how I like to whip them up!
1. Slice the Beans
Unlike many beans, these braised runner beans with pangritata don't need to be trimmed or "de-stringed". Just slice of the woody stem at the top of the bean and you're good to go.
When slicing, you can choose to go thick or thin. Thin sliced beans will cook a lot faster than thick, so keep that in mind. I like to cut my beans on the diagonal and be sure to give them a little wash before cooking.
2. Prepare Your Pangritata Ingredients
Next up, gather your pangritata ingredients. Try to use stale sourdough bread if you can - this is a great way to use all those little nubs of bread which are too small to toast or use for sandwiches.
It's also best to use fresh herbs if you have them, but if you only have access to dried, they'll work great too. Pangritata usually contains anchovies or chorizo, which provides some oil, salt and tangy umami flavour. Instead we're using minced sun-dried tomatoes and capers for tang!
3. Start the Pangritata
Mince the garlic, sun-dried tomatoes and capers really nice and finely. Heat some oil in a skillet and add the garlic, sun-dried tomatoes and capers. They should sizzle nicely and the garlic should start to brown. It'll smell super aromatic at this stage!
4. Add the Herbs
At this point, add the finely chopped herbs. This is a good chance to use up all those parsley stalks you've been storing in your fridge. Chop them up super finely as they can be a little woody, but they're crazy flavoursome!
5. Add the Breadcrumbs
Next, add the breadcrumbs and cook until toasty and golden brown. Season well with salt and pepper and you're done! Pangritata perfecto! Remove it from the pan and set aside - we're going to use the same pan for the braised beans.
6. Cook the Beans
Heat a little oil in the same pan and add a minced clove of garlic. Fry it until golden but don't let it burn. Add the sliced beans and fry up on medium heat. Allow some of the beans to brown slightly before adding some water and covering - this allows the beans to steam and fully cook through.
7. Top With Pangritata
Remove the lid and check the beans are cooked though. Top with pangritata and serve!
Need More Veg Recipes??
You came to the right place! Here are some DELISH recipes for fresh veggies!
Shaved Carrot and Pickled Cauliflower Salad
Vegan Sweet Potato Soup
Bucatini with Kale and Pangritata

Braised Runner Beans with Pangritata
The only way to serve runner beans: braised with hints of garlic, topped with a crispy sourdough pangritata. Perfect for a weekend small-plates lunch.
Ingredients
250

g

runner beans

3

slices

sourdough bread

((stale if possible))

5

sun-dried tomatoes

((finely chopped))

1

tablespoon

capers

((finely chopped))

3

garlic cloves

((peeled and minced))

small bunch fresh parsley

((stalks separated and finely chopped))

2

sprigs fresh rosemary

((stalks removed and finely chopped))

1

teaspoon

dried oregano

½

teaspoon

ground black pepper

pinch

flaky sea salt
Instructions
Remove the woody stems from the runner beans and discard. Slice the runner beans on the diagonal into thin slices. Place in a bowl and fill with cold water. Set aside.

Place the stale sourdough into a food processor or blender and blitz into rough breadcrumbs. If you don't have a blender, use a box grater and grate the bread instead. Set aside.

Place a medium frying pan or cast-iron skillet over a medium heat. Add a little olive oil and add the minced sun-dried tomatoes, capers and two of the minced garlic cloves (reserve one garlic clove for later).

Cook the tomatoes, capers and garlic until the garlic is lightly browned, stirring with a silicone spatula regularly. Next add the finely chopped herbs and herb stalks. Fry for a further few minutes.

Add the breadcrumbs and stir regularly over medium heat until the crumbs are brown and toasted. Season with the pepper and salt. Transfer the cooked, crispy pangritata to a plate and leave it to cool. Place the frying pan back over medium heat.

Add another drizzle of olive oil to the pan and add the final minced clove of garlic. Stir frequently and do not allow the garlic to burn. Once the garlic is browned, add the sliced runner beans.

Fry the runner beans for a few minutes until the edges of some of the beans are lightly browned. Add around 150ml water to the pan and cover with the lid. Allow the beans to steam for a further 3-5 minutes. Remove the lid and check the beans are cooked through. Once cooked, sprinkle with salt and remove from the heat.

Top the beans with the pangritata and serve.
Nutrition
Calories:
324
kcal
Carbohydrates:
64
g
Protein:
14
g
Fat:
3
g
Saturated Fat:
1
g
Polyunsaturated Fat:
1
g
Monounsaturated Fat:
0.4
g
Sodium:
703
mg
Potassium:
586
mg
Fiber:
7
g
Sugar:
10
g
Vitamin A:
932
IU
Vitamin C:
19
mg
Calcium:
130
mg
Iron:
6
mg
Love this recipe?
Let me know on Instagram!