Publised on 04/11/2019 by Richard. Last Updated on 13/11/2022 by Richard.
Perfectly sweet and tart vegan blackberry hand pies, packed with blackberries and a hint of lavender. Enrobed in a delicate sugar glaze, they're perfect for a lazy weekend breakfast or bougie picnic!
---
Nothing says transitional summer/autumn season dessert like blackberry hand pies! These completely vegan snack-size desserts are absolutely ideal for those days of shrinking sunlight hours.
They're super fragrant and zingy with a sweet, satisfying vanilla glaze. Stick them in a paper bag and carry with you on your next brisk dog-walk! When you find that half-way bench, crack open the flask of tea and whip these bad boys out! Your walk companions will thank you!
What are blackberry hand pies?
Let's talk about what a hand pie even is! These guys are definitely not a classic British dessert, as far as I'm aware. The first time I ever had a hand pie was in America. I have this dream that they're an ancient origin story of the pop-tart. I could be wrong - so don't quote me on this!
These pocket pies involve two pieces of beautifully crisp, vegan pastry, filled with a zingy blackberry pie filling. Because blackberries can be quite sharp, I doubled down and chose to glaze these guys too, and trust me, you'll enjoy it!
What makes them vegan?
These weren't the most difficult thing to veganise - in all honesty, but I wanted to share them with you because they're a great way to put accidentally vegan shortcrust pastry to use!
Yep, this might be new to you, but the majority of store-bought pastry is actually made without eggs or butter. There are many brands out there, and it probably varies greatly by country, but be sure to read the label before you put pastry your basket.
How do I make blackberry hand pies?
The process really is simple, and I've included the full recipe below, but here's a quick breakdown of the steps involved.
1. Combine the filling ingredients.
Before you work with your pastry, you'll want to prepare your filling. In a medium bowl, mix together all the filling ingredients.
You can use either fresh or frozen blackberries for this recipe, but if you're using fresh, be sure to mix gently - you don't want to mush up the blackberries.
2. Roll out the pastry.
If using pre-rolled pastry, you don't have much work to do here. It should already be nice and thin for you to work with, so just dust your surface and flatted out the pastry.
If you're using "ready-to-roll" pastry block, then you'll have to get the rolling pin out! My advice is to get your pastry around half a cm thick if you can.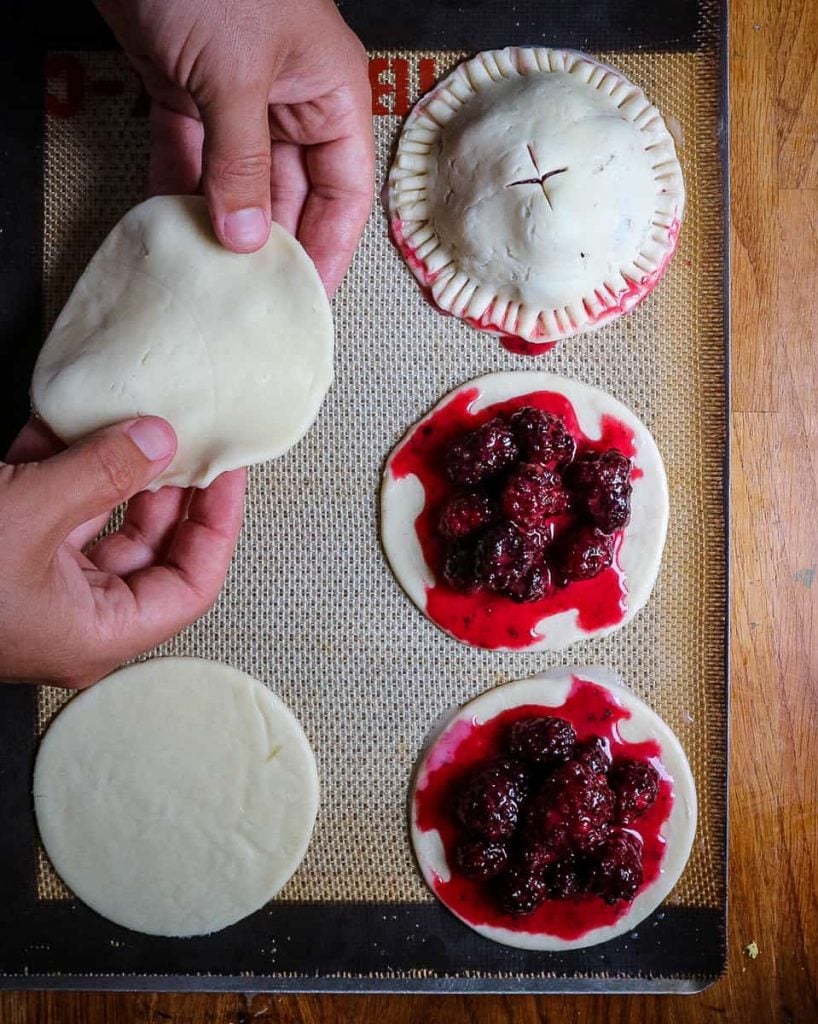 3. Cut and fill the pastry.
Next, cut out the circles of pastry into your desired size. I like to keep my pies between around 2 and 5 inches wide, but feel free to make them your way!
You can even cut them into squares or rectangles if you prefer that pop-tart look!
Spoon your filling into the centre of the pies then top with the second layer of pastry. Crimp the edges with a fork, or, if you're fancy, fold and plait them neatly to stop all that blackberry juice from escaping!
4. Egg wash and bake!
Mix together your egg wash. Obviously this is my vegan take on an egg wash - it just helps to make the pastry brown evenly and look beautifully glossy when done.
Once washed, place in the oven at 160c until the pastry is gorgeously brown and crisp.
5. Cool and glaze.
Once baked, remove the pies from the oven and allow to cool completely. While cooling, mix together your glaze. Once cool, drizzle the glaze over the pies and leave to set.
And that's it! Mega easy!!
Want more vegan pastry recipes?
Why not try some of these bad-boys! I promise, you'll be super happy with how they turn out!
Disclosure: some of the links above are affiliate links, meaning at no additional cost to you, I may earn commission when you click through and make a purchase.
Blackberry Hand Pies - 100% Vegan!
Perfectly sweet and tart vegan hand pies, packed with blackberries and a hint of lavender. Enrobed in a delicate sugar glaze, they're perfect for a lazy weekend breakfast or bougie picnic!
Ingredients
For the Blackberry Filling
60

g

granulated sugar

1

teaspoon

lemon zest

250

g

blackberries

((frozen or fresh))

1

teaspoon

lemon juice

2

tablespoon

corn starch
For the Pastry and Egg Wash
375

g

shortcrust pastry

((vegan pre-rolled variety))

5

teaspoon

aquafaba

¼

teaspoon

agave syrup

((maple or brown rice syrup works too))

2

teaspoon

soy milk
For the Glaze
140

g

icing sugar

4

teaspoon

plant milk

¼

teaspoon

vanilla bean paste
Instructions
Preheat the oven to 160c. Line a baking tray with parchment and set aside.

Remove the pre-rolled pastry from the fridge.
To Make the Blackberry Filling
In a medium bowl mix together all the ingredients. If your blackberries are fresh, don't mix too vigorously - you don't want to burst them too badly. Set aside.
To Assemble the Pies
Lightly dust the surface of a counter with plain white flour. Roll out the pastry onto the dusted surface.

Using a round cookie cutter, cut out 8 circles of pastry. I'll let you decide the size of your hand-pies, but I choose to make them about 2-3 inches wide.

In the centre of four circles of pastry, place around a tablespoon of the filling mixture. Top with the remaining circles of pastry and crimp the edges with a fork.

Carefully transfer each pocket pie to the lined baking tray and carefully cut a small cross in the centre of each pie to make sure any steam can escape.
To Make the Egg Wash
In a small bowl, whisk together all the wash ingredients.

Brush the top of each pie with the egg wash before placing the tray in the oven.

Bake for 15 minutes or until the pies are golden brown.
To Make the Glaze
In a medium bowl or jug, mix together all the glaze ingredients. Set aside.

Once the pies are cooked, remove from the oven. Leave to cool on a wire rack. Once completely cool, drizzle the glaze over each pie and leave to set. After roughly 20 minutes, the glaze should be crisp. Serve and enjoy!
Nutrition
Serving:
1
grams
Calories:
523
kcal
Carbohydrates:
110
g
Protein:
8
g
Fat:
6
g
Saturated Fat:
1
g
Sodium:
458
mg
Fiber:
5
g
Sugar:
53
g
Love this recipe?
Let me know on Instagram!