Publised on 08/01/2021 by Richard. Last Updated on 08/01/2021 by Richard.
Simple and delicious crispy baked tofu nuggets! One of my favourite ways to eat tofu with a never-fail super crispy crumb coating!
---
Who loves a super crispy, oven baked tofu nugget?? EVERYONE DUH! This is the absolute please-all tofu recipe you've been waiting for!
The most common question I get from new vegans (especially during Veganuary) is "HOW DO I MAKE TOFU TASTE NICE!?". This recipe is for those people! Don't get me wrong, it's also for everyone else too, but if you're a tofu skeptic, this may well be the recipe to turn you!
What Makes These Baked Tofu Nuggets AMAZEBALLS?
Here's why you're going to love these fellas, regardless of whether you love tofu or not:
They're the crispiest little muthas you've ever come across! The coating is golden and gently spiced while the tofu is light and tender. Texture wise, they're extra special!
They're baked, not fried, so there's significantly less oil used in the recipe - only 2tbsp per 20 nuggets!
These guys are totally versatile! You can switch up the spices in the coating, easy as pie (see "Subs and Swaps" below). You can even use the coating mixture for basically anything! Tempeh, cauliflower, seitan, you name it!
They're a perfect intro for anyone who doesn't know what to do with tofu. No sauce required, no marinade necessary, no frying needed, just coat and bake!
Subs and Swaps
The great thing about this super simple recipe is that you can customise and jazz it up however you like! Here's how:
The Tofu
So you've tried the tofu version of the recipe (and obvs loved it) but how about switching things up? Why not swap the tofu for cauliflower and add some chilli flakes to the panko breadcrumbs! If you've made my vegan seitan chicken recipe recently, why not make some delicious vegan baked chicken tenders?? If tempeh is more your thing, why not slice a block into some nuggets and use them instead?! Go for it - the world's your nugget!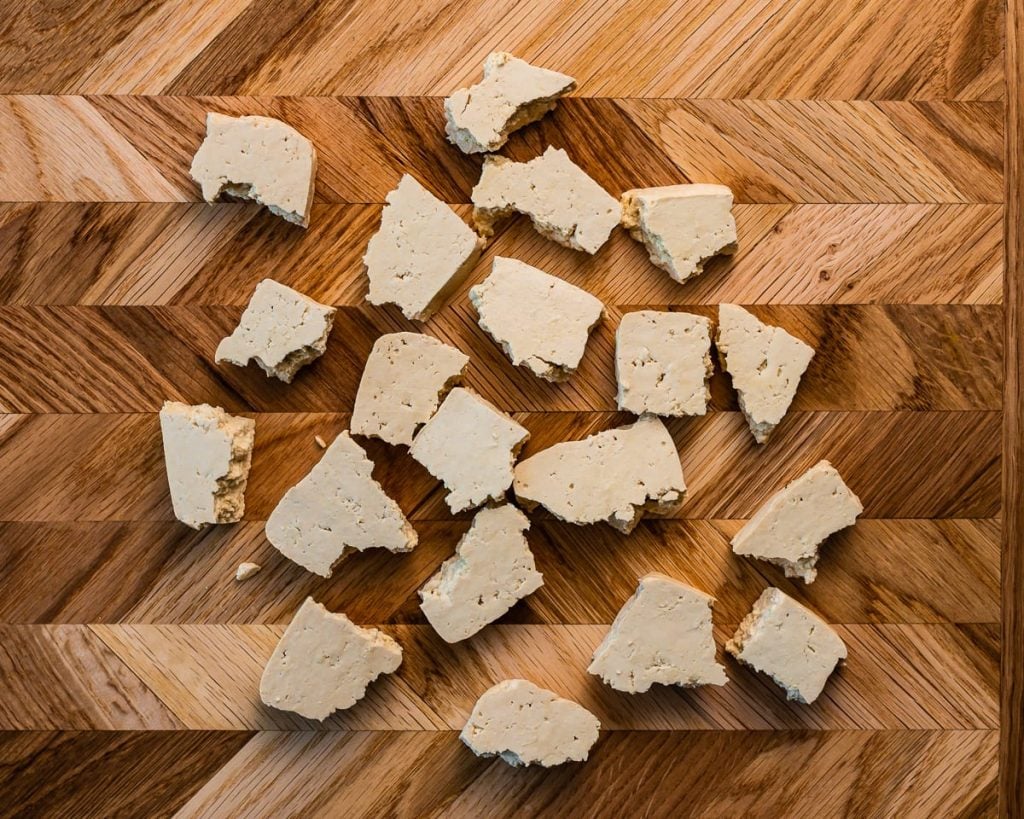 The Panko Breadcrumbs
If you can't get hold of panko, you can use real life actual bread with a similarly great taste! I like to cube and freeze any sourdough crusts or any bread that goes a little stale so it's always ready for breadcrumbing. Just blitz the frozen bread in a food processor until you have rough breadcrumbs and use them in place of panko!
The same works for gluten free bread. If you're keen to make this recipe without the wheat, just use your fave gluten free bread to whip up some home-made breadcrumbs.
The Herbs and Spices
This recipes uses some of my favourite herbs and spices, but feel free to sub with your personal spice-rack heroes!
Want a kick of heat? Add a pinch of cayenne!
Feeling festive? Replace the oregano for thyme, sage and rosemary!
Looking for a Mexican vibe? Add some finely chopped chipotle chilli and a pinch of ground cumin to the mix!
The Corn Starch
Corn starch is one of my favourite pantry ingredients because it becomes so crispy when baked or fried! It's what helps to make these nuggets to deliciously crunchy. It also forms a sort of barrier between the tofu and the breadcrumbs which means the moisture from the tofu can't escape easily, which is why the tofu stays so light and moist!
If you're desperate to replace the corn starch, please don't use flour instead! The texture will be significantly impaired! My recommendations for a sub would be rice flour, tapioca starch or potato starch (from best to worst).
A Few Notes for Perfect Nuggets
I know the last thing you want is MORE notes, but I guaran-damn-tee someone will make these mistakes and come to my instagram with a tonne of exclamation marks and angry emojis. Follow these tips and your nuggets will be perfect! I promise! (HAVE I EVER LIED TO YOU???)
Use "Extra Firm Tofu"!
Extra firm tofu has way less water and a much meatier texture. If you can only get your hands on "firm" tofu, it's VITAL that you press your tofu overnight to get the moisture out. The best way to do this is using a tofu press, but if you don't have one, simply wrap the tofu in paper towel and place it between two heavy plates. Pop in the fridge and leave to drain overnight.
If you skip this step, the moisture from the tofu will prevent the coating from becoming crispy. It's a school-boy error and I WARNED YOU OK!?
Pre-toast The Panko
I know! This sounds like an extra step which isn't really necessary, but trust me - I never add unnecessary steps to my recipes (because I love you and want the best for you every day and because I'm a nice person).
Toast. Those. Breadcrumbs! I mean it! Toss them in oil and toast them in a dry frying pan. They'll pick up a LOT more colour this way and are going to turn out like 10x crispier.
Use the "Two Hand Method"
Coating the tofu can get pretty messy! You're going from corn starch to milk and BACK to corn starch and BACK to milk! Your fingers could look like something from the deep ocean by the end of things!
That's why I use the two hand method! This means using one hand for the dry bowl and one hand for the wet bowl. Things will be minimally messy this way and you won't have a kitchen panic attack!
Bake it Good!
The only down side to using cornstarch is that it takes a little while to cook. If you UNDERCOOK these baked tofu nuggets, the coating will taste powdery and won't have that delicious crispy texture.
I know 35 minutes is a long time to wait for nuggets, but you'll be dissatisfied if you cut this short, I promise! Keep them baking, until the last second and you'll be chuffed!
Need some more vegan snacks?!
Then you came to the right place! Why not give these bad boys a try!?
Vegan Kimchi Pancake with Tamari Mushrooms
Super Crispy Vegan Onion Bhaji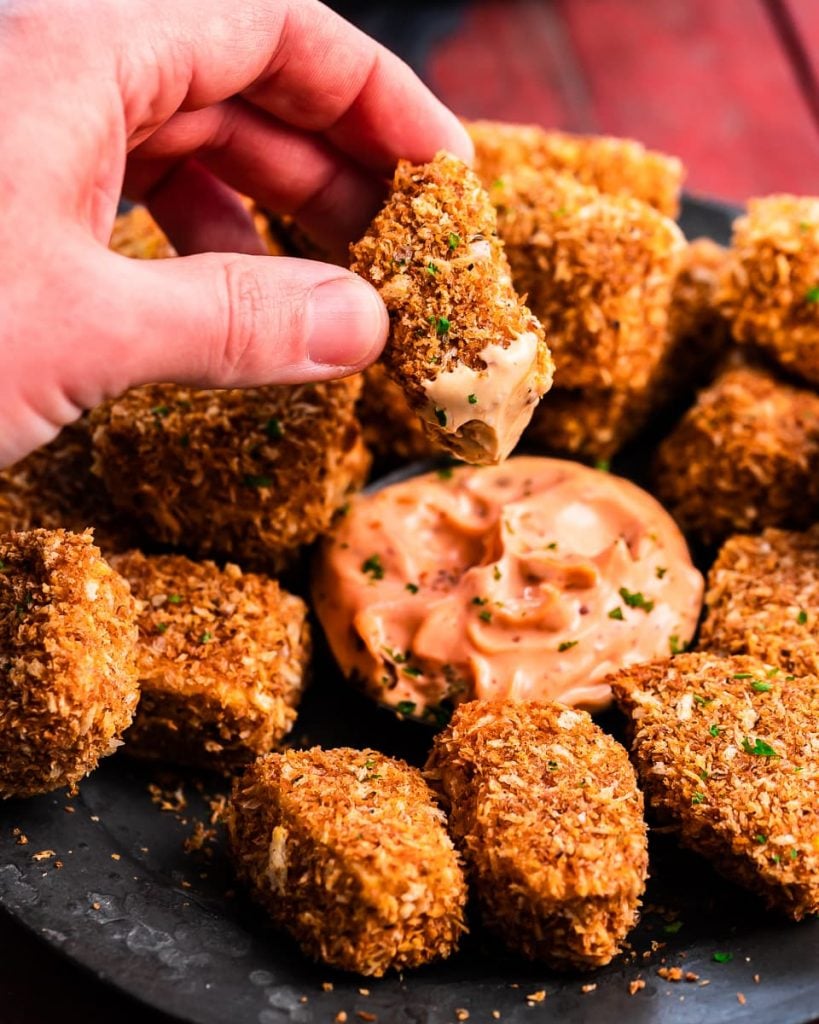 Baked Tofu Nuggets
Simple and delicious crispy baked tofu nuggets! One of my favourite ways to eat tofu with a never-fail super crispy crumb coating!
Equipment
oven

Frying pan

3 medium bowls

Baking tray
Ingredients
400

g

extra firm tofu

80

g

panko breadcrumbs

2

tablespoon

vegetable oil

((sunflower, canola or rapeseed work great - just make sure it's neutral flavoured))

1

teaspoon

smoked paprika

pinch

ground turmeric

1

teaspoon

flaky sea salt

¼

teaspoon

ground black pepper

½

teaspoon

garlic powder

¼

teaspoon

dried oregano

100

g

corn starch

200

ml

plant milk

((soy milk works best))

2

teaspoon

lemon juice
Instructions
Preheat the oven to 180c/355f (fan).

Wrap the tofu in paper towel and gently squeeze out the excess moisture. Slice the block of tofu into five 1cm slabs and then gently break each slab into 4 nuggets using your hands - not a knife. Set aside.

Take 3 medium bowls. In bowl 1 place the plant milk. Add the lemon juice and whisk well. The milk should thicken quickly. Set aside. In bowl 2, place the corn starch. Set aside.

Place the panko breadcrumbs into a dry frying pan. Drizzle over the vegetable oil and stir well to completely coat the panko. Place the pan over medium heat. Toast the breadcrumbs very carefully, making sure you're constantly stirring the breadcrumbs with a spatula until they're lightly golden brown. Don't let the breadcrumbs burn! Remove the breadcrumbs from the pan immediately and transfer to bowl number 3.

Add the remaining ingredients to the breadcrumbs and stir well to combine.

To coat the tofu, place a nugget into the corn starch. Using one hand, make sure the nugget is completely coated in corn starch. Tap the nugget on the side of the bowl to remove any excess corn starch.

Transfer the nugget to the plant milk mixture. Using the other hand, make sure the nugget is coated in the plant milk mixture. Remove and allow the excess liquid to drip back into the bowl. Place the coated nugget back into the corn starch.

Using the first hand, coat the nugget in corn starch again and then back into the plant milk mixture so that the nugget has two layers of corn starch and two layers of plant milk mixture. Drop the coated nugget into the breadcrumbs and toss the bowl to make sure the nugget is completely coated. Remove from the breadcrumbs with a fork and place on a baking sheet.

Repeat the process with the remaining tofu nuggets until they're all completely coated and arranged on the baking sheet. To save time, you can do the coating process two or three nuggets at a time, if you're in a rush.

Place the baking sheet of nuggets in the preheated oven and bake for a total of 35 minutes, flipping the nuggets after 20 minutes.

Once baked, remove the nuggets from the oven and serve immediately with your favourite dipping sauce and a sprinkle of finely chopped parsley (optional).
Nutrition
Calories:
63
kcal
Carbohydrates:
8
g
Protein:
2
g
Fat:
2
g
Saturated Fat:
1
g
Sodium:
164
mg
Potassium:
55
mg
Fiber:
1
g
Sugar:
1
g
Vitamin A:
89
IU
Vitamin C:
1
mg
Calcium:
28
mg
Iron:
1
mg
Love this recipe?
Let me know on Instagram!