Publised on 22/01/2019 by Richard. Last Updated on 13/10/2022 by Richard.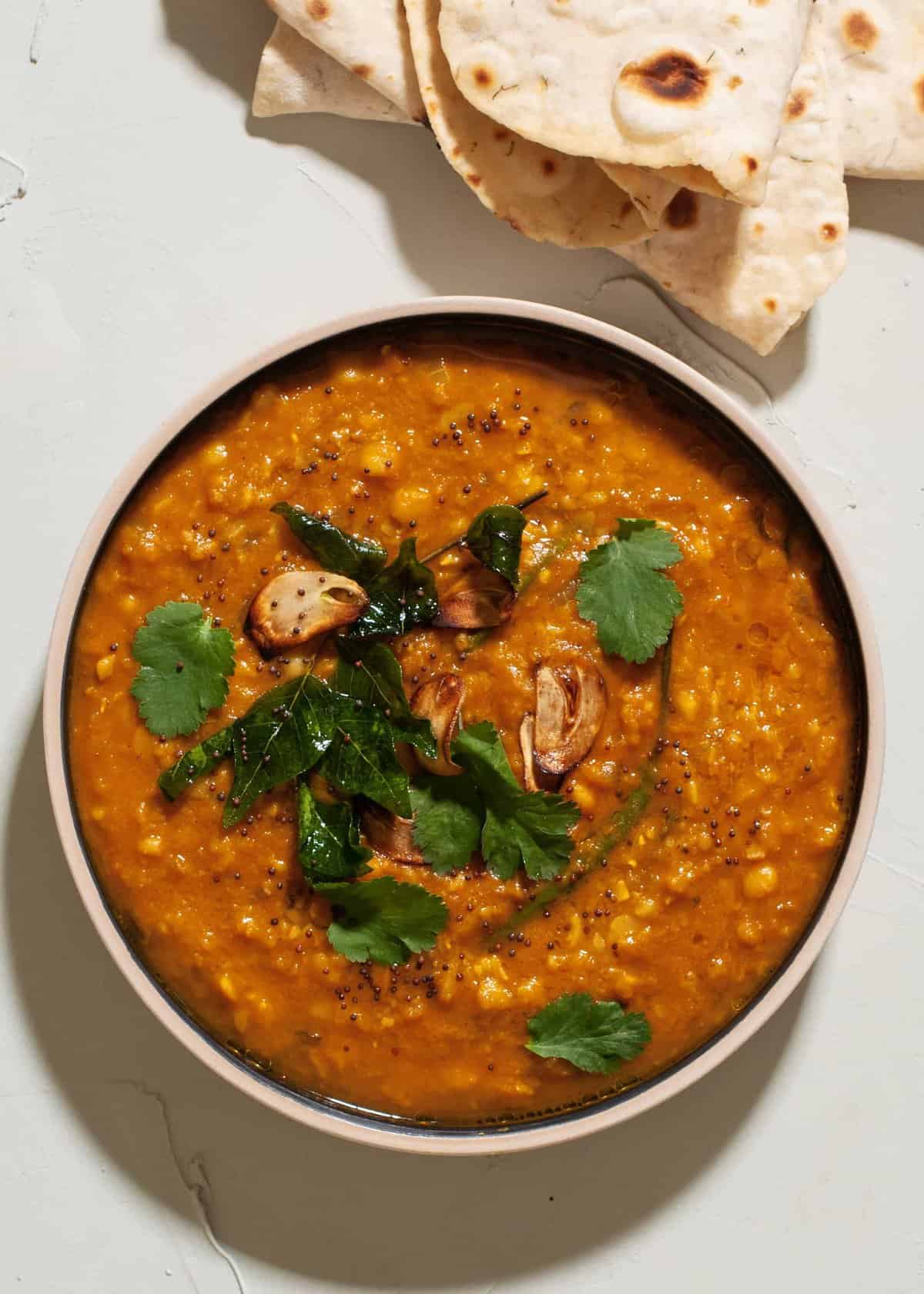 You may remember this from the beetroot dal recipe, but dal is my Husband's favourite thing to eat since he went vegan last year. For me, tarka dal is one of the most delicious variations out there. The garlic with the zing of the tomatoes and the sweet creaminess of the lentils is just so satisfying. It's like a warm hug from a friend. A friend who cooks a mean curry!
I'm not Indian, by any stretch of the imagination, so WHO KNOWS how authentic this recipe is, but hopefully it does the dish justice. I turned vegetarian at a very young age, and back in the 90s in Manchester, Indian restaurants were one of the only places which had decent veggie options. When I was about 6, we were all invited to our local Diwali celebrations by an Indian colleague of my Mum. I can't remember much besides literally diving face first into a bowl of curry and licking lime pickle off my finger tips for hours afterwards. I've been a big fan of Indian flavours ever since and it seems, excitingly, the cuisine is equally welcoming for vegans too! I've used vegetable oil instead of ghee here, but if you have any suggestions for a better substitution, please message me on instagram! Oh and don't forget to use the hashtag #schoolnightvegan when sharing pictures of your meal!
Tarka Dal
Ingredients
250

g

split yellow peas

900

ml

water

3

tablespoon

vegetable oil

10

fresh curry leaves

¼

teaspoon

cumin seeds

¼

teaspoon

mustard seeds

1

medium onion

(finely chopped)

1

inch

piece ginger

(cut into small thin strips)

3

long green chillis

(pricked with a sharp knife)

3

large cloves garlic

(all peeled, one sliced finely using mandolin)

3

medium tomatoes

(quartered)

¾

teaspoon

turmeric

1.5

teaspoon

garam masala

1

teaspoon

ground coriander

Pinch

of asafoetida

100

ml

water

salt and pepper

small bunch coriander
Instructions
In a medium sized bowl, wash the split yellow peas well. Drain off their water and rinse again, repeating until the washing water runs off clear.

Add the split yellow peas and water to a saucepan and bring to the boil. Skim off any foam which rises to the top and discard. Reduce to simmer, cover and allow to cook for 30-40 minutes, or until the lentils are tender. Stir regularly while cooking.

Once cooked, drain off most of the lentil water and break up the lentils using a whisk. Set aside to cool.

While the lentils are cooling, put the oil in a medium, high sided frying pan or shallow saucepan and place over a medium heat.

Add the single sliced clove of garlic to the oil and, very carefully, move it around the pan until it is very lightly browned - don't allow it to burn. Remove the garlic from the oil with a spatula and set aside on a piece of kitchen towel.

Add the curry leaves to the oil, mustard seeds and cumin seeds and fry for a minute until fragrant. Add the onion and ginger and cook for a few minutes until the onion starts to turn translucent. Meanwhile blend the tomatoes and remaining garlic in a blender until smooth. Add to the onions and cook for a minute.

Add the ground spices to the pan, along with a good pinch of salt and pepper and stir to combine. Add the water, stir and lower the heat to simmer. Allow the sauce to cook for around 20 minutes until the oil starts to rise to the top.

Add the lentils to the sauce and stir well to combine. Allow to simmer for a few more minutes and then remove from the heat.

Top the dal with the fried sliced garlic and the bunch of coriander, torn roughly. Serve with rice or roti.
Nutrition
Love this recipe?
Let me know on Instagram!