Publised on 27/11/2018 by Richard. Last Updated on 13/10/2022 by Richard.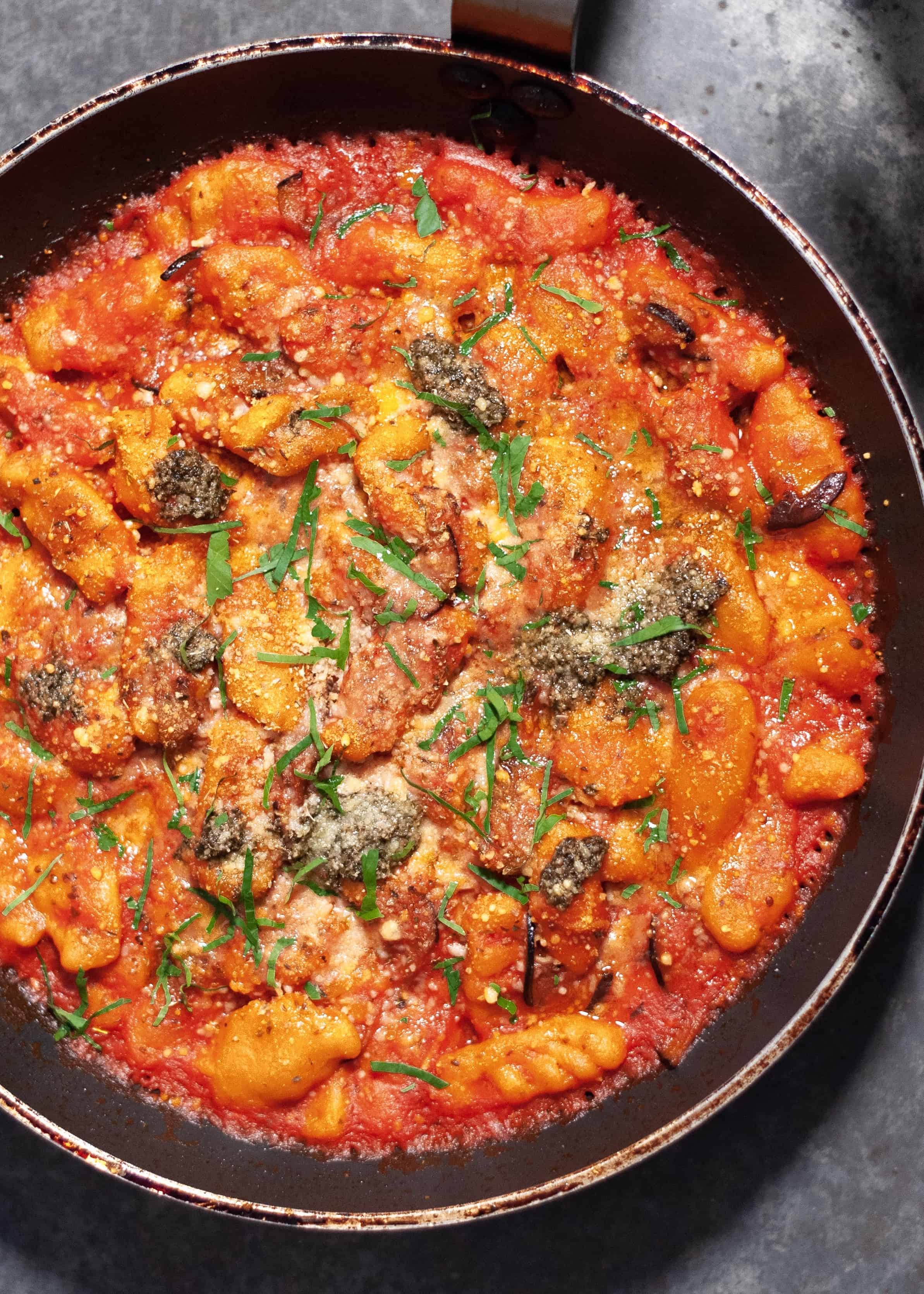 Yes yes, two gnocchi recipes in one week but this one is UNMISSABLE. We had two portions of gnocchi left from the cavolo nero recipe so I threw this bad boy together.
IT'S SO DAMN GOOD! We ate it up SO HARD! If you're feeling frisky, feel free to throw some bread crumbs on top but I thought maybe that was one carb too many... BUT YOU DO YOU, ok??
I've included the full gnocchi recipe below, but if you made and stored any leftovers from earlier this week, definitely use that stuff! It keeps for a good few days in the fridge and for ages in the freezer.
Makes lots of gnocchi and enough sauce for two good portions.
Sweet Potato Gnocchi with Aubergine Parm Sauce
Ingredients
For the Gnocchi
450

g

peeled sweet potato

(chopped into cm wide discs)

120

g

oatly crème fraiche

2

tablespoon

nutritional yeast

1 ½

teaspoon

maldon salt

Pinch

black pepper

225

g

flour
For the Sauce
tablespoon

olive oil

Half an aubergine

(thinly sliced)

½

teaspoon

dried oragano

2

cloves

garlic

(halved and very thinly sliced)

1

tin Italian peeled plum tomatoes

4

tablespoon

vegan Parmesan

(I use Follow Your Heart)

2

tablespoon

vegan pesto

10

basil leaves
Instructions
For the Gnocchi
Half fill a medium saucepan with water. Bring to the boil. Add the chopped sweet potato to the boiling water and boil for 8 minutes.

Drain the sweet potatoes in a colander and allow to steam for five minutes. Add the sweet potatoes to a large bowl and mash with a potato masher or ricer. Get it nice and smooth.

Add the creme fraiche, nutritional yeast, salt and pepper and mix well. Add the flour half a cup at a time, mixing lightly between each addition. Don't overmix or the Gnocchi will become tough.

Once all the flour is added, if the dough is still very sticky sprinkle with flour and cover the bowl with a tea towel - leave for a few minutes. The dough should be easy to handle and only slightly sticky.

Quarter the dough. Take one quarter and roll into a long even snake on a floured surface. Chop the snake every half inch so you're left with around 15-20 little Gnocchi. Repeat with the other quarters of dough. You can set your gnocchi aside in a floured baking tray or you can roll each gnocchi down a floured fork to give it nice ridges. Either way, your gnocchi is now ready to boil.

Half fill the same pan that you boiled your potatoes in with salted water and bring to the boil. In batches of around 10, add the gnocchi to the boiling water using a slotted spoon. Once they're cooked, they'll bob to the surface of the water.

Remove the gnocchi from the water with a slotted spoon and repeat until all your gnocchi is cooked.

At this stage you can make the sauce and serve immediately, or you can cook the gnocchi and refrigerate or freeze for a later date.
For the Sauce
Preheat the grill to its highest temperature.

Pour the can of tomatoes into a measuring jug and blend with a stick blender until smooth.

In a large, deep frying pan, add the oil and bring to a medium high heat. Fry the aubergine for a minute, stirring and flipping constantly. Add the oregano and garlic and fry for another minute.

Add a two good handfuls of gnocchi to the pan and fry until lightly golden in colour (around five minstirring frequently.

Add the puréed tomatoes and stir to coat the gnocchi. Cook for a minute until bubbling. Sprinkle with Parmesan and the pesto then place under the grill until the cheese is starting to melt and brown. Top with the basil leaves and serve.
Nutrition
Love this recipe?
Let me know on Instagram!